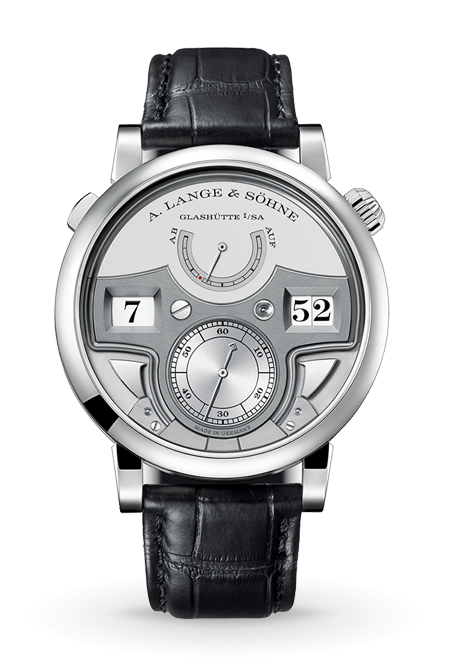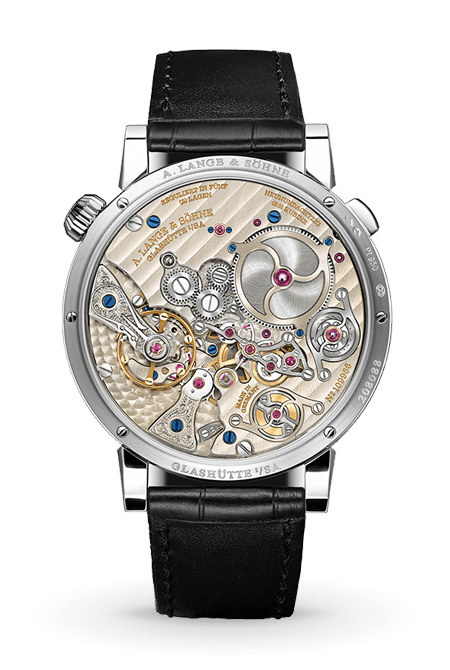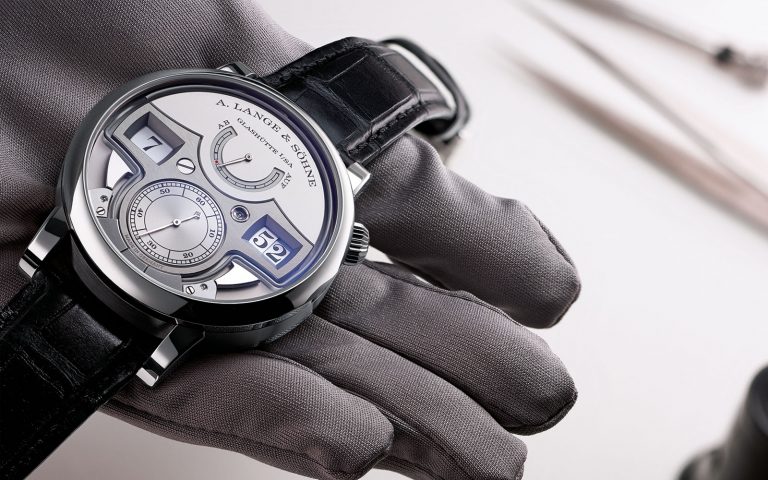 A. Lange & Söhne
Zeitwerk Minute Repeater
147.025
Zeitwerk Family
Perfect soundscapes
For the first time ever in a mechanical watch, the ZEITWERK MINUTE REPEATER brings together a jumping numerals display with a decimal minute repeater. The acoustic time indication consists of a low-pitched tone for each elapsed hour, a double tone for each elapsed ten-minute period, and a high-pitched tone for each elapsed minute. Thus, the time as sounded corresponds exactly to the time as displayed.
Detailed features & specifications
This model was introduced in 2015. The dial is crafted from solid silver, the time bridge from black-rhodiumed German silver. The hands are made of rhodiumed gold.
The two hammers made of black-polished steel are positioned on both sides of the subsidiary seconds dial, making it possible to observe how the sound is produced. Contrary to the ZEITWERK STRIKING TIME models and the ZEITWERK DECIMAL STRIKE HONEYGOLD, the gongs are arranged along the black-rhodiumed German silver time bridge. That is why here, the hammers face inward. The complex gong tuning process is performed exclusively by hand. It requires a trained ear to make sure both gongs produce a clear and reverberating sound in their final positions in the case.
The ZEITWERK MINUTE REPEATER is the first mechanical wristwatch with a jumping numerals display and a decimal minute repeater. The acoustic time indication corresponds exactly with the jumping numerals reading. As soon as the striking mechanism is activated with the button at 10 o'clock, the gong hammer on the left strikes the hours, the one on the right the single minutes. For the double-tone ten-minute intervals, both hammers strike the gongs slightly offset in time.
Movement: Manually wound
Calibre: L043.5
Crystal: Sapphire Crystal
Functions: Time display in hours and minutes with precisely jumping numeral discs; subsidiary seconds with stop seconds; power-reserve indicator; decimal minute repeater
Bracelet Strap: Hand stitched black alligator strap with Lange pin buckle
Power Reserve: 36 hours when fully wound