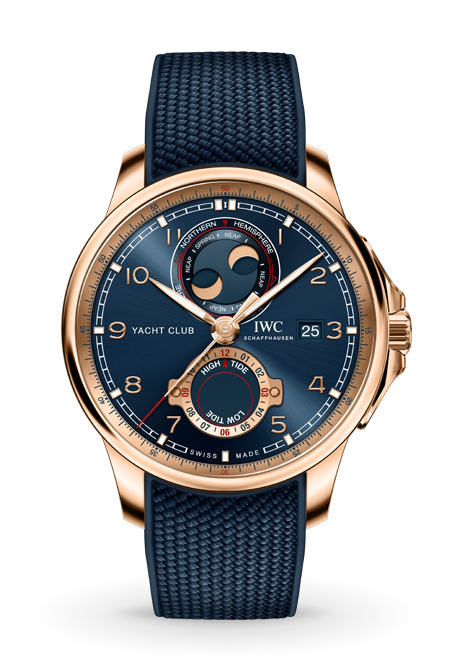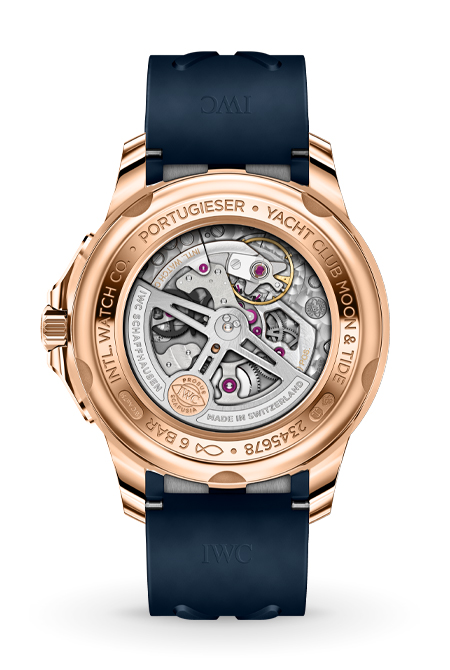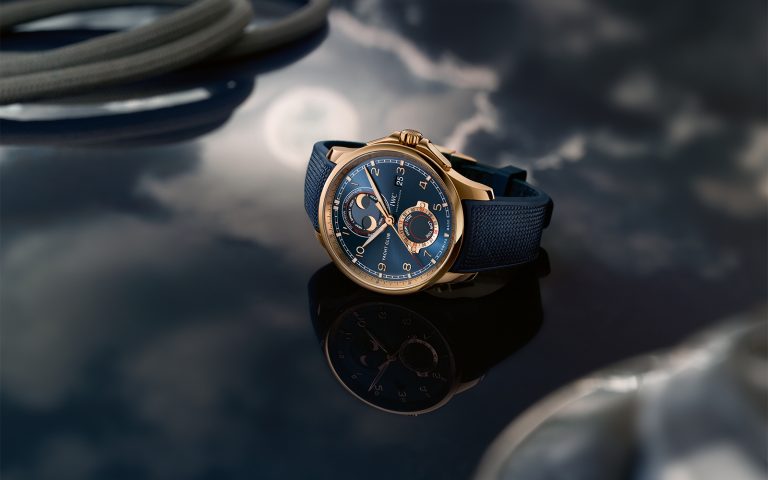 Detailed features & specifications
A complex interplay of gravitational and centrifugal forces between the earth, the moon and the sun causes the tides. On most of the earth's coasts, there are two high tides per day, always precisely 12 hours and 24 minutes apart. The Portugieser Yacht Club Moon & Tide indicates the expected times for the next high and low water on a subdial at "6 o'clock".
This is achieved by a reduction wheel train which translates the regular rhythm of the hours into the constantly shifting time sequence of high and low water. The double moon phase display at "12 o'clock" has been enhanced to show spring and neap tides and therefore also informs about the strength of the current tides. Spring tides, which bring particularly high water, occur at full moon and new moon.
The tides are a timelessly fascinating spectacle: twice a day, the waves retreat from the shore before inexorably rising again. This natural phenomenon is caused by a complex interplay between the gravitational and centrifugal forces of the moon, the earth and the sun. The time between two high tides is precisely 12 hours and 24 minutes. If, for example, it is high tide at midnight, the next high tide will occur at 12.24. The Portugieser Yacht Club Moon & Tide shows the slightly shifting time for the next high tide on the dial. During the 12 hours and 24 minutes between two high tides, the display disc will rotate by around 24 minutes on its 12-hour scale. The energy required is channelled from the base movement's hour pinion. A precisely calculated reducing gear comprising three cogs slows the rotation to the point where the tidal disc rotates around its axis once in exactly 14.76 days. The tidal display module is integrated into the 82835 calibre movement and contains 49 parts.
The 18-carat 5N gold case, blue dial, gold-plated hands and 18-carat gold appliqués underscore the maritime character of this timepiece. The IWC-manufactured 82835 calibre features a Pellaton winding system. Fitted with ceramic components, it boasts a power reserve of 60 hours.
Movement: IWC-manufactured movement, Automatic, self-winding
Calibre: 82835
Crystal: Sapphire glass, convex, antireflective coating on both sides
Functions: Tide indication, double moon phase for the northern and southern hemisphere with integrated display of neap and spring tide, Date display, Sapphire glass, convex, antireflective coating on both sides, Pellaton automatic winding, Central hacking seconds
Water Resistance: 6 bar
Bracelet Strap: Blue rubber strap with textile inlay
Power Reserve: 60 hours