最棒的奢华腕表,赠予新的一年
These Are The Best Luxury Watches To Gift This Chinese New Year
离中国传统新年已不到一个月,挑选最佳新年礼物的时间也越来越少。这一节日于1月21日之后的新月开始,意味着2月5日就将拉开猪年的大幕。
Chinese New Year is less than a month away and time is running out to find the best gifts to give this year. The festival starts from the first new moon to appear after 21 January. That means this year's Chinese New Year will start from 5 February, marking the beginning of the Year of the Pig.
中国的新年也叫做春节,是中国传统中最令人期待的节日。亚洲其它国家也将举行类似的庆祝活动。虽然赠送时钟在中国文化中是禁忌,但赠送奢侈腕表是个例外。为此,我们Watches of Switzerland(澳洲瑞士名表行)列举了几枚可以作为今年春节礼物的腕表。
Also known as the Spring Festival, the Chinese New Year is the most anticipated event on the traditional Chinese calendar. Other Asian countries also hold similar celebrations. While giving clocks can be taboo in Chinese culture, luxury watches are the exception. That's why we've put together this list of the five best luxury watches to gift this Chinese New Year.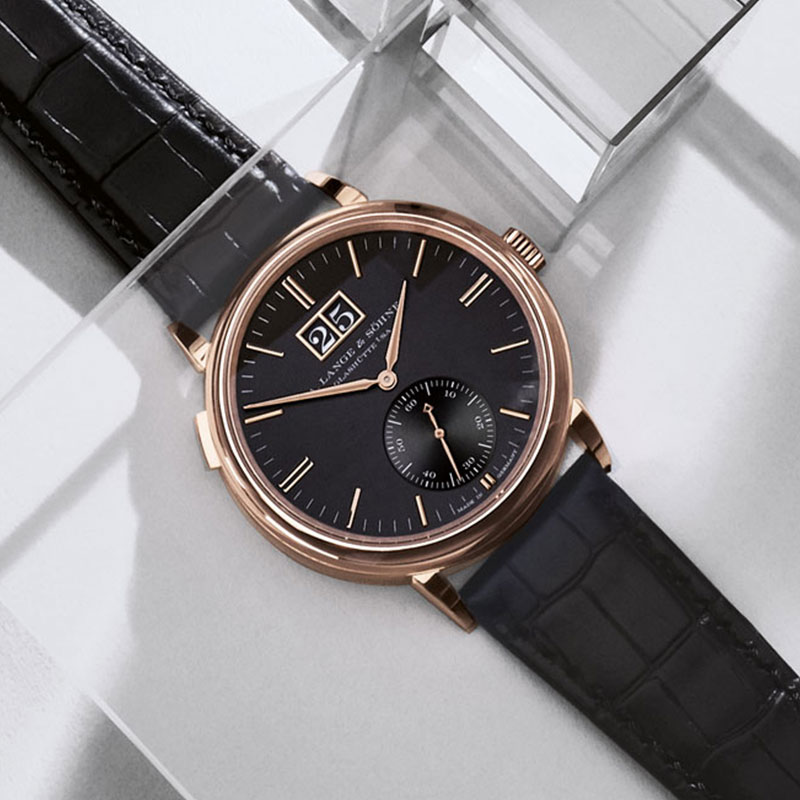 朗格·萨克森 大日历视窗——白色和玫瑰金可选
此款纯粹的正装腕表将极简主义的设计与精准的机械腕表融合在一起。黑色电镀(纯银)表盘上搭配彩色调和的超大号日期视窗,纯金数字和铑金指针都是这枚腕表的亮点。此款手表表壳直径为38.5毫米,厚度为9.6毫米。将其翻转,您能看到德系制表工艺的精美细节。此枚腕表为自动机械腕表,搭配L086.8机芯,最大72小时动力储备。可配黑色表带。$34,800.
A. Lange & Söhne SAXONIA OUTSIZE DATE – white and pink gold options
This purist dress watch combines minimalist design with sublime mechanical clockworks. The black galvanised (solid silver) dial features a colour-coordinated outsize date. As well as solid gold appliques and rhodium gold hands. The case measurements are 38.5mm diameter x 9.6mm thickness. Turning it over reveals a treat of German hand-finishing. The automatic movement, calibre L086.8, is wound by a large central rotor. Maximum power reserve of 72 hours is reached after just a short period on the wrist. Available on a black leather strap. $34,800.00.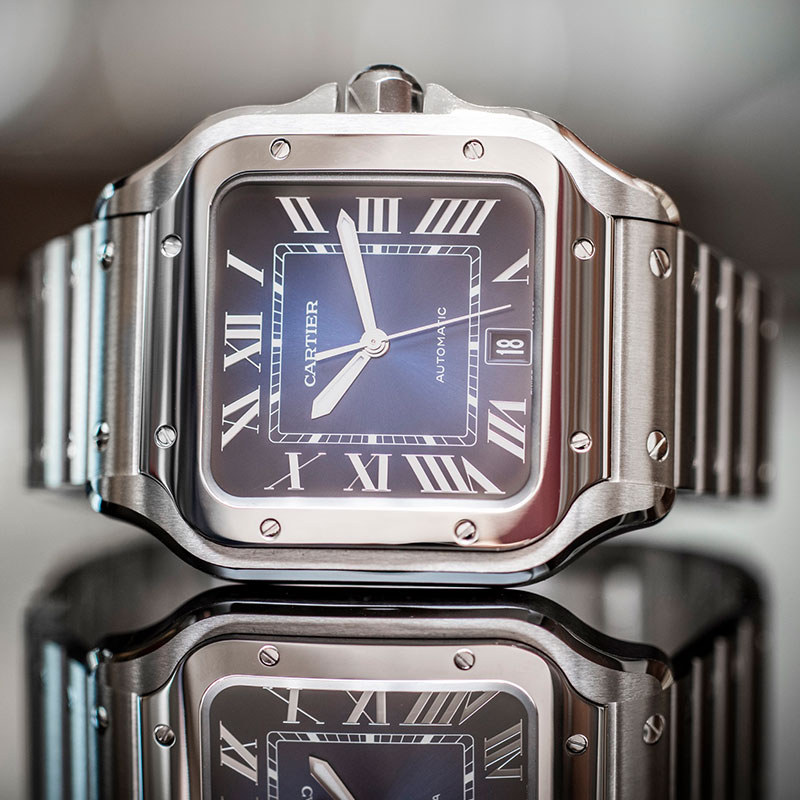 卡地亚山度士(大)-配有两条互换表带
新款卡地亚山度士表款刚刚到货,拥有令人炫目的渐变蓝色表盘,6点钟位置有一个显示日期的小窗口。方形的表盘上由富有设计感的罗马数字和经典的分针刻度组成。剑形发光的钢制表针将表盘表面与直径39.8毫米、9.08毫米厚的钢制表壳融为一体。卡地亚山度士系列是一款自动机械腕表,搭配1847MC机芯。此款手表实现了"快速切换"表带的可能,您只需要按下 "QuickSwitch"便可更换精钢制表带和配套的海军蓝小牛皮表带。此枚腕表防水系数为100米/10巴/330英尺。$9,600.
Cartier Santos (Large) – with two interchangeable straps
The latest version of the iconic Cartier Santos has just arrived and boasts a striking graduated blue dial, with a date window at 6 o'clock. The square dial is finished with stylised Roman numerals and classic minute track. Sword-shaped, luminous hands in steel help blend the watch face with the steel case, which measures 39.8mm, and 9.08mm thick. Running on the calibre 1847 MC, the Santos is an automatic. The case offers "QuickSwitch" changeability, allowing you to seamlessly switch between the steel bracelet with "SmartLink" adjustment, and the accompanying navy-blue calfskin strap. Water resistance is to 100m/ 10 bar/ 330ft. $9,600.

万国 达芬奇自动机械腕表——精钢材质
作为一款男女皆宜的中性腕表,其设计风格向20世纪80年代腕表设计风格致敬。带有铰链式表耳的圆形表壳确保您佩戴的舒适性,再纤细的手腕也能驾驭。蓝灰色(镀铑)表盘具有多种功能,首先其简约的表盘上点缀着巨大的阿拉伯数字和优雅的柳叶形指针,另外在其6点钟位置有的日期显示口。此款手表表盘直径为40.4毫米,厚度为10.2毫米,配有精钢表带(新款三翼蝴蝶扣)。35111型自动机械机芯为腕表提供42小时的动力储备,其防水系数为30米/3巴/100英尺。$8,900.
IWC Da Vinci Automatic – stainless steel
A unisex model that pays subtle tribute to 1980s style. The round case with articulated lugs ensures very comfortable wearing, even for slimmer wrists. The slate-coloured (rhodium plated) dial offers versatility. The simple watch face is punctuated by large Arabic numbers and elegant, lancet-shaped hands. An aperture for the date appears discreetly at 6 o'clock. The case measures 40.4mm x 10.2mm thick. Presented on a polished stainless steel bracelet (with newly developed three-wing butterfly clasp). The proven 35111 automatic calibre provides a 42-hour power reserve. Water resistant to 30m/ 3 bar/ 100ft. $8,900.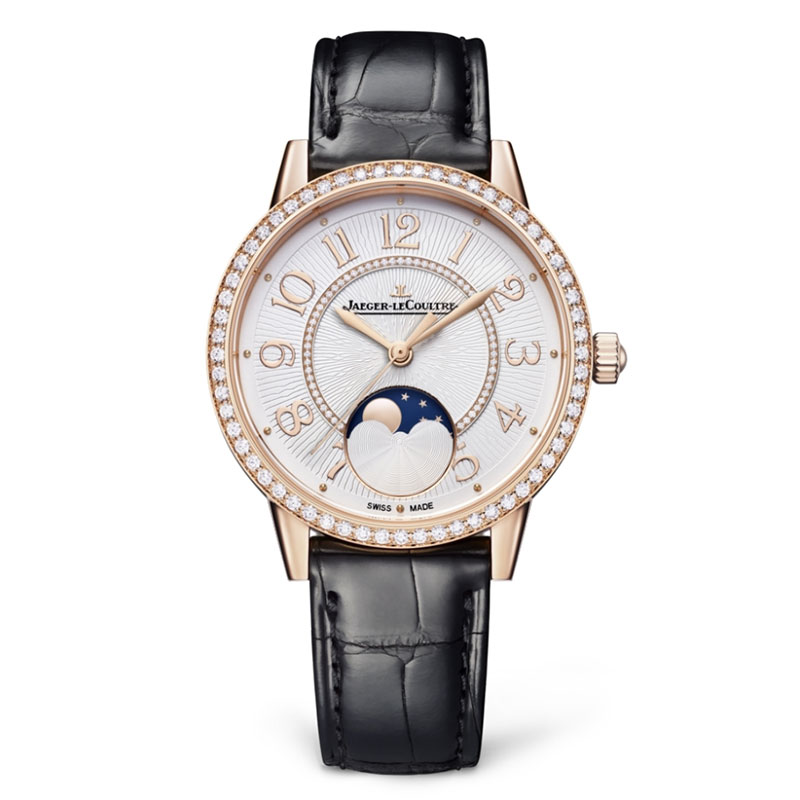 积家 约会系列月相中型腕表——玫瑰金
此款奢华的女士腕表的银色表盘与铜制月相显示于腕表中相映成趣闪闪发亮。银色扭索饰纹表盘,指针,标志性的花体数字时标,尽展腕表精致优雅风范。腕表最大亮点是6点钟位置的月相盘,充满浪漫气息。腕表外圈镶嵌的钻石,深蓝色的指针给柔和的色调增添了一丝硬朗和时尚气息。腕表内部搭载Jaeger‑LeCoultre积家925A型自动上链机芯,动力储存40小时。表盘直径34mm,厚度9.56mm,防水系数为30米/3巴/100英尺防水。$34,900.
Jaeger-LeCoultre Rendez-Vous Moon Medium – pink gold
Gleaming in its precious metal, this ladies' luxury watch offers a silvered dial and a moon phase in bronze. Large, black transferred numerals are articulated by bronze dots. They surround a guilloché centre in grain d'orge ("barleycorn"). The patterning is carried onto the moon phase disc, which occupies the 6 o'clock position. Diamonds set into the bezel provide a complementary shimmer, while blued steel hands add a touch of strong colour to the soft hues. Dimensions are 34mm x 9.56mm. The automatic 935A calibre – visible through an open case back – stores a 40-hour power reserve. Water resistant to 30m/ 3 bar/ 100ft. $34,900.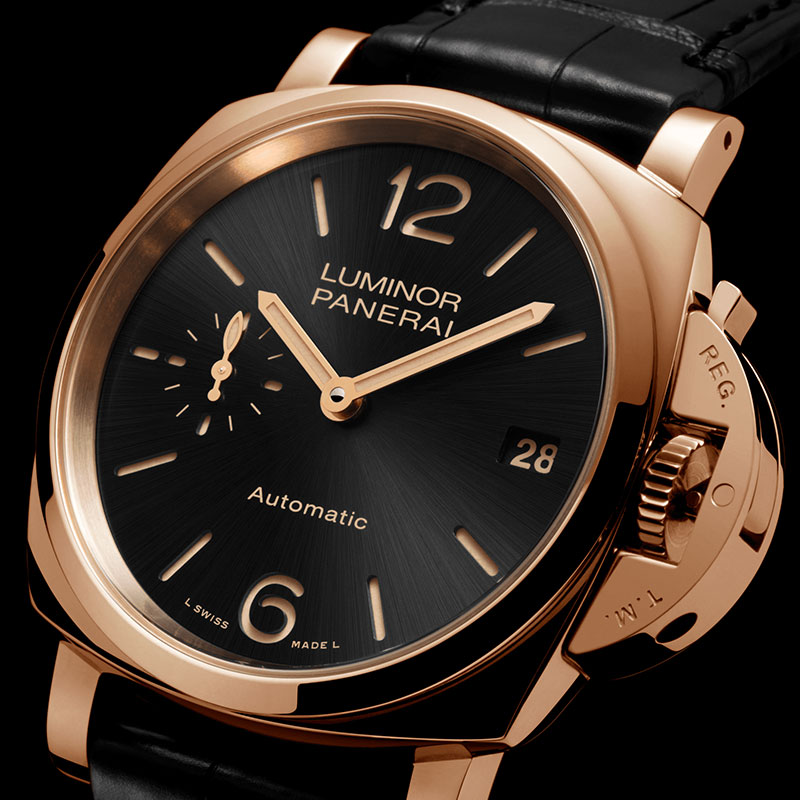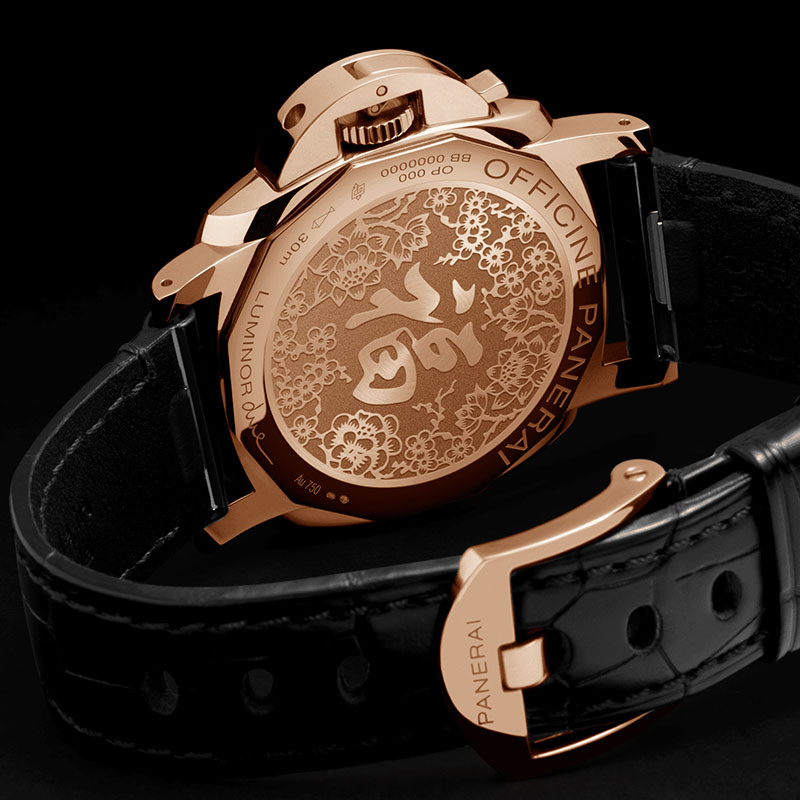 沛纳海 LUMINOR DUE红金腕表 ——38毫米
作为沛纳海的一款正装腕表,此枚腕表的最大特点便是纯金表壳,腕表背面刻有表示吉祥的中国汉字"福",并以梅花和牡丹图案包围,其寓意为坚韧和富贵。相比其他沛纳海腕表尺寸,此枚小尺寸的表壳使此款沛纳海腕表更适合亚洲人手腕尺寸,同时还男女皆宜。巨大的阿拉伯数字标时6和12以及表冠护桥承袭Luminor的标志性设计,黑色表盘搭配红金表壳,更显沛纳海对于中国文化的尊敬和热爱。红金材质中含有一定比例的铜,使这种金属具有热情和特别的色调,同时为了防止红金氧化,在红金中还加入了一定成分的铂,使腕表颜色更加稳定。搭配OP XXXIV自动机械机芯,3天动力储备,9点钟位置有秒表小窗,3点钟位置有日期小窗。防水系数为30米/ 3巴/ 100英尺防水。$22,200.
Panerai Luminor Due 3 Days Automatic Oro Rosso – 38mm
Panerai's take on a dress watch, it features a solid gold case back engraved with the auspicious Chinese character for fortune. The character is surrounded by plum flowers and peonies to express resilience and wealth. The reduced case size makes this Panerai quite wearable for both sexes. The design is unmistakably Luminor – with large Arabic numbers at 6 and 12 o'clock, and the signature crown guard. The dial is sun-brushed black. The red gold alloy has a percentage of copper giving the metal an intense and sophisticated hue. Platinum is also employed in the alloy to prevent oxidising. The OP XXXIV automatic calibre – with 3-day power reserve – displays small seconds at 9 o'clock, and a date function at 3. Water resistant to 30m/ 3 bar/ 100ft. $22,200.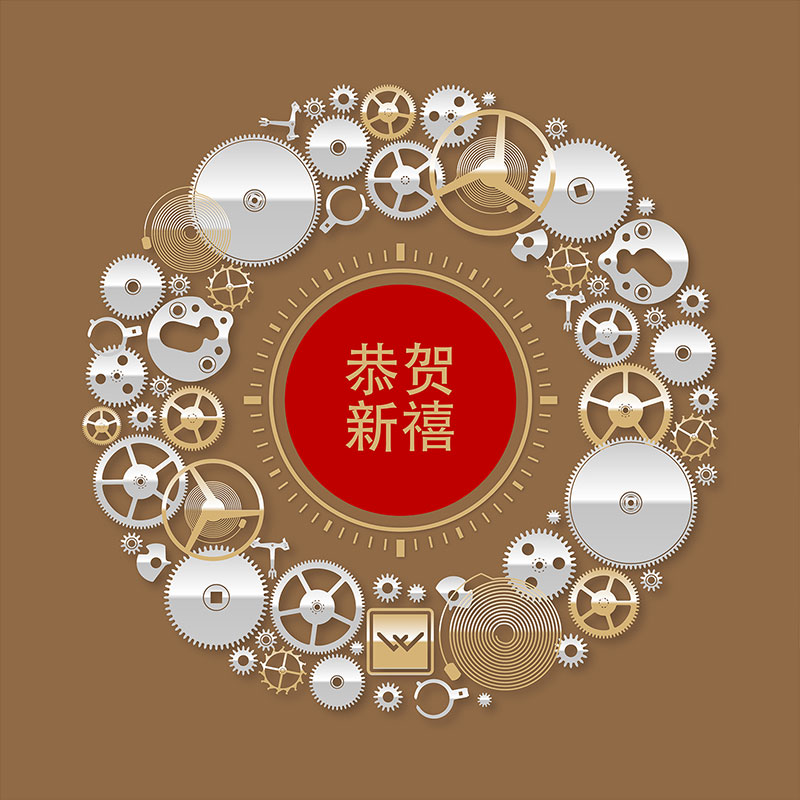 新年快乐!
随着庆祝活动的临近,让我们Watches of Switzerland (澳洲瑞士名表行)致力于帮您找到最完美的中国新年礼物。除上述五款腕表外,我们诚挚为您提供顶尖奢侈腕表表品牌供您选择。请联系或到访我们悉尼市中心、墨尔本市中心、墨尔本国际机场和珀斯市中心的劳力士官方零售店。
Happy Chinese New Year!
As the time of celebration fast approaches, let Watches of Switzerland help you find the perfect Chinese New Year gift. In addition to the five models highlighted above, we are pleased to offer a wide selection of the world finest luxury watch brands. Visit any of our four boutique locations today.