Baume & Mercier Debuts In-House Movement
The Clifton Baumatic 5 Days-Chronometer
Launched at this year's SIHH, the Baume & Mercier Clifton Baumatic 5 Days-Chronometer debuts the Geneva-based watch manufacturer's first 'in-house' calibre, delivering both on performance and price.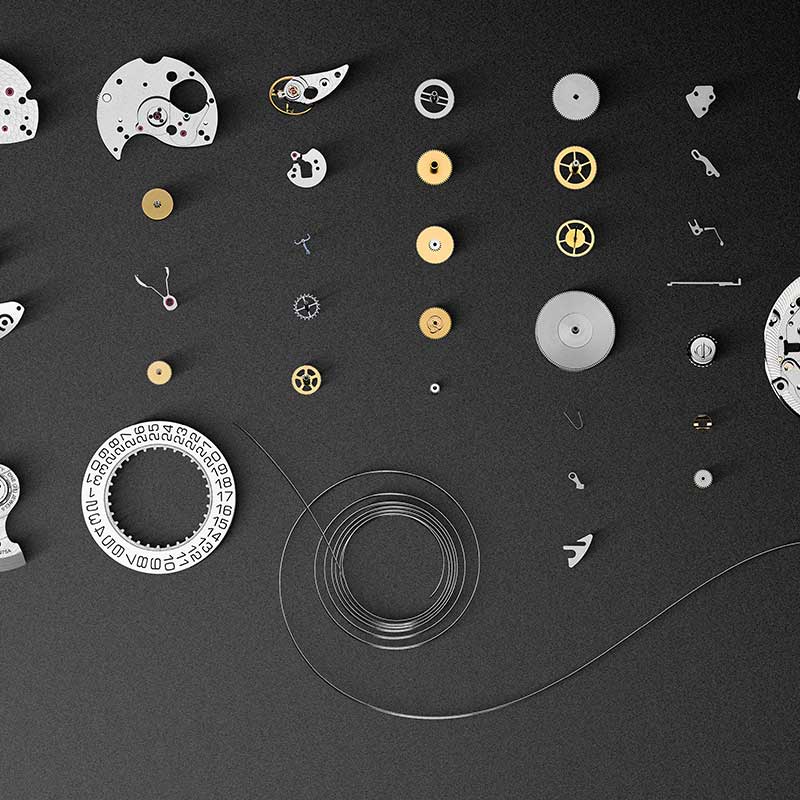 The Swiss brand has concentrated on creating an automatic movement that incorporates a number of advances in modern watchmaking at a price point that still makes it very accessible. Developed in collaboration with the ValFleurier Manufacture and the Research & Design team of the Richemont Group (Baume & Mercier's parent company), the new Baumatic BM12-1975A calibre is exclusive to Baume & Mercier.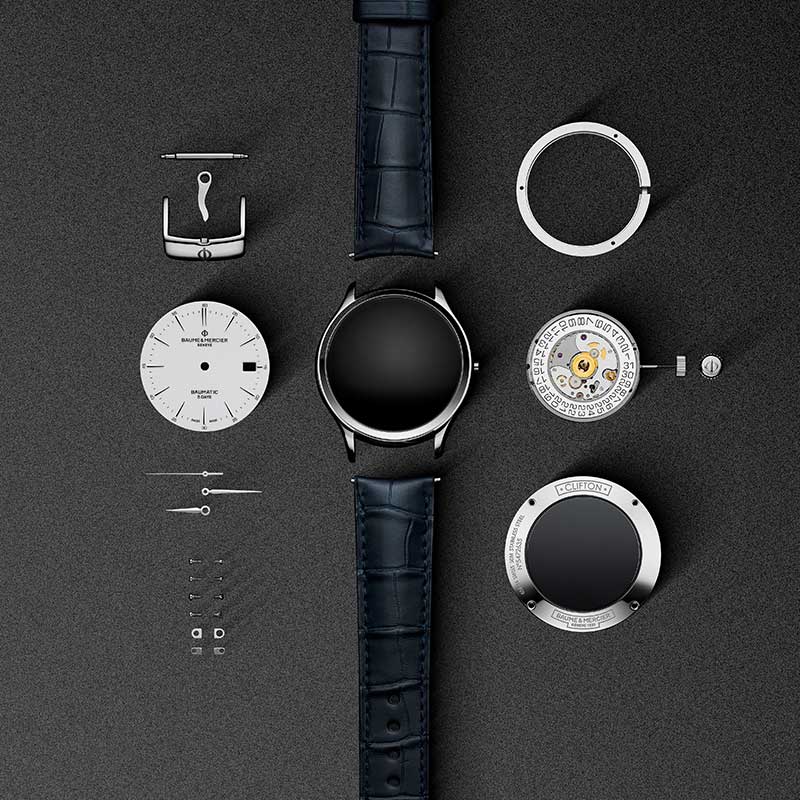 The BM12-1975A employs silicon technology and features several innovative components. In developing its first movement, Baume & Mercier have given the Baumatic an edge by enhancing performance in four key areas: anti-magnetism, autonomy, accuracy, and durability. Add to that affordability and you have a formula that will make people sit up and take notice. Visually, the Baume & Mercier Clifton Baumatic is as clean and well presented as the technology powering it, with an understated salute to the traditional wristwatch.
The Baume & Mercier Clifton Baumatic 5 Days-Chronometer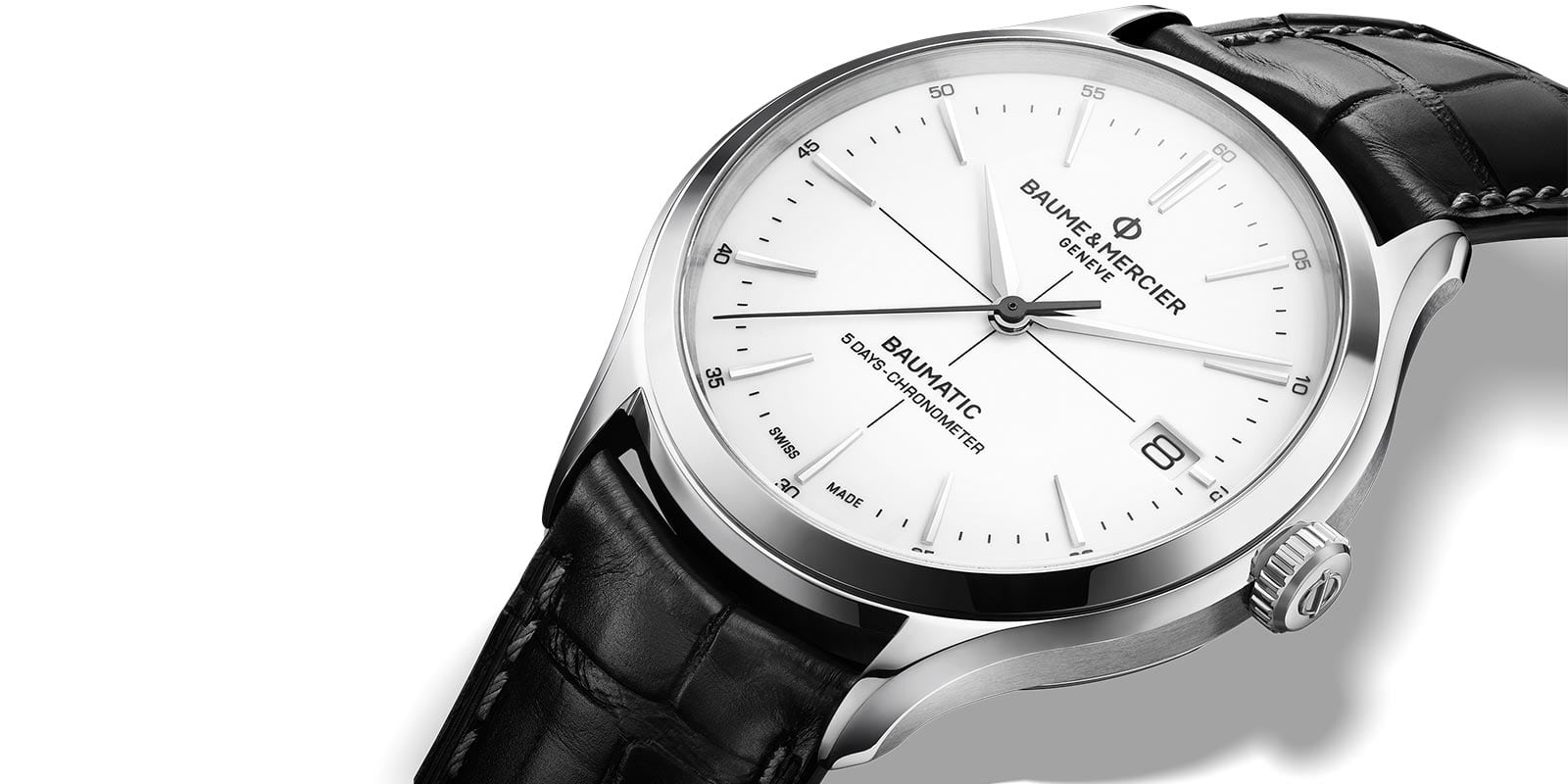 Classic Style with a Modern Feel
The design of the Baume & Mercier Clifton Baumatic is reminiscent of a style popular to the 1960's, right down to the subtle crosshairs (which denoted precision). But even at a glance, it's hard to mistake this contemporary timepiece for an antique. Firstly, the round case (a comfortable 40mm diameter/ 10.3mm thickness) is constructed of satin-finished, polished steel. This is paired with a domed, sapphire, anti-glare glass that allows clear, undistorted viewing of the surface beneath.
The classic layout – complete with date aperture at 3 o'clock – is served on a whitest of whites, flat dial, designed to resemble porcelain.
The spotless plate is ornamented with raised, metallic hour markers and painted black minute markers that (together) double as the second measures. Arabic numbers, placed at five second intervals, and the enlarged date at 3 o'clock, as well as the crosshairs, are all given the same black treatment.
The three-colour scheme is completed by the rhodium-plated, lancet-shaped hands for the hours and minutes and the slightly darker running seconds hands. A self-interchangeable black alligator strap completes the pared down look. The combination is striking, clean and unquestionably of today's age, and partners perfectly with the innovative developments on show through the sapphire crystal case back.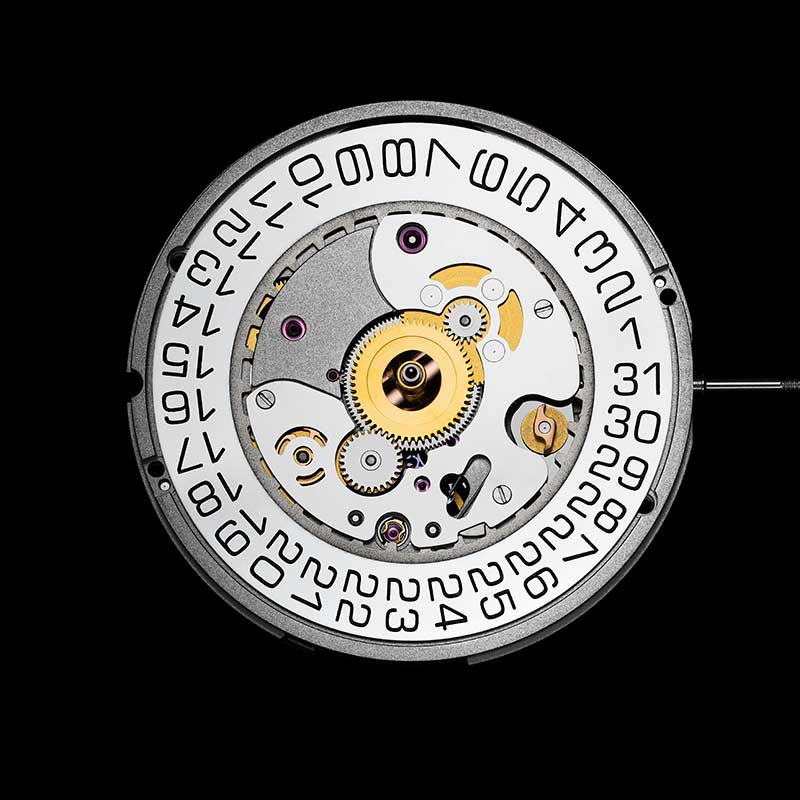 Innovative Calibre
Part of what makes the Baumatic BM12-1975A movement special is its embracing of silicon technology. Silicon is a hard and light material, offering several advantages over metal, such as not responding to temperature changes. Often found in the movements of much more expensive watches, Baume & Mercier first trialled this alternative material in the limited-production Clifton Manual 1830 (released last year), incorporating a dual-layer silicon hairspring called TwinspirTM, which was developed by the Richemont Research & Innovation teams.
The proven TwinspirTM technology is at the heart of the new Baumatic BM12-1975A and is joined by other silicon-based components, most notably the escapement and anchor. The new automatic movement from Baume & Mercier capitalises on the properties of silicon and, in combination with some other key design elements, produces some impressive results.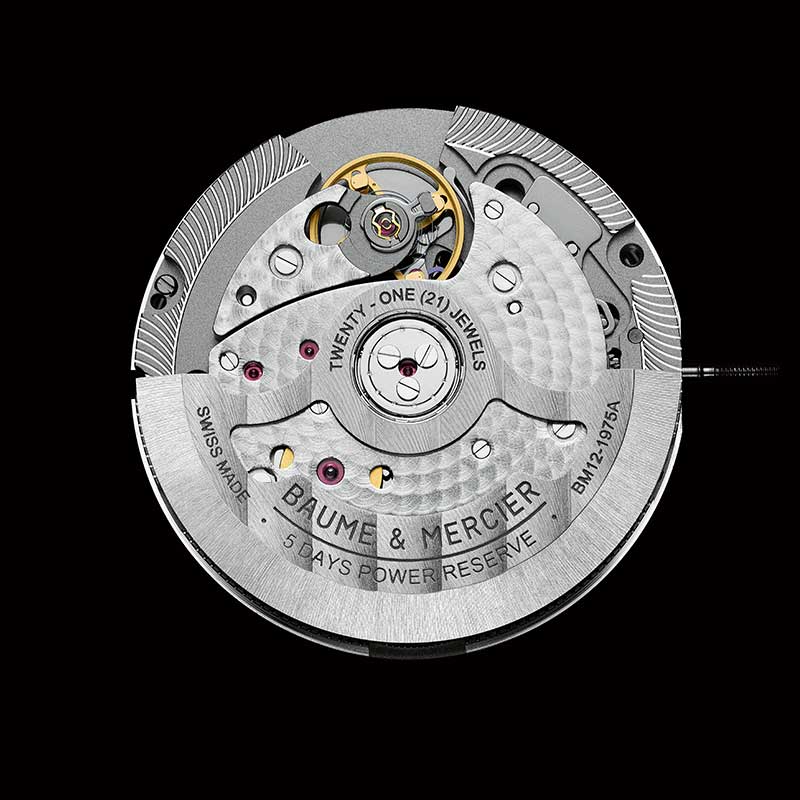 Resistant to the Magnetic Fields of Daily Life
Another practical advantage of silicon is its non-reactivity to magnetic fields. Magnetism can adversely affect a movement (causing it to lose/ gain time or suddenly stop) so Baume & Mercier made it the first key area to deliver enhanced performance. Along with silicon parts, the Baumatic BM12-1975A features an anti-magnetic bumper, and together they provide a resistance to the effects of magnetic fields up to 1,500 Gauss (25 times higher than traditional instruments).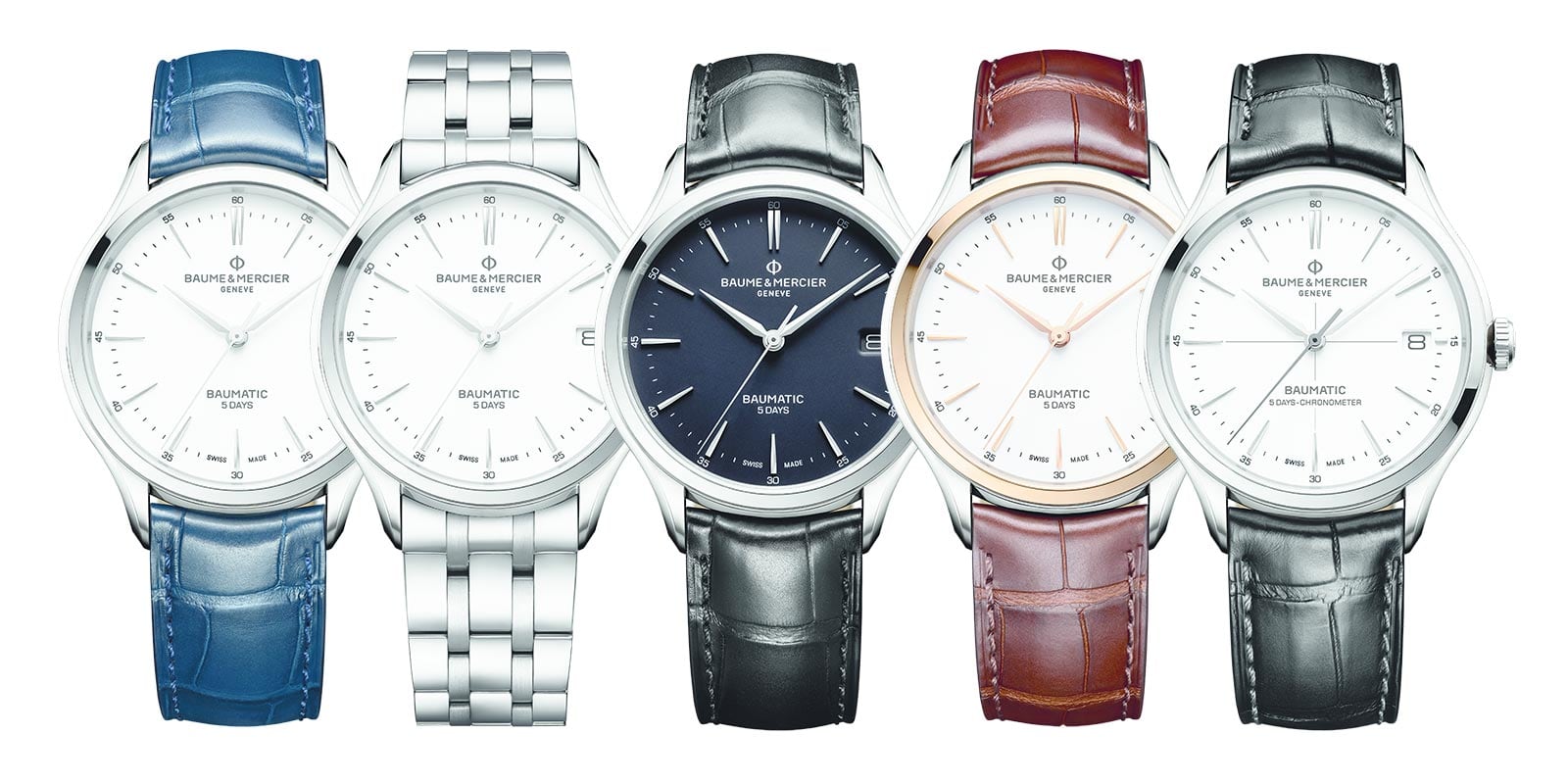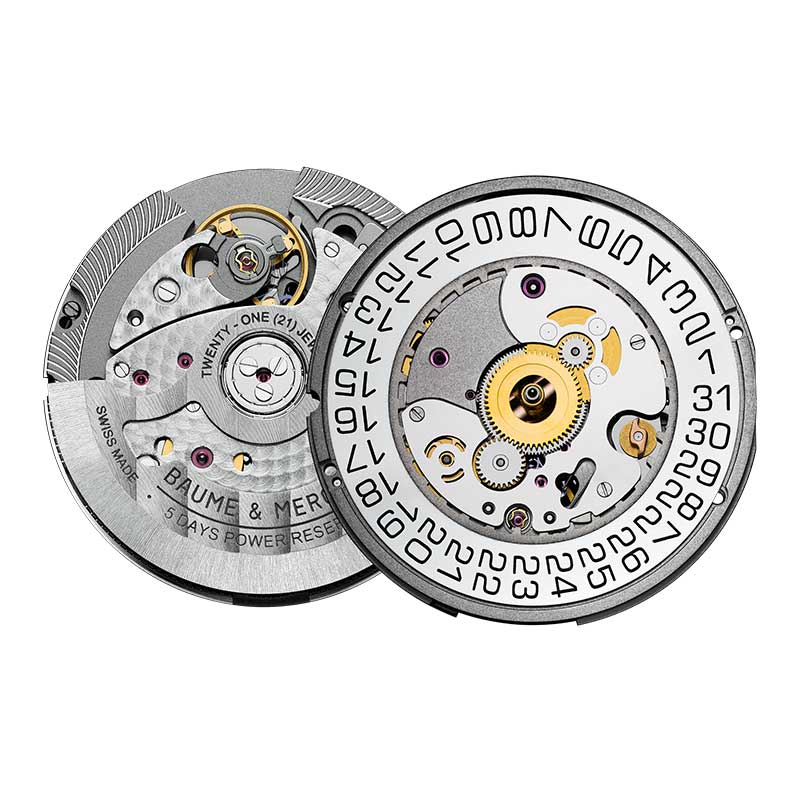 5-Day Power Reserve
Secondly, to maximise running time, the Baumatic BM12-1975A marries the lightness of silicon with efficient design. PowerscapeTM technology utilises special geometry for the escapement and anchor to improve torque between components. With the reduced weight of silicon parts this results in less energy expenditure. Combined with TwinspirTM and optimised alloy used for the barrel, PowerscapeTM helps ensure an impressive 120 hour, 5-day, power reserve.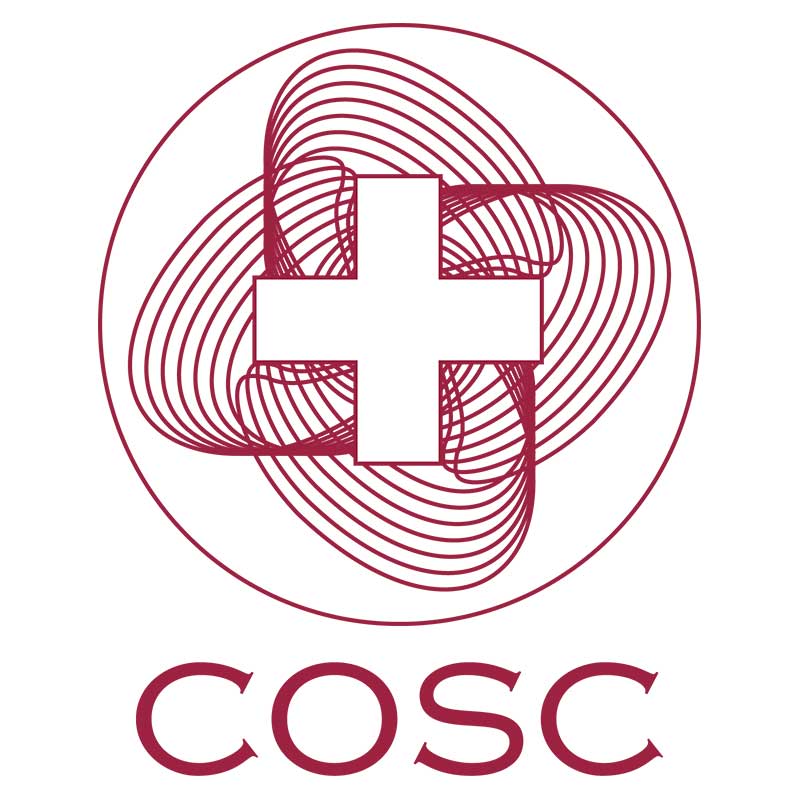 Chronometer Precision
As a debuting calibre, Baume & Mercier wanted to provide assurance of accuracy with the Baumatic. BM12-1975A has been designed to meet the chronometer certification requirements of the COSC (the Official Swiss Chronometer Testing Institute). The use of TwinspirTM technology for the hairspring, along with a newly shaped variable-inertia balance wheel, helps ensure an accuracy of -4/ +6 seconds per day.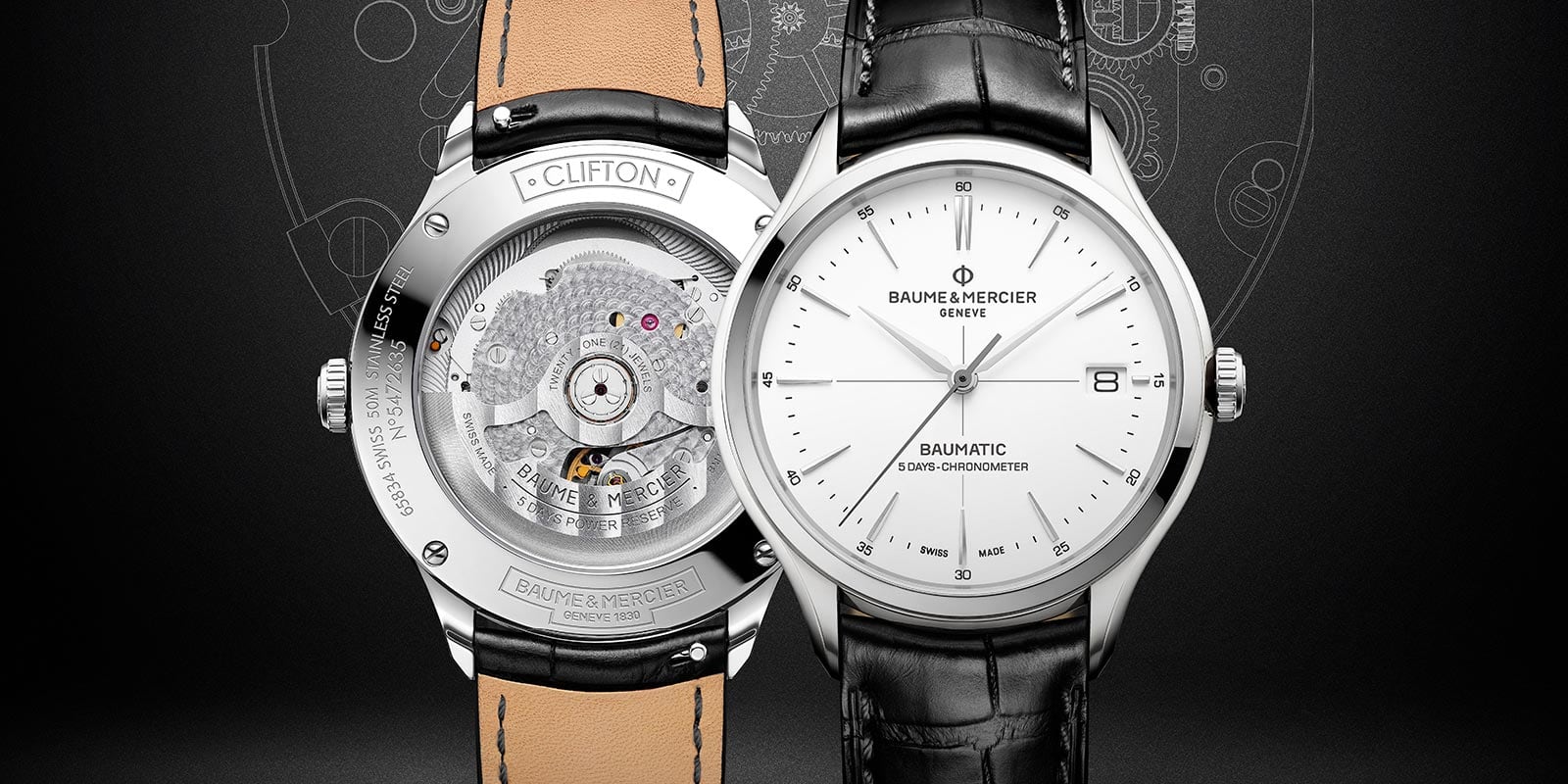 Finally, Baume & Mercier set themselves the task of creating a wristwatch that requires servicing less often. Long life and precision depend on low friction. Part of the focus at the Richemont Research & Innovation Centre is on developing better oils so that moving parts stay lubricated for longer. Silicon parts require far less or no lubrication, and BM12-1975A uses 21 rubies. By using better oils this translates into longer intervals between required servicing.
The Baume & Mercier Clifton Baumatic signals a step in a new direction for the Swiss watch manufacturer. Its entry into 'in-house' movements is commendable from a technical performance standpoint but perhaps even more attractive is the accesible price point, at just $X,XXX. The focus of the Clifton collection is to provide entry-level access to complications and this is certainly true with the Clifton Baumatic.
If you're looking for a higher-performance wristwatch that won't break the bank – look no further and pre-order the new Clifton Baumatic 5 Days-Chronometer today at Watches of Switzerland.