Breguet Flies Again With The New Type 20 and Type XX
Collectors take note; after a four-year hiatus, Montres Breguet is welcoming its famed Type 20 and Type XX series back into the fold with the unveiling of two new flyback chronograph models, each distinctly different from the other. The Type 20 Ref 2057 pays homage to the model's military air force roots, while the Type XX Ref 2067 offers an updated take on the refined civilian edition. And while both draw on the original models' iconic aesthetic of the 1950's, rest assured these are very much modern timepieces with all the complexity and high-end finishing you know and expect from Breguet. Available now for purchase from Watches of Switzerland, read on to learn a little more about the fascinating history of the Type 20/Type XX as well as what you can expect from the modern-day incarnations.
The Story Of The Type 20/Type XX
It may surprise you to learn that along with being the maker of some of the most complicated timepieces in history, Breguet also has a long-standing reputation in the world of aviation. It starts with one of the descendants of Breguet's founder and namesake Abraham Louis Breguet. A French aviation pioneer, Louis Breguet founded the Société d'Aviation Louis Breguet (colloquially known as Breguet Aviation) in 1911, going on to manufacture and export planes and helicopters for the next six decades before forming part of French giant Dassault Aviation in 1971. Although he had no direct connection to the prestigious watchmaker that shared his surname, Louis remained on excellent terms with the Brown family which had purchased Montres Breguet in 1870. As such he would regularly commission the Breguet watchmaking company to create instruments for his aircraft and timepieces for his pilots.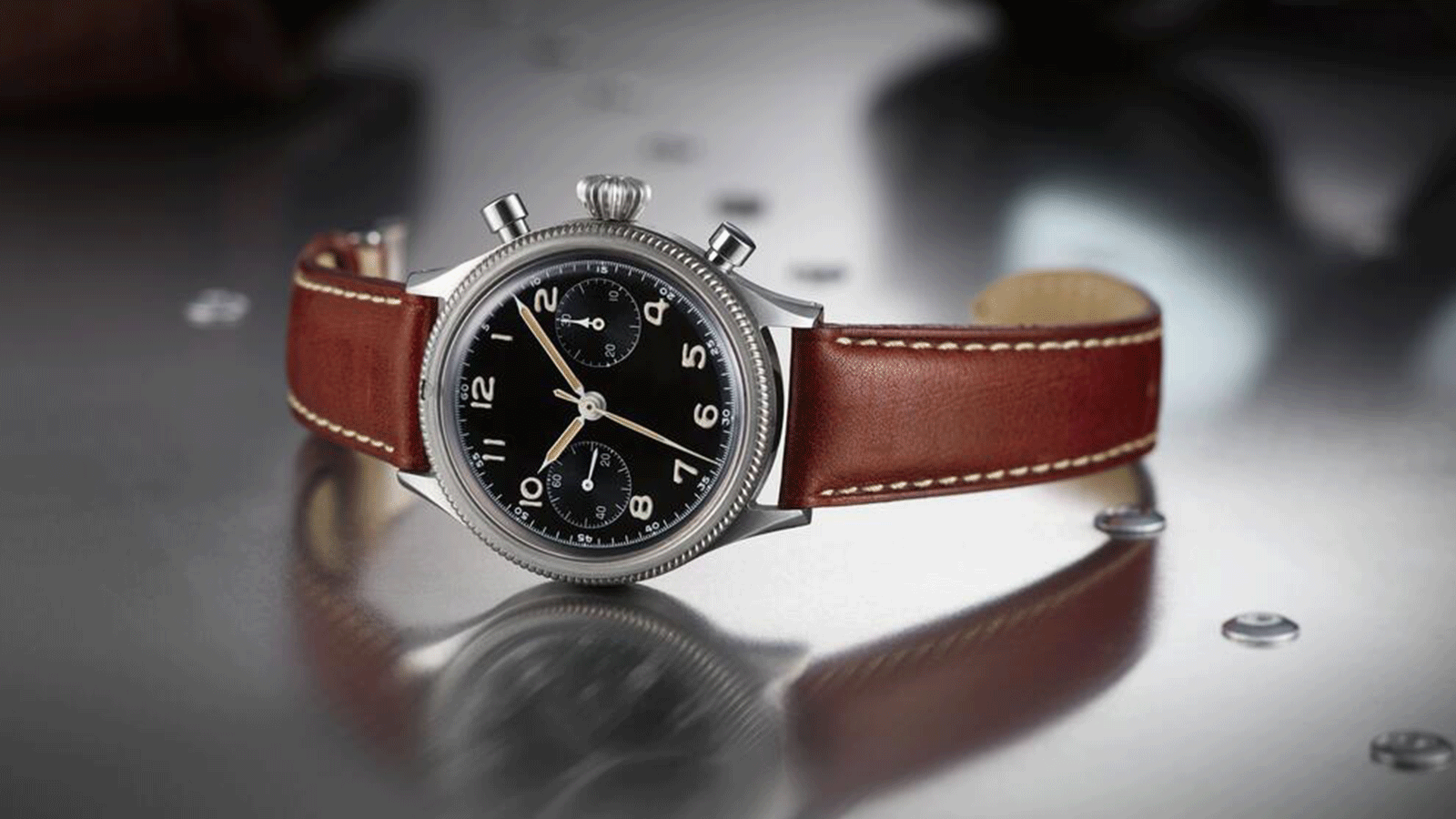 This experience with aviation watches gave Breguet a distinct edge when, in the early 1950s, the French Ministry of Defense drew up specifications for a chronograph wristwatch for its Air Force, to be known as Type 20. The technical requirements called for a black dial with luminescent numerals, luminescent hands, a high-quality movement resistant to changes in pressure and acceleration, a rotating bezel, and a flyback function for the chronograph. Eager to take part in the competitive tender process, Breguet designed and submitted a prototype in 1952. The following year it was approved by the Service Technique Aéronautique.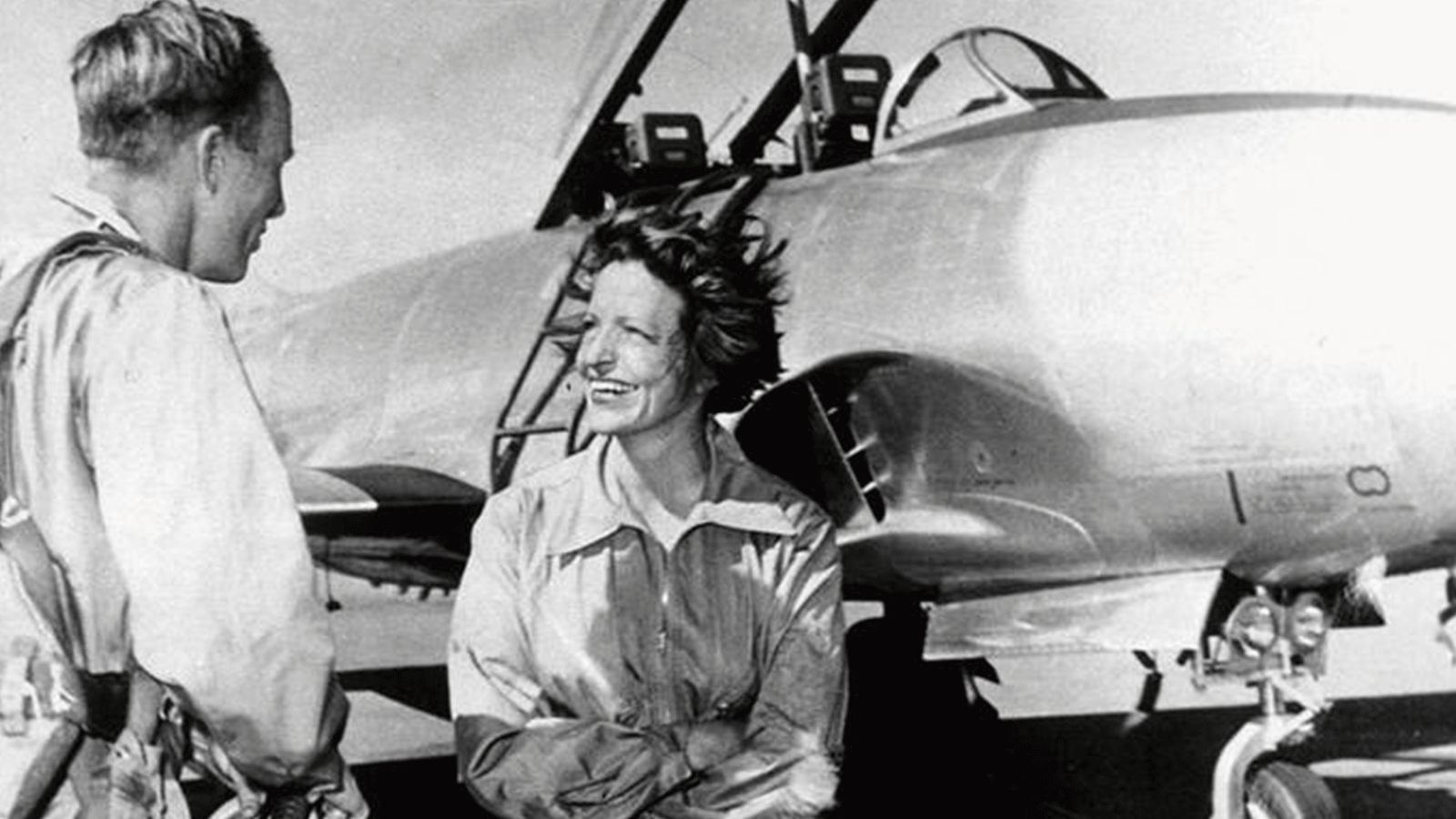 The French Air Force would subsequently commission 1,100 of these military Type 20 watches from Breguet, which it delivered in batches over several years (starting in 1955 and finishing in 1959). As stipulated by the contract, these military models all featured unsigned dials (meaning the Breguet signature does not appear anywhere on the face of the watch). In 1958, the French Navy commissioned Breguet to make 500 timepieces for its airborne wing, the Aéronautique Navale. Interestingly though, the dial lay-out for those models differs somewhat from the models Breguet produced for the French Air Force (most notably with the introduction of the 'Big Eye' 15-minute totalizer at 3 o'clock). They were also signed Type XX instead of Type 20. A minor detail perhaps but these Breguet military models have become the stuff of legend and are highly prized by collectors.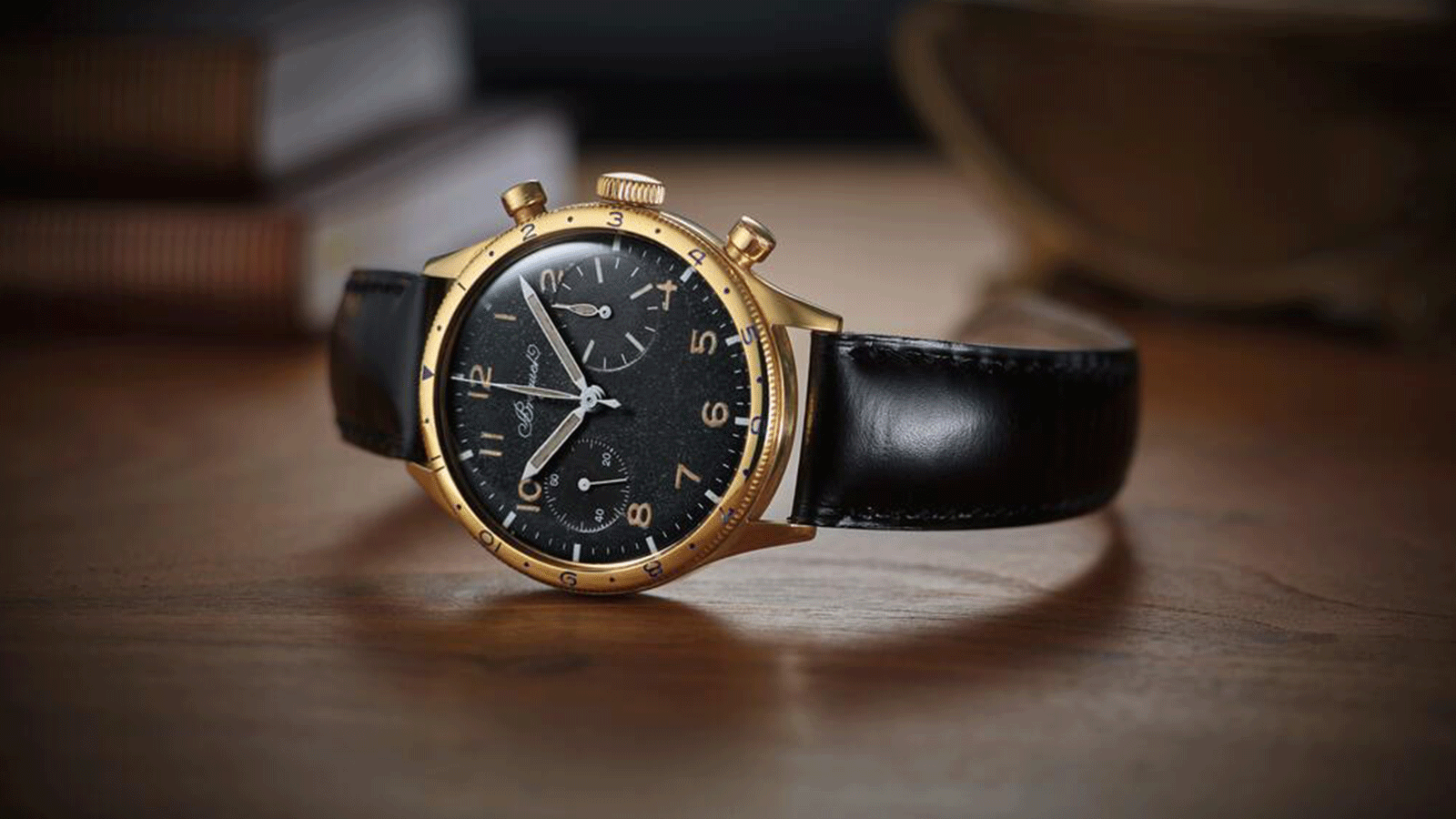 It wasn't just the armed forces that were interested in Breguet's aviation watches though. One of the clauses of the original contract with the French Ministry of Defence allowed Breguet to produce civilian editions of the Type 20/Type XX. And it's a good thing too, because every commercial pilot and aviation enthusiast worth their salt wanted a Type XX. In fact, according to Breguet's archives, one of the first examples was given by Louis Breguet to pioneering French aviator Jacqueline Auriol. She was one of the first women to break the sound barrier and set five world speed records in the 1950s and 1960s. Due to this incredible demand, the Type XX would become a permanent fixture in the Breguet range.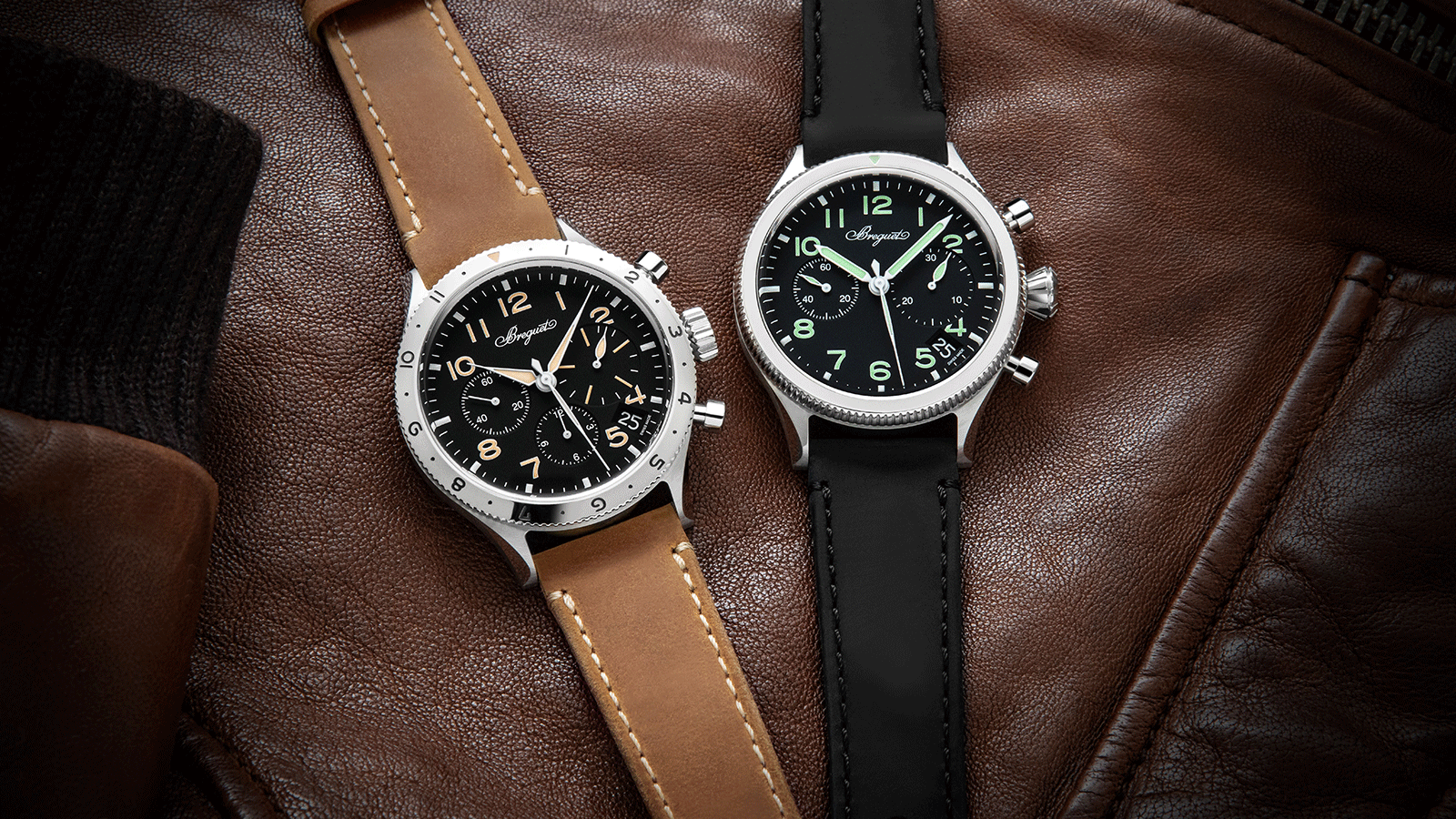 The New Type 20 and Type XX Chronograph Flybacks
As previously mentioned, Breguet has chosen to spoil collectors with the choice of not one but two new pilot watches. Both are presented in 42mm round cases in stainless steel, standing 14mm high and both feature matte black dials with large Arabic numerals for the hours. But that's about where the similarities end.
The military-inspired Breguet Type 20 Chronograph Ref 2057 features a rotating, non-engraved fluted bezel, with the sole luminous triangle indicating zero. The dial layout utilises two counters, with small seconds at 9 o'clock (an important function for a military watch, so the wearer can see it's running at a glance) and an oversized or 'Big-Eye' 30-minute counter at 3 o'clock. All hands on the dial, including the pencil-shaped central ones, along with the Arabic numerals, have been generously treated with light green Super-LumiNova for optimal legibility in low-light conditions. In a direct homage to the original Type 20, its polished crown is pear-shaped for easy gripping (even with gloves on). This reference is worn on either a black calfskin or black NATO strap (both included) which can be easily interchanged without tools.
The civilian-type Breguet Type XX Chronograph Ref 2067 meanwhile is equipped with a notched polished bezel engraved with a 12-hour scale and which can be rotated in either direction. The layout of the dial is also markedly different, with the Type XX offering instead a three-counter setup, with small seconds at 9 o'clock, a 15-minute big-eye counter at 3 o'clock, and a 12-hour totaliser at 6 o'clock. The oversized minute counter features elongated, luminous markers every 3 minutes and is also the only sub-counter with a luminous hand. Its Alpha-shaped central hands and Arabic numerals are coated in a beige Super-LumiNova for that faux vintage look. And unlike its military counterpart, the crown is flat. This reference is worn on a brown calfskin or black fabric NATO strap, again easily interchangeable.
Vintage Looks, Modern Engines
Both references are equipped with new, state-of-the-art in-house movements from Breguet. The Type XX houses the Calibre 728, while the Type 20 houses the Calibre 7281, although the only real difference between them is in the use of a two or three-counter display. Self-winding, these high-frequency calibres (5Hz) feature integrated column-wheel chronographs with vertical clutches and fly-back functionality. To protect the movements from magnetic interference – common in modern plane cockpits – the balance spring, escape wheel, and pallet-lever horns are all made in silicon. When fully wound, the calibres deliver a healthy power reserve of 60 hours.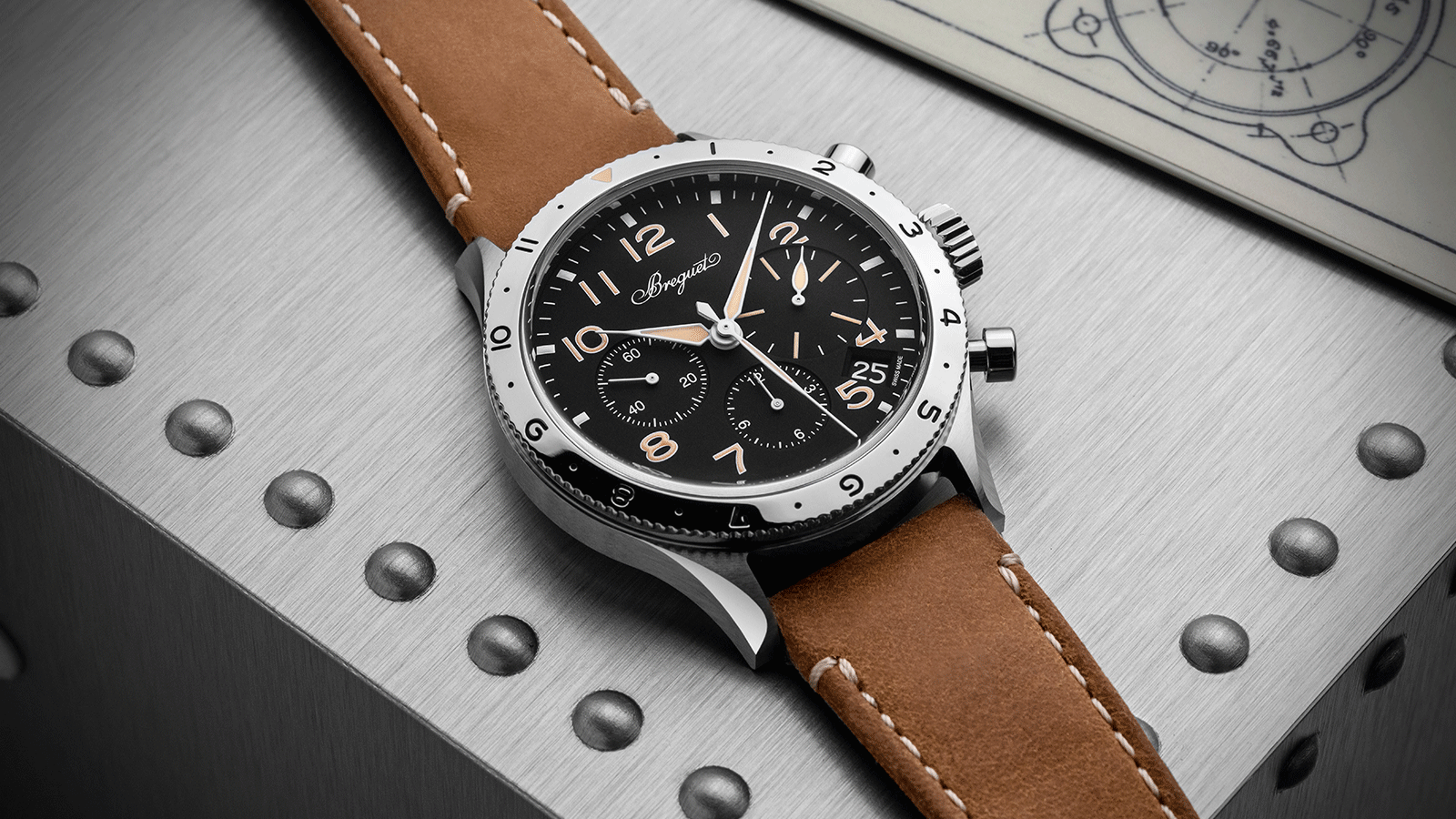 Operation of the chronograph is silky smooth and thanks to Breguet's ingenuity, the flyback function makes it possible to perform multiple timing sessions back-to-back. Instead of needing to stop, start and reset before commencing a new timing session, a single press on the pusher at 4 o'clock instantly restarts the process from zero. These movements also incorporate Breguet's newly introduced patented activation and zero-resetting systems, which ensure an even force is transmitted to the chronograph mechanism regardless of what level of pressure is applied to the pushers.
Visible through sapphire glass case-backs, the decoration of the movements is quite contemporary, not to mention very pleasing to the eye. To make it instantly identifiable, the column wheel is treated in black DLC, while the bridges show a sunburst pattern. Other finishing techniques, such as snailing, bevelling, and circular graining can also be observed on various components. As a final nod to the models' aviation heritage, the blackened oscillating weight is shaped like an aircraft wing.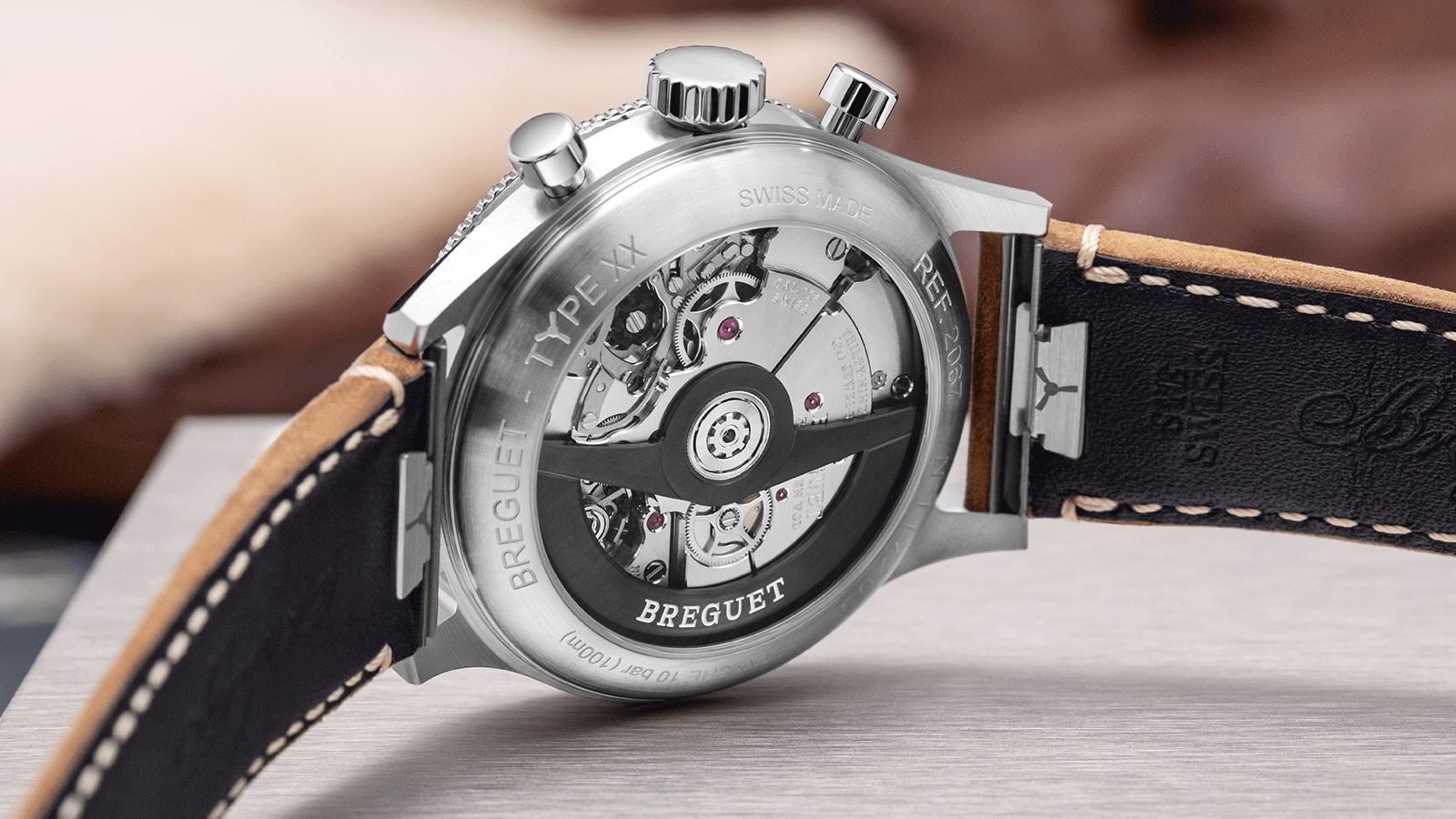 Enquire Today
To learn more about these two exceptional new timepieces from Montres Breguet, please enquire to Watches of Switzerland today through our website. As part of the regular collection, these models will not be officially limited in production, but annual allocations are expected to be low. So, act quickly if you would like to secure your preferred model (or perhaps even one of each).