Go Pink this Christmas
Our Special Selection from Cartier
Are you looking for unique gift ideas for a loved one this Christmas? Or better still, a special treat for yourself to celebrate another successful year? Well, you've come to the right place. Join us as we take look at the hugely popular Ballon Bleu de Cartier and her cousin, the Ballon Blanc de Cartier. Playful yet elegant jewellery timepieces, they have a way of complimenting the feminine wrist only a Cartier can accomplish.
We cover current models from both the Ballon Bleu de Cartier and Ballon Blanc de Cartier Collections, in that most appealing shade of precious pink. Prices vary depending on the number of diamonds, size and choice of bands, giving you plenty of options. Read on to discover more.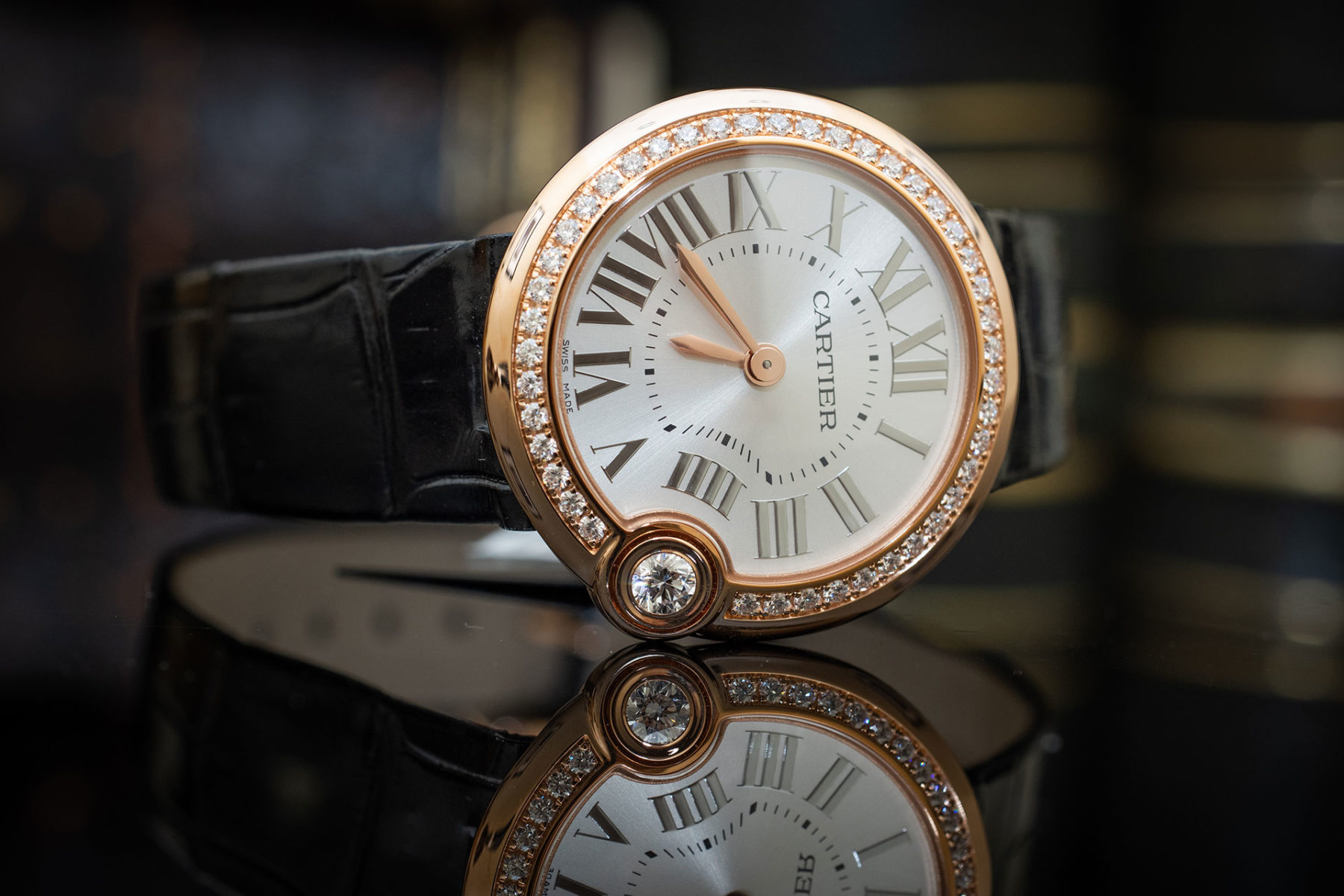 The Ballons de Cartier
In the mid-2000s Cartier introduced a 'modern-day classic' in the Ballon Bleu de Cartier. A case design reminiscent of a pebble and distinguished by an integrated crown guard arching over the sapphire cabochon crown. The novel design combines elements of the Maison's timeless style, leading many to declare a new icon of the brand had been born. The Ballon Bleu has quickly become one of Cartier's best performing models. Even gracing the wrists of royalty (such as the Duchess of Cambridge, Kate Middleton). It remains a centrepiece in Cartier's catalogue.
The smooth case (rounded on both top and bottom) is largely behind that success. The form renders the Ballon Bleu both elegant and comfortable to wear. The wristwatch tends to nestle into the wrist, becoming one with your arm.
Building on the concept, Cartier developed a second pebble-shaped (ladies') timepiece in the Ballon Blanc. Where the crown is done away with to make way for a solitaire diamond. Just as alluring, it maintains a play between bezel and dial. Here we look at both types in an assortment of pin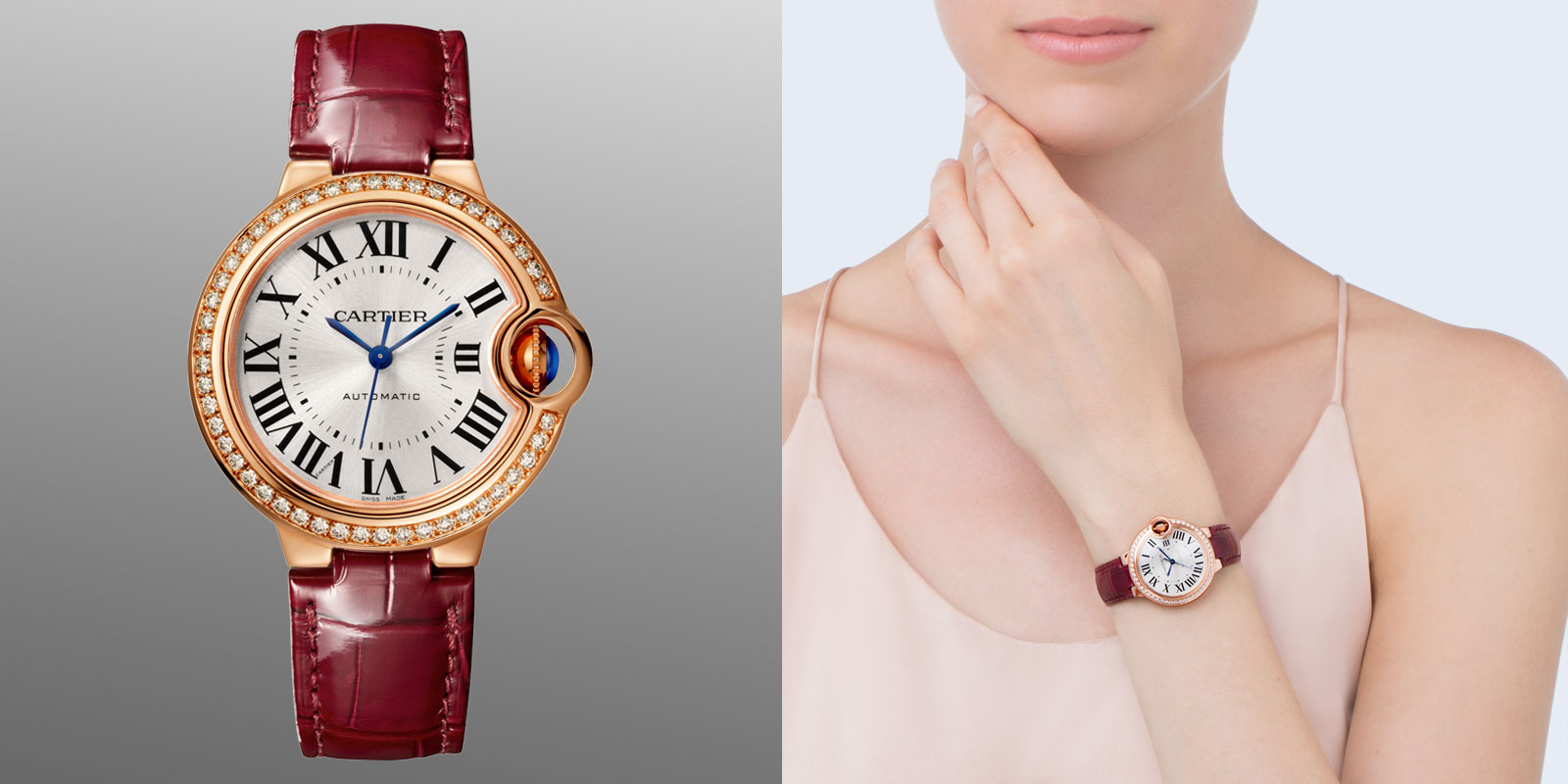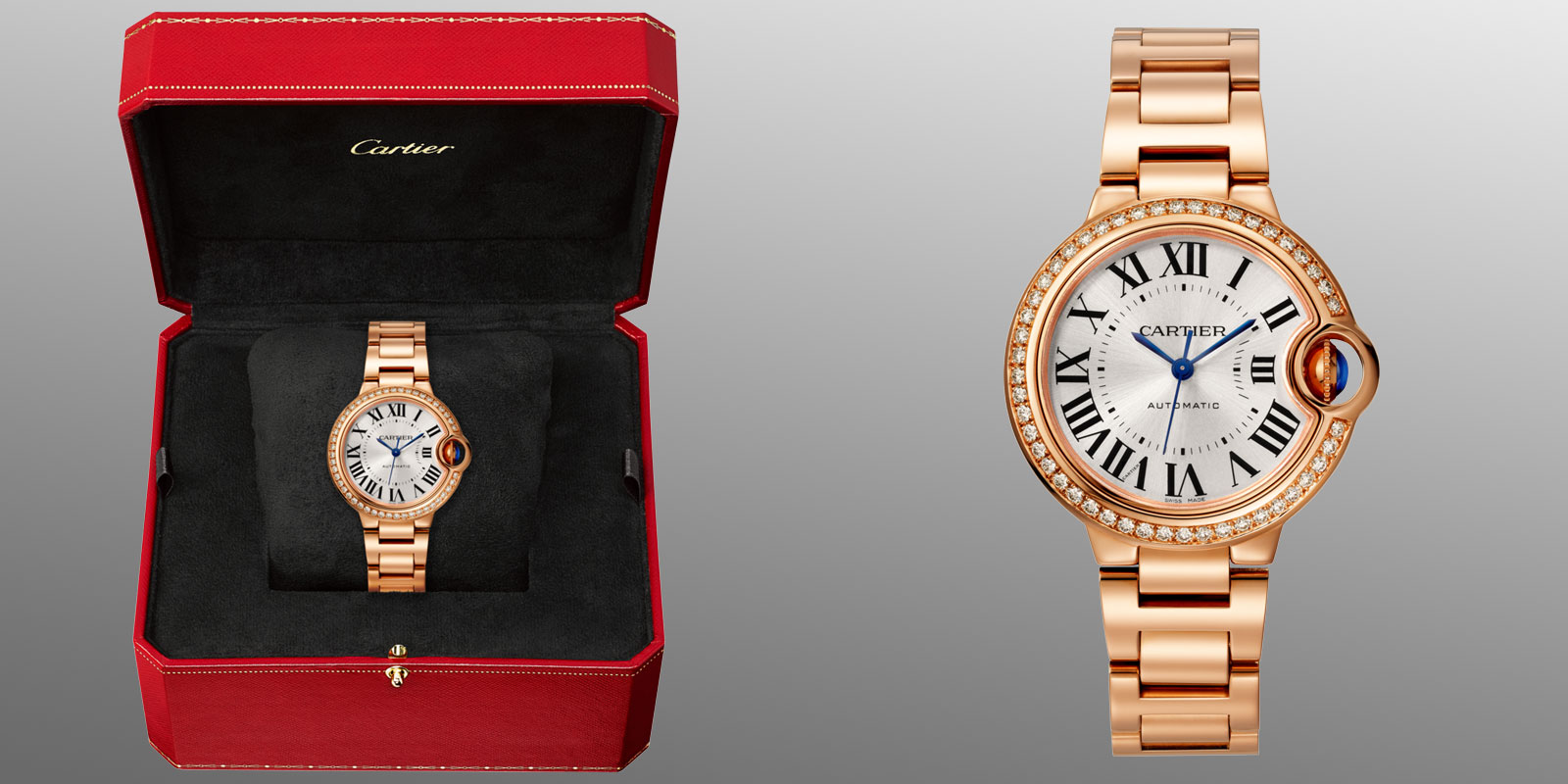 Ballon Bleu 36 and 33mm, Diamonds (available on leather or matching bracelet)
While the Ballon Bleu is a fairly recent addition to Cartier's catalogue, it bears a familiarity that recalls the classics of the Maison. The watch face features the elongated Roman numerals in high contrast with a silvered sunray-brushed dial. Plus Cartier's trademark inner minute train track. The juxtaposition of the fluted crown (with blue sapphire cabochon) creates a playful yet calculated asymmetry. Blued steel broadsword hands add a subtle touch of colour.
The bezel is finished with a ring of brilliant-cut diamonds. Adding to the luxury appeal while remaining tastefully attractive. The convex curves of the case – which extend to the sapphire crystal – translate to ultra-easy gliding under more formal shirt cuffs. (Though this is not a piece limited to formal occasions.) The Ballon Bleu is driven by an automatic mechanical movement. Water resistance is to 3 Bar (30m/ 100ft).
Both case dimensions will sit pretty on the wrist. With the larger 36mm measuring 12.1mm in thickness, while the 33mm a mere 10mm. Both sizes are available on a burgundy alligator leather strap, with 18k pink gold ardillon buckle. Alternatively, you can pair them with a matching bracelet in 18k pink gold. The bracelet features Cartier's 'H-links', with curvature moulded into each individual link (to optimally hug your wrist).
Ballon Bleu 36mm, pink gold, diamonds, burgundy alligator leather strap: $31,400, Ballon Bleu 33mm, pink gold, diamonds, burgundy alligator leather strap: $26,200, Ballon Bleu 36mm, pink gold, diamonds, 18k pink gold bracelet: $51,000, Ballon Bleu 33mm, pink gold, diamonds, 18k pink gold bracelet: $40,100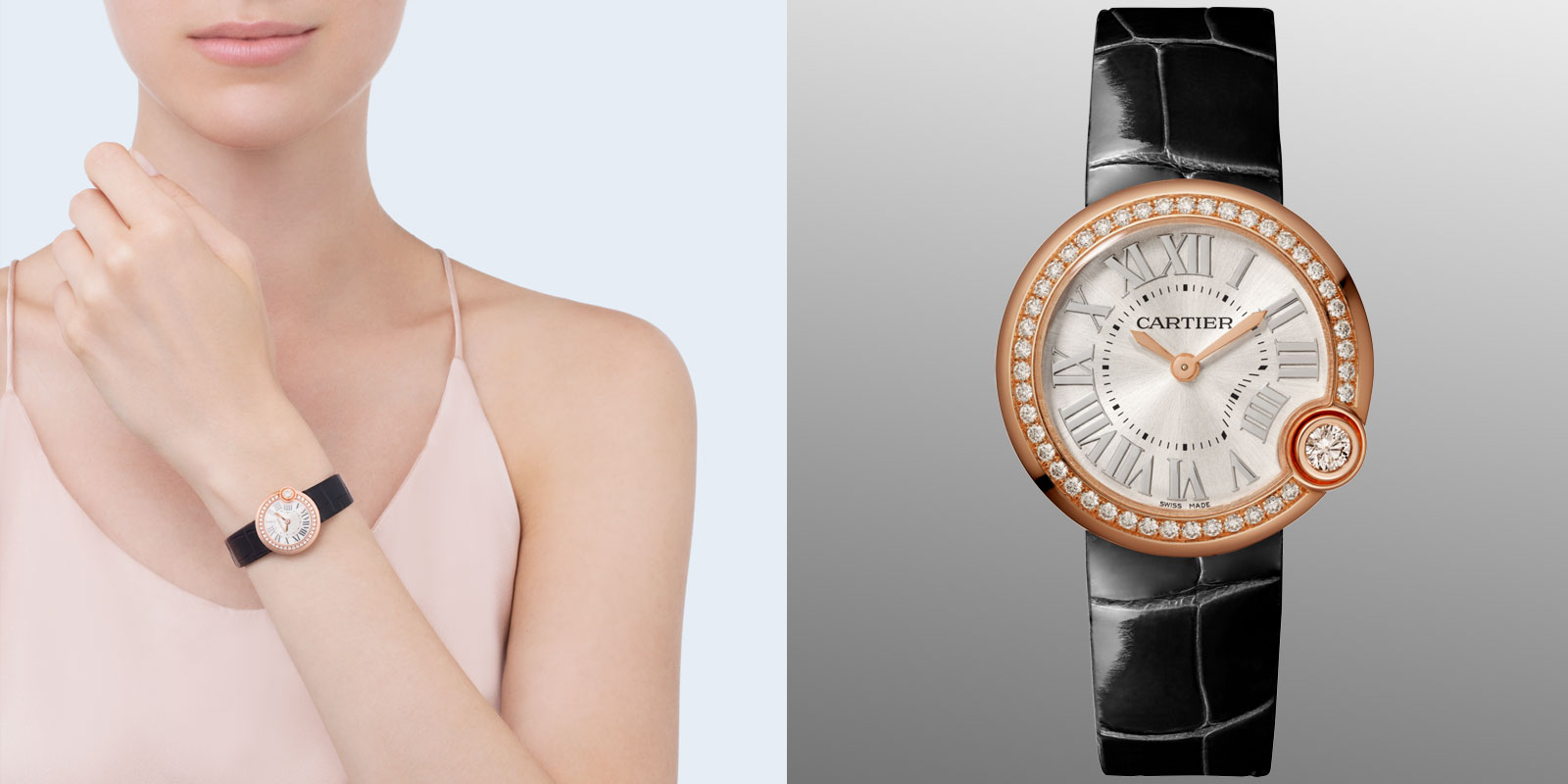 Ballon Blanc 30 and 26mm, Diamonds (on leather)
The Ballon Blanc offers a fresh twist on the original pebble concept. Distinguished by a striking solitaire diamond nested into the bezel. It's location at 4 o'clock causes the Roman numerals and inner chapter to make a small detour from their circular route. The silvered sunray-brushed dial this time features sword hands in golden-finish. And applied indexes in precious metal. While the bezel is again tastefully set with brilliant-cut diamonds.
The larger 30mm case measures 8.4mm thick, and the petite 26mm offering, just 7.85mm. Both come on a shiny black alligator-skin strap, with 18k pink gold ardillon buckle – priced at $21,800 and $17,500 respectively. The Ballon Blanc uses a quartz movement and provides a water resistance to 3 Bar (30m/ 100ft).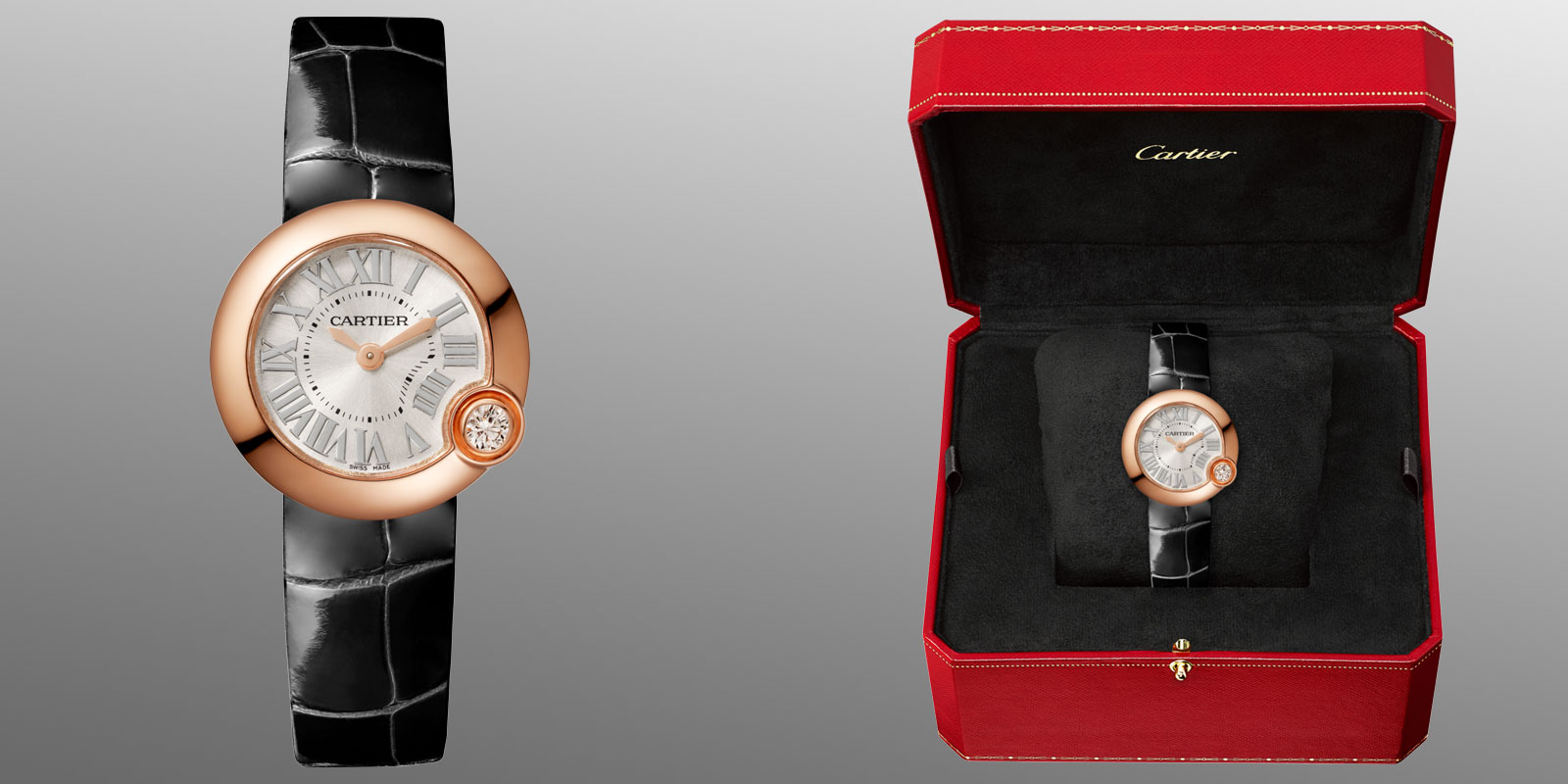 Ballon Blanc 30 and 26mm, Diamond (on leather)
This version mimics the above in every way minus the ring of brilliant-cut diamonds set into the bezel. Often populated by more dressy versions (with extravagant bracelets), this model from the Ballon Blanc collection offers a pared-back option that's more versatile in everyday situations, while still right for formal occasions.
It is also paired with a shiny black alligator-skin strap, featuring an 18k pink gold ardillon buckle. This single diamond Ballon Blanc is priced at $14,000 for the 30mm case, and $11,900 for the 26mm.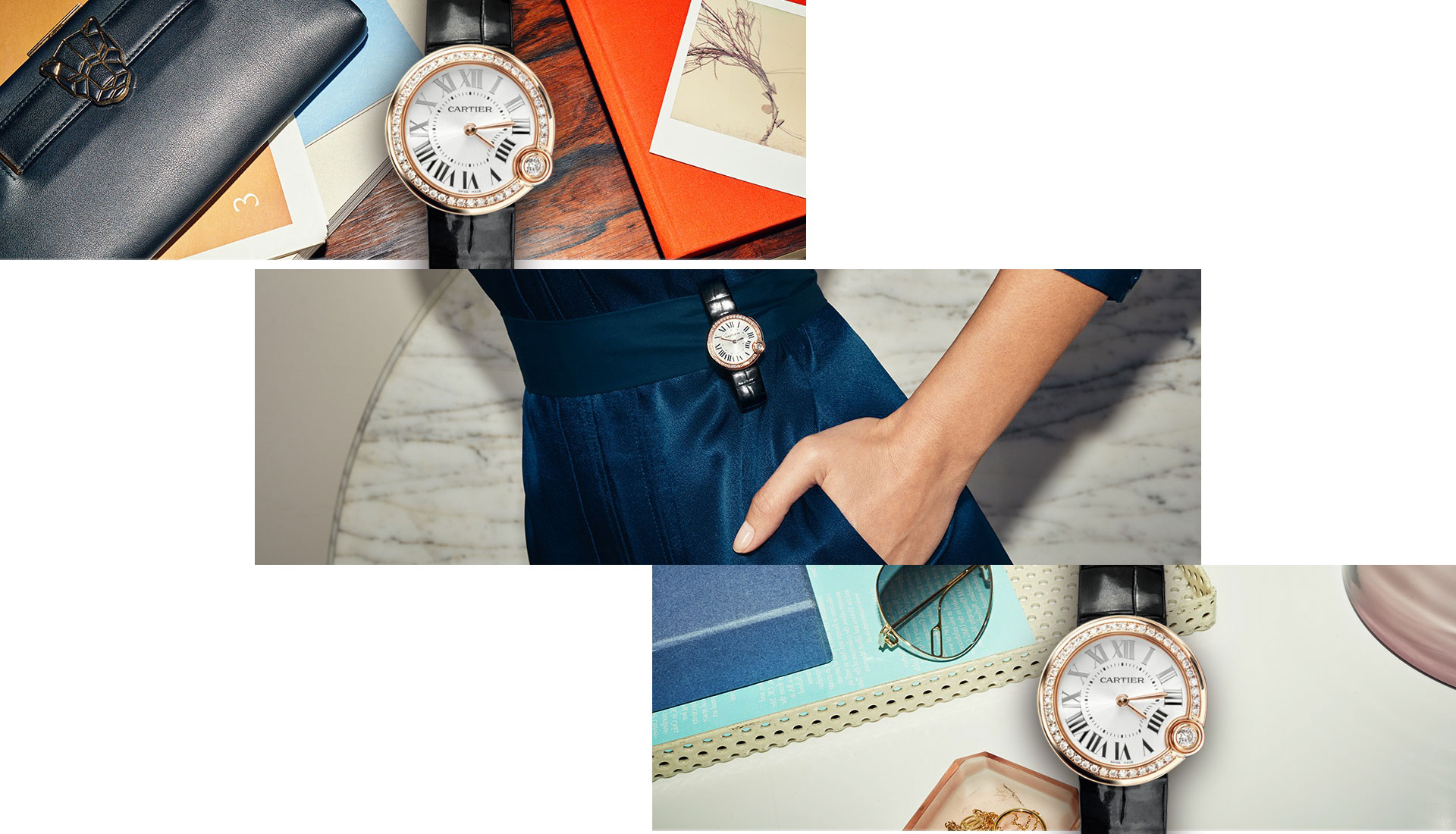 A Lucky pebble for your wrist
As you can see, there's an exciting range of possibilities just exploring the pink gold case. Starting from 26mm up to 36mm (with another two sizes in between). With a choice in the amount of diamonds. And the option of a matching bracelet with the Ballon Bleu model.
You'll also find the pebble form of the cases extremely comfortable on the wrist. Not to mention complimentary to your feminine projection. Our advice is to go pink this Christmas with Cartier. To find out more, please visit our Melbourne, Sydney and Perth boutiques.