Art as Sport
The New Cartier Pasha Has Arrived
This year, renowned Parisian jeweller and watchmaker, Cartier, breathes new life into its iconic Pasha de Cartier collection. At once elegant and refined, and yet still playful and fun, the new collection offers a slightly different take on the classic round watch. Ideal for those who like to stand out from the crowd but without compromising on form or function. Available in two sizes (41mm and 35mm) in your choice of steel or precious metal, there is something to suit every wrist. Read on to learn more about the Cartier Pasha de Cartier Collection and discover the new timepieces.
Click here to view the full Pasha de Cartier collection at Watches of Switzerland.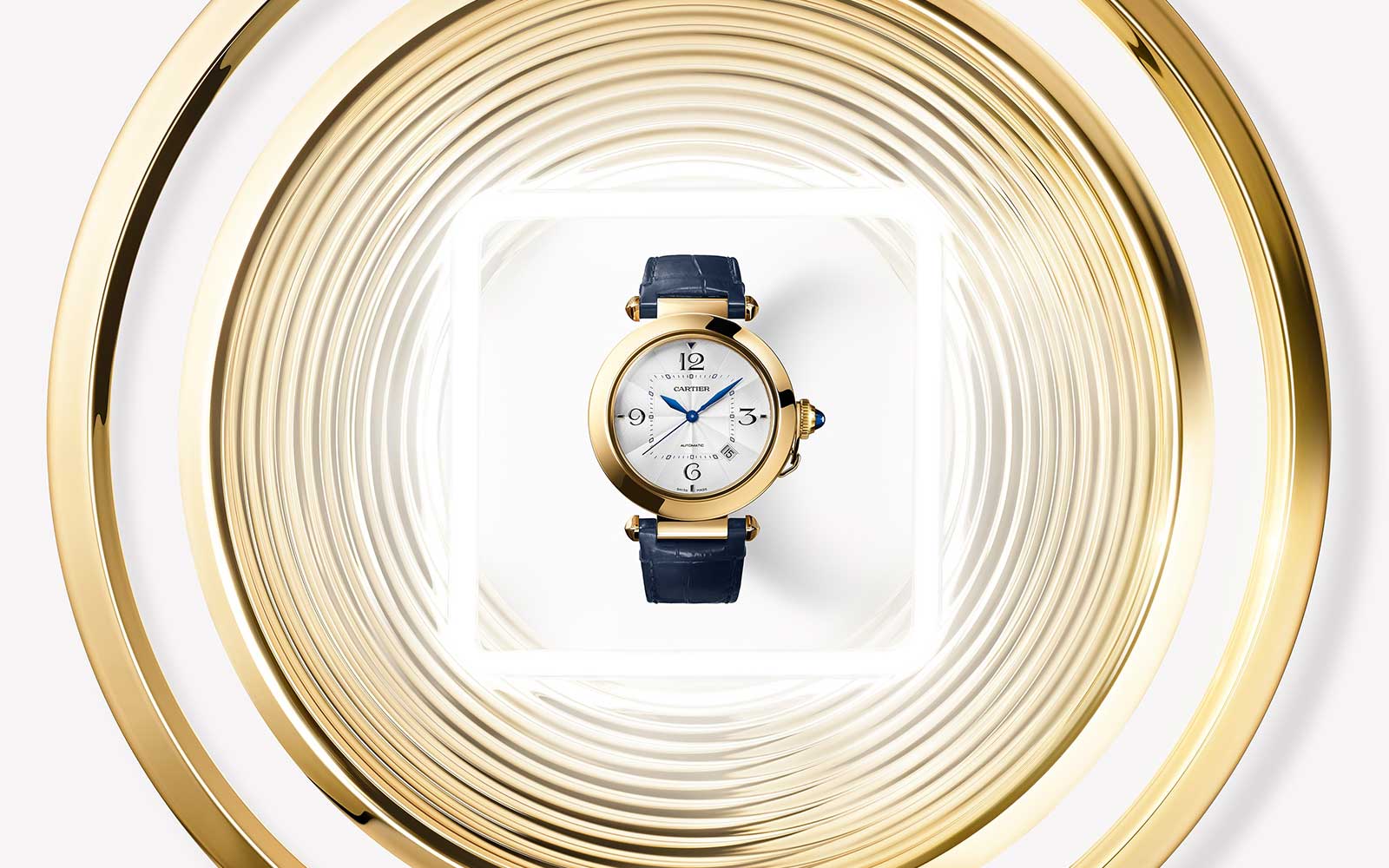 A Rich History
First conceived in the iconoclastic mind of the late Louis Cartier in 1932, the original model is said to have been commissioned by the Pasha of Marrakesh – hence the name of the collection. A powerful man, he desired to own an elegant luxury watch that could also accompany him on his regular swims and daily bathing. A request that would lead Monsieur Cartier to create one of the first waterproof wristwatches, complete with a chain-secured cap protecting the winding crown. A decade later, the Pasha became part of the official Cartier collection in 1943.
In the 1980s, another gifted designer – the late Gerald Genta – left his indelible mark on the Pasha. Drawing inspiration from Monsieur Cartier's original creation, Genta reconceived the Pasha in a sportier light, whilst still imbuing it with that inherent sense of elegance all Cartier timepieces convey. Signature elements of this design included the "square inside a circle" layout of the dial, the chain-secured cap protecting the crown and unique lugs decorated with oversized "Clou de Paris" at either end. Genta even went so far as to frame the dial with a diving bezel – complete with hash markings – confirming its place as Cartier's sports watch of the era.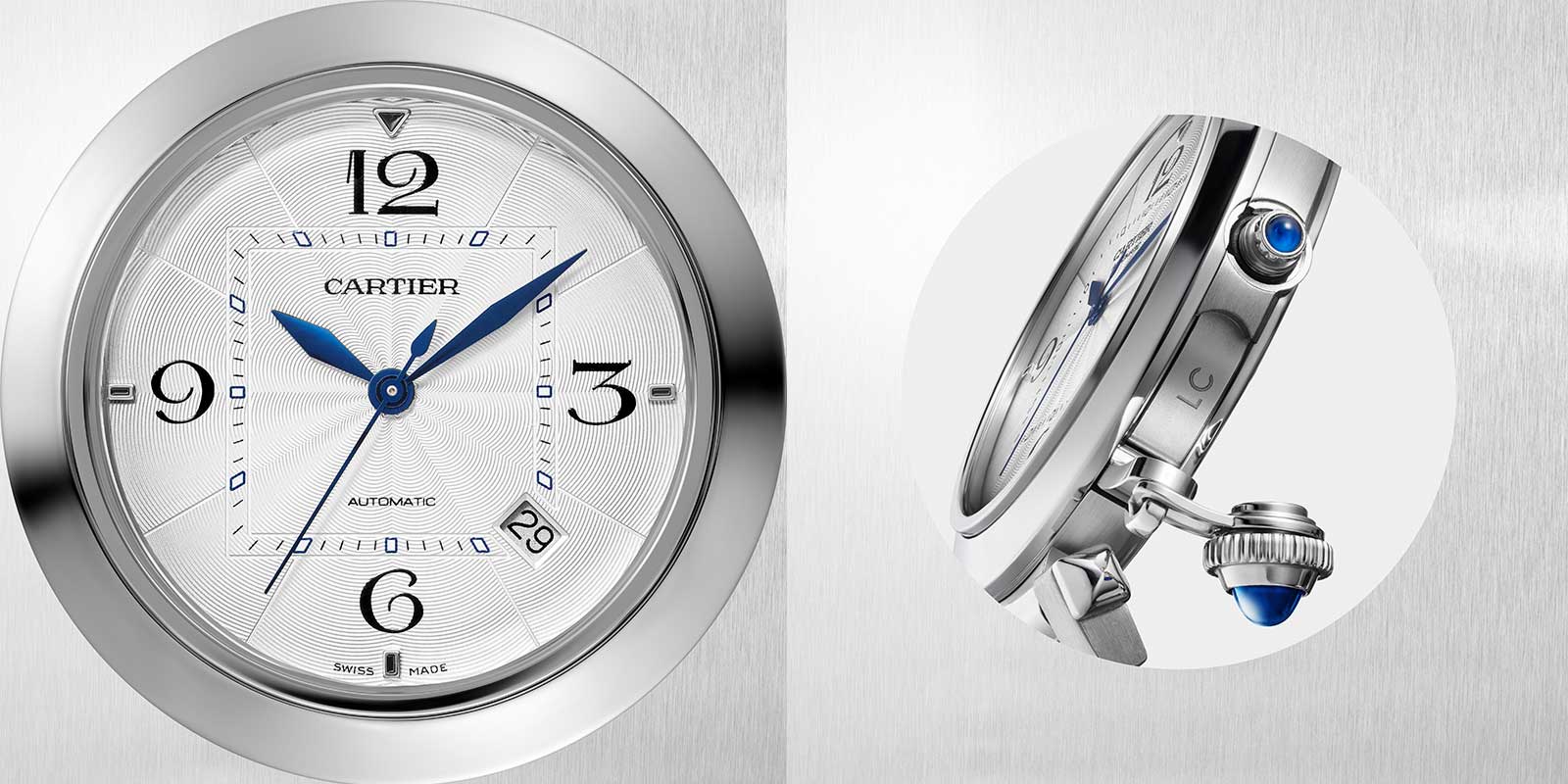 Now, in 2020, Cartier delights watch lovers everywhere with the introduction of a revamped Pasha collection. The round case is refined and beautifully-shaped, its brushed finishing giving it an understated look on the wrist that contrasts superbly with the smooth, polished bezel. At either end extend the unique lug modules, complete with "Clous de Paris" decoration. Not only do they make the Pasha immediately recognisable on the wrist, they also ensure the watch sits flat for a comfortable fit. In a subtle nod to its heritage, the case is rated water resistant to 100m and features the trademark chained-cap complete with blue cabochon that unscrews to reveal the winding crown underneath.
In classic Cartier style, the silvery-white dial features a stamped guilloché pattern with signature Pasha Arabic numerals and blued hands. The "square inside a circle" design which defined the Pasha collection is of course maintained but has been subtlety updated for modern tastes. The square rail-track is more ornate, giving the Pasha a contemporary look that is very pleasant to the eye.