Marilyn's Watch
Announcing The Blancpain Women & Marilyn Monroe Exhibition
We are pleased to announce that the Blancpain Women & Marilyn Monroe Exhibition is now open at our Watches of Switzerland Sydney Boutique. On display visitors will find a curated selection of timepieces celebrating elegance and femininity, including a stunning Blancpain evening watch inspired by one once owned by the inimitable Marilyn Monroe. This diamond-studded cocktail watch is a dazzling new limited-edition jewellery timepiece from Blancpain, unveiled earlier this year and available for viewing as part of this exclusive exhibition. Running through October, the Blancpain Women & Marilyn Monroe Exhibition offers the rare opportunity to get up close and personal with some of the storied watchmaker's most exquisite pieces for women.
Blancpain's epic saga of feminine watches was set into motion by a pioneering woman by the name of Betty Fiechter. Renowned for her intelligence and vision, Fiechter made history in 1933 when she bought Manufacture Blancpain, becoming the first female watch brand owner and director. Her visionary spirit paved the way for jewellery watches at Blancpain, and she played a major role in establishing and growing the brand's international reputation. Among her many achievements was the launch of the Ladybird timepiece in 1956, equipped with the smallest round mechanical movement of the time. It comes as no surprise then that Marilyn Monroe chose to adorn herself with a Blancpain timepiece.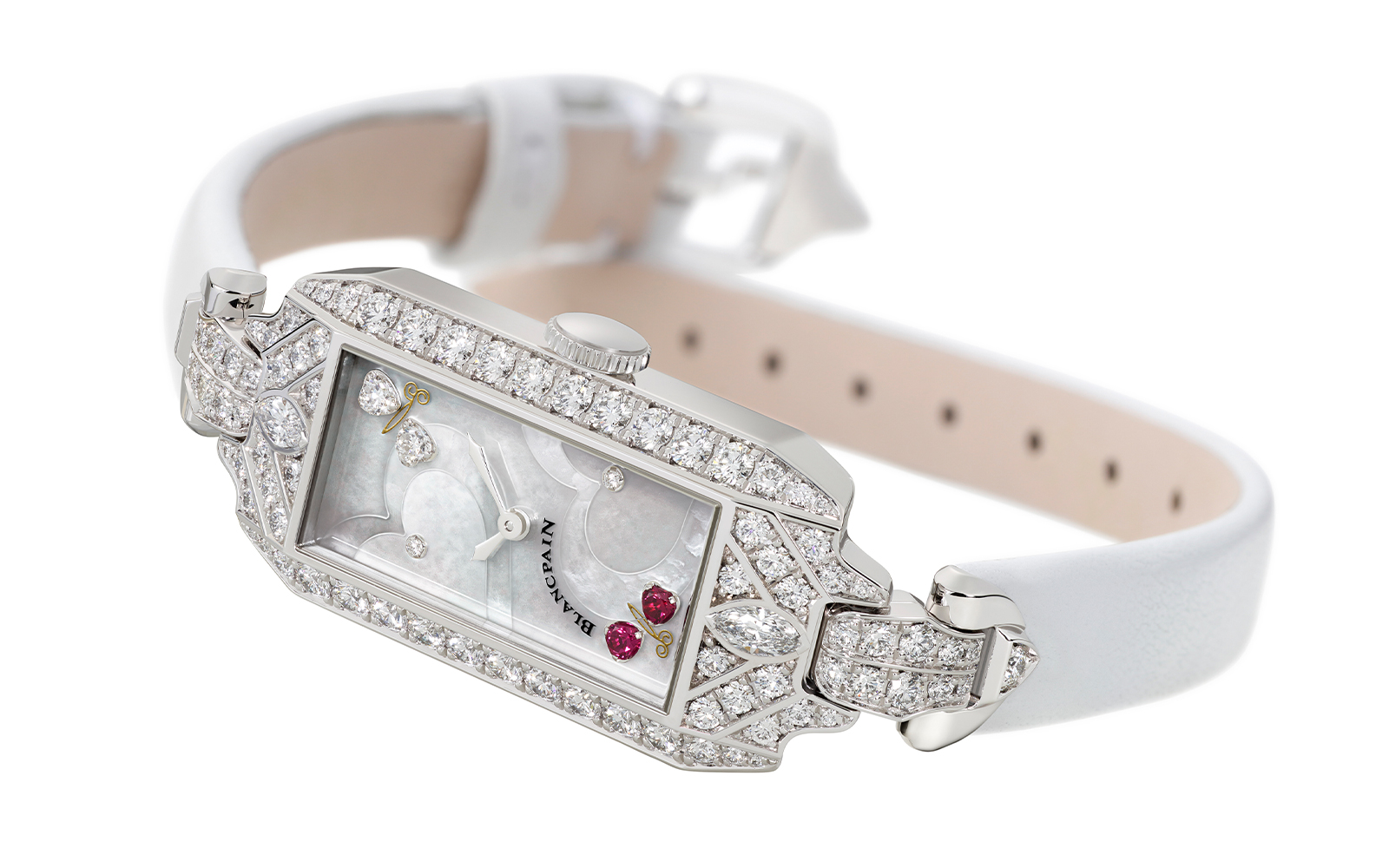 Despite her glamorous appearance and self-confessed love for diamonds, Marilyn Monroe actually owned comparably few pieces of personally jewellery. One of her prized possessions was her Blancpain Art Deco-inspired 1930s cocktail watch, believed to have been gifted to her by her husband, famed American playwright Arthur Miller. Crafted in platinum, the case is paved with 71 round-cut diamonds and two marquise-cut diamonds. The white rectangular dial, complete with yellow hour-markers and blued hands, bears the "Blancpain" insignia just below 12 o'clock. The slender geometry and structured setting of this precious watch embody a perfect balance between avant-gardism and elegance, both day and night.
For 2020, Blancpain has drawn on this historic model for inspiration but reimagined it in an entirely contemporary way. Its rectangular white gold Art Deco style case is set with 84 diamonds, sometimes in superposed rows, including two generous marquise-cut gems. Time is shown on a beautiful mother-of-pearl dial, inlaid with two hearts, and adorned with two brilliant-cut diamonds and two precious butterflies made of diamond and ruby hearts, giving the watch a delicate sense of whimsy.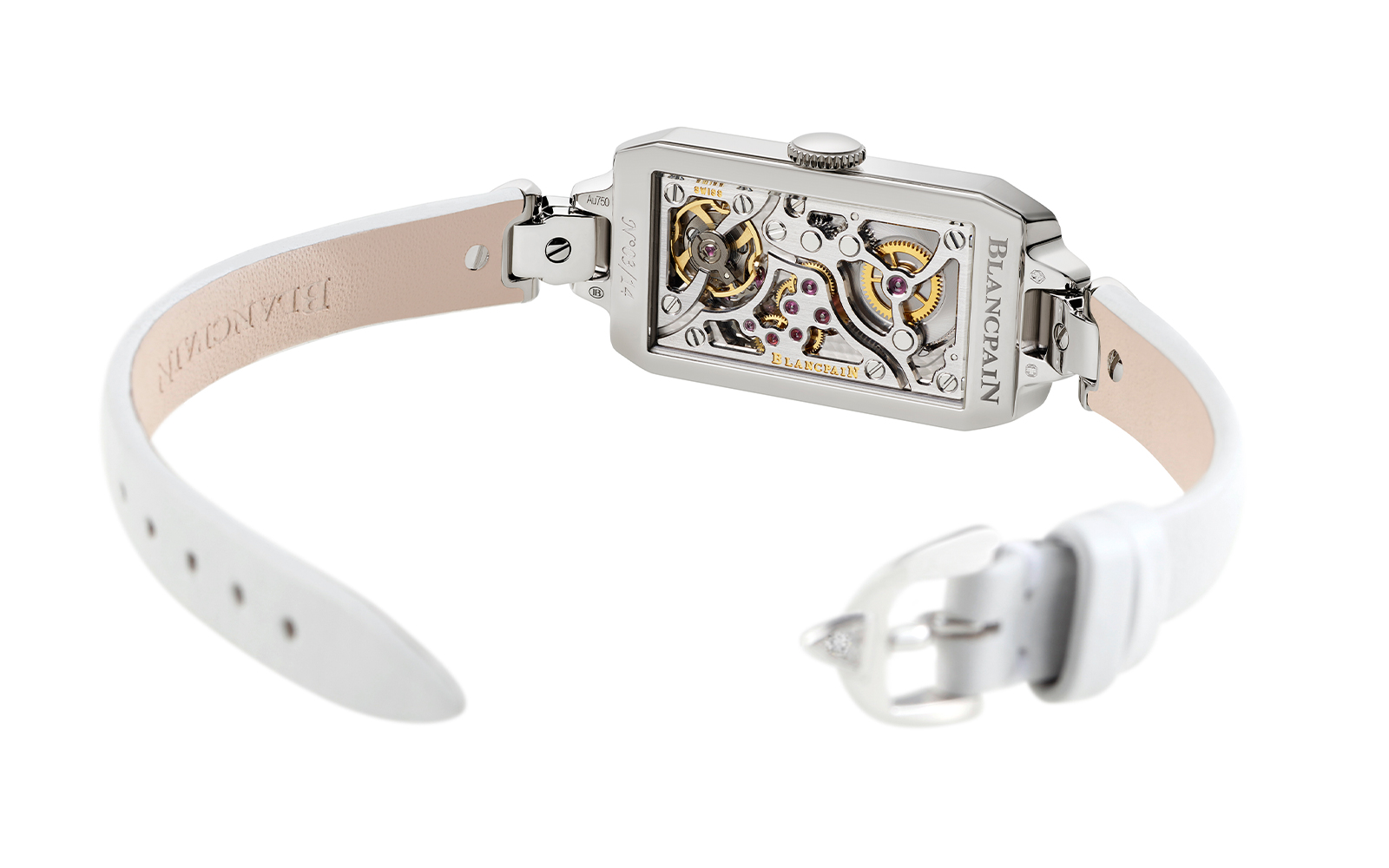 Equally as impressive is the mechanical movement inside the case, the rectangular caliber 510, a major new addition to the Blancpain collection. Visible through a sapphire glass caseback, the symmetry between its balance-wheel and its barrel lend both delicacy and visual equilibrium to this two-tone mechanical movement, while the chamfered finish of its bridges adds a soft and light touch. Truly a delight to behold for any true connoisseur of fine watchmaking.
This special jewellery watch is offered on a calf leather strap secured by a pin buckle set with a brilliant-cut diamond and will be limited to just fourteen pieces worldwide. Making the rare opportunity to view it in person at our Blancpain Women & Marilyn Monroe Exhibition even more appealing.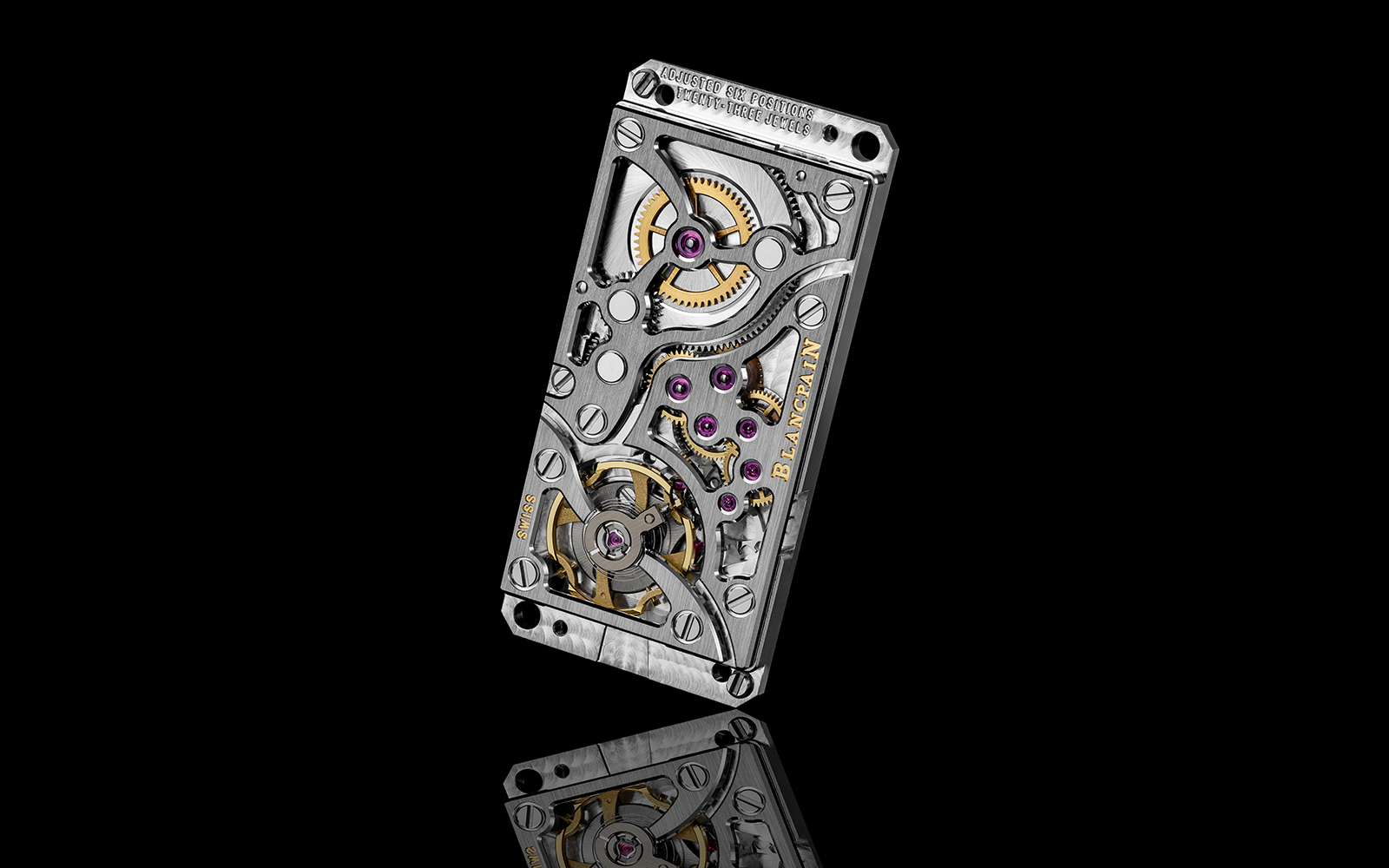 This dazzling timepiece, along with the further selection of exceptional pieces on display perfectly embodies the spirit of Blancpain: since 1930, the Manufacture has been convinced that women are eminently capable of appreciating the expertise and magic of mechanical watchmaking. Running through October, we warmly invite you to visit the Blancpain Women & Marilyn Monroe Exhibition today at our Watches of Switzerland Sydney boutique.