Online Exclusive: The New Breitling Top Time Triumph
Watches of Switzerland is pleased to announce an exciting new partnership between Swiss luxury watchmaker, Breitling, and British motorcycle manufacturer, Triumph. To celebrate the pairing of these two iconic brands, Breitling has created the special Top Time Triumph, heavily inspired by 1960s café racer culture. The debuting timepiece features a distinctive brushed finished watch face in the bow-tie motif. (Nicknamed "the Zorro dial" by Top Time collectors.) For their part, Triumph is producing 270 co-branded Speed Twin motorcycles.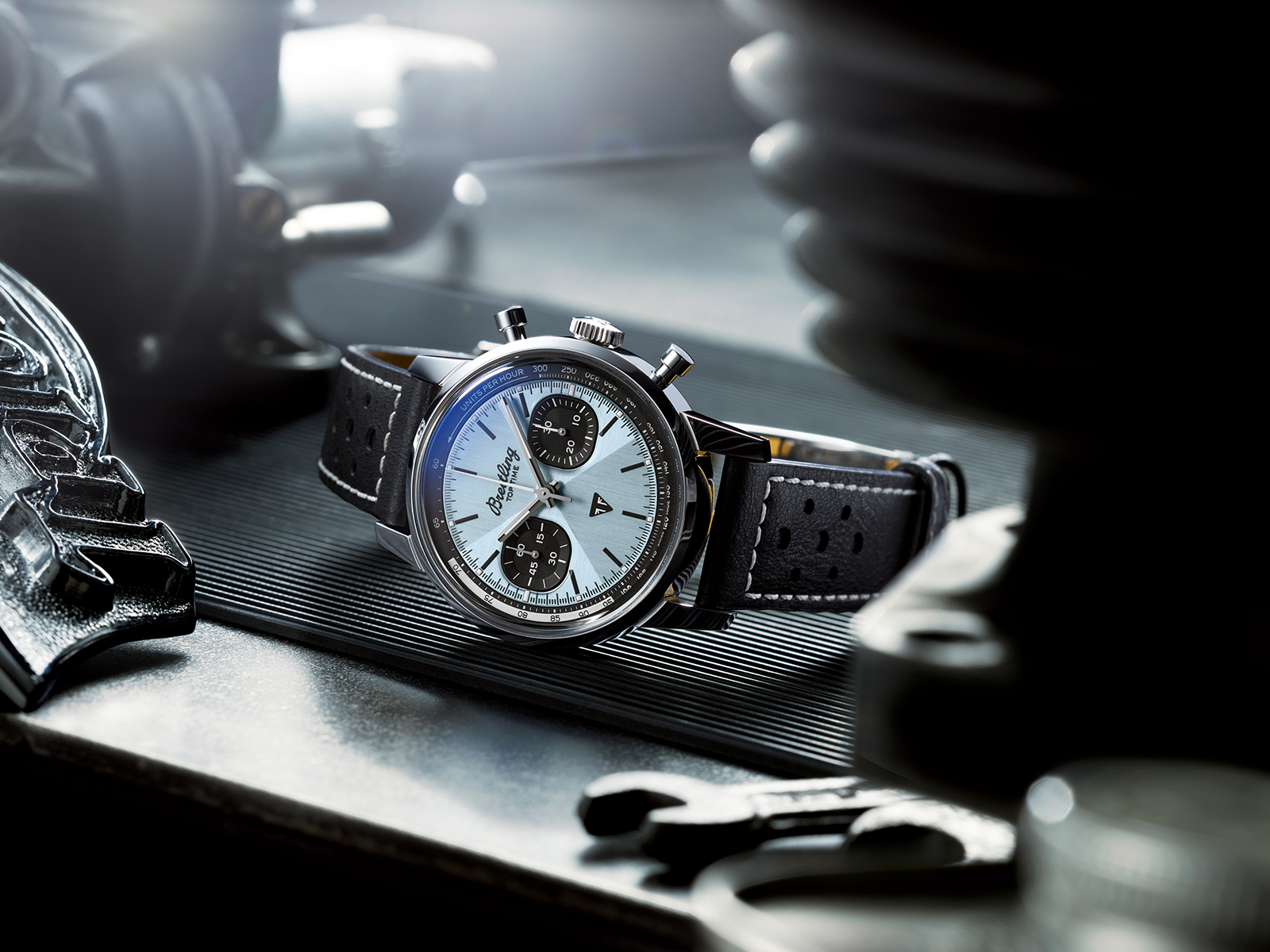 Those already familiar with the complementary philosophies of both brands will no doubt see the collaboration as a natural fit. (And arguably one that was long overdue.) Likewise, motoring enthusiasts of all kinds will appreciate the Top Time's elegant racing style and functionality. Available exclusively online now from Watches of Switzerland, let's take a closer look at what will surely become a sought-after timepiece.
But first…some background on the Top Time
The 1960s were a time when the youth were taking ever bolder steps to differentiate themselves from the previous generation. The growing popularity of auto racing fuelled a movement obsessed with fast cars and fast bikes. Willy Breitling, the third generation to helm Breitling, with a finger on the pulse of the times was paying close attention. He recognised a need to connect directly to this new audience to resurrect a waning image of the mechanical chronograph.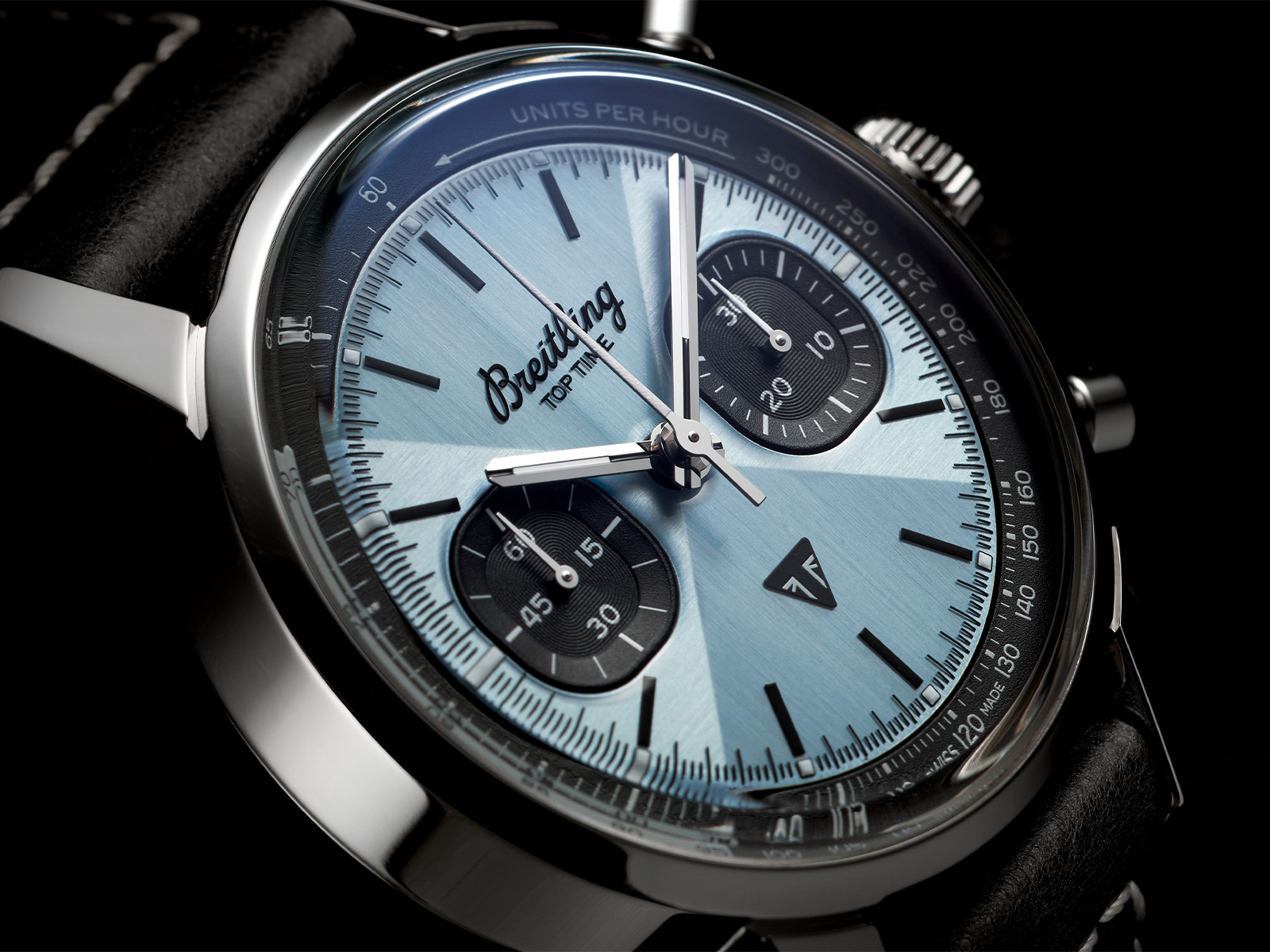 Willy was keenly astute about style. He believed that while a watch's primary role was to be functional, it should also complement and complete one's attire. He understood this factor was key to winning the hearts of a younger audience and set about devising a completely fresh take on the timekeeper. One that captured the speed-driven craze. Launched in 1964, the Breitling Top Time was an unconventional chronograph, designed for "young and active professionals". Simple but elegant, the Top Time caught on quickly with a sporty in-crowd of men and women equally drawn to the watch's bold proportions.
1960s "café-racer" culture
Out of the motoring craze of the mid-1960s, a whole subculture sprung up around stylish motorcycles known as "café racers". It began in the UK with British bikes modified to carry their riders as fast as possible from hip café to hip café, with the trend quickly spreading. The café racer culture is a perfect example of the youthful pastime Willy Breitling intended to cater to with the Top Time. Seeking to recapture this freewheeling spirit in a contemporary version of the watch, what better co-collaborator to team with than the motorcycle brand behind many of the original stylish café racers?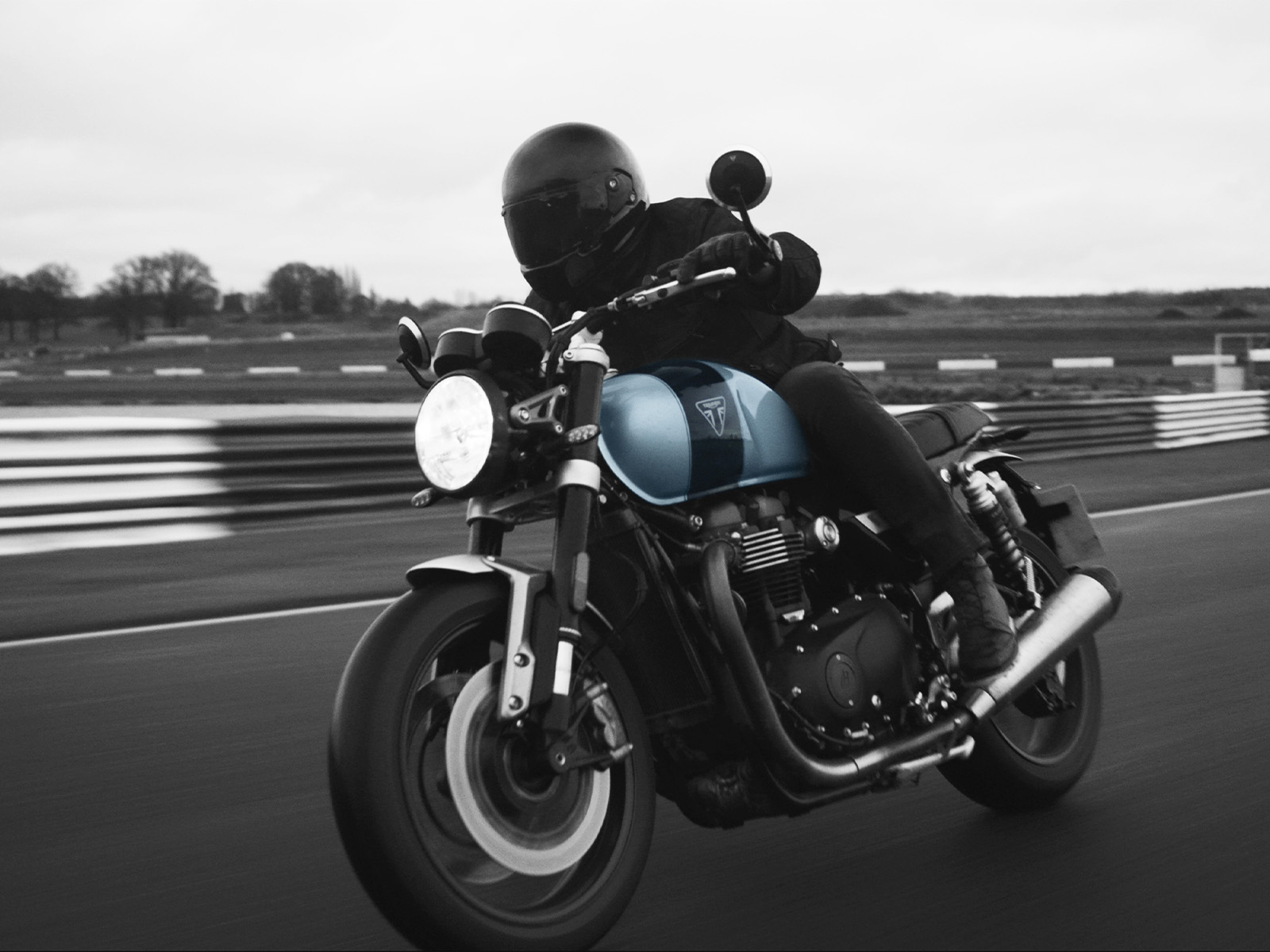 Triumph motorcycles, in sync with Breitling's brand philosophy
Triumph, Britain's largest motorcycle manufacturer, is celebrating its 120th year in 2022. First established in 1902, the Triumph brand, like Breitling, is steeped in heritage. (With a reputation for producing 'classics'.) Their knack for modern-retro motorcycle designs makes them almost an obvious choice as collaborator for Breitling.
"Their blending of tradition with technology is completely in sync with what we do." – Breitling CEO, Georges Kern
Based in Hinckley, Leicestershire for over three decades now, Triumph Motorcycles produce iconic bikes that perfectly blend historical charisma with modern performance. (For the 2021 financial year, more than 75,000 motorcycles were delivered worldwide.)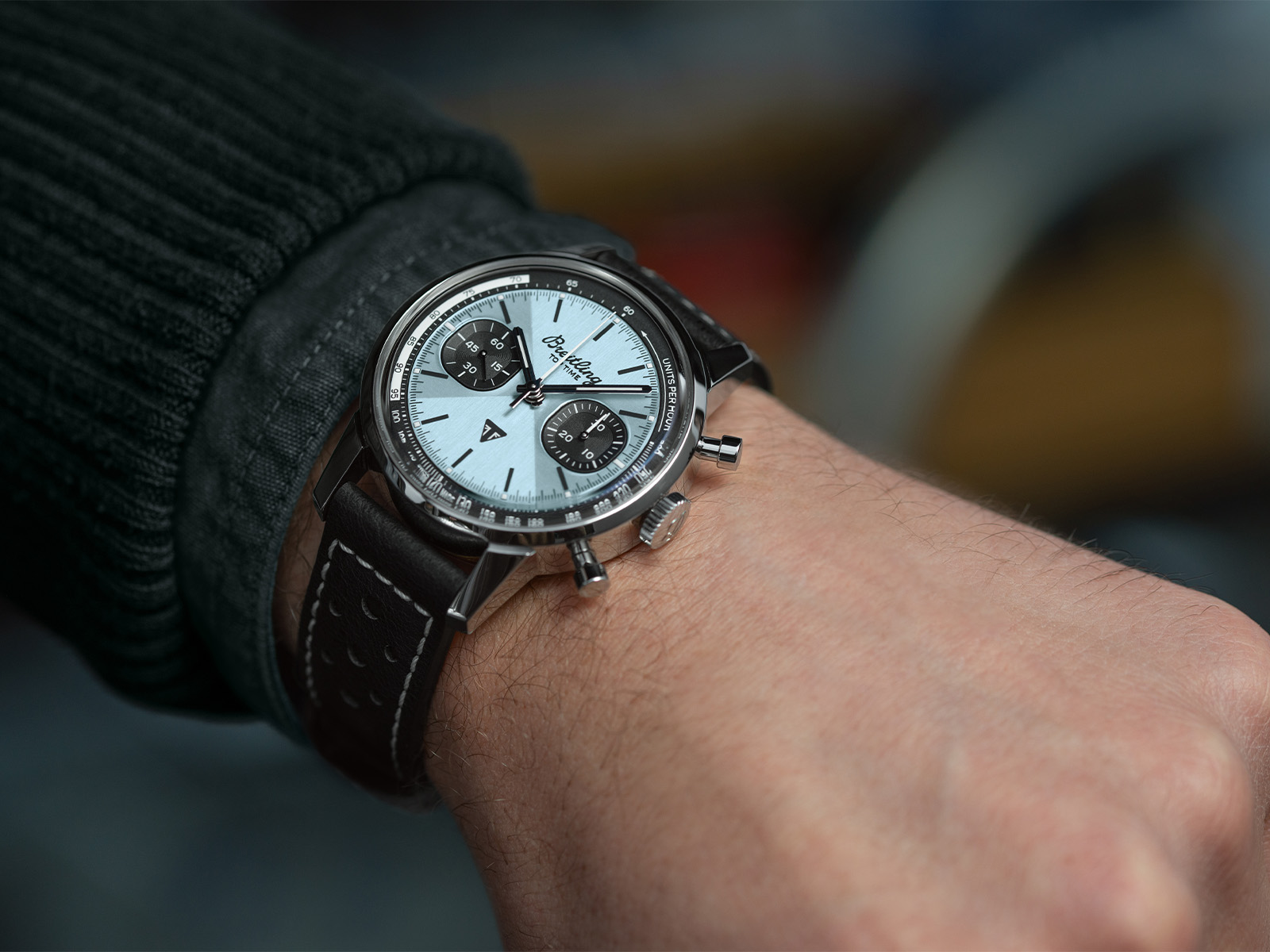 The Breitling Top Time Triumph
At 41 mm, the new Top Time, like the original, is made for the wrist of both sexes. The signature of the Top Time Triumph is its ice-blue dial. The unique colour was selected to reference both a blue Triumph Thunderbird 6T from 1951, and a rare, blue dial Breitling Top Time (Ref. 815) from the 1970s. Breitling and Triumph logos appear at 12 and 6 o'clock respectively. Housed in a stainless steel case and paired with a subdued racing-themed calfskin leather strap, the eye-catching hue of the dial is given centre stage.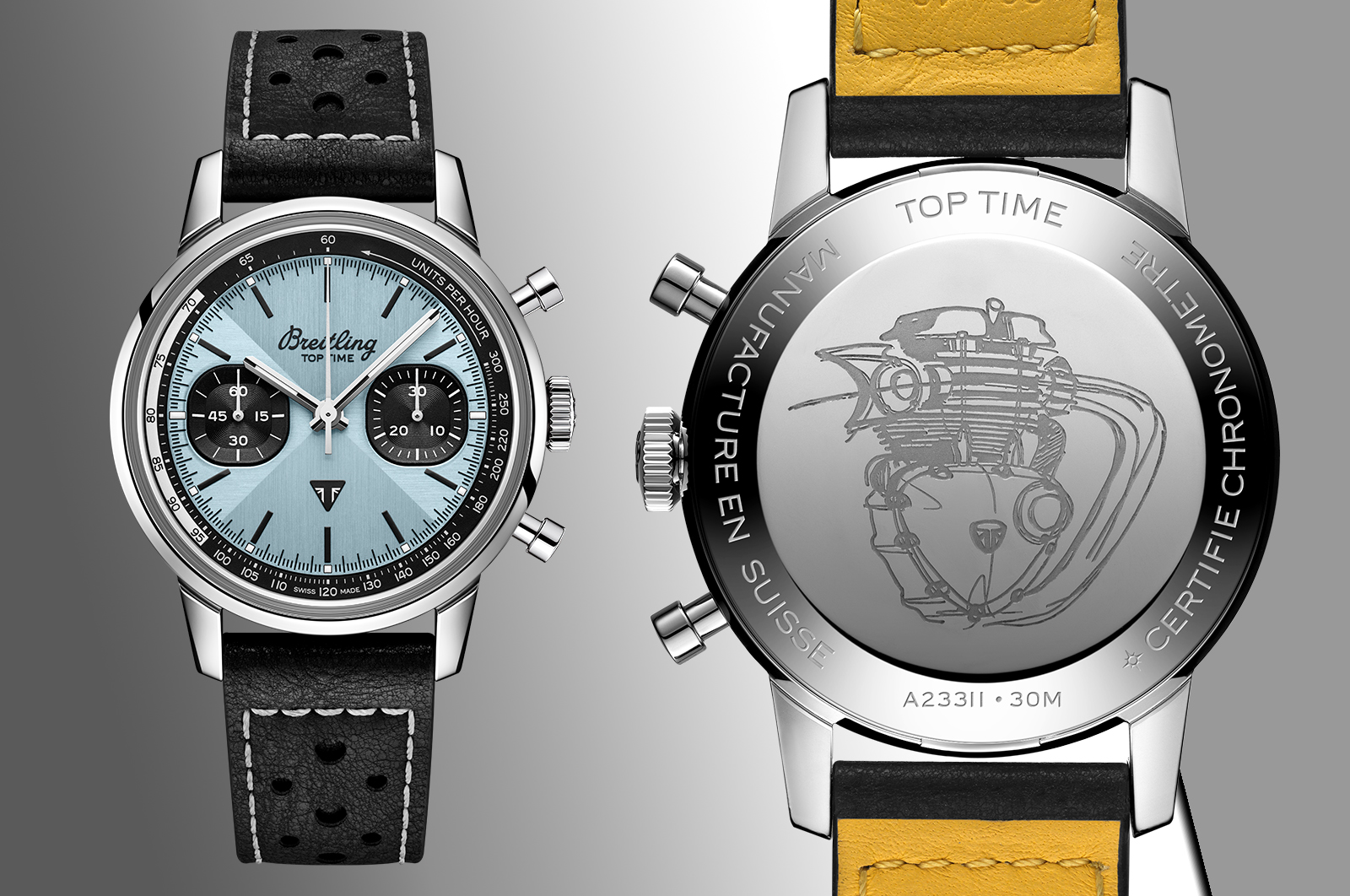 Features of the racing chronograph include oversized mushroom pushers, which allow for easy control of the stop-start and reset functions. While a high-contrast tachymeter scale provides clear legibility for speed readings. The Top Time Triumph is powered by the Breitling Caliber 23, a self-winding movement with COSC chronometer certification. It offers approximately two days of power reserve when fully wound. Turning the watch over reveals a caseback etched with a detailed sketch of Triumph's parallel twin engine, sure to be a drawcard for motorcycle enthusiasts in particular.
Triumph Speed Twin Breitling Limited Edition
Limited to 270 units, these motorcycles feature a polychromatic blue scheme (complimenting the Top Time's dial). The hue comes from the Triumph immortalised in the 1953 legendary biker movie "The Wild One". Custom instrument faces are co-designed by Breitling, transferring style cues from the Top Time Triumph dial to the motorcycle's speed and RPM gauges. The premium black leather seat features an elegantly embroidered Breitling "B". Perforated and with contrasting grey stitching, it echoes the watch's strap design.
Purchasing your own Top Time Triumph
We're sure you won't hesitate to agree that the unique aesthetic of this new racing chronograph is nothing short of superb. With red hot demand expected, the Top Time Triumph is an online exclusive which can be purchased by clicking here (subject to availability). Just like the bikes back in the '60s, these will go fast, so don't hesitate in securing yours today.