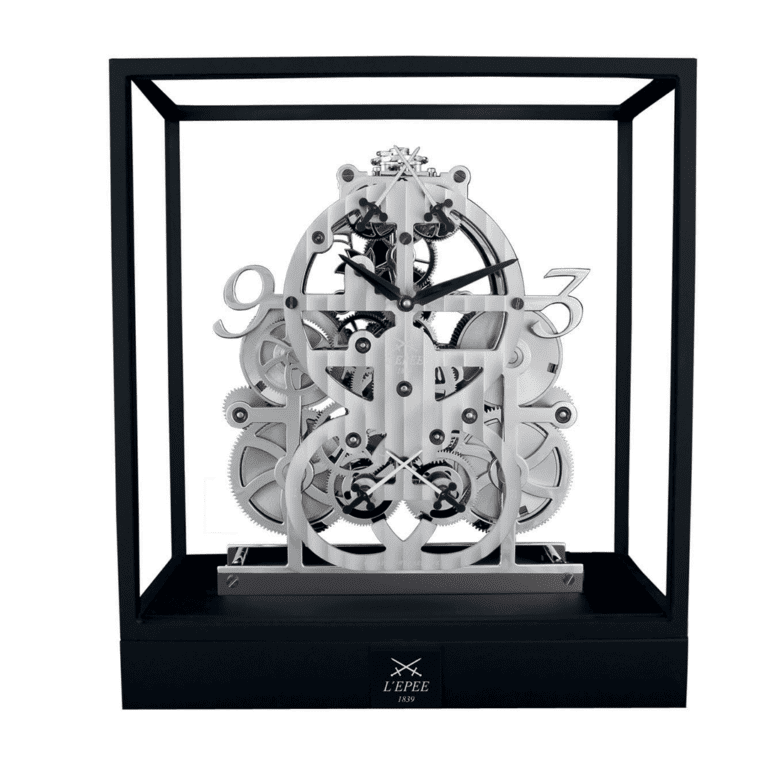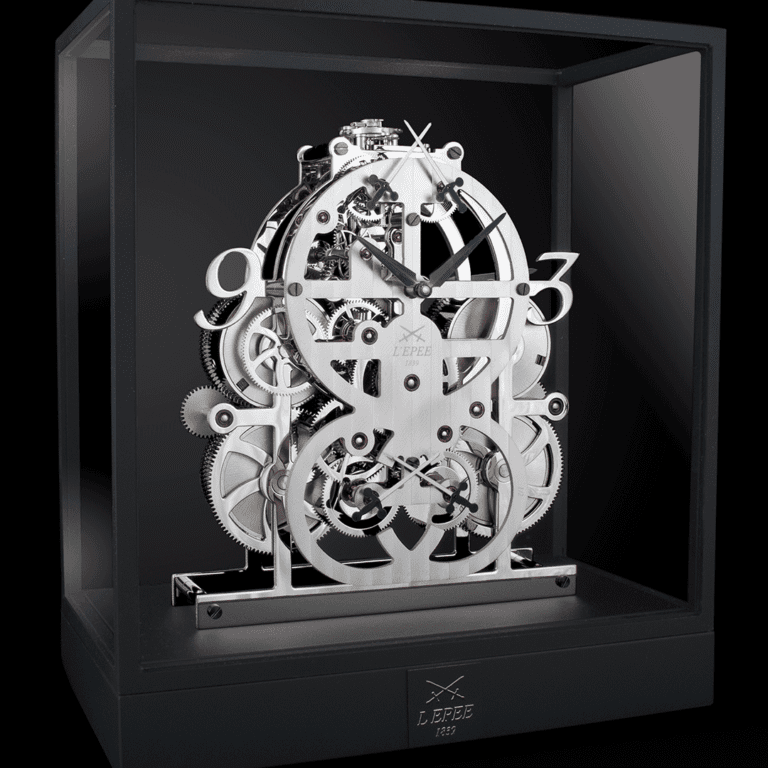 L'Épée 1839
Le Duel
50.6591/201
The modern and emblematic Le Duel collection perfectly reflects the renewal of the L'Epée 1839 brand and offers the magic of a fully visible 40-day movement with understated architecture and pure lines.
$49,930
AUD / Including GST
Detailed features & specifications
INSIGHTS
This resolutely contemporary collection brings together tradition and fine watchmaking with an array of visual effects. From top to bottom, the eye is drawn first to the regular oscillations of the Incabloc escapement balance wheel, under which the two sword-shaped retrograde second hands spring back every twenty seconds. Next, the eye comes to rest on the five-barrel movement and its fascinating dance of geartrains, followed by the two more solemn power reserve hands. The mechanism is protected by a glass case, and presented simply on its base.
The hours and minutes are displayed at the center of the clock via two diamond-cut beveled hands.
Reading the time is facilitated by the addition of a 3 and a 9, evoking the establishment of the brand in (18)39.
The double retrograde seconds – The double retrograde second hands placed at twelve o'clock, above the hours and minutes display, are two swords that gradually approach and cross over a 20-second period, before snapping back to the vertical to take up the "en garde" position. This 20-second cycle has been made possible by the addition of geartrains to the basic Duel movement. Thus 327 gear teeth are required to operate the double retrograde seconds' animation.
The double power reserve animation – The two power-reserve hands, placed at six o'clock at the bottom of the movement, move simultaneously from 1 to 0. They rotate through 300° and indicate the remaining autonomy. When the swords are crossed and pointing to the 1, the power reserve is at its maximum. When they cross again, pointing downwards to the 0, it is time to wind the movement!

TECHNICAL DETAILS
Functions – hours, minutes, double retrograde second hands, double power-reserve indicator
Movement – caliber 2010, Incabloc horizontal escapement, balance wheel frequency: 18,000 A/h / 2.5 Hz, barrels: 5 series-mounted, power reserve: 40 days with accuracy of +/- 2 minutes per week, number of components: 172 , number of jewels: 46, materials: Brass, Nickel-Palladium, finishes: gold-plated, palladium-plated, All Black, polished, satin-finished, sandblasted, anglage, polished, Côtes de Genève winding and setting: manual, single key
Displays – Hours & minutes: beveled hands in polished brass with specific L'Epée 1839 design, Double power-reserve indicator & double retrograde second hands: beveled hands in the form of a sword blade made of palladium-coated polished brass. The sword handle is also made of sandblasted brass with a gun-barrel varnish
Structure & Base – materials: Duel & Duel II: Sandblasted aluminum, matt black varnish