Announcing The Breitling Super Chronomat Watches Of Switzerland 25 Year Edition
Celebrating our 25th Anniversary is as much about marking this important milestone for Watches of Switzerland as it is about saying thank you to our loyal clients who have come on this incredible journey with us. To that end, we have chosen to collaborate with one of our longest-standing partners to create a special, limited edition of one of their most popular models. Exclusively available to Watches of Switzerland Australia clients and limited to 100 pieces, we are beyond thrilled to present the Breitling Super Chronomat Watches of Switzerland 25 Years Edition. A model so good that Breitling's CEO instantly regretted making it just for us.
Keep reading to learn all about the new Super Chronomat Watches of Switzerland 25 Years Edition, including its rich history, as well as what Georges Kern had to say when he first laid eyes on it.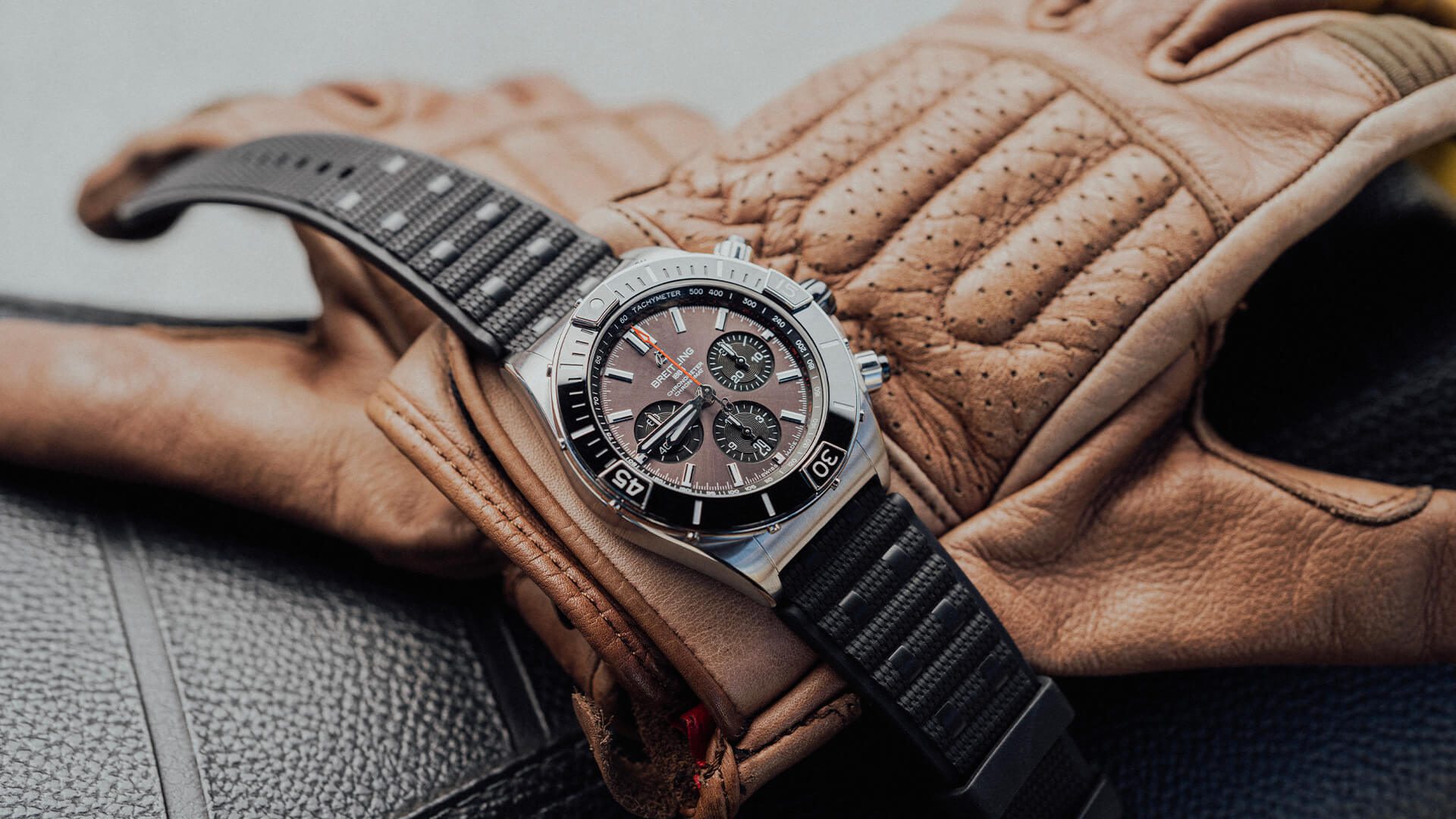 Watches of Switzerland x Breitling
When Watches of Switzerland Australia decided to open the doors to its first ever boutique – located in Perth, Australia – in 1997, Breitling immediately signalled its interest to come on board as an anchor brand. Having previously worked with WoS Chairman and Founder, Eric van der Griend, in his capacity as an importer and distributor of premium Swiss brands into Australia, they knew they would be in good hands. Over the years this partnership has grown and strengthened, as has Breitling's positioning in the Australian market, thanks in large part to the tireless work of the entire WoS team.
Without wanting to pat ourselves too much on the back, it's gratifying to know this has not passed unnoticed by Breitling CEO, Georges Kern. He recently sat down in Switzerland with the van der Griend family leadership team for an intimate chat, explaining:
"It is a big market for us. It has grown strongly with you. Double digit growth…The Australian market has grown more mature over the last 25 years, more sophisticated…I'm very happy about the relationship we have. Breitling has been there right from the beginning. We are very proud to work with you in Australia and there are many things we can do together."
There's no doubt that Breitling's products are ideally suited to Australia's active, outdoor lifestyle. The designs are luxurious and contemporary yet also practical and robust, and Kern has brought a new vibrancy and clarity to the various collections. As a result, Breitling is a perennial favourite with our valued clients across our great nation, enabling us to forge ever closer ties and work on special projects together. Like the new Breitling Super Chronomat Watches of Switzerland 25 Years Edition.
Before we get to the limited edition itself though, a quick history lesson is in order, to help our valued clients understand why we chose this particular model.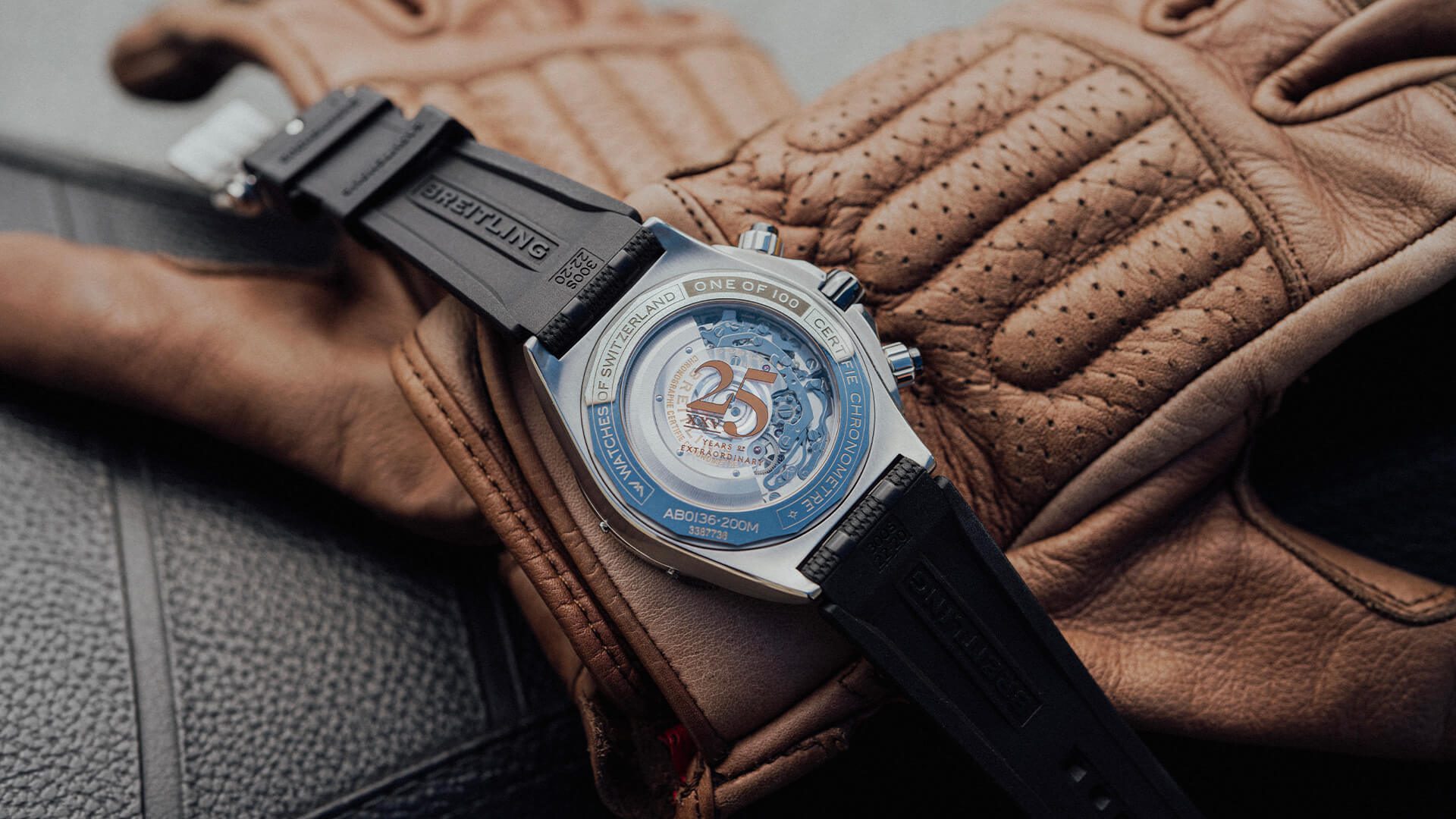 The Legacy Of The Super Chronomat
Much like Watches of Switzerland Australia and Breitling, the Super Chronomat has its own rich history. Its elder sibling, the Chronomat, was one of Breitling's original tool watches, coming to market in 1941. This was actually the first model to feature Breitling's pioneering circular slide rule, incorporated into the rotating bezel. (A feature that would later be popularised by the iconic Breitling Navitimer.) The name was a portmanteau of "chronograph" and "mathematique", emphasising the model's focus on the field of engineering and mathematics. By all accounts it was a very successful seller for Breitling, prized for its functionality and robust construction.
Fast-forward 40 years or so, and Breitling – along with the rest of the Swiss watch industry – was slowly dusting itself off after the upheaval of the Quartz-dominated 1970s. The company leader at the time was a man by the name of Ernest Schneider, who had taken the helm of Breitling a few years earlier in 1979. He was convinced that the 100-year old company needed to focus on doing what it did best; making high-quality mechanical timepieces. More than that, he wanted to launch a new watch that would revolutionise the industry and win back the hearts and minds of watch lovers everywhere.
A year earlier, Breitling had developed a completely new chronograph for professional use by Italy's Frecce Tricolori Jet team. Being for Italian gentlemen, the watch needed to be elegant enough to wear with a suit when the pilots were off-duty, but still durable enough to withstand repeated use in a jet cockpit. The elite aerobatics team also wanted an analog display, which meant it had to be a mechanical watch. (No quartz chronograph movement of this type was yet available on the market.) As a pilot himself, Schneider intuitively understood the requirements. In 1983 he presented the ultra-functional, original and elegant chronograph "Frecce Tricolori". Keenly aware that this new chronograph perfectly embodied the brand's entire philosophy and mission, Schneider made the decision to use it as the foundation to develop an exciting new collection for Breitling.
Retaining the design elements of the professional chronograph, Breitling released the updated Chronomat in 1984 to celebrate the brand's centenary. Now though, Chronomat stood for "chronograph" and "automatic", emphasising its self-winding calibre. The substantial mechanical chronograph flew in the face of the slim, time-only trend. But it proved an almost instantaneous global success, helping reignite the desire for mechanical watches, and mechanical chronographs in particular. (On which Breitling had built its reputation.)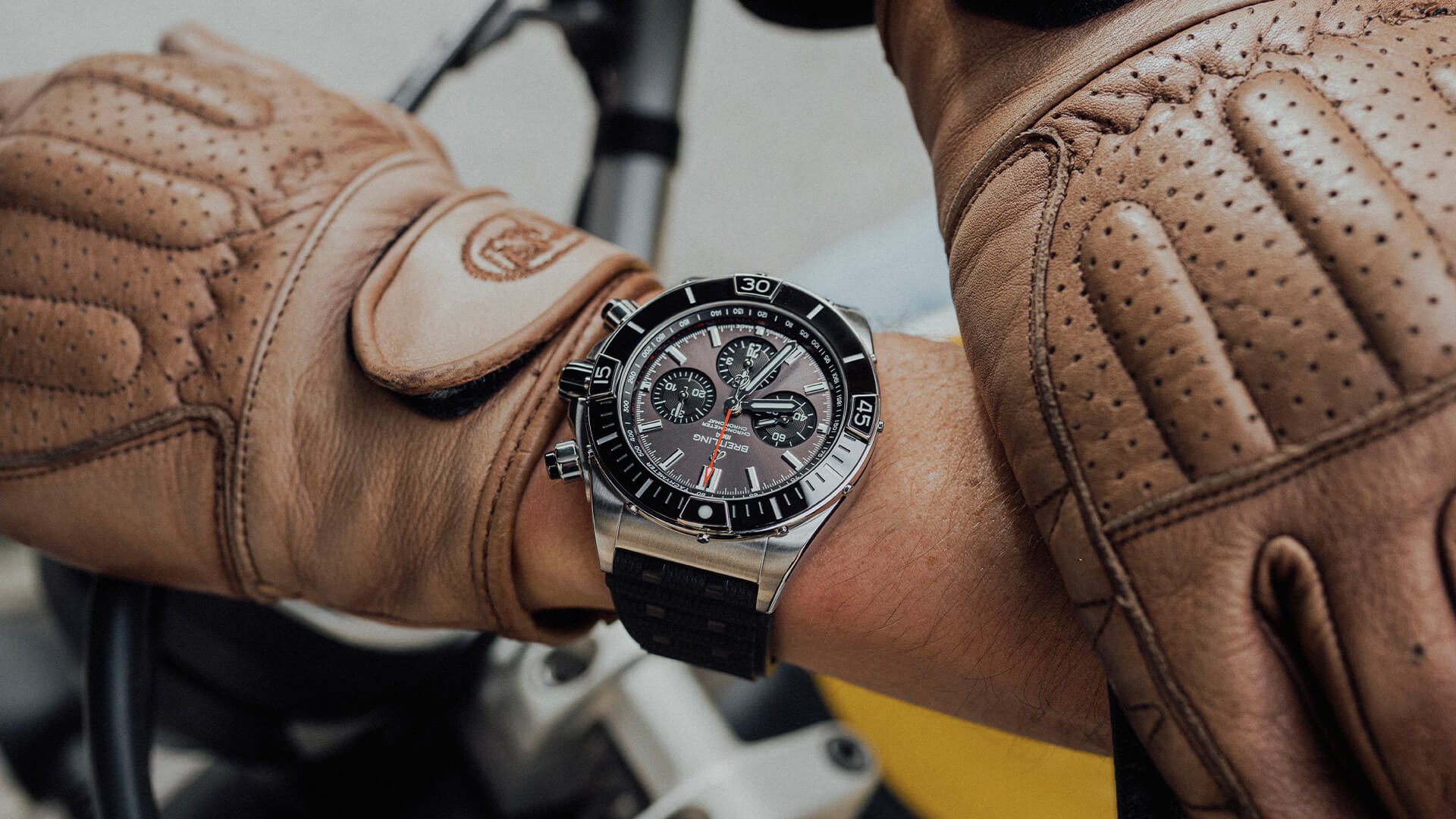 The Chronomat's iconic "rider tabs" and "Rouleaux" bracelet
Ask collectors about those early Chronomats from the mid-1980s and they will tell you there were two defining features. The first one being the four rider tabs, which protect the recessed watch crystal from accidental knocks. The idea came to Schneider after he met with the Italian Jet team several times. He learned of an issue occurring when pilots went to open the aircraft's canopy after landing. Inevitably, their watches would knock hard against the metal frame as they extended their arms. Sometimes resulting in broken watch crystals. Marking every quarter hour, they also offer additional timekeeping functionality. And with the added ability to invert the 15 and 45 tabs, both count-up (suitable for flight) or count-down timings (for regatta) were possible. This distinctive design would become the iconic signature of the Chronomat.
Another aspect that made the Chronomat the ultimate sport-chic watch of the 1980s and early 1990s was its bracelet. Also adopted from the "Frecce Tricolori", the "Rouleaux" bracelet differentiated the Chronomat from any other watch on the market. Designed to be comfortable for a pilot's wrist, the Rouleaux (or "roller") bracelet was made up of long, cylindrical links with rounded tips. The 2020 rework of the Chronomat collection reintroduced this innovative retro bracelet, complete with brushed finishing, polished interlinks and a two-pusher butterfly clasp. The Super Chronomat took this a step further – offering the option of a Rouleaux-inspired rubber strap.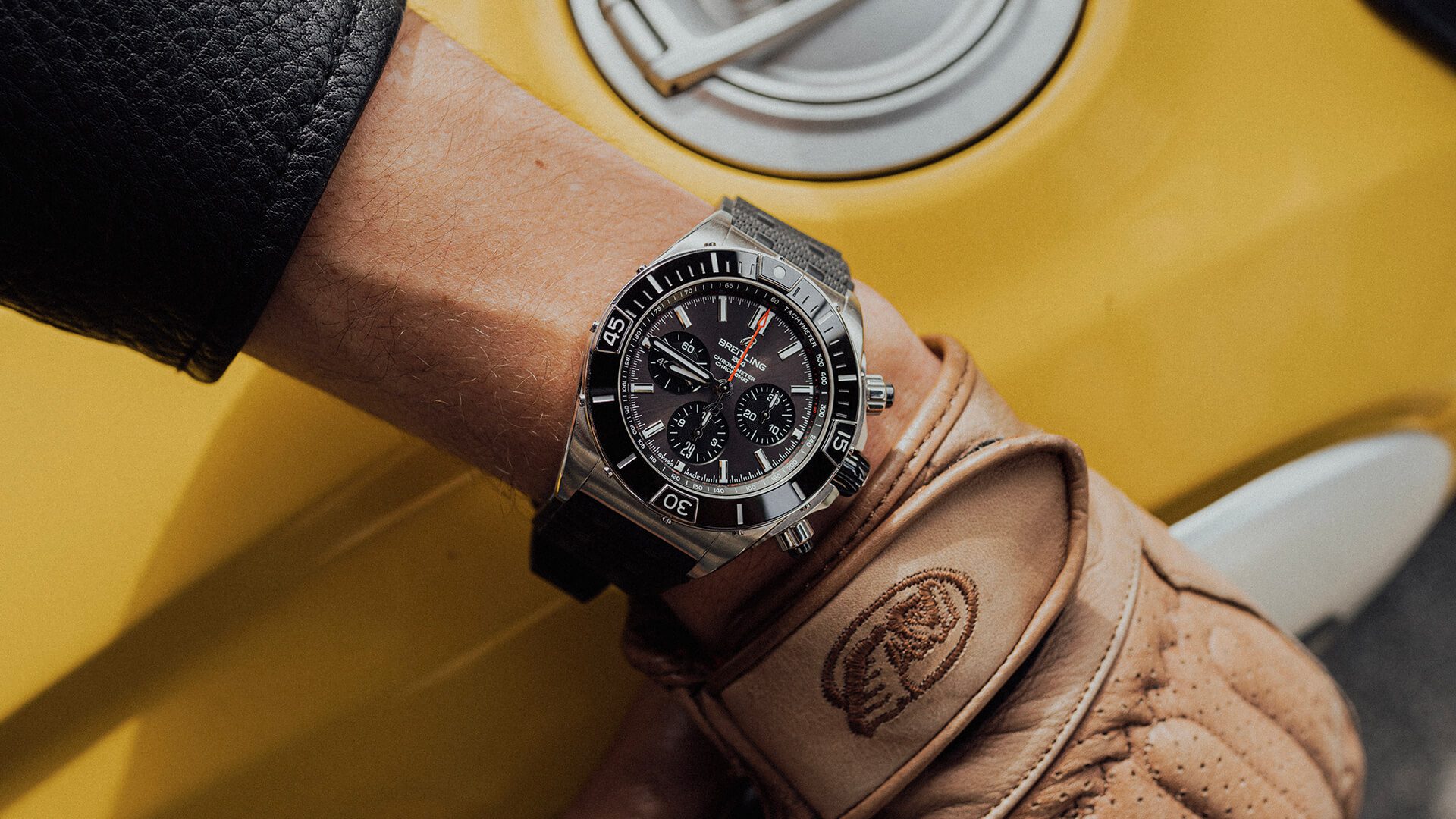 The Breitling Super Chronomat Watches of Switzerland 25 Years Edition
Launched in 2021, the Super Chronomat has quickly become a top-seller here in Australia, thanks to its bold design, versatility and excellent functionality. We wanted to take that winning formula and put our own stamp on it, but without interrupting the pure lines of the watch. To create a watch that is truly extraordinary to those who know and appreciate the brand. As such, at first glance, you may not notice anything immediately different about this model. Look a little closer though, and you will discover a unique bronze pantone for the dial that is a key part of Watches of Switzerland's corporate identity. The colour is strongly associated with our brand and is unlike anything else in the Breitling range. So much so that when Georges Kern first saw the watch, his reaction was unequivocal:
"…we should never have given this to you in exclusivity. You shouldn't get this in exclusivity. It's so cool and that combination of the dark slate grey and the black is phenomenal. Usually, when we work on limited series and we see the product so beautiful, we usually cancel them to keep them in our main collection. But because of our long history I said for once, we're not cancelling it…but ladies and gentleman this is a beautiful product, absolutely unique."
Standing out in contrast against the warm hue of the dial are black chronograph counters with circular guilloche, matched by the black ceramic bezel insert. Luminescent indexes and hands are offset by a red chronograph hand providing excellent legibility in all conditions. And, true to the 1980s original, the rider tabs protect the sapphire crystal, and the position of the 15 and 45 tabs can be swapped for count-downs as well as count-ups. Extra protection is also provided around the crown and pushers.
The case – in stainless steel – measures 44mm in diameter by 14.45 thick and is worn on the super comfortable Rouleaux strap in rubber with folding clasp. State-of-the-art injection moulding techniques are employed to create three distinct textures: matte, slick, and a woven-look. Together they give the strap remarkable depth. Turning the watch over reveals a sapphire display back with our exclusive Watches of Switzerland 25th Anniversary logo in the same bronze pantone. Underneath beats the COSC-certified Breitling Manufacture Calibre 01. This self-winding mechanical movement provides 70 hours of power reserve and exceptional accuracy. The case is rated water-resistant up to 200 m, perfect for Australia's outdoor lifestyle. Each piece is individually numbered up to 100, all of which are exclusively available from Watches of Switzerland Australia.
From our past experience creating unique collaborations with Breitling, we know demand for the new Super Chronomat Watches of Switzerland 25 Years Edition is going to be intense. Click here to secure one of the hundred exclusive pieces that will be available. As Georges Kern himself said, there will never be another Breitling Super Chronomat quite like this one.