The Blancpain Fifty Fathoms
The Birth of the Modern Dive Watch
Over the past few years, changing tastes and a general relaxing of office dress codes have seen the popularity of the mechanical dive watch grow and grow. Over-engineered, robust, yet versatile and comfortable enough to wear on a daily basis, dive watches are no longer just for hardcore enthusiasts who spend their weekends in scuba gear. Now they are the domain of the everyman (and woman) who wants a great looking luxury watch that can be worn just about anywhere. With that in mind, we thought it apt to take a brief look at the history of what is considered to be the very first modern dive watch: the Blancpain Fifty Fathoms.
The French Frogmen
It may surprise you to learn that recreational diving is still a relatively new concept (in the grand scheme of things) and didn't really become a 'thing' until the 1950's. Prior to that, it was mainly an activity undertaken by various militaries, whose elite soldiers – often referred to as Frogmen or underwater commandos – were tasked with all sorts of special missions that required nerves of steel, incredible stamina and ultra-reliable equipment. One such squadron was the French "Nageuers de combat" (French Forces Elite Diving Corps.), established by the French government in 1952 following the end of World War II.
Their leader was a fearless Frenchman by the name of Captain Robert "Bob" Maloubier, a veteran of the war and a former member of Winston Churchill's Secret Army, the famed "British Secret Operations Executive." The mission briefs for the French Frogmen included activities such as underwater intelligence, sabotage operations, and clandestine port-attacks. In addition to forming this elite unit, Maloubier, and his Lieutenant, Claude aspirant Riffaud, were also tasked with equipping it with all necessary scuba gear, and therein lay the problem. Search as they might, they could not find a mechanical watch that was suitable for the specific and rather extreme needs of their men.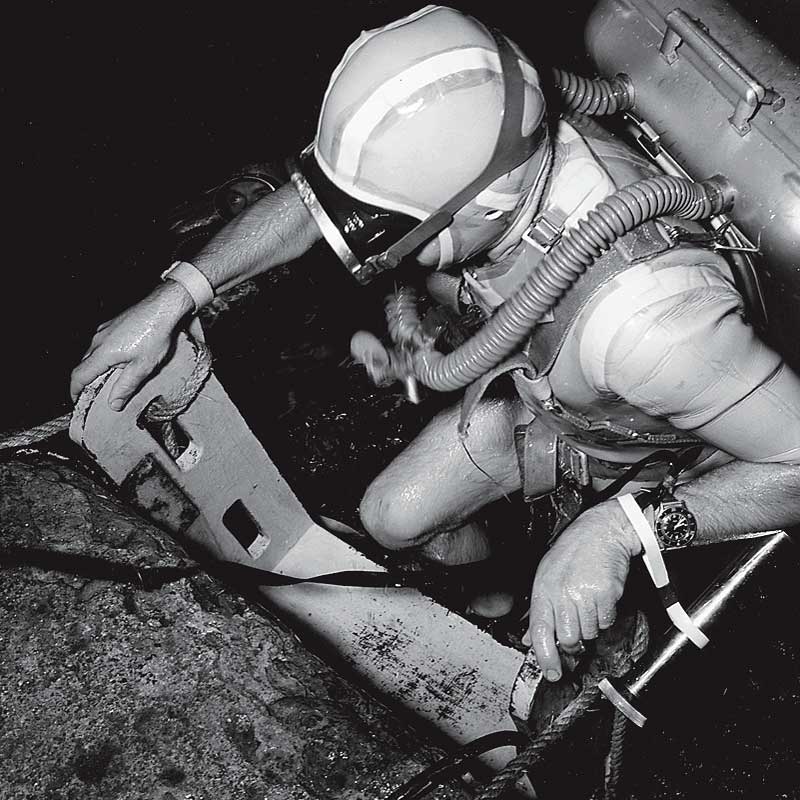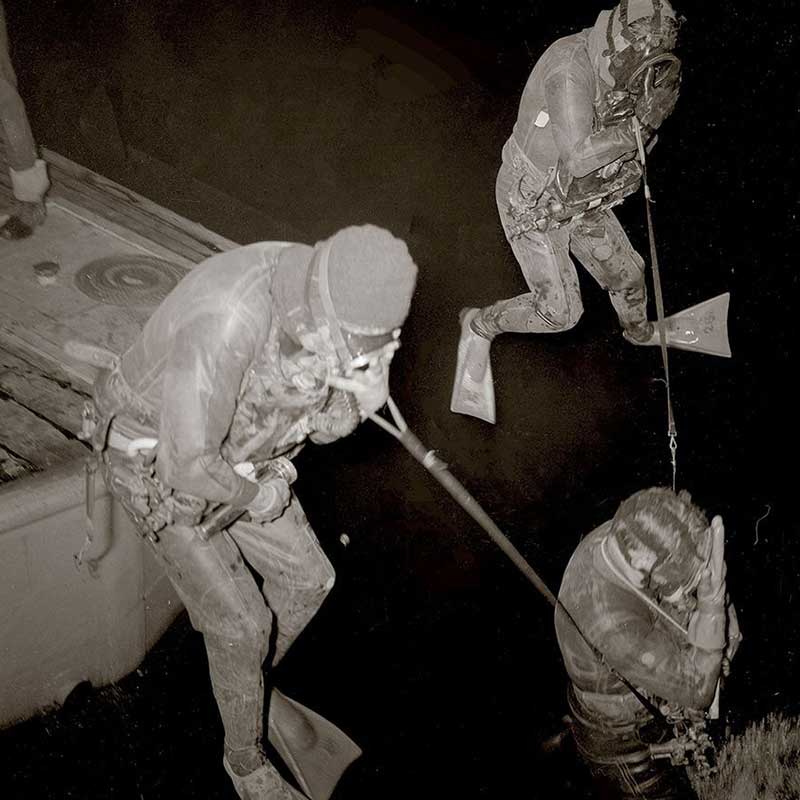 Initially, they approached a French watch manufacturer based in Besançon, who promised much but ultimately delivered little. For a start the sample watches produced were far too small, making them extremely difficult to read underwater. Plus, they didn't exactly live up the manufacture's promise of "a marvel of a dive watch." Of the thirty samples Maloubier and his team tested, all were returned to the manufacturer, with the Captain famously declaring; "they drowned to death." Not exactly a stunning endorsement for a dive watch.
Although they were back to square one, Maloubier and Riffaud had learned much from this disappointing experience and set about drawing up their own version of what a suitable dive watch would look like; water-proof, self-winding, anti-magnetic, legible in cloudy water and at night. The initial response from the watch industry ranged from disinterest to outright scorn. Following the war, the fashion of the time was aviation watches and there was no obvious commercial appeal for an over-engineered mechanical dive watch. Recreational diving was still very much in its infancy.
The Diving Enthusiast (And Swiss Watch CEO)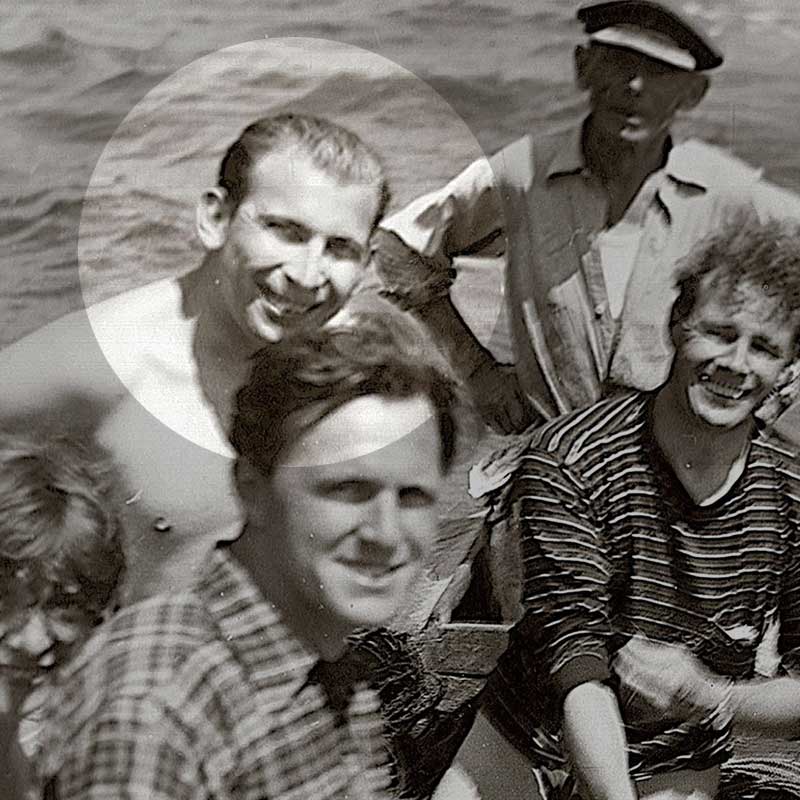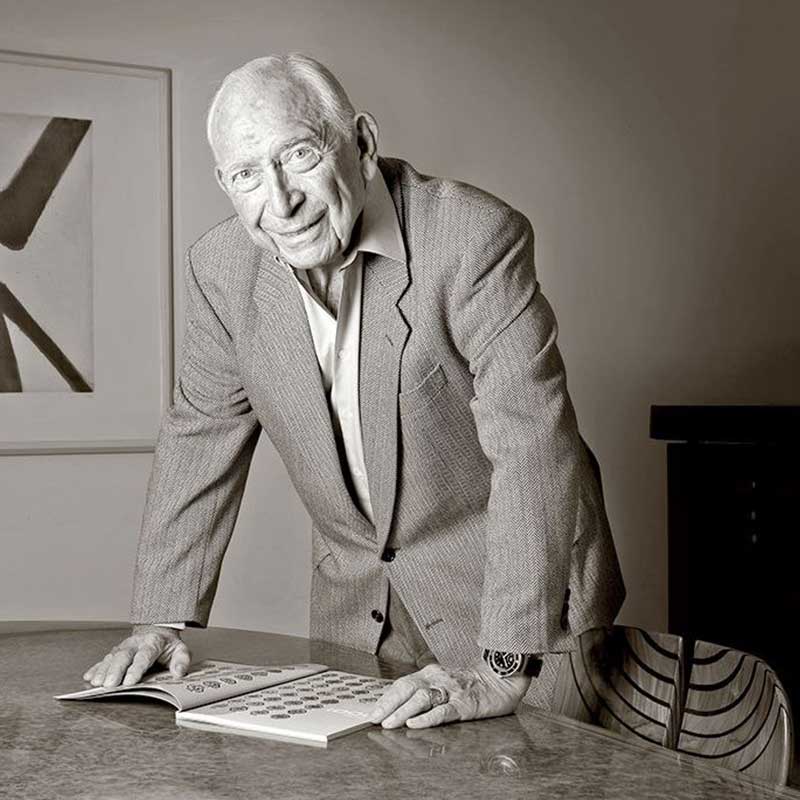 Concurrently but in complete isolation from Maloubier and Riffaud, Jean-Jacques Fiechter, then CEO of centuries-old Swiss watch manufacturer, Blancpain, was working on a dive watch concept of his own. An avid historian and a passionate early member of Europe's fledgling group of enthusiastic diving aficionados, he had grown up in Alexandria, Egypt, before going on to complete a degree in history. As a young man he had been fascinated by stories of hidden treasures patiently waiting to be discovered in the wrecks of sunken ships and that love for the sea had continued with him into adulthood.
Like Maloubier and Riffaud, Fiechter's motivation to create a robust diving watch also arose out of necessity. On one occasion, whilst diving at a depth of 50m in Villefranche-sur-Mer, he lost track of time and suddenly realised he had run out of air. Fighting the urge to panic, he attempted to execute a controlled ascent in order to give his body sufficient opportunity to decompress. He made it of course, but only just. This near-death experience had a profound effect on Fiechter and brought into sharp focus the need for divers to have an easy-to-read and reliable timing instrument that could accompany them wherever they were bold enough to venture.
Designing The Modern Dive Watch
Perhaps not surprisingly, Fiechter's list of requirements looked remarkably similar to that of Maloubier and Riffaud. The key difference, of course, was that he was able to test his ideas in real time and come up with practical solutions. For example, he developed and patented a double sealed crown that would maintain the watch's water resistance even if the crown was accidentally pulled out during a dive.
To keep track of elapsed time he introduced a rotating bezel with suitable time markings that could be used in conjunction with the minute hand. To prevent the accidental rotation of this bezel mid-dive, he invented and patented a locking mechanism, which also stopped sand and salt from interfering with the bezel's smooth functioning.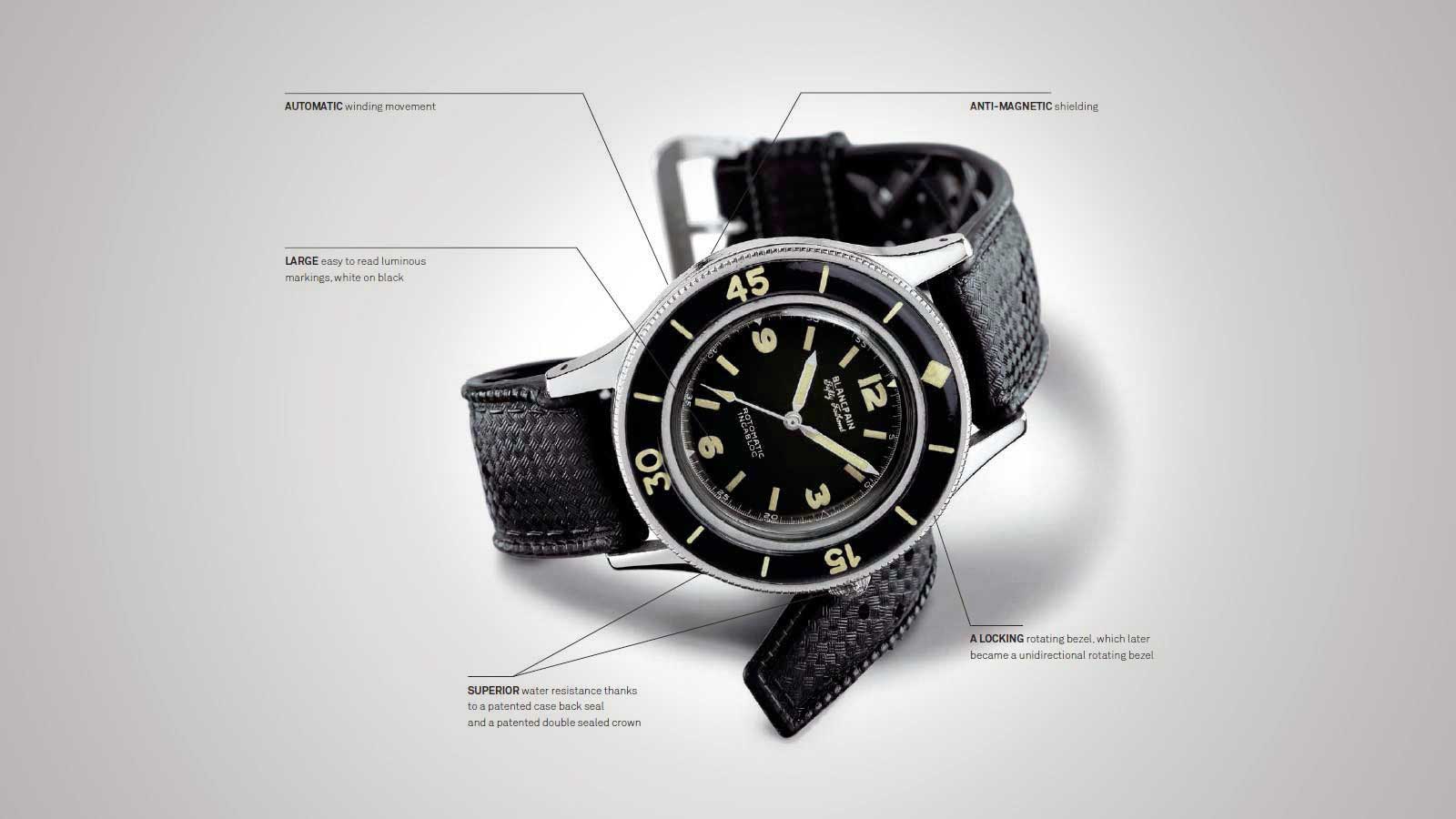 The third patent Fiechter obtained in his quest to design the ultimate dive watch involved addressing a common flaw with screw-down casebacks at that time. Essentially, when the caseback was screwed into place the "O" ring seal beneath it that was responsible for sealing the caseback could become misaligned or twisted, thus resulting in an imperfect seal. Not ideal for a watch that needs to go deep underwater. His simple yet effective solution involved placing the "O" ring in a channel with an additional metallic ring on top to hold it in position, thus ensuring a consistently strong seal when the caseback was screwed down.
Being an avid diver himself, Fiechter also recognised the need for a watch with a larger case to aid in legibility in murky water. In this same vein, he determined that the colour scheme should be white against a black background for maximum contrast, with luminous hands and indexes to aide visibility in low light conditions. He was also aware, from ample first-hand experience, that magnets were often present in the diving environment, and so the automatic movement would sit within a soft iron inner case to prevent it from becoming magnetised and therefore potentially less reliable. Using an automatic movement, as opposed to a manually-wound one, he reasoned, would also reduce the level of wear on the crown and seals over time.
A Meeting Of The Minds
More determined than ever to find a timing instrument that could satisfy their strict requirements, Maloubier and Riffaud learned about Fiechter through a mutual acquaintance; Jean Vilarem, a former French naval officer and the head of Spirotechnique (at the time the official supplier of gear to the French Navy.) Once the men met, it immediately became clear that they understood one another. Maloubier would later comment:
"Finally, there was this small business, Blancpain, that agreed to supply a watch that we imagined, with a black dial, large numbers, clear indexes in the form of triangles, circles and squares, as well as a rotating exterior bezel with markings matching the dial. We had hoped to be able to commence a dive and position the bezel so as to be able to read the time using the large minute hand. We wanted each of the markers to be as prominent as a pole star for a shepherd."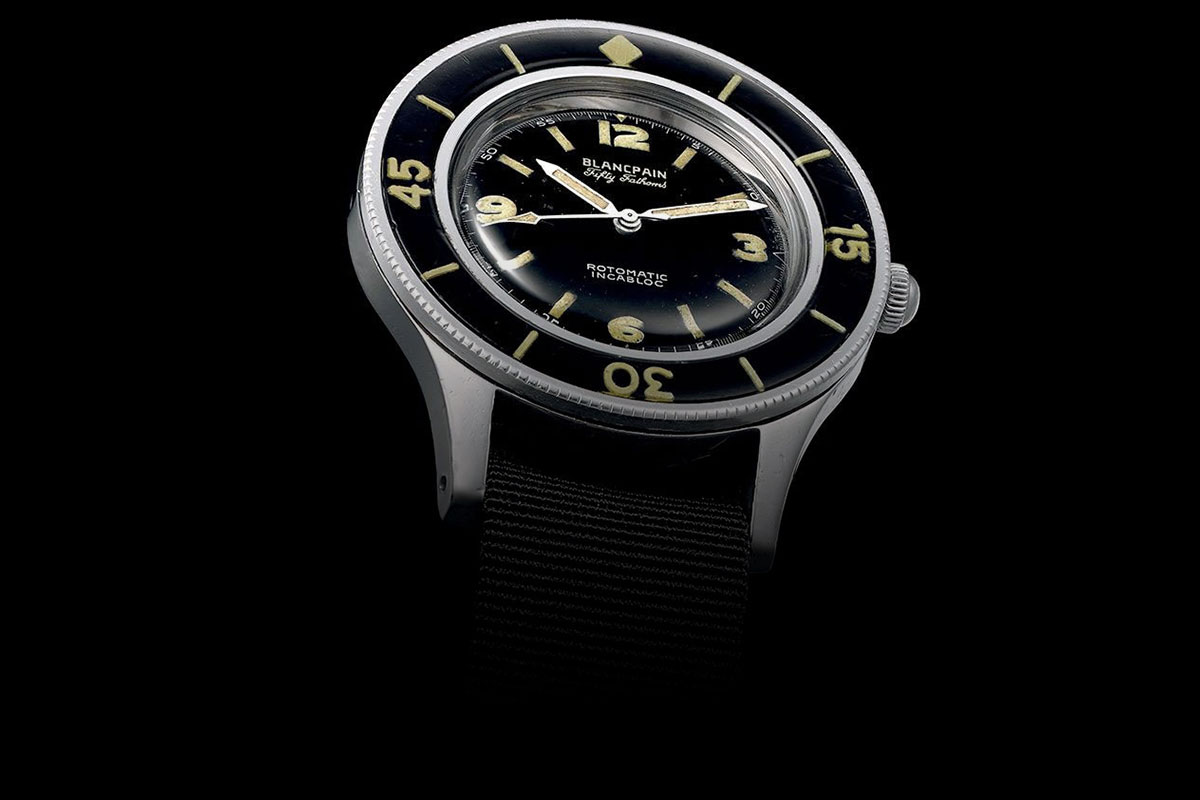 Incorporating the requests from Maloubier and Riffaud into his own designs, Fiechter quickly delivered 20 watches for rigorous testing. The watches performed exceptionally well and were soon adopted as the official watch of the French combat diving corps. Other world militaries would soon follow, starting with the Israeli's and then the Americans, Spanish, Germans, Danish, Norwegians, Swedish and Pakistanis. Thus, the legend of the Blancpain Fifty Fathoms was born.
Over his next three decades at the helm of Blancpain, Fiechter introduced a multitude of variations into the Fifty Fathoms family. Many were in direct response to feedback received from the various militaries using the watch at the time. For example, the Fifty Fathoms MIL-SPEC 1, introduced in 1957-58 featured a water tightness indicator on the dial and became a standard feature for American combat swimmers. Original examples are highly prized by collectors, and last year Blancpain introduced the limited edition "Tribute to Fifty Fathoms MIL-SPEC" to mark the model's 50th anniversary.
The Modern Day Fifty Fathoms Collection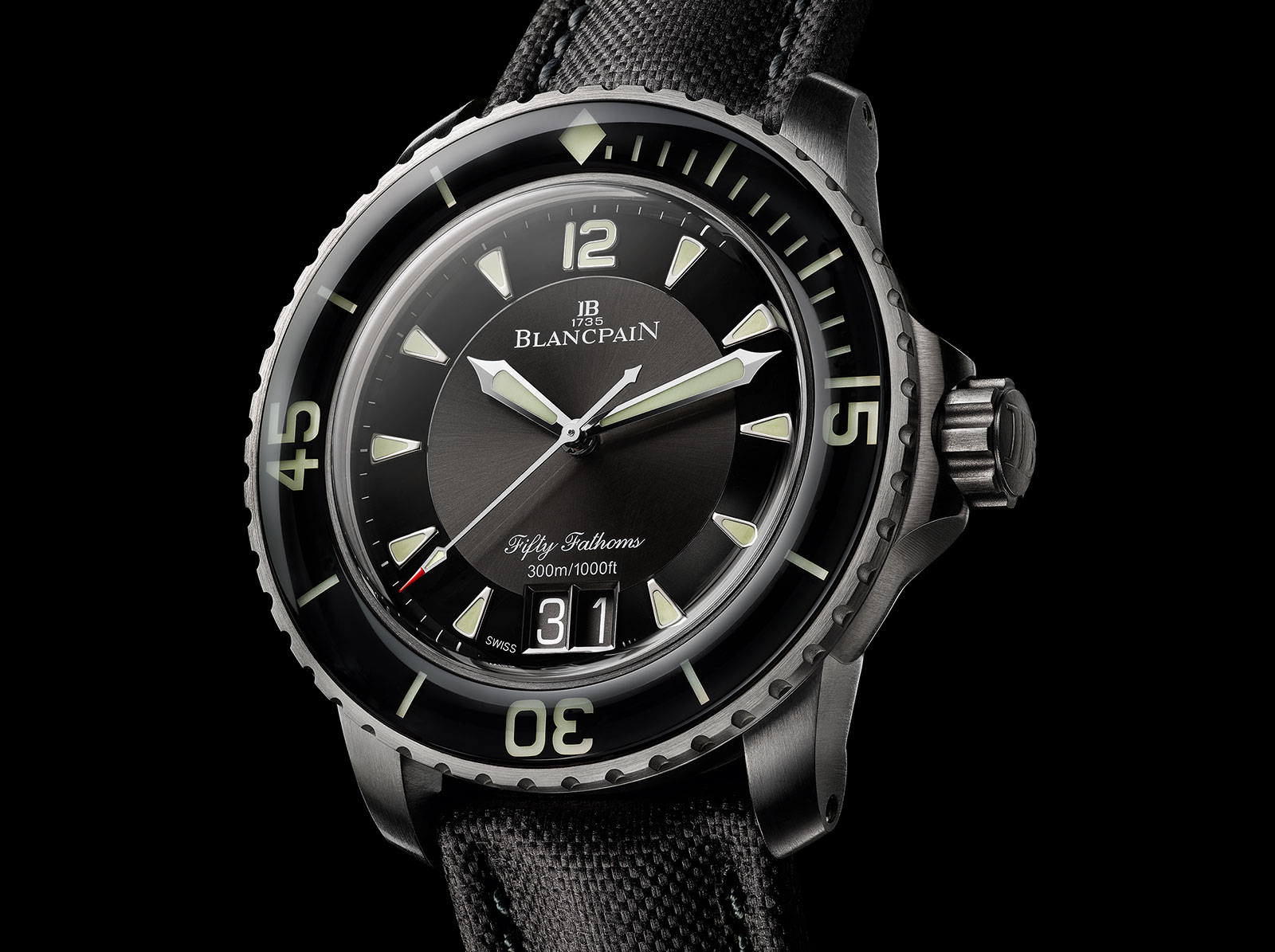 These days, the Fifty Fathoms collection continues to express Blancpain's passion for the underwater world, capturing that same sense of adventure as the first modern dive watch from 1953. The main signature elements that forged the reputation of the original model and established it as the archetypal diver's watch are still present, as is that pioneering spirit of innovation.
The latest additions to the collection are extraordinary technical achievements as well as a tribute to the pioneers who made scuba diving possible, expertly crafted in-house by one of the world's oldest Swiss watch manufacturers. To discover the Blancpain 50 Fathoms collection for yourself and create your own dive watch legend, we invite you to visit us in our Sydney and Melbourne Airport Boutiques, where our friendly and professional staff are waiting to receive you.