Introducing L'Epée 1839 - Switzerland's leading clock manufacture
Watches of Switzerland is pleased to announce a new brand partner in Swiss luxury clockmaker L'Epée 1839. We are beyond thrilled to share with our valued clients an expertly curated selection of timepieces from Switzerland's leading clock manufacture, available at our boutiques in Perth and Canberra. A clockmaker unlike any other, L'Epée 1839 marries close to two centuries of technical expertise and know-how, with a contemporary approach to design and unrelenting attention to detail. Known and loved the world over by well-heeled connoisseurs, there is nothing quite like a luxury clock from L'Epée 1839. Read on to learn more.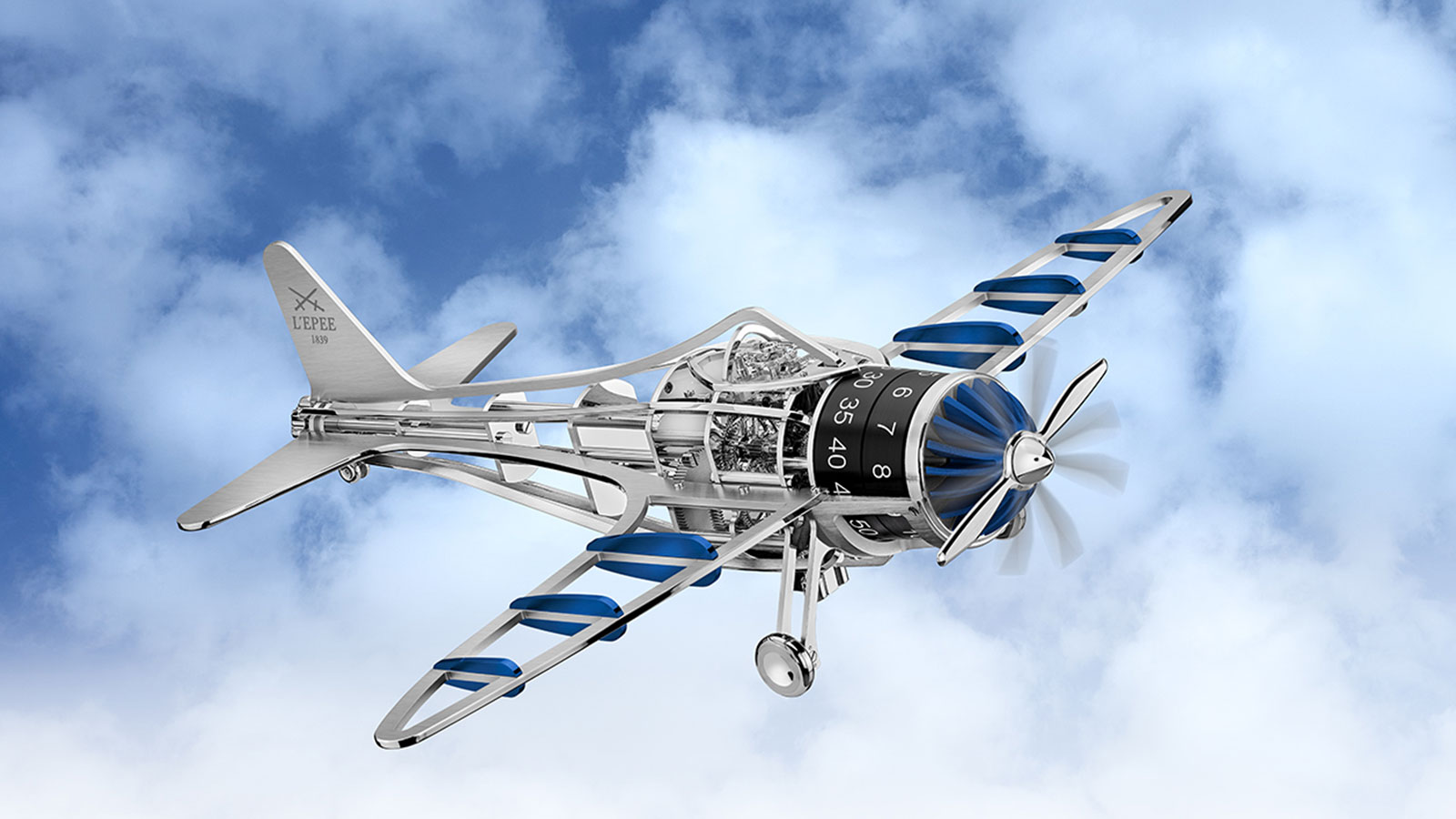 The L'Epée 1839 Story
Founded in 1839 by Auguste L'Epée and Pierre-Henri Paur, the L'Epée Manufacture has been perfecting its craft as a high-end clockmaker for more than 180 years. Theirs is a story not just of survival but one of constantly adapting and innovating to continue to thrive in an ever-changing modern world. Today, L'Epée is the only fully-integrated Manufacture in Switzerland to specialize in the production of high-end clocks, which given the country's history and reputation in the field, really tells you something.
In the early years, L'Epée specialised in producing music boxes and watch components, quickly earning a reputation for the unmistakable quality of their entirely hand-made pieces. As time went on, the company expanded into producing platform escapements for prestigious alarm and carriage clock makers, developing its expertise and registering a number of patents along the way. In due course the Manufacture won recognition for its high-quality platform escapements, and by 1889 annual production hit a record-breaking peak of 200,000 units.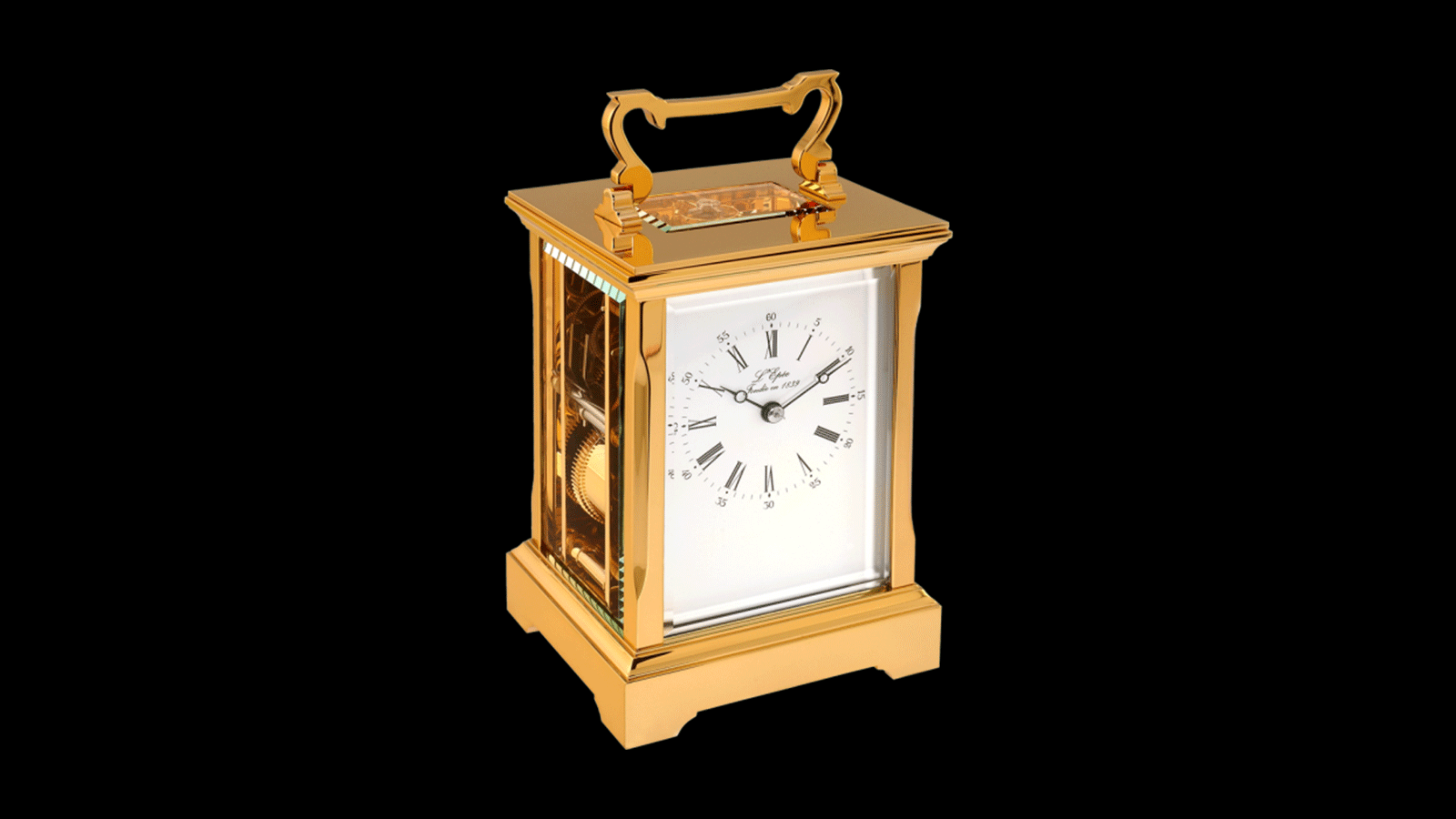 As the 20th century dawned, the L'Epée Manufacture evolved once again, diversifying into the production of other mechanical movements for clockmaking (precision instruments, for example) as well as exploring opportunities in associated industries. As before, the company earned great renown for the consistently high quality of its output. It would carry on like this for several more decades, all the way through until 1975.
That's when new company directors made the bold (yet, looking back now, obvious) decision to reorient production to focus on the design and creation of luxury clocks and carriage clocks. After all, by this point, the company had already spent the better part of 136 years developing and refining its expertise as an integrated manufacturer of complex components for other clockmakers. The knowledge that had been meticulously maintained and added to over the many decades, giving L'Epée an almost unfair advantage over its peers. One can only imagine that the question asked by the Directors at the time was: "Who can do it better than we can?" We're sure you can guess the answer they came up with.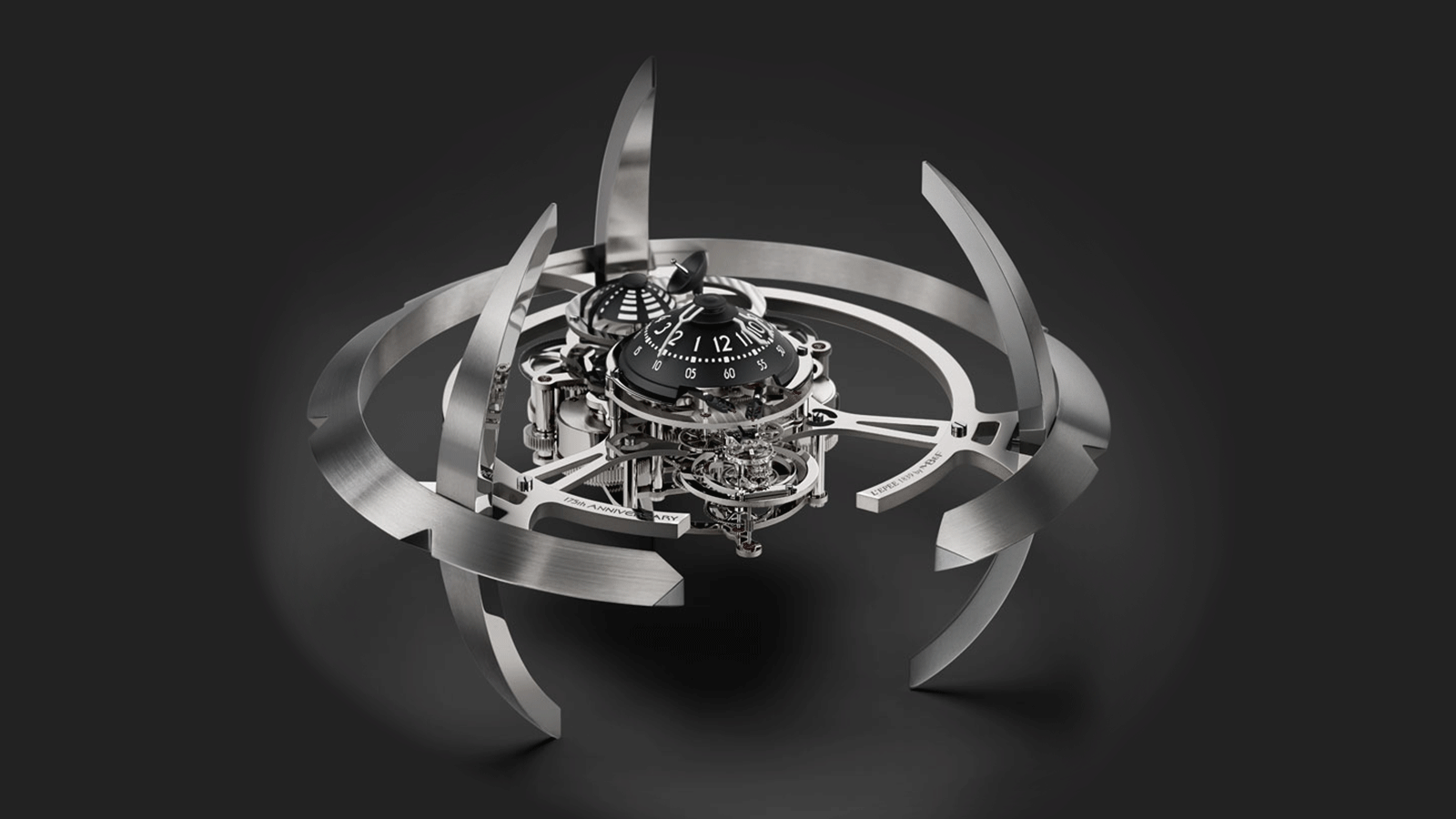 L'Epée 1839 In The Modern Day
Today, L'Epée 1839 is based in Delémont, in the Swiss Jura. Bringing together under one (sizable) roof a broad range of "métiers" and craftspeople, all the company's timepieces are designed or co-designed, engineered, and manufactured in-house, from initial development all the way to assembly. Over the past five decades or so, talented teams of designers, engineers, mechanics, and watchmakers have worked together to develop an exceptional table clock collection, encompassing a range of sophisticated classic carriage clocks, contemporary design clocks, and avant-garde horological creations intended to evoke awe and disbelief.
Many of L'Epée 1839's creations feature complications including retrograde seconds, power reserve indicators, perpetual calendars, tourbillons, and striking mechanisms. Once again speaking to the exceptional expertise of the brand cultivated over nearly two centuries. In more recent times, this technical prowess and the brand's focus on combining form and function have been complimented with remarkable finishes mixed with a twist of humor. This unremitting desire to push back boundaries has enabled it to offer a varied collection of clocks that are both contemporary and extraordinary.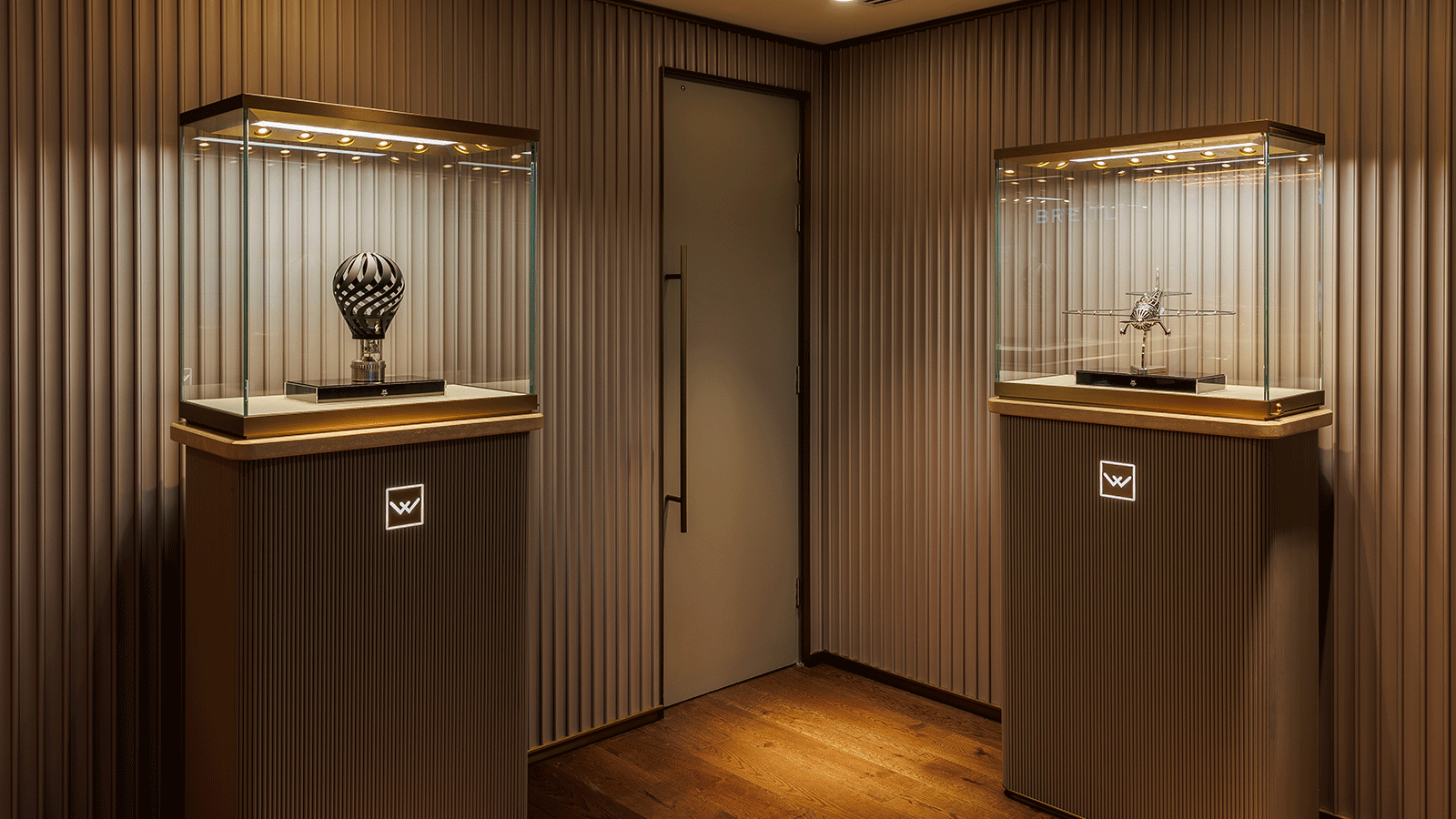 L'Epée 1839 At Watches Of Switzerland
Watches of Switzerland is pleased to offer a range of models from the L'Epée 1839 collections. Here is but a small selection to whet your appetite: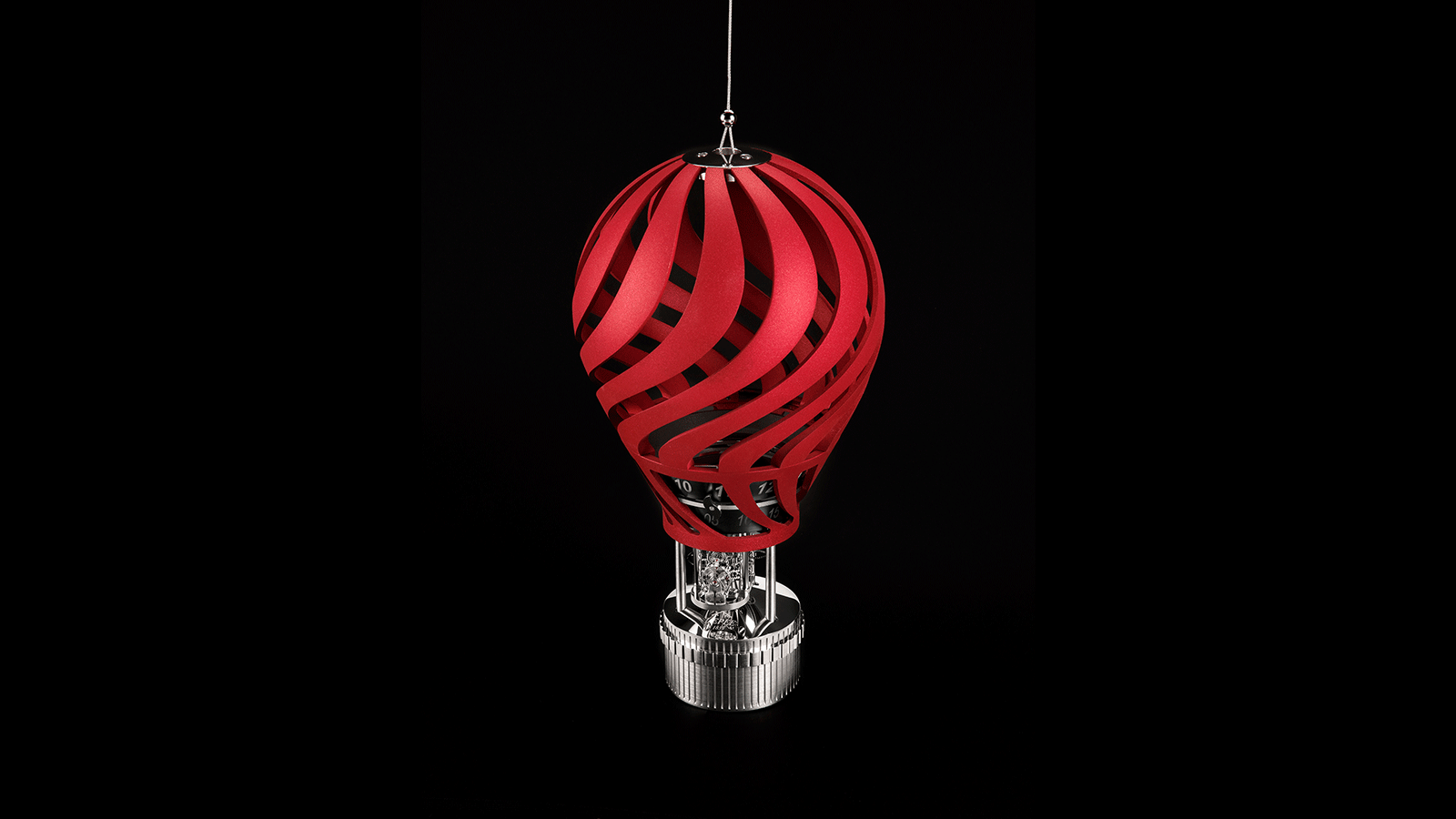 Hot Ballon
As the name suggests, this contemporary clock is inspired by the hot air balloon, which caused a worldwide sensation when it flew for the first time in 1783. Designed by Margo Clavier, a talented design student at the l'École cantonale d'art de Lausanne (of which L'Epée 1839 is an official partner), it embodies the dream of travel and adventure. Bringing Ms Clavier's vision to life, however, was not without its challenges for the company, although we're sure you'll agree it was well worth the effort. Hot Balloon is an elegant contrast of visible mechanical parts and metal parts in a variety of finishes and refined decorations.
Every component of the mechanical clock is designed to resemble the parts of a hot air balloon: turning the basket winds the movement; the burners serve as the escapement; the flame indicates the hour and minutes; and finally, the envelope (the balloon), with its wide openings, lends the piece an imposing transparent, airy aspect. In keeping with the brand's unconventional approach to clockmaking, L'Épée 1839 has imagined its tethered flight in a very specific way, offering a completely new way of presenting time. Hot Balloon can be displayed on a desk, a table, or a shelf, and it can also be hung directly from the ceiling, floating in the air above it all – a first for a mechanical clock of this scale.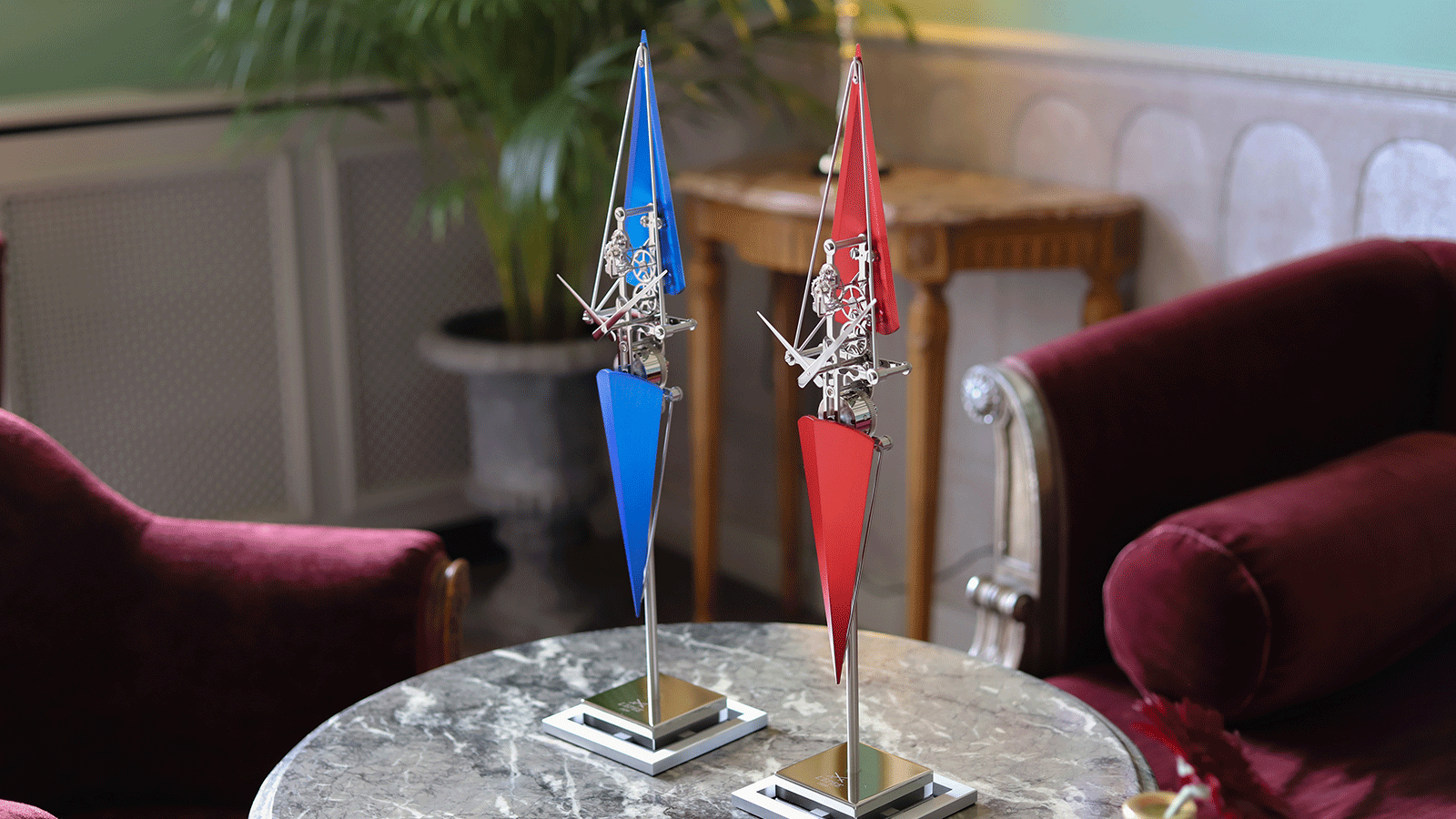 La Regatta
Sleek and graceful, La Regatta is a visually striking vertical clock that invokes the shape of the long thin rowing sculls from which it draws its inspiration. Sculling is quite unlike any other water sport, delivering seemingly effortless power and blistering speed against a contrastingly serene backdrop of calm waters. In a similar fashion, the power and precision of the La Regatta vertical clock are not immediately obvious, imparting a sense of placidity in an otherwise hectic world. The long blade-like hands of La Regatta echo the sleek shapes of the elongated triangle shells and make for effortless reading of the time. At 9:15, the hands are positioned like the blades of a scull, which do not pull through the water but rather anchor there to propel the craft. The visible isochronous oscillating balance wheel governs the beat, just like the coxswain of a quad scull.
Offered in six different colours, as a limited edition of 99 pieces in each, La Regatta is crafted from a blend of palladium-plated brass, stainless steel, and aluminium. The in-house designed and manufactured L'Epée 1839 movement can be viewed in all its glory from the front and back, allowing full appreciation of its power and precision. Oscillating at a rate of 18,000 bph it delivers eight days of power reserve when fully wound.
We invite you to discover the extraordinary world of L'Epée 1839 online and in-store at Watches of Switzerland today. Or watch the video below to learn more about L'Epée 1839. We guarantee you will not be disappointed.