The History of Breguet Part 5: The Icons
For Part 5 of our History of Breguet series, we have set ourselves the impossible task of selecting just a handful of iconic Breguet models to highlight for you. We say impossible because there is quite simply an abundance of options to choose from. Few will disagree that, like its founder and namesake, the modern-day Montres Breguet has indelibly left its mark on the horological landscape, both as a pioneer and innovator but also as a constant and consistent beacon of refined style and good taste. With that in mind, our team of experts have done their very best to put together a succinct yet varied list of some of our favourite models from Breguet. We know it's not going to satisfy everyone, and you may even outright disagree with some of our choices. But that's the beauty of this obsession we all share – we can passionately agree and passionately disagree. But we will always be united by our love and appreciation for these extraordinary timepieces. So, without further delay, let's get to the watches.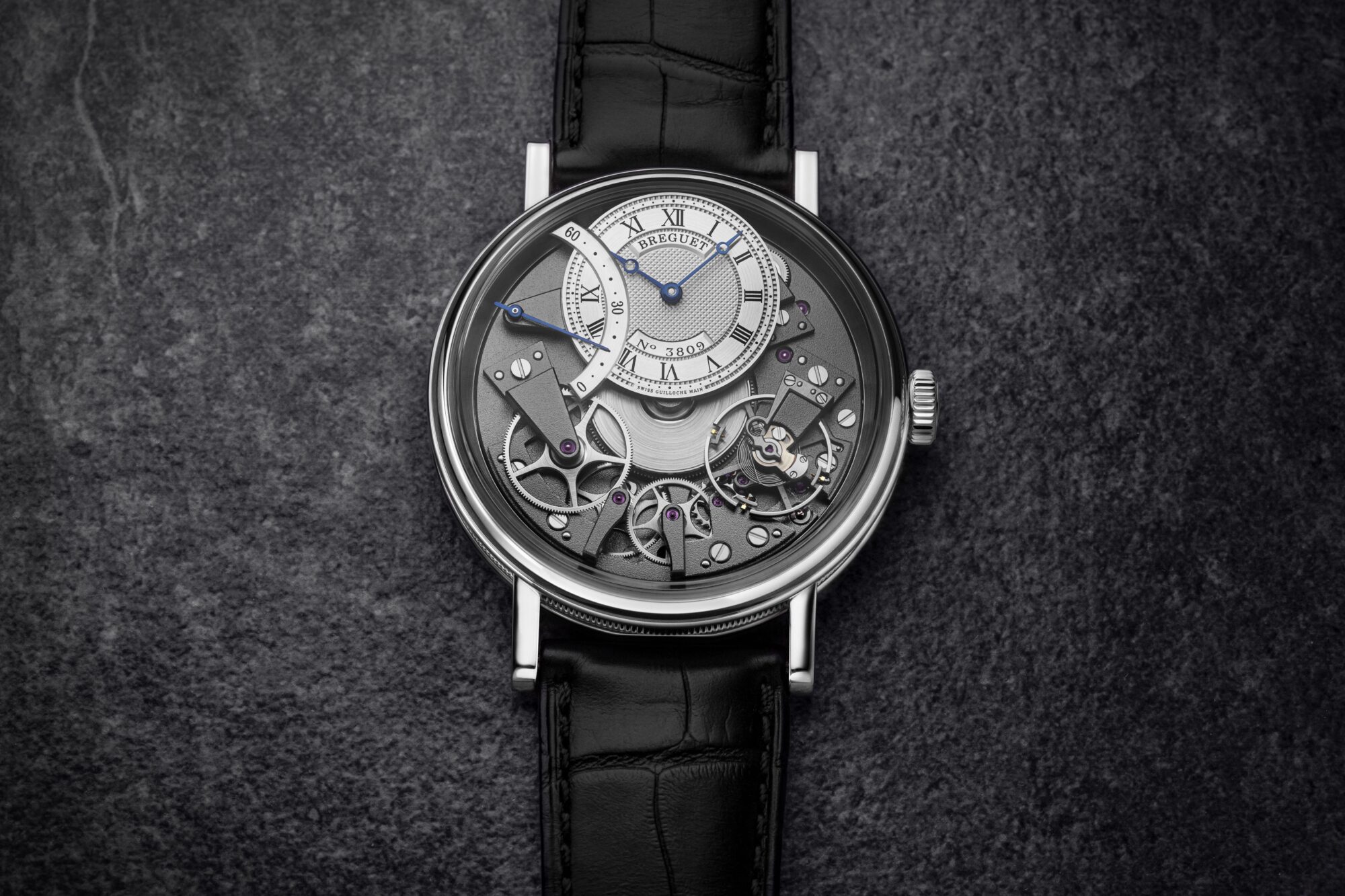 Breguet Tradition 7097
As we discussed in Part 4, the Tradition collection celebrates Breguet's rich tradition of pioneering in watchmaking, which stretches back almost 250 years. A much-loved example of this can be found in the Breguet Ref 7097, which draws heavily on ALB's original souscription (subscription) watches from the mid-1790s onwards for inspiration. Presented in a 40mm round case – available in your choice of 18k rose gold or 18k white gold – the Ref 7097 features a thin bezel, fluted casebands and thin soldered lugs. As you might have noticed, this model does not feature a dial, at least not in the traditional sense. Instead, Breguet presents an open-worked, self-winding movement that has been inverted (i.e. mounted upside down), with the components that are usually hidden away beneath the baseplate, such as the bridges, wheels, escapement and barrel, now on display for your viewing pleasure. Two particularly appealing features on the dial side include the pare-chute shock system (a Breguet invention) and the balance spring stud, both crafted from black-polished steel. Their fitting, finishing, and positioning closely mirror the original souscription watches.
To contrast the traditional watchmaking techniques used to create this movement, Breguet has deliberately selected a very modern, monochromatic finish, coating the bridges and the base plate in anthracite, while the wheels, screws and barrel are rhodium plated. Above is a sub-dial housing open-tipped, flamed-blue Breguet hands decorated with no less than three different engine-turned patterns. To the left there is a separate track that intersects the dial and houses the running seconds, adding further animation to this already eye-catching display. Turning the Ref 7097 over reveals a specially shaped rotating mass hewn from gold and boasting a black mirror-polished finish, no mean feat on a curved surface. Despite its historical look, this movement is a modern one, with its straight-line inverted lever escapement with silicon pallets, its Breguet overcoil balance spring in silicon and its free-sprung balance wheel. Adjusted in 6 positions, this self-winding movement delivers a 50-hour power reserve.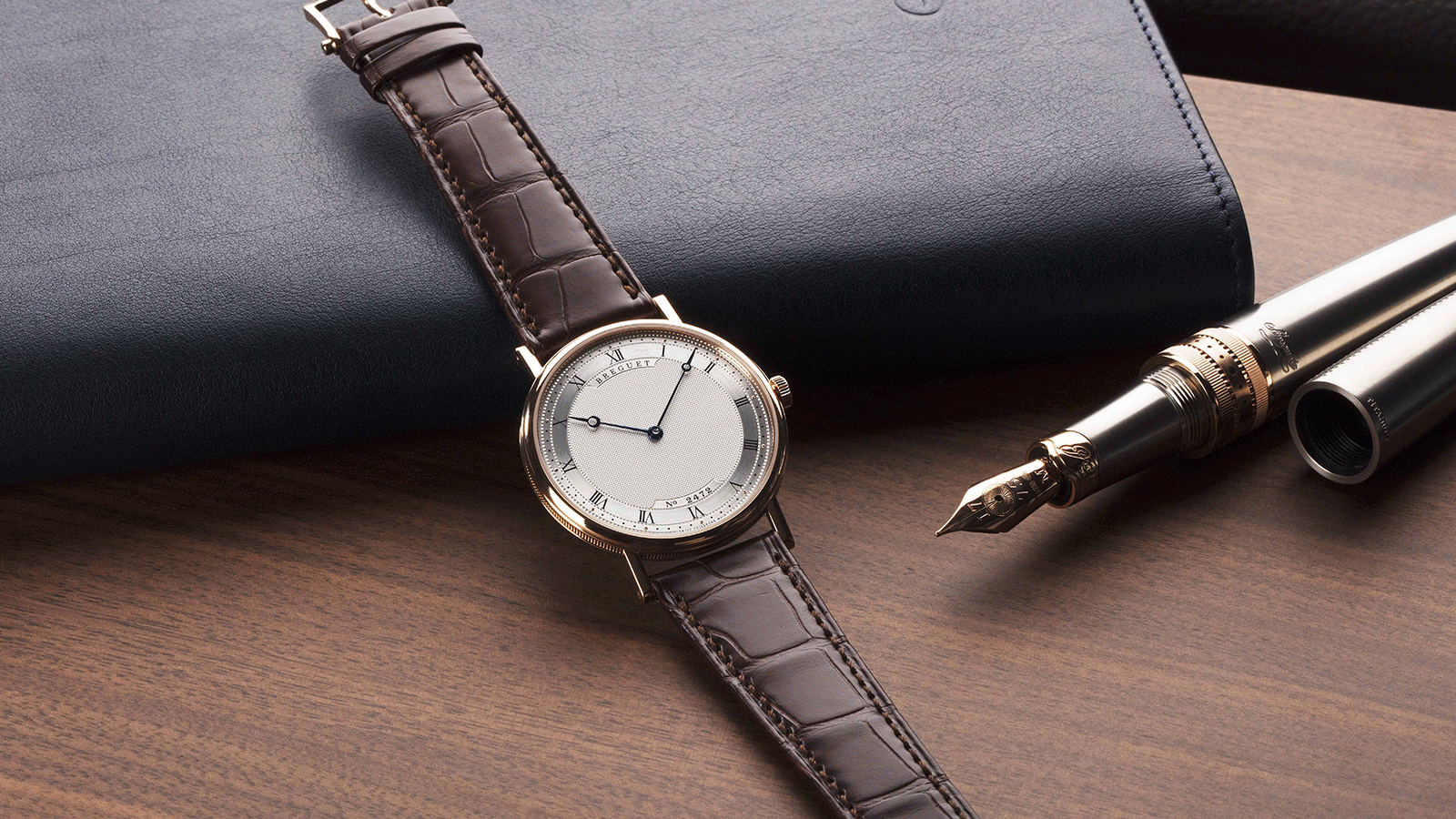 Classique 5157
The Classique 5157 is a perfect demonstration of Breguet's stylistic legacy. Understated yet instantly recognisable on the wrist, this ultra-thin dress watch measures just 5.4mm thick and 38mm in diameter. Paying subtle homage to the brand's founder, it incorporates several of his pioneering ideas, most notably on the face of the watch. Abraham-Louis Breguet was the first to use rose lathe guilloché dials (to suppress the reflection of light on the metal's surface) in 1786, and his famous blued steel, open-tipped hands date back to a 1783 pocket watch. On the Classique 5157, the silvered gold dial bears the traditional "Clous de Paris" hobnail pattern framed by a superbly cut hour track with stylised Roman numerals.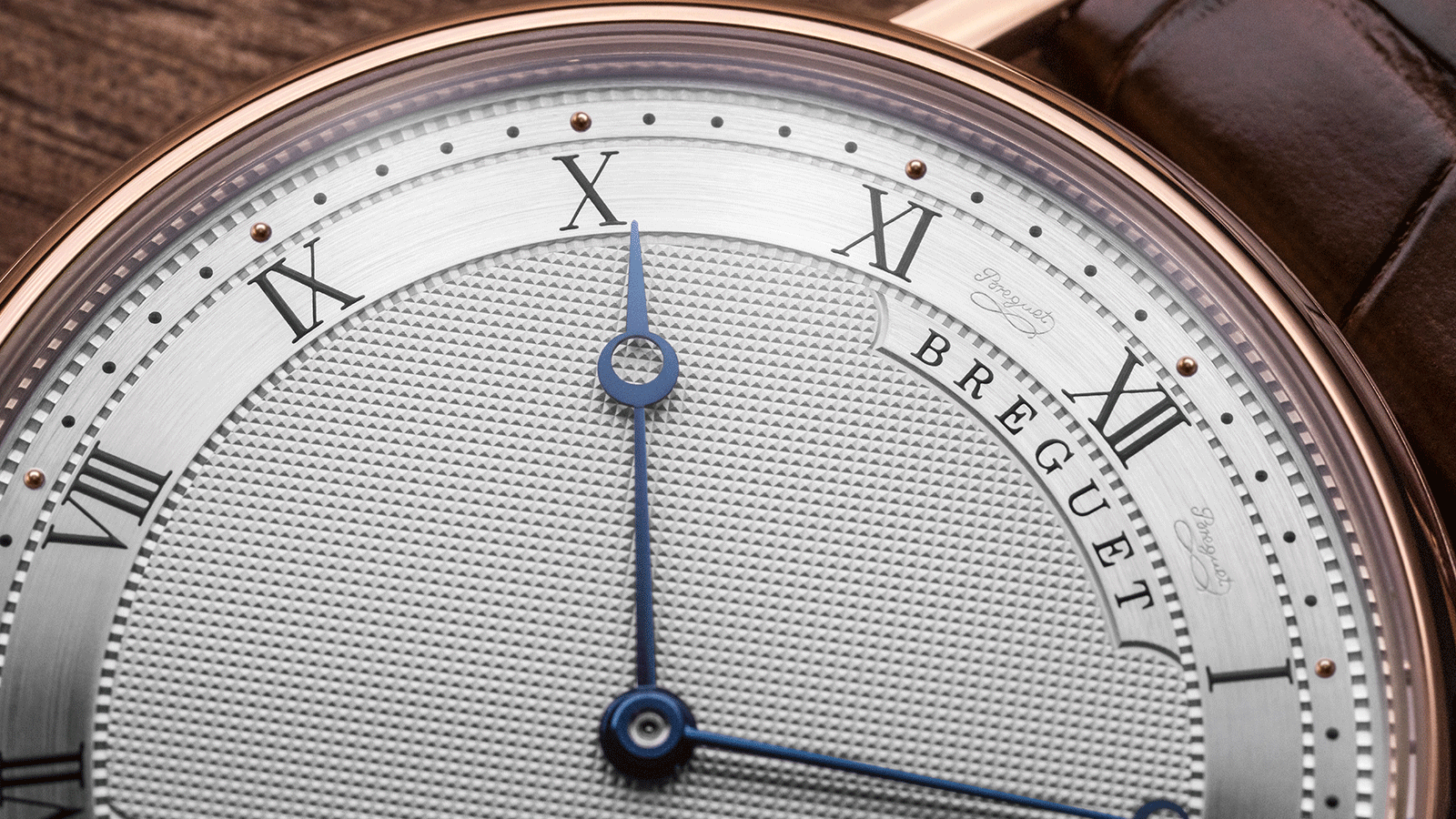 On either side of the 'XII', Breguet's secret signature is engraved (a practice Breguet adopted from 1795 as a countermeasure against counterfeiters). Beyond, a dimpled pattern around the outer circumference serves as the minute track. Each dial is individually numbered. Between the minimal bezel and the rear of the case is sandwiched the signature coin edge – cold-rolled into the metal and then finished by hand. On show through the rear sapphire glass case-back is the beautifully finished architecture of the automatic 502.3 calibre. A 22k gold 'partial' rotor sits in the same plain as the bridges, carefully avoiding the keyless works. This allows for the exceptionally thin dimensions. The open barrel movement turns on 35 jewels and has a total of 140 components, including a silicon balance spring and lever. The power reserve is 45 hours, and water resistance is 30m (3 bar / 100ft).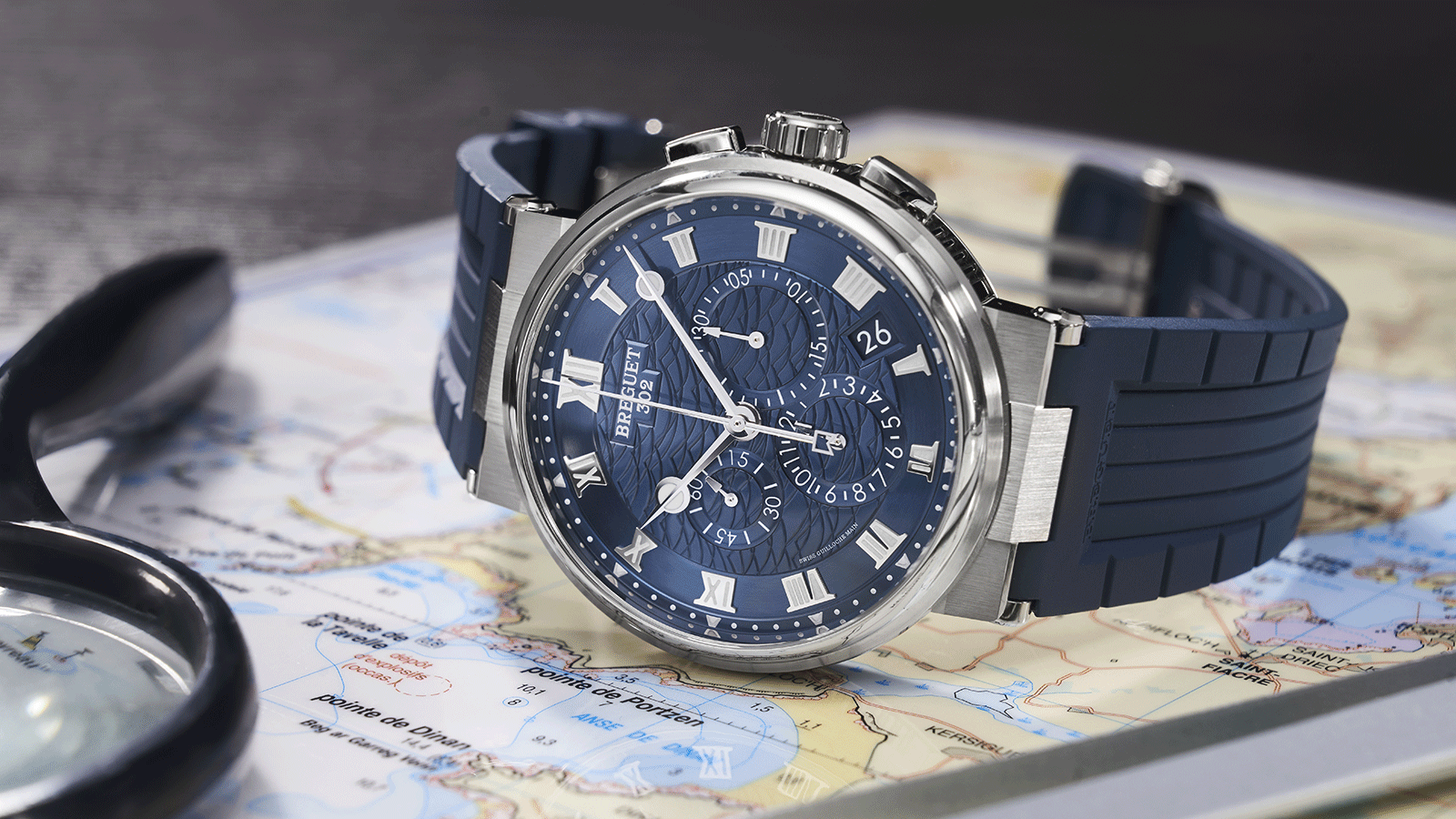 Breguet Marine Chronograph 5527
As we covered in Part. 4, Abraham Louis Breguet's genius with marine chronometers was recognised by the king of France, Louis XVIII, who appointed him watchmaker of the French Royal Navy in 1815. Today, Breguet continues to honour this rich maritime heritage with the Marine collection. Presented in a nicely proportioned case measuring 42.3mm x 13.85mm high, the Marine Chronograph 5527 has real presence on the wrist. The satin-brushed round case with a fluted caseband is juxtaposed by squared lugs (also satin-brushed) and features a polished bezel, crown and chronograph pushers. Three different metal choices are available; white gold, rose gold and titanium. The gold dials of the two precious metal cases are in Breguet-signature blue with 18k white gold, and silvered gold with 18k rose gold respectively. Both feature a striking guilloché wave motif. Breguet produces these engraved dials in-house using hand-operated engine-turning lathes built over a century ago. Unusually for guilloché patterning, the waves appear to have been applied almost at random. This produces a realistic effect, which shimmers as you turn your wrist. In both models, the sunken hour chapter delineates the dial into three distinct territories. The titanium version, meanwhile, features a gold dial finished in sunburst slate grey and is arguably the most modern – and minimalist–looking.
On all versions, bold, monolithic, applied Roman numerals mark the hours and ensure the Marine Chronograph is readily identifiable on the wrist. Around the periphery is a chapter ring for the minutes, with indices shaped like nautical flags appearing at 5-minute intervals. These, along with the hour markers, the minute dots and the tips of the Breguet-style hands, have all been filled with luminescent material, ensuring legibility in all conditions. A date window appears at 4:30. For the chronograph display, large, overlapping registers at 3 and 6 o'clock track stopped minutes and hours respectively. Chronograph seconds are shown centrally, with the counterweight of the chronograph seconds hand a silhouette of the marine signal flag that corresponds to the letter 'B'. Running seconds meanwhile appear on a smaller sub-dial at 9 o'clock. Inside the case is a self-winding (numbered and signed) movement, Calibre 582QA. It features both an inverted in-line lever escapement and an antimagnetic balance spring in silicon. Turning on 28 jewels at a frequency of 4Hz, the movement stores a power reserve of 48 hours.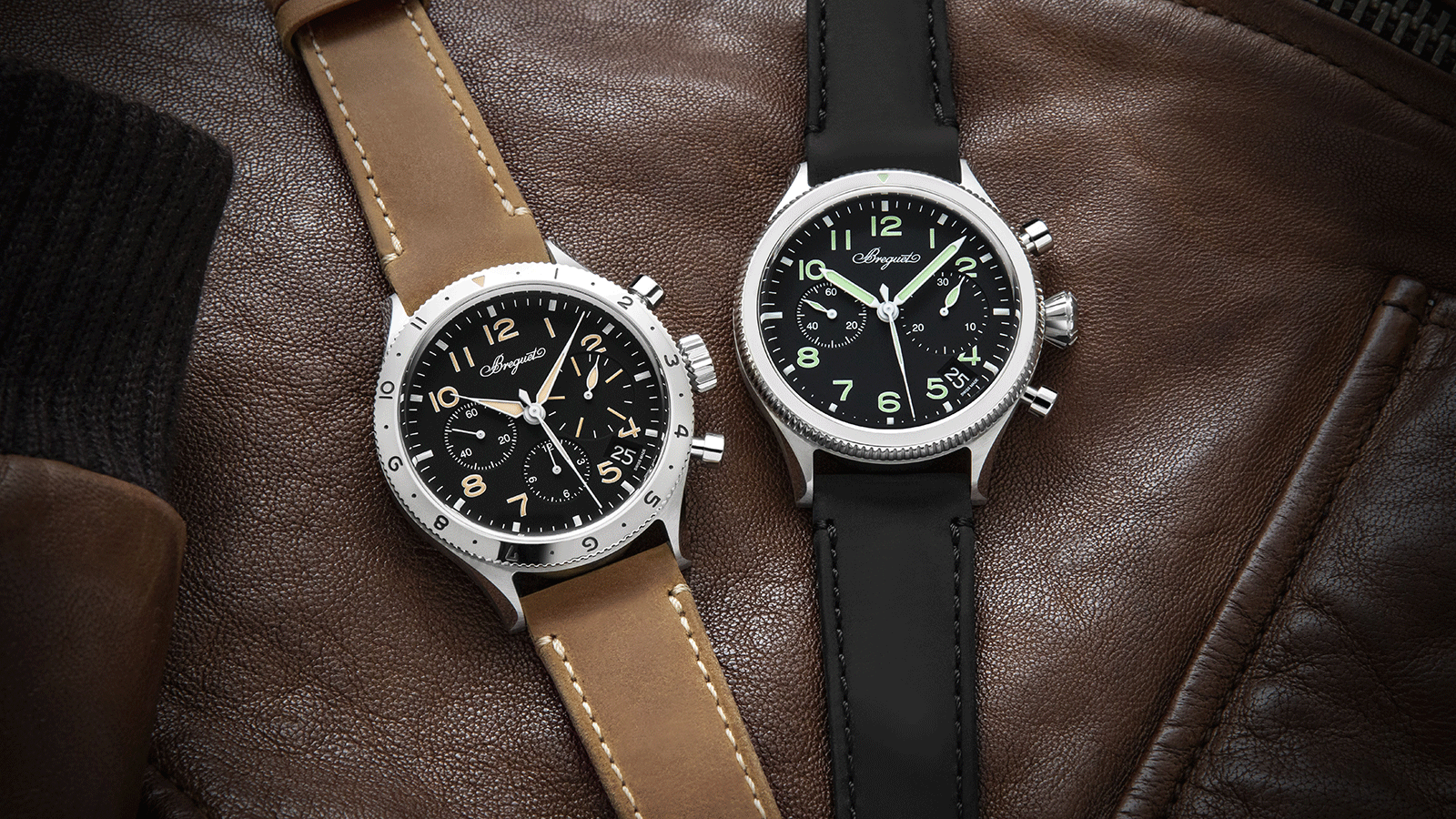 Breguet Type XX/Type 20
Holding a special place in Breguet's modern history, there are only two models currently in this collection and both are worthy of mention. The military-inspired Breguet Type 20 Chronograph Ref 2057 features a rotating, non-engraved fluted bezel, with the sole luminous triangle indicating zero. The dial layout utilises two counters, with small seconds at 9 o'clock and an oversized or 'Big-Eye' 30-minute counter at 3 o'clock. All hands on the dial, including the pencil-shaped central ones, along with the Arabic numerals, have been generously treated with light green Super-LumiNova for optimal legibility in low-light conditions. The civilian-type Breguet Type XX Chronograph Ref 2067 meanwhile is equipped with a notched polished bezel engraved with a 12-hour scale which can be rotated in either direction. The layout of the dial is also markedly different, with the Type XX offering instead a three-counter setup, with small seconds at 9 o'clock, a 15-minute big-eye counter at 3 o'clock and a 12-hour totaliser at 6 o'clock. The oversized minute counter features elongated, luminous markers every 3 minutes and is also the only sub-counter with a luminous hand. Its Alpha-shaped central hands and Arabic numerals are coated in a beige Super-LumiNova for that faux vintage look.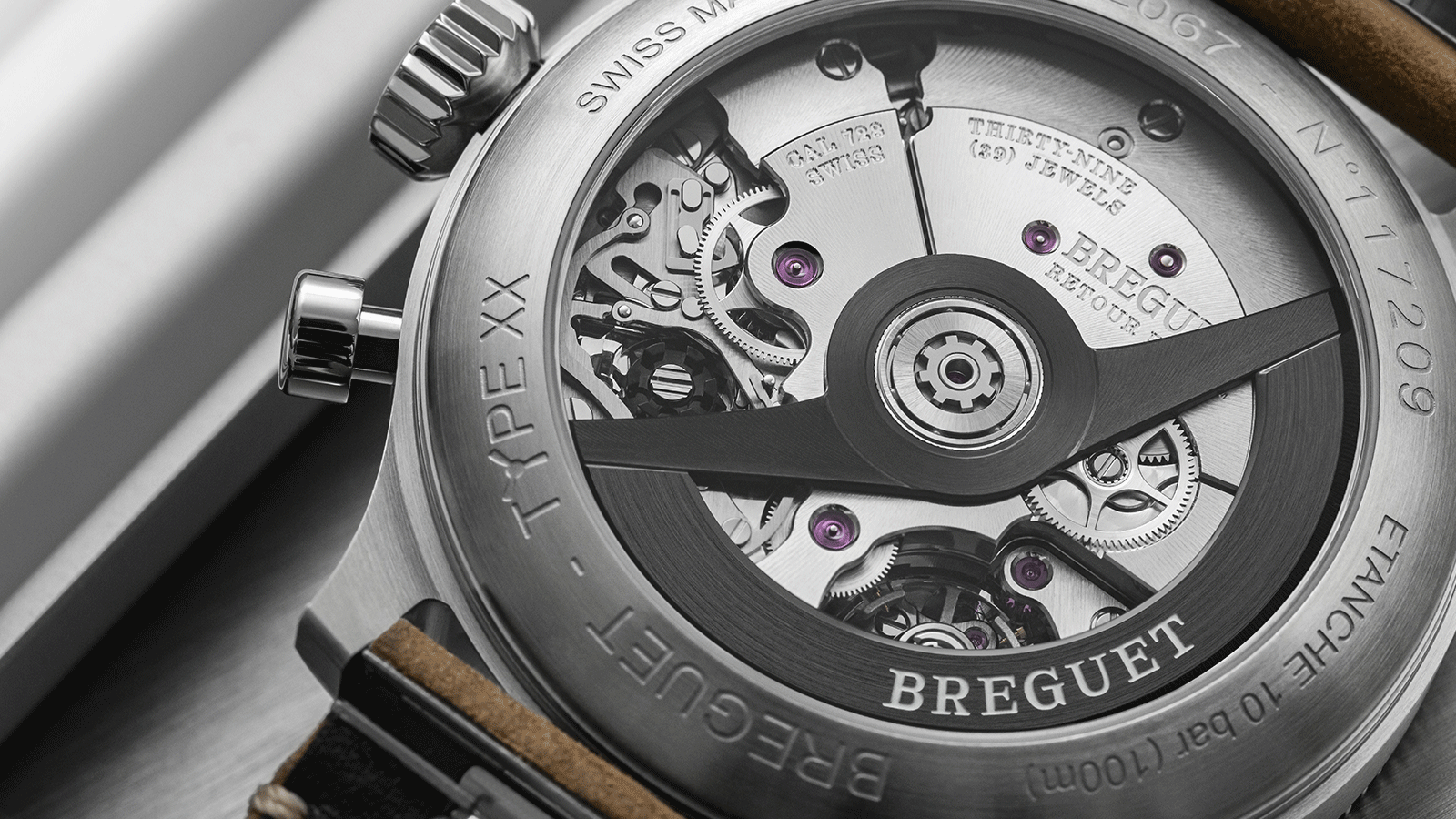 Both references are presented in 42mm stainless steel cases and both are equipped with new, state-of-the-art in-house movements from Breguet. The Type XX houses the Calibre 728, while the Type 20 houses the Calibre 7281. Self-winding, these high-frequency calibres (5Hz) feature integrated column-wheel chronographs with vertical clutches and fly-back functionality. To protect the movements from magnetic interference – common in modern plane cockpits – the balance spring, escape wheel and pallet-lever horns are all made in silicon. When fully wound, the calibres deliver a healthy power reserve of 60 hours.
There are of course many, many more Breguet timepieces that we could have included in the above, but time and space limitations dictated otherwise. However, we would welcome you to make an appointment to visit either of our Perth or Sydney boutiques for a more personalised walk-through of the collections. In the meantime, tune in next time for Part. 6 of the Breguet special series, where we will be showcasing some of the brand's most incredible haute horology and haute joallierie creations.
Click here to read Part 1, Click here to read Part 2, Click here to read Part 3, Click here to read Part 4.