The New Breitling Premier Collection
Everything you need to know.
Since joining as CEO in mid-2017, Georges Kern has been instigating changes at all levels to reestablish Breitling as a global contender. Already, new and updated collections are reflecting a coherent design language. Early in his tenure, Kern announced a simplification of the catalogue into four 'umbrella' collections. With three already established, it's time to meet the fourth – featuring more elegant timepieces, linked to land – the new Breitling Premier Collection.
This new collection reintroduces a name of prestigious significance from Breitling's past. Debuting around 1943, the Premier was Breitling's first collection of truly elegant wristwatches. Designed to bring some comforting normalcy to the troubled times of the era. Original Premiers are among Breitling's best performing on the vintage market today. Prized for their well-proportioned cases and elegant dials. Inspiration is certainly drawn from these classic examples. But the new collection also adheres to the current design principles unifying the catalogue. The results are quite attractive.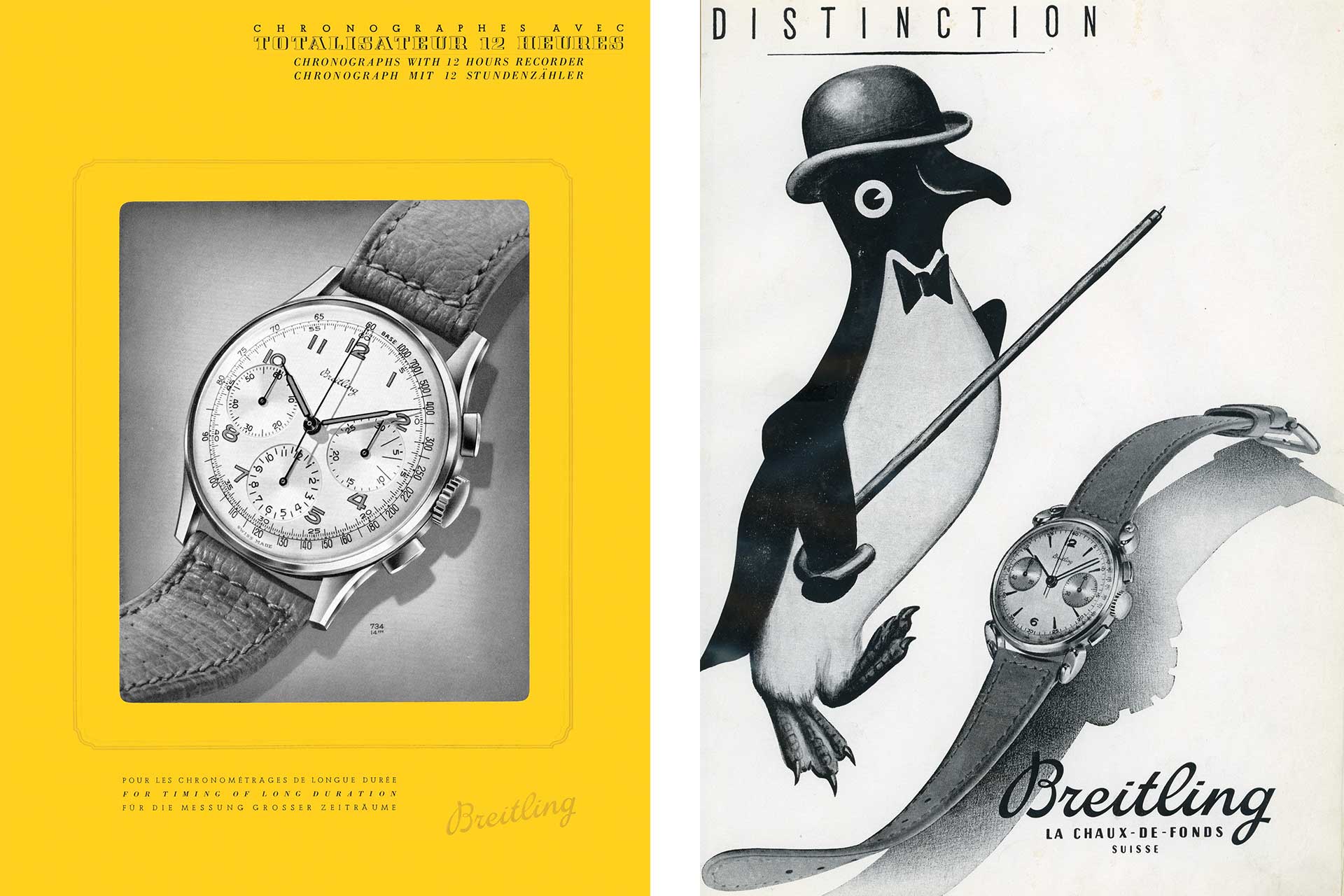 PREMIER THEN…
The original Premier was thought up by the brand's visionary, Willy Breitling. At the time, the company (based in neutral Switzerland) was creating onboard clocks for the Royal Air Force during World War II. He recognised the powerful desire in people for a sense of normalcy during the calamitous period. Consider that Citizen Kane was re-released in 1941, The Pride of the Yankees was an Oscar nominee in 1942, and Casablanca won Best Picture in 1943. Much of their hype was due to the fact that they offered a few hours respite from the dramatic stories playing out on the world stage. A man of great personal style, he was certain that a fashionable wristwatch would also offer a form of escape from the impact of the global conflict.
Accordingly, Breitling continued its historic role of producing function-defined timepieces. But in addition, the company also began to craft stylish, elegant wristwatches for a discerning, urban clientele. The original Premier models, ranging from 36 to 38mm in diameter, were smaller than Breitling's familiar tool pieces. They were often crafted in solid gold (as well as stainless steel) and presented on leather straps. They offered the same performance of the chronograph movements Breitling was famous for. The choice of name (French for "first") referenced the civil, non-military use of a chronograph. And the first-class quality, elegance, and attention to detail afforded. At the theatre or the jazz club, the Premier made a powerful fashion statement.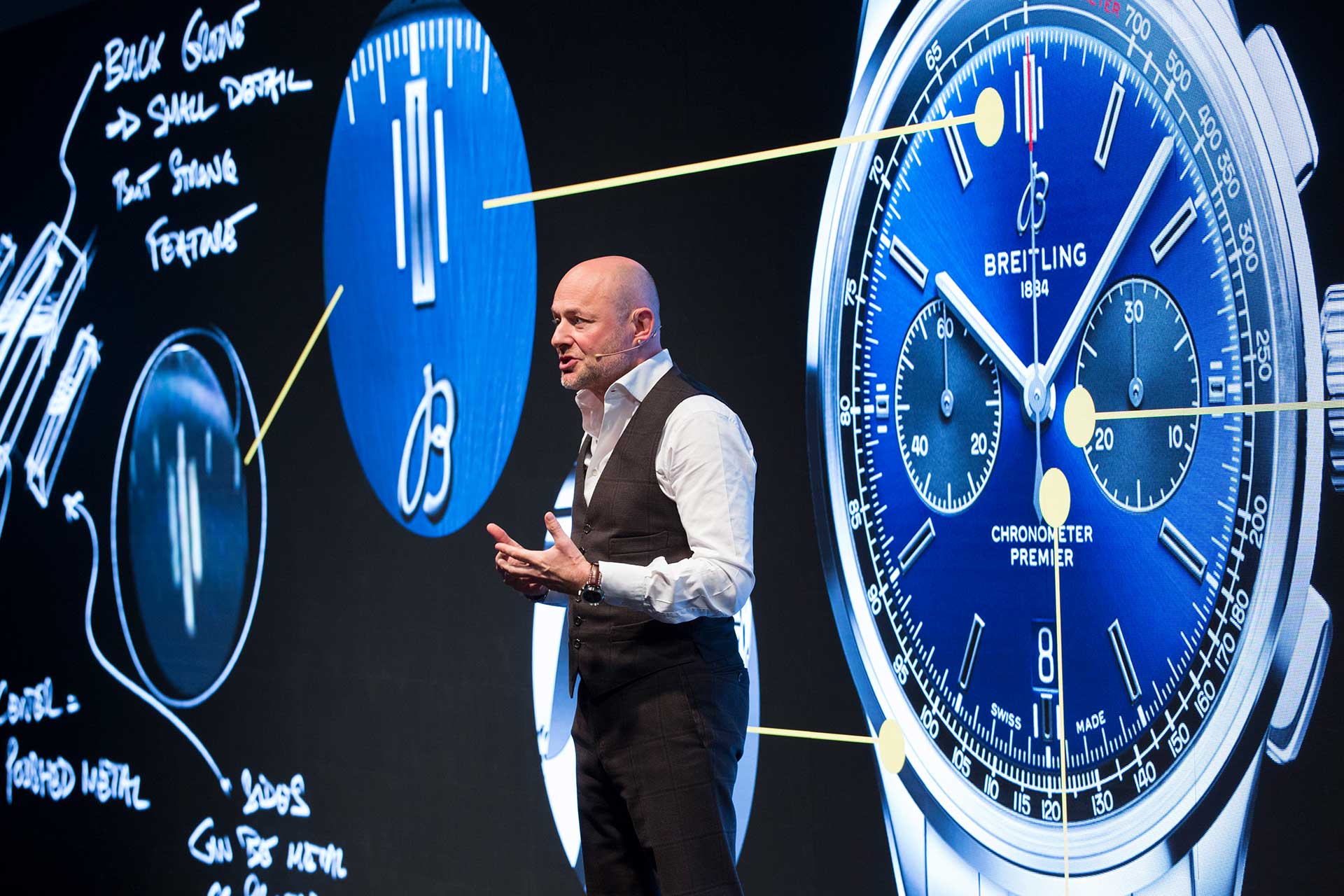 PREMIER NOW…
The new Premier collection follows in the same spirit dedicated to everyday elegance. In the words of Georges Kern, the contemporary models "bear our unmistakeable brand DNA, but have been created with a focus on style that beautifully compliments their purpose." The Premier of the 1940s was distinguished by balanced dials, with two-register layouts often employed. This is likewise the starting point for the new collection, with a two-register offered as the flagship model. Case sizes, starting from 42mm down, are (as before) smaller than Breitling's familiar tool pieces. Elegant lugs, visible bevels, and square pushers also honour the historical examples.
To this, Breitling applies their new design principles for a collection. That is, offering an in-house chronograph with distinguishing markings, a standard chronograph, automatic versions and then anything else collection-specific. The Premier collection consists of five models: B01 Chronograph 42; Chronograph 42; Automatic 40 – an understated three-hander with discreet small seconds sub-dial; Automatic Day & Date 40; and a second B01 Chronograph in partnership with Bentley Motors. Taking into account dial colour variations and band options, 29 different combinations exist. Here, we'll focus on the chronograph models.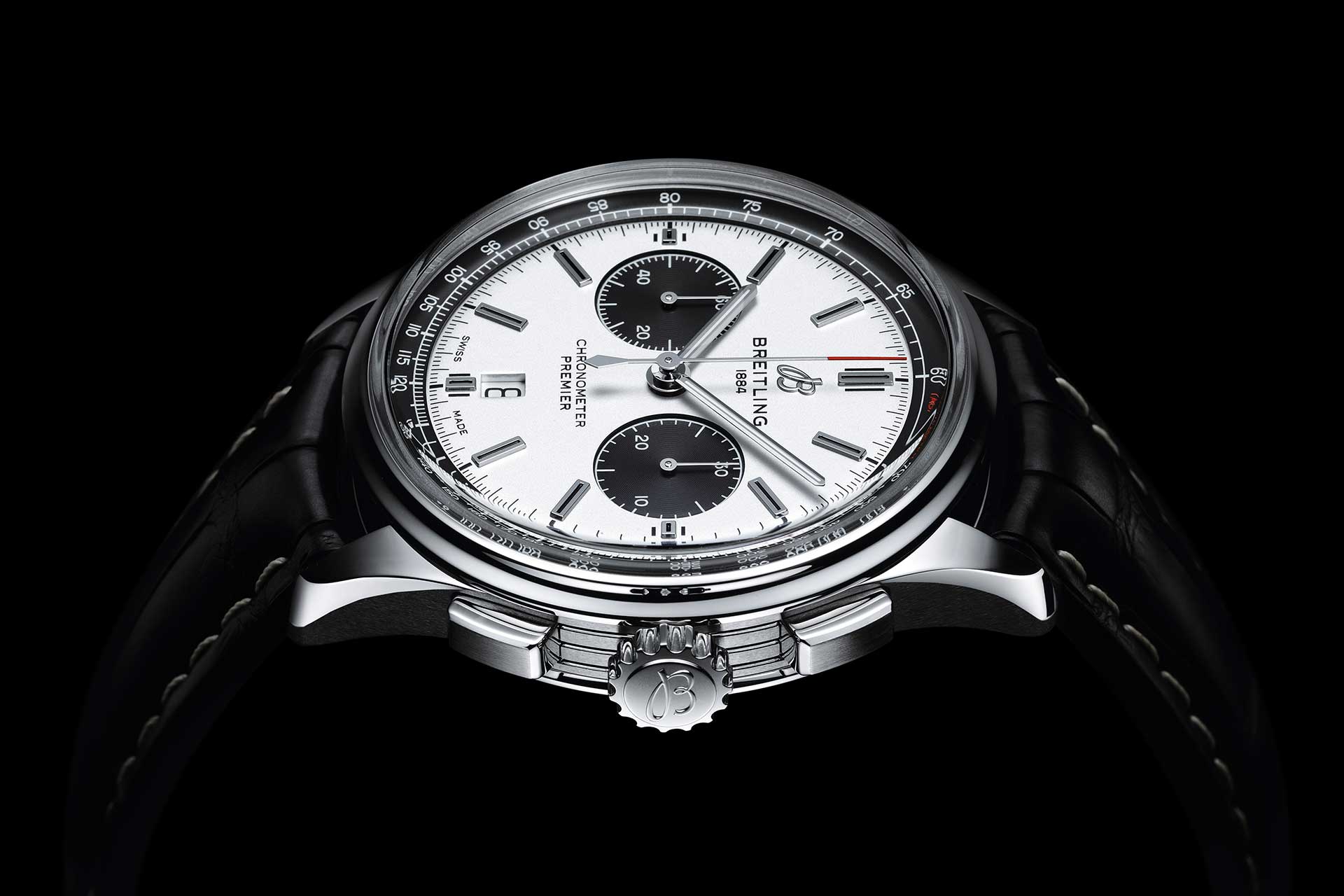 The Premier B01 Chronograph 42
The star of the lineup is a handsome, twin-register panda displaying a chronograph 30-minute counter at 3 o'clock, and a small seconds sub-dial at 9. The dial is elegantly framed by a white tachymeter scale on a black, outer chapter ring. (And highlighted with a tinge of red.) Original Premier dials used number indexes or a combination of number and batons. The new interpretation keeps to just (applied) baton markers. And baton hands (similar to the originals) have been beefed up to allow for lume. A date aperture appears at 6 o'clock. The contrasting sub-dial colours signify the chronograph is an in-house calibre. A further distinguishing feature is a screwed in rear display crystal.
Beating within is the Manufacture Calibre B01. The column-wheel and vertical clutch, self-winding, mechanical movement. COSC-certified, turning on 47 jewels, and providing a power reserve of 70 hours (min.). The 42mm stainless steel case with shadowlines, and the brand's new shorter lug design principles, is well proportioned in line with current trends. (Case thickness – 13.65mm.) Water resistance is guaranteed to 100m (10 bar/ 330ft). The Premier B01 Chronograph 42 is available in silver and dark blue dial variants. Both can be paired with an alligator leather or nubuck strap, or a seven-row (Navitimer) stainless steel bracelet. Prices start from $10,390.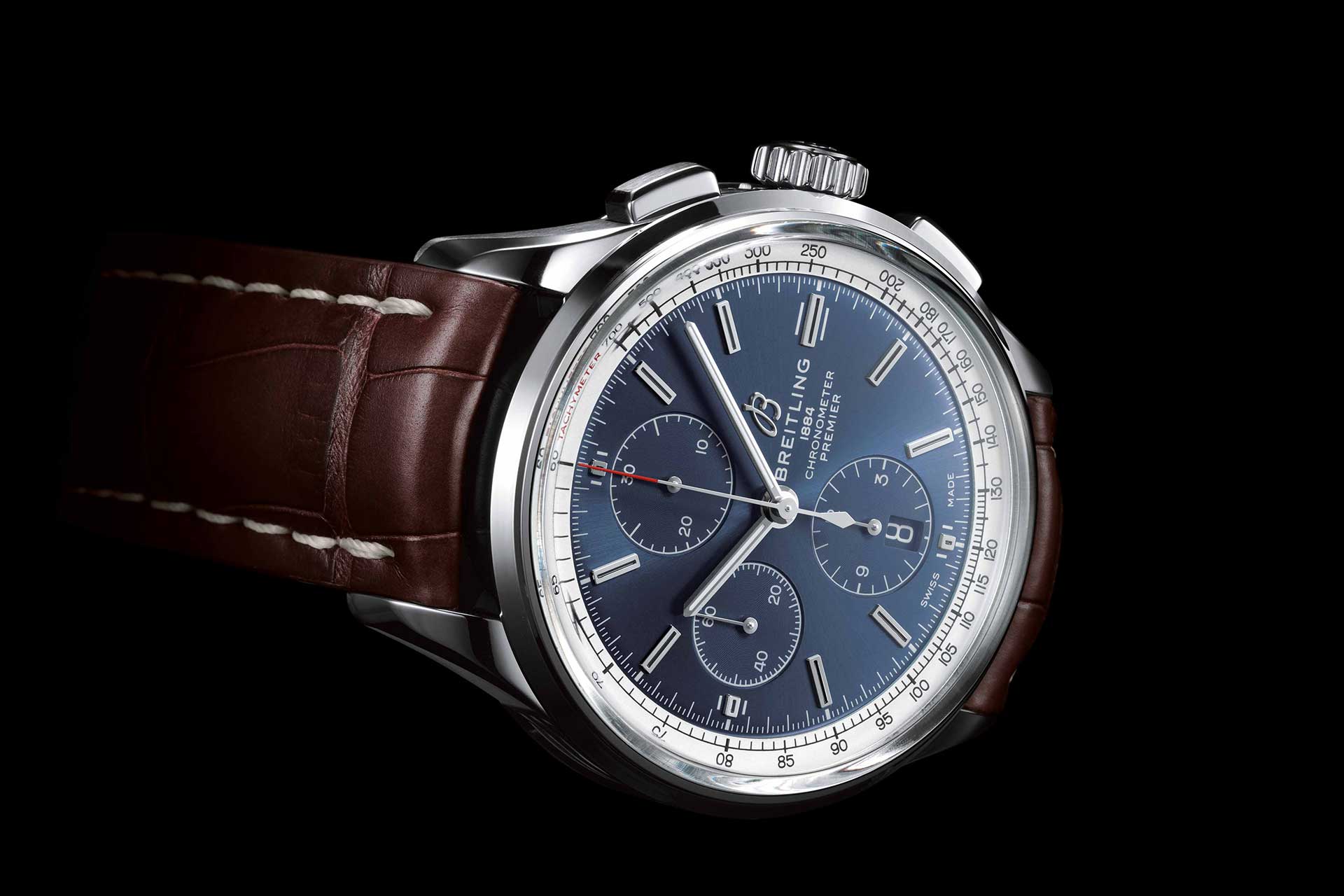 The Premier Chronograph 42
The Premier Chronograph 42 features a monochromatic main dial. The tachymeter framing is inversed to black on white. (The same hint of red is present.) The triple-register consists of chronograph 30-minute and hour counter at 12 and 6 o'clock respectively, and a small seconds sub-dial again at 9. Interestingly, the date aperture still appears at 6 o'clock – superimposed with the counter. (Case thickness – 13.8mm.)
The Premier Chronograph 42 is running on the Breitling Calibre 13 (based on the automatic Valijoux 7750). COSC-certified and accurate to a quarter of a second. The movement turns on 25 jewels. Winding occurs automatically via a unilateral ball-bearing rotor to assist the power reserve of up to 48 hours (min.). Water resistance is likewise to 100m (10 bar/ 330ft). Offered with either a black or blue dial, the Premier Chronograph 42 enjoys the same band options as the B01 version. Prices start from $8,290.
A Brand Reinvigorated
Having only been with the brand for approximately 18 months, the pace Kern is setting is quite impressive. He has delivered on his promise for four main collections, and each has been consistent in its structure and level of execution. The Premier collection strengthens the communication to consumers. Created especially for use on land, it reinforces the message that Breitling is a brand for individuals of style, purpose, and action.
The Premier collection is already proving to be popular with collectors and enthusiasts alike, and so we recommend getting in to our Boutiques today to secure your favourite piece. Please contact our Boutiques for more information.