Perpetual Planet - Sustainability in the Watch Industry
As conscious consumers, we all share a keen interest in the environmental and social impact of our purchase decisions. Large and small. Increasingly we find ourselves seeking out brands that share values similar to our own and which are actively working to reduce their environmental footprint. Yet for most of us, the words "sustainable" and "manufacturer" remain incongruent. Our minds immediately turn to images of large factories spewing pollutants into the air whilst consuming obscene amounts of energy. And while this stereotypical picture might still ring true in some quarters, more and more companies are committed to proving that there are different and better ways of doing things. Among them are a number of luxury watch brands, each taking its own unique approach towards supporting important conservation efforts and pioneering sustainable and environmentally-friendly watch production.
---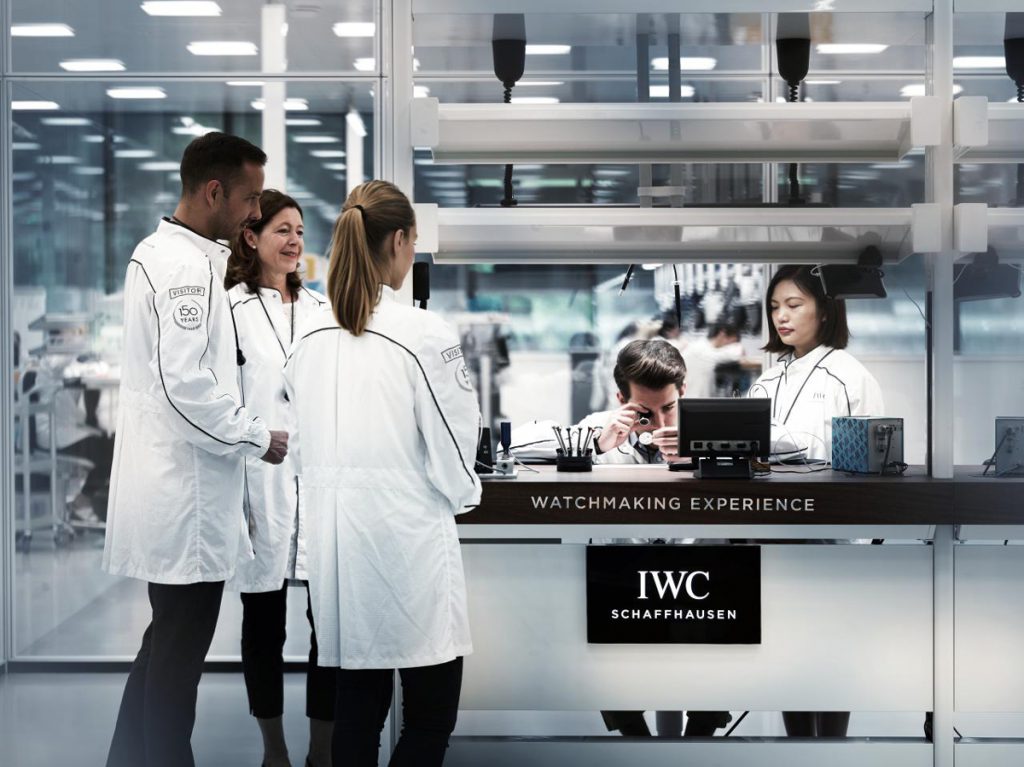 IWC Schaffhausen
A watchmaking pioneer in more ways than one, IWC Schaffhausen has been demonstrating a strong commitment to sustainable business practices for more than a decade. In recognition of this, the company has received a number of notable awards including the Walpole Award for Excellence in Corporate Social Responsibility in 2012, best CSR in Switzerland by Capital Finance International in 2014, and the bronze award in sustainability in the 2017 International CSR Excellence Awards. In 2018, the Manufacture took thing several steps further by becoming the first Swiss luxury watch company to produce a sustainability report aligned to Global Reporting Initiative Standards. This public commitment to transparent, responsible business practices was further reinforced by the setting of aggressive sustainability targets for 2020. All which were subsequently achieved.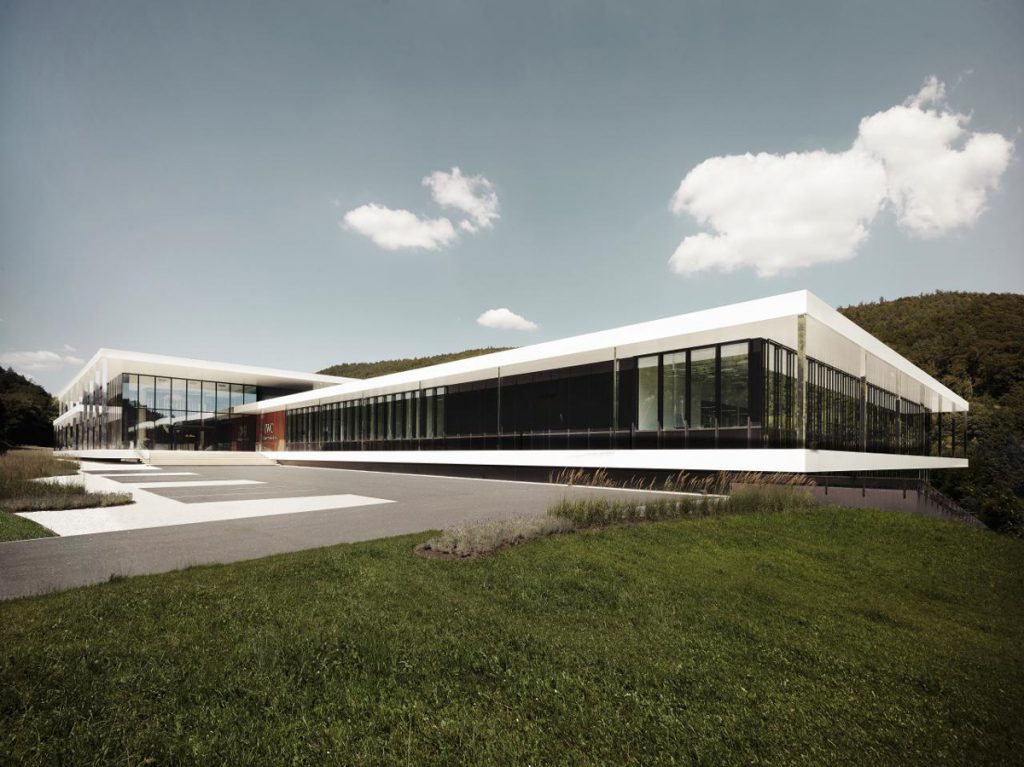 To ensure this trend continues, the company's Schaffhausen-based headquarters and its nearby Manufacturing Centre, opened in 2018, run on renewable energy and boast a number of other initiatives geared towards environmental sustainability. In addition, IWC uses recycled gold where possible, and sources from a refinery powered by renewable energy.
---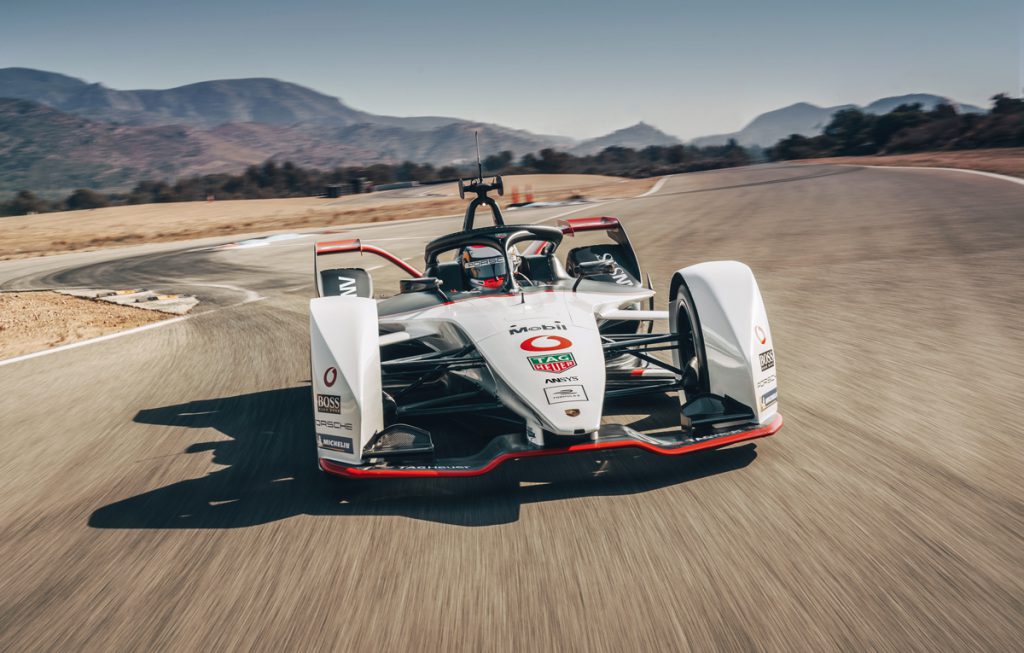 TAG HEUER
The name TAG Heuer has been synonymous with motorsport for close to a century, its iconic logo adorning race tracks around the world. It's only natural therefore that part of the company's sustainability efforts would focus in this same field. To that end, TAG Heuer has served as a Founding Partner and Official Timekeeper of the FIA Formula E championships since its inaugural 2014-15 season. Exclusively racing electric cars fully powered by renewable energy, the sustainability focused championship also takes additional steps to reduce its carbon footprint. These include racing on temporary tracks – eliminating the need for new infrastructure – and only using one set of hybrid tyres per race. TAG Heuer further strengthened its involvement with the championship by becoming the Title and Timing Partner of the Porsche Formula E Team in 2019.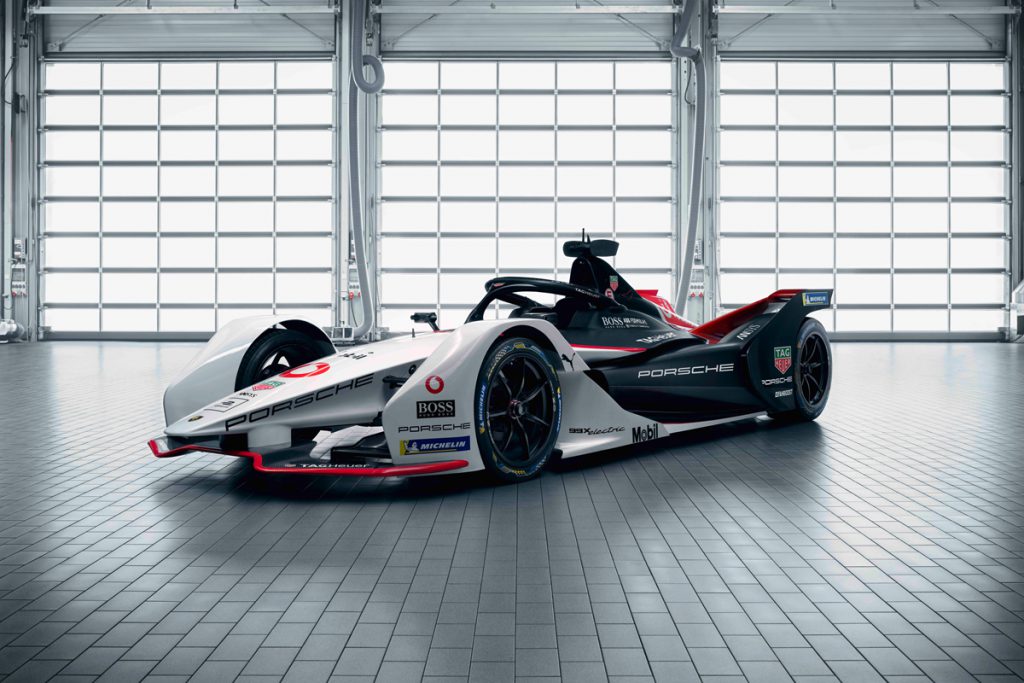 Following on from the success of Formula E, TAG Heuer announced its participation this year as series founding partner and the official timekeeper of PURE ETCR. The world's first all-electric, multi-brand touring car championship, PURE ETCR promises a unique format centred around short, sharp head-to-head battles and the use of starting gates instead of red lights.
---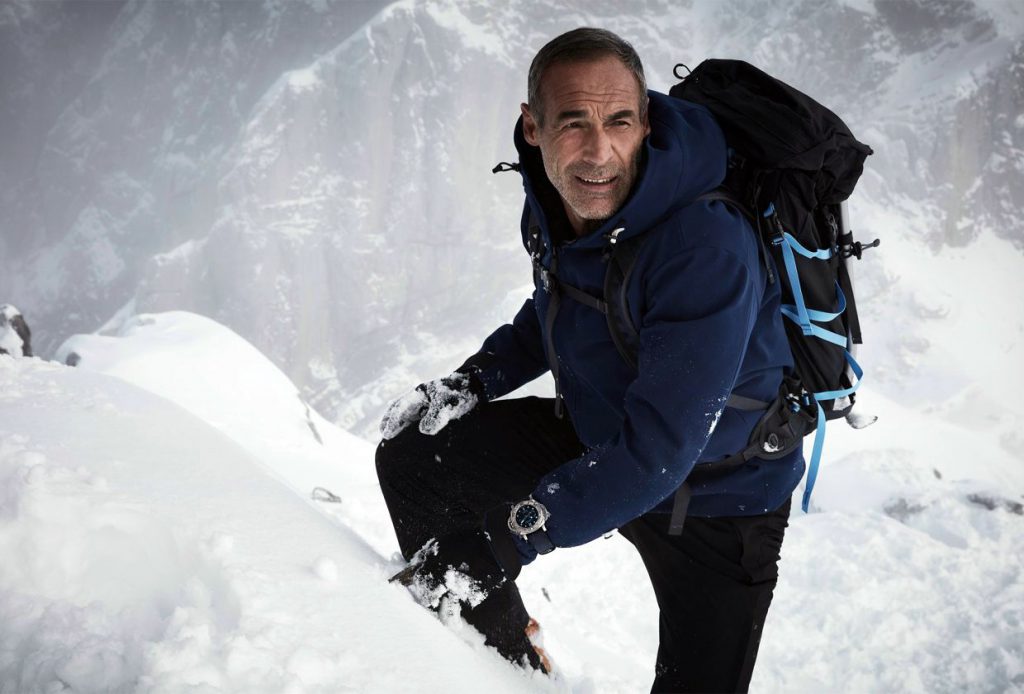 PANERAI
Taking a direct approach to promoting discussions about sustainability, Panerai is giving a handful of lucky clients the opportunity to witness the impact of climate change first hand. To do this, the brand has created the special edition Submersible EcoPangaeaTM Tourbillon GMT – 50 mm Mike Horn Edition (PAM01108), limited to just 5 pieces: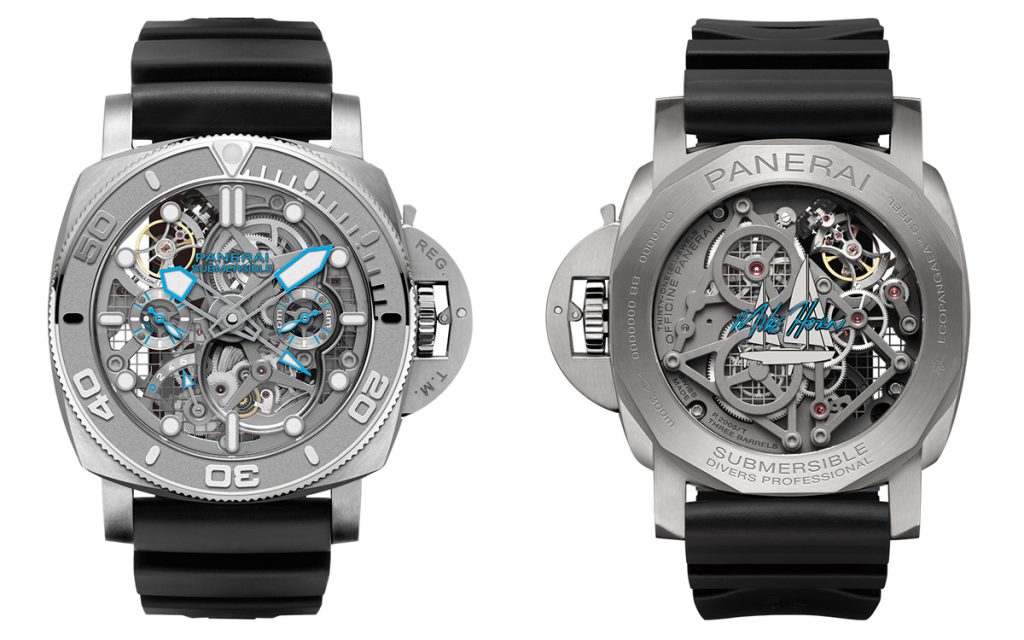 Included with purchase is a once-in-a-lifetime experience in the Arctic with professional explorer and brand Ambassador Mike Horn. Offering an unparalleled insight into the imperilled state of our fragile ecosystem, participants can see for themselves exactly what is happening to our planet. The watch itself also puts the focus on the importance of reusing natural resources, with the case crafted from the new EcoPangaeaTM high-tech steel. This robust material is composed of recycled metal from the 35-meter drive shaft of the Pangea, Mike Horn's sailing ship.
---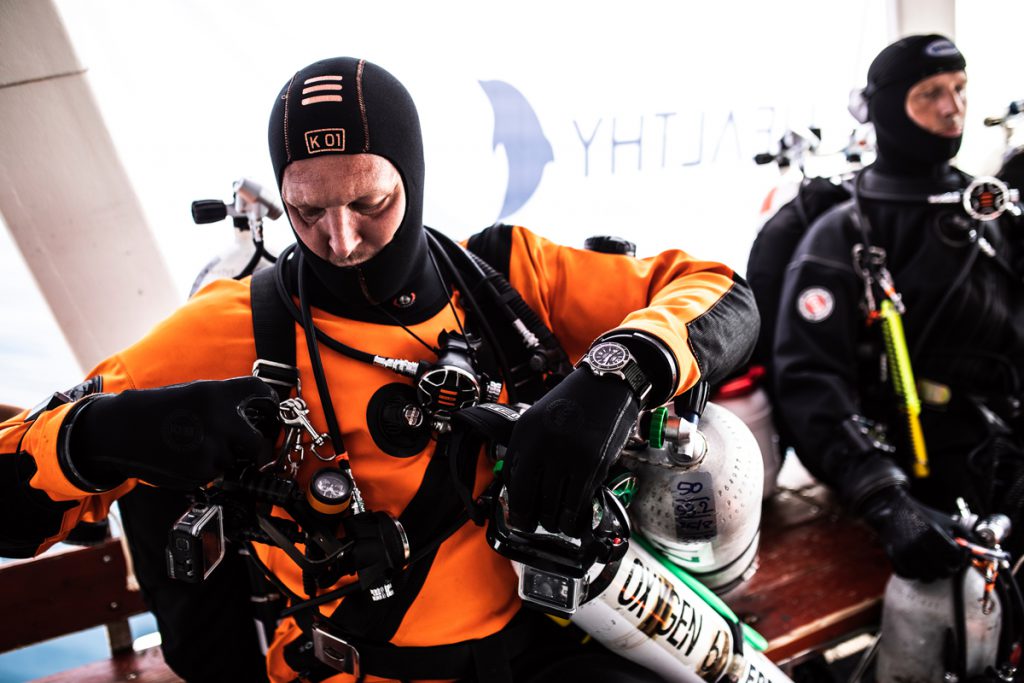 BREITLING
Breitling will be forever linked to the sea by its popular SuperOcean collection, hence the brand's commitment to clean oceans and beaches through partnerships with Outerknown and Ocean Conservancy. In collaboration with the former – a sustainable apparel brand co-founded by Breitling Surfing Squad Member Kelly Slater – Breitling has introduced the Outerknown ECONYL® yarn NATO strap collection. Crafted from ECONYL® yarn, a material created in part from nylon fishing nets recovered from the world's oceans, the first collection comprises 18 ecologically responsible straps in a range of different colours and patterns. Available exclusively through Breitling's authorized e-commerce platforms, customers can first configure a Breitling watch with one of the environmentally responsible new straps before deciding to purchase it.
---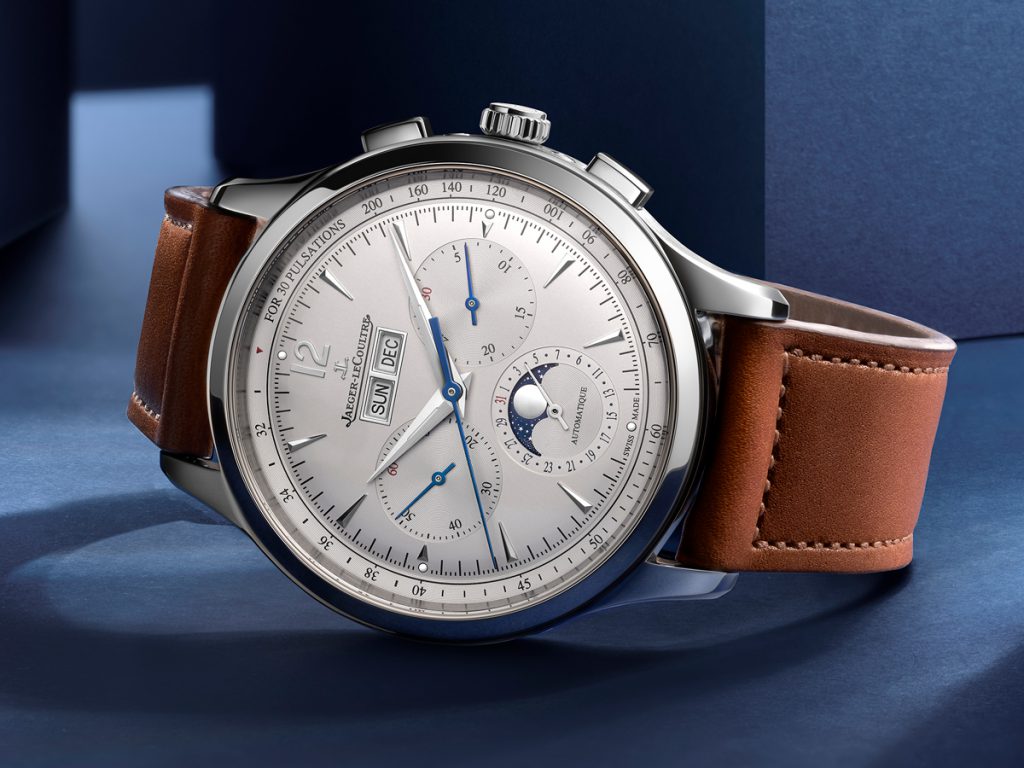 JAEGER-LECOULTRE
Storied manufacture Jaeger-LeCoultre is focusing its efforts on reducing its environmental footprint closer to home. This has led to the creation of the Jaeger-LeCoultre Care Program, providing a highly personalized digital experience to customers whilst substantially cutting back on the need for printed materials. In this same vein, prospective customers are now invited to browse the comprehensive e-catalogue. On the watch front, the brand's 2020 Master Control collection feature Novonappa® calf leather straps in tan. Instead of using harmful chemicals, however, the distinctive colour is achieved through a vegetable-based tanning process that retains the natural variations of the hides, gaining a unique patina over time.
---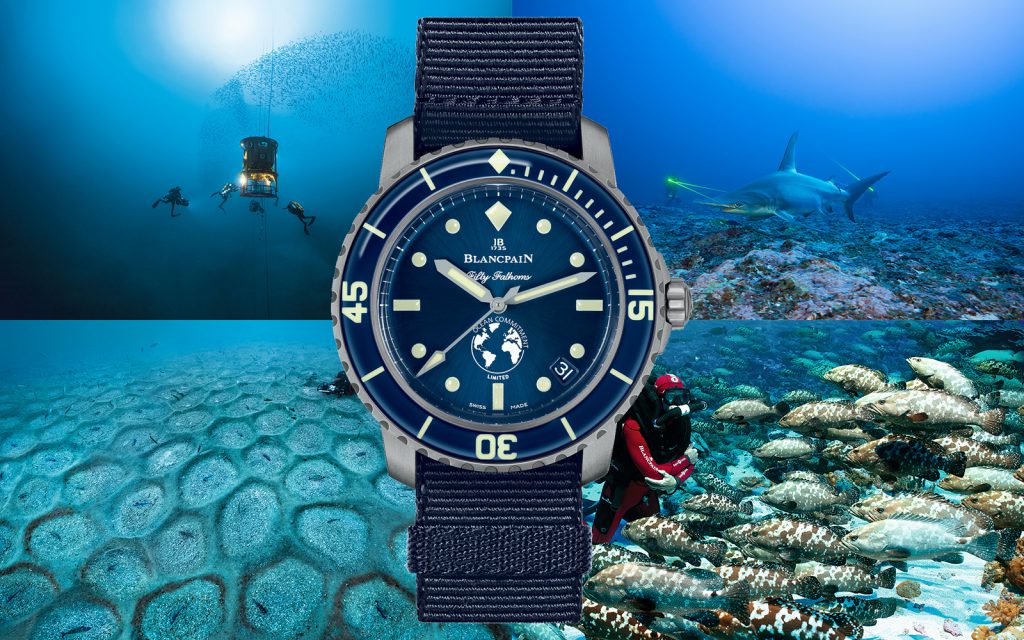 BLANCPAIN
As one of the original architects of the modern diving watch, and the first company to present a commercially available model to market – the Fifty Fathoms in 1953 – Blancpain has a special regard for the world's oceans. Which is why the company has done – and continues to do – so much to protect and preserve them. For over 60 years Blancpain has sought to raise public awareness through funding ocean exploration initiatives. These include major scientific expeditions such as the Pristine Seas Expeditions (May 2011-May 2016) and Laurent Ballesta's Gombessa Expeditions. In 2012, the brand became a Founding Supporter of the World Ocean Summit, an outcome-driven dialogue between global leaders to bring fresh perspectives to the ocean agenda. In 2014, in addition to Blancpain's annual support to expeditions and major oceanographic projects, the brand's President and CEO, Marc A. Hayek, introduced a first series of limited-edition Blancpain Ocean Commitment (BOC) timepieces. Two subsequent limited-edition models have followed, each calling attention to Blancpain's Ocean Commitment and the importance of this work. All of this is driven by the brand's ethos that people can only respect and protect what they love and can only love what they know.
---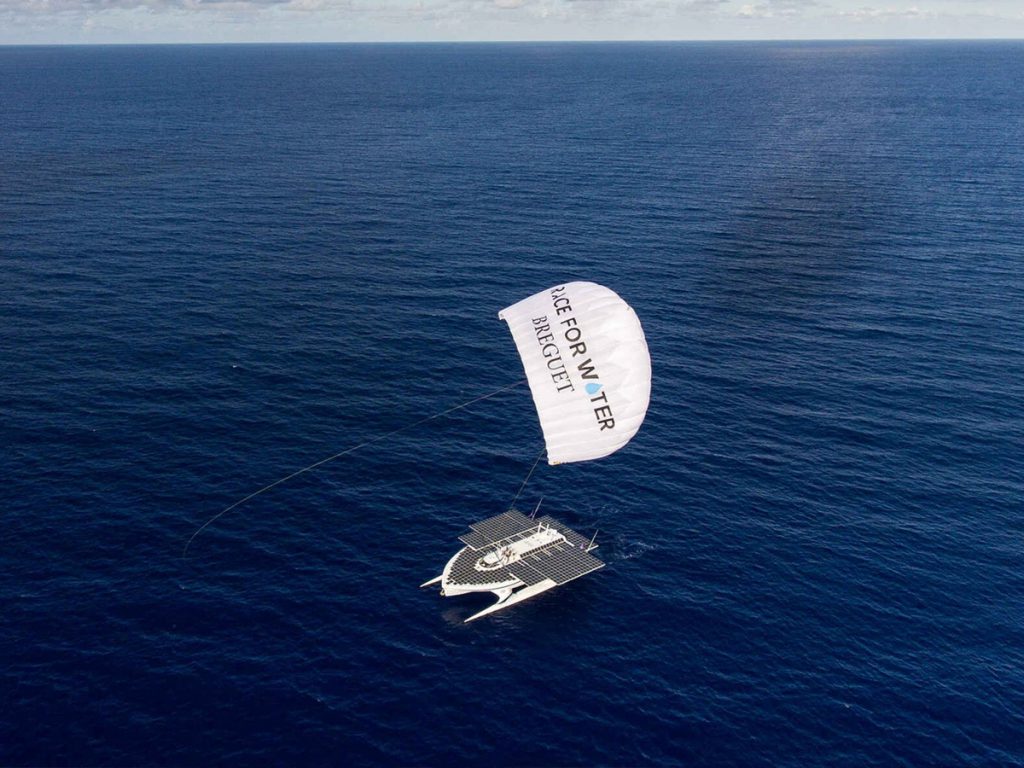 BREGUET
Prestigious Swiss watch maker Breguet is another brand with a long-standing maritime connection, its namesake Abraham Louis Breguet having formerly served as chronometer maker to the French Navy. In March 2017, the brand joined Race for Water as the main sponsor of a five-year program, entitled "Odyssey 2017-2021". Dedicated to water preservation and the ocean in particular, the Race for Water Foundation aims to identify, promote and implement solutions that will give end-of-life plastic a value and create new sources of income for the people most affected by pollution. To this end, the Odyssey program involves a pioneering vessel powered by a mix of solar, hydrogen, and kite energies sailing the seas around the world and contributing to raising awareness among the decision-makers and general public, as well as educating younger generations about ocean conservancy and more sustainable ways of living.