70 Years: The Blancpain Fifty Fathoms
Today, the modern mechanical dive watch is a mainstay on the wrists of fine watch aficionados. The perfect blend of practical functionality, versatility and aesthetic beauty. A myriad examples now exist, some more desirable than others. Yet, the foundational blueprint traces back to one watch: the Blancpain Fifty Fathoms. Launched in 1953 and revived in 2003, the Fifty Fathoms marks its 70th anniversary this year.
Read on to learn about the incredible origin story of the Blancpain Fifty Fathoms.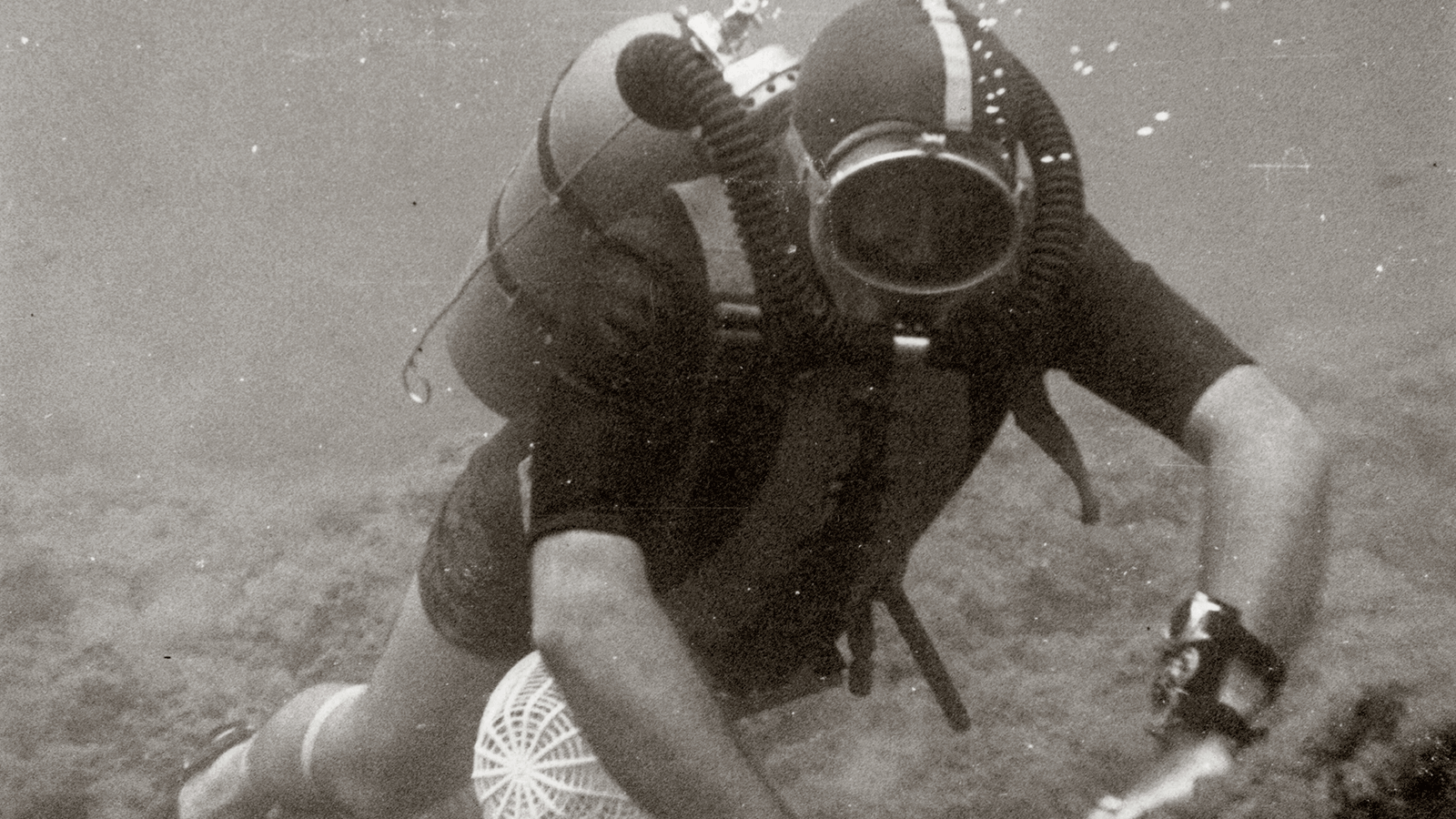 The Catalyst
Picture this: it's the early 1950s and you're holidaying on the French Riviera. You're there to indulge in your latest recreational passion: scuba diving. You get your gear together and head down to the harbour at Villefranche-sur-Mer. There you meet some friends – fellow amateur dive enthusiasts – and get into a small boat. Someone knows the perfect diving spot and that's where you're headed. The water is warm on this sunny summer's day and crystal clear, ideal conditions for your chosen pastime.
Soon enough you are in your happy place, the water. It's not long before you're absorbed in exploring this underwater playground. Here, down at a depth of 50 metres below sea level everything else fades away. You're in your own little world. Then you realise you have lost track of time and the air is fast running out of your Aqua-Lung scuba system. At this depth though, a rapid surfacing would induce decompression sickness. The consequences of which could be fatal. So, fighting all your instincts to panic, you do your best to execute a controlled ascent.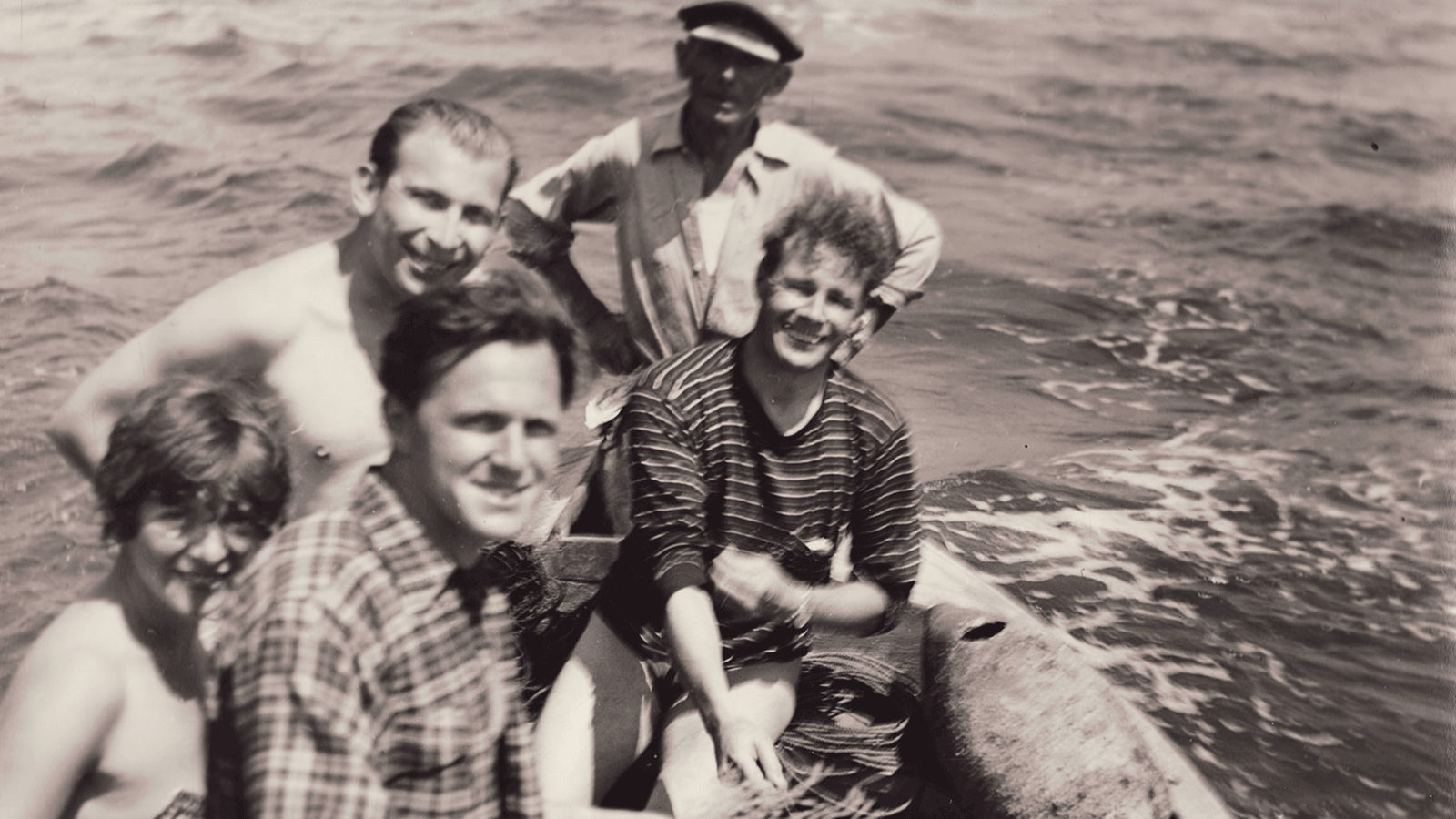 It's a scary scenario to imagine, right? The panic, the fear, the uncertainty. Will you make it, and even if you do, what happens if you get decompression sickness? This was the 1950s after all, the medical system was nowhere near as advanced as it is today. This is not some hypothetical example though. It's a true story. Jean-Jacques Fiechter was the amateur enthusiast scuba diving at Villefranche-sur-Mer that sunny day. In a mighty stroke of good fortune, he lived to the tell the tale. But he also did so much more than that.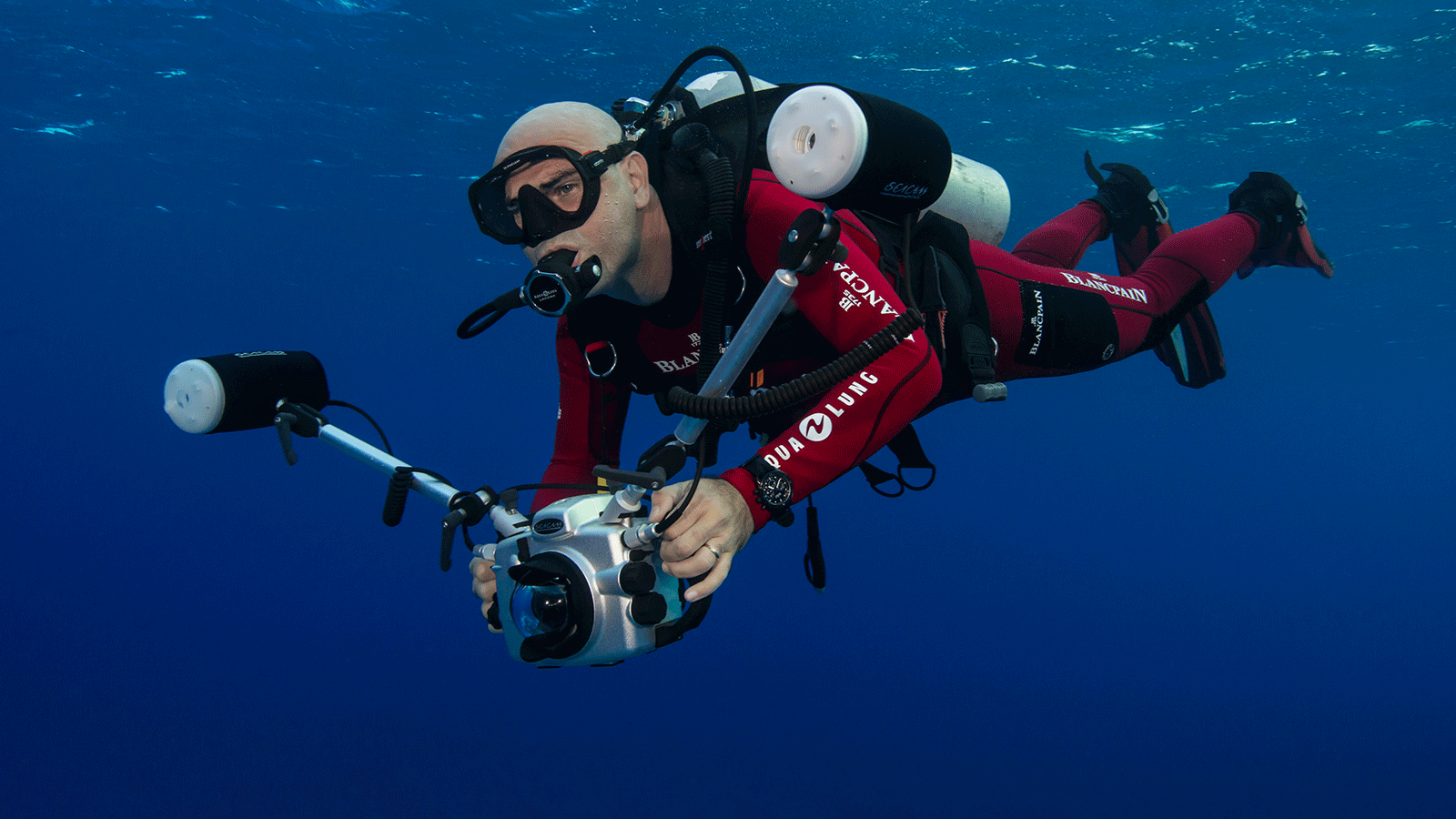 Marc A.Hayek president and CEO of Blancpain C Mark Strickland
You see, for Fiechter, diving started off as a hobby. An enjoyable leisure activity that was still in its nascency following World War II. This near-death experience had a profound effect on him though. Bringing into focus the need for a legible and reliable timing instrument for divers. One that could go with them wherever they were bold enough to venture. As CEO of the Swiss watch house, Blancpain, Fiechter was well placed to follow through. He couldn't do it alone though.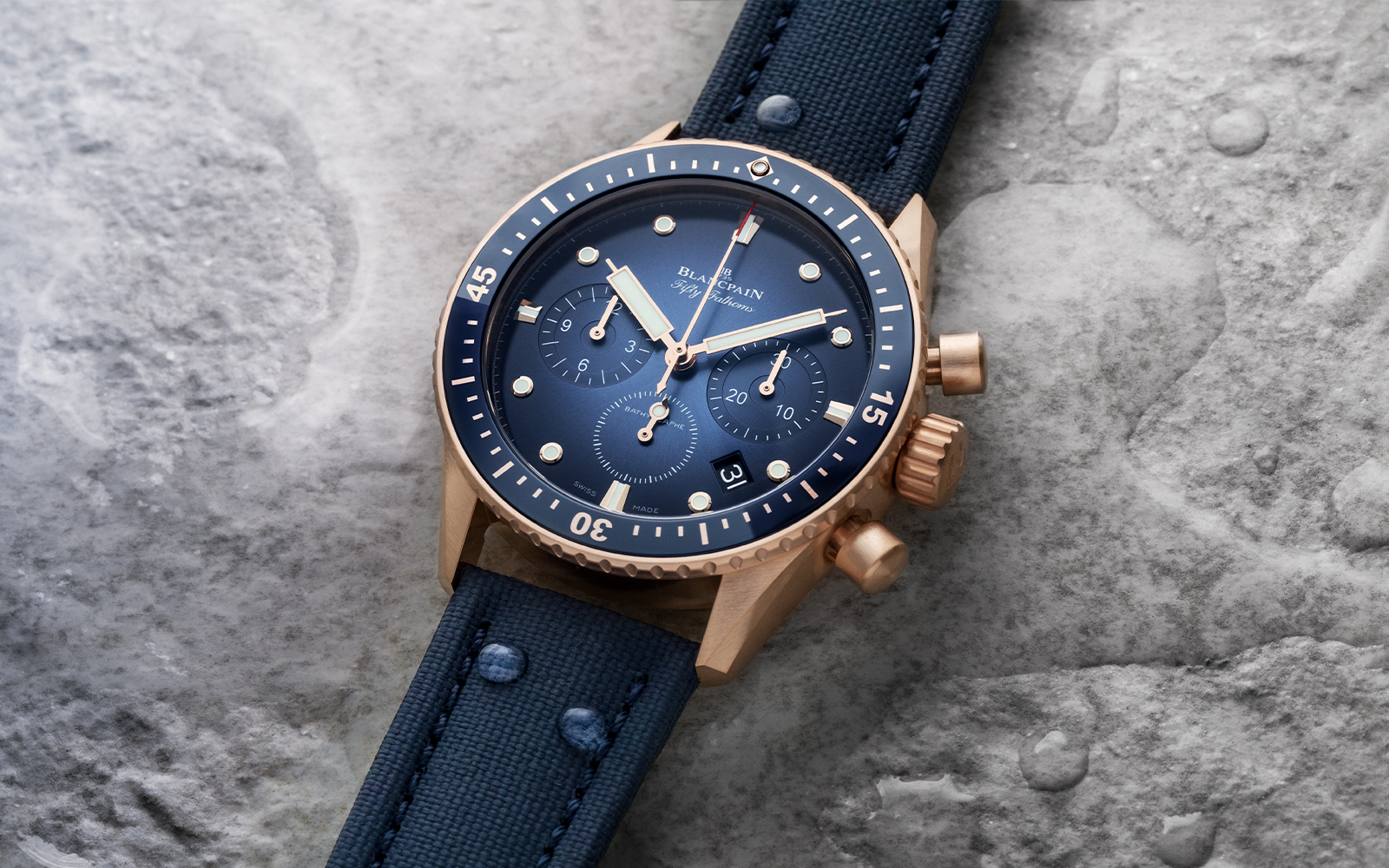 The Frogmen
Underwater exploration aided by breathing apparatuses has been around since the mid-19th century. Modern scuba diving as we know it today though is much more recent. This is where the famed frogmen enter the story. These elite underwater commandos performed sabotage operations, and clandestine port-attacks during WWII. Made possible by the development of self-contained oxygen rebreathers in the preceding decade. Unfortunately, the advancement of instrumentation to support these activities had not matched pace.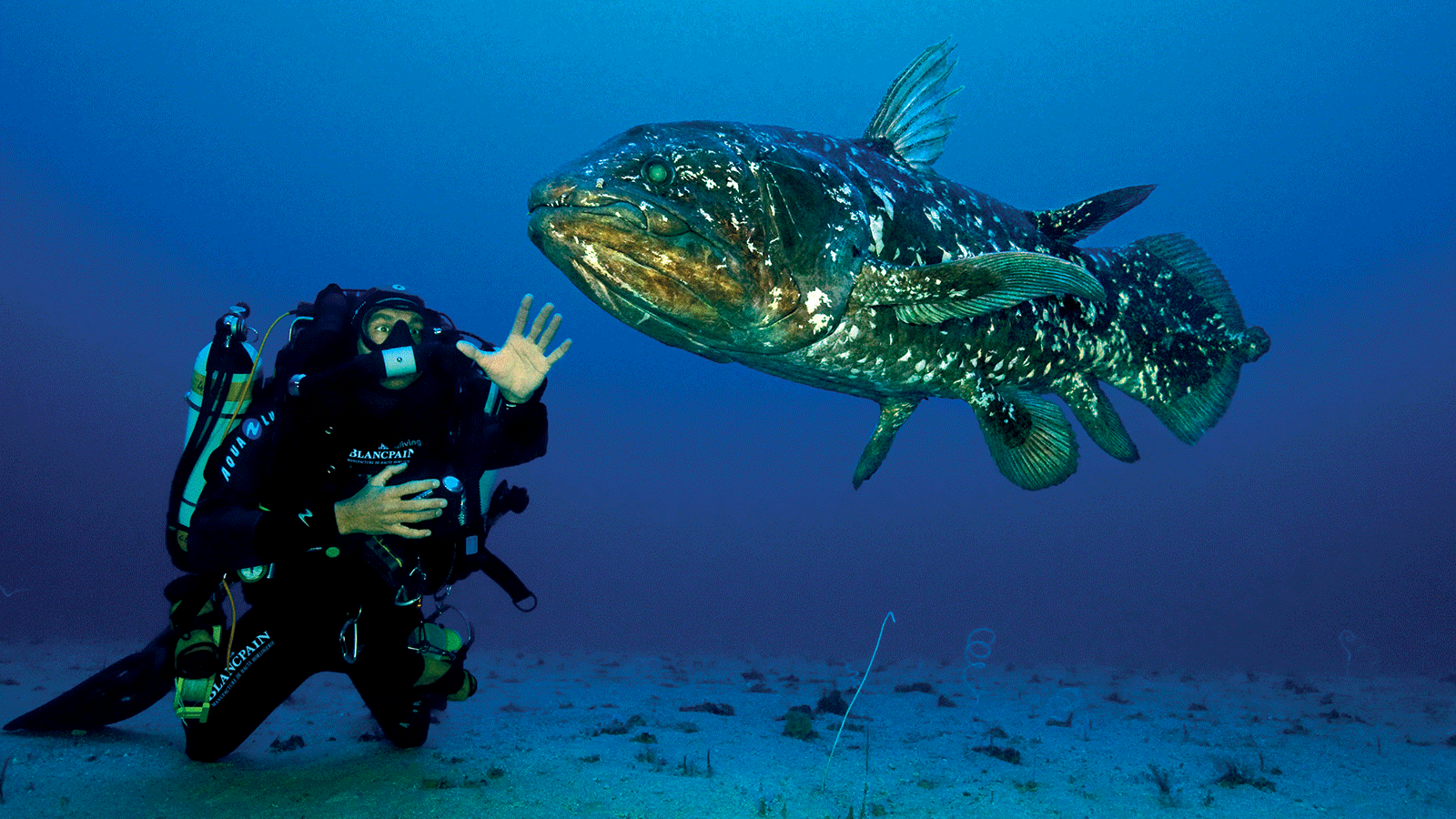 It was clear though that frogmen would play a critical role in any future combat. And the better equipped they were, the more effective they could be. And so, in 1952, the French government established the "Nageuers de combat". (French Forces Elite Diving Corps.) Led by Captain Robert "Bob" Maloubier, a veteran of the war and a former member of Winston Churchill's Secret Army. Part of his remit was to equip his new squad with all necessary scuba gear, and therein lay the problem. There was not a timing device available that could meet the extreme needs of his men. So, he set out to commission one.
This proved far more difficult than Maloubier had anticipated. An early project with a French watch manufacturer based in Besançon yielded few results. In fact, of the thirty samples Maloubier and his team tested, all failed. Leading the celebrated Captain to declare; "they drowned to death." Not exactly a stunning endorsement for a dive watch. Despite the disappointing results though, Maloubier and his team gained many insights. The next step was to draw up their own version of what a suitable dive watch would look like. It had to be waterproof, of course. A self-winding movement would guard against the watch stopping under water. Anti-magnetic shielding would ensure it wasn't affected by any other equipment in use. And above all, it must be legible in cloudy water and at night.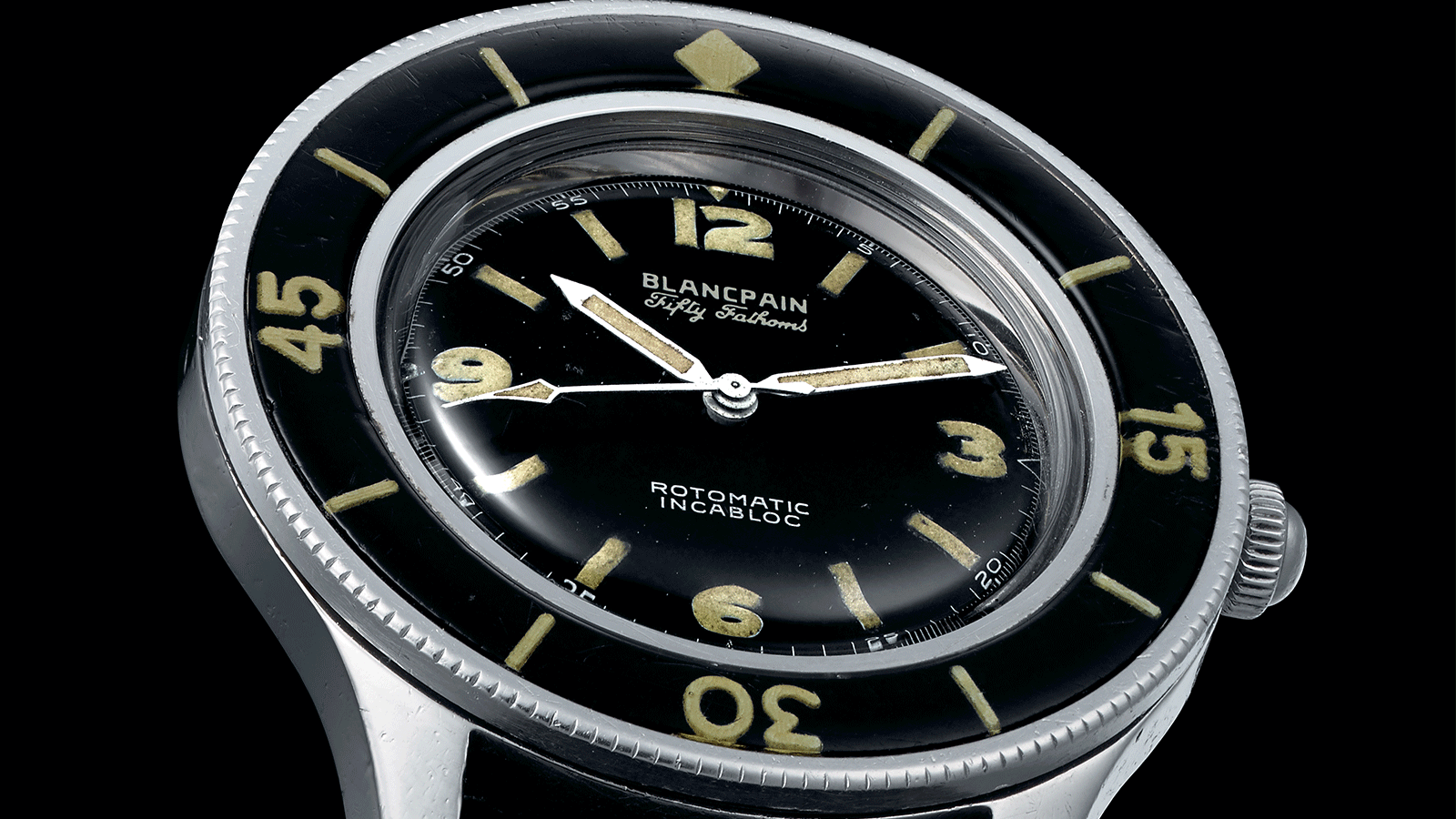 Blancpain's First Fifty Fathoms 1953
With this brief in hand, Maloubier set out on his mission again. But it wasn't long before he encountered another roadblock. The initial response from the watch industry ranged from disinterest to outright scorn. Following the war, the fashion of the time was aviation watches. There was no obvious commercial appeal for an over-engineered mechanical dive watch. As we discussed, recreational diving was still very much in its infancy. It would take a visionary who could see the bigger picture. Someone who was already working on a solution of their own.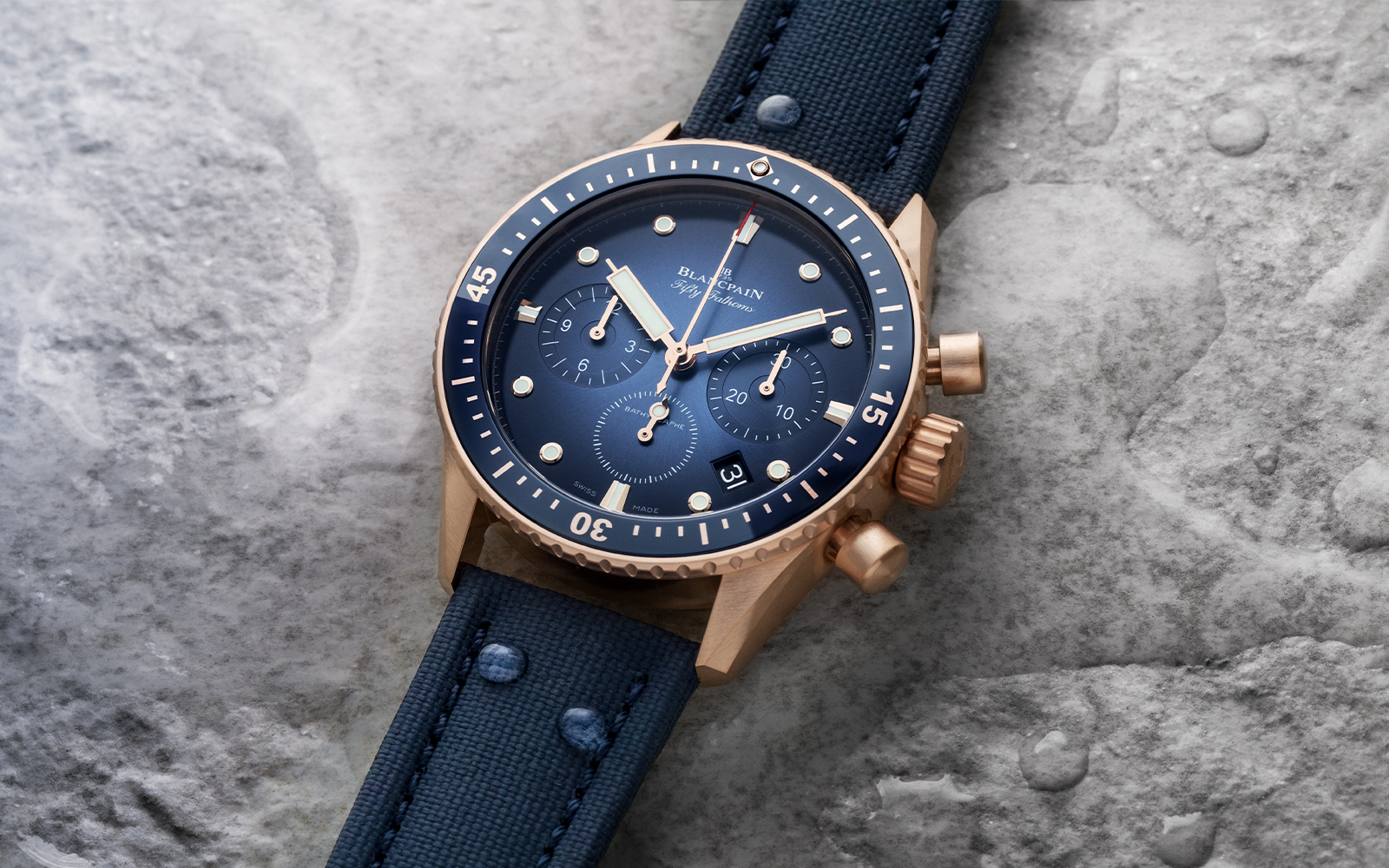 Creating The Blueprint
Great minds think alike, as the saying goes. So, it's no surprise that Maloubier's list of requirements had much in common with Fiechter's. The key difference, of course, was that the latter was able to test ideas in real time. He could then develop and patent practical solutions. For example, the invention of a double sealed crown. A patented design that would ensure the watch's water resistance even if the crown came out during a dive. A rotating bezel, working with the minute hand, allowed the tracking of elapsed time. A patented locking mechanism prevented the accidental rotation of this bezel mid-dive. It also stopped sand and salt from interfering with the bezel's smooth functioning.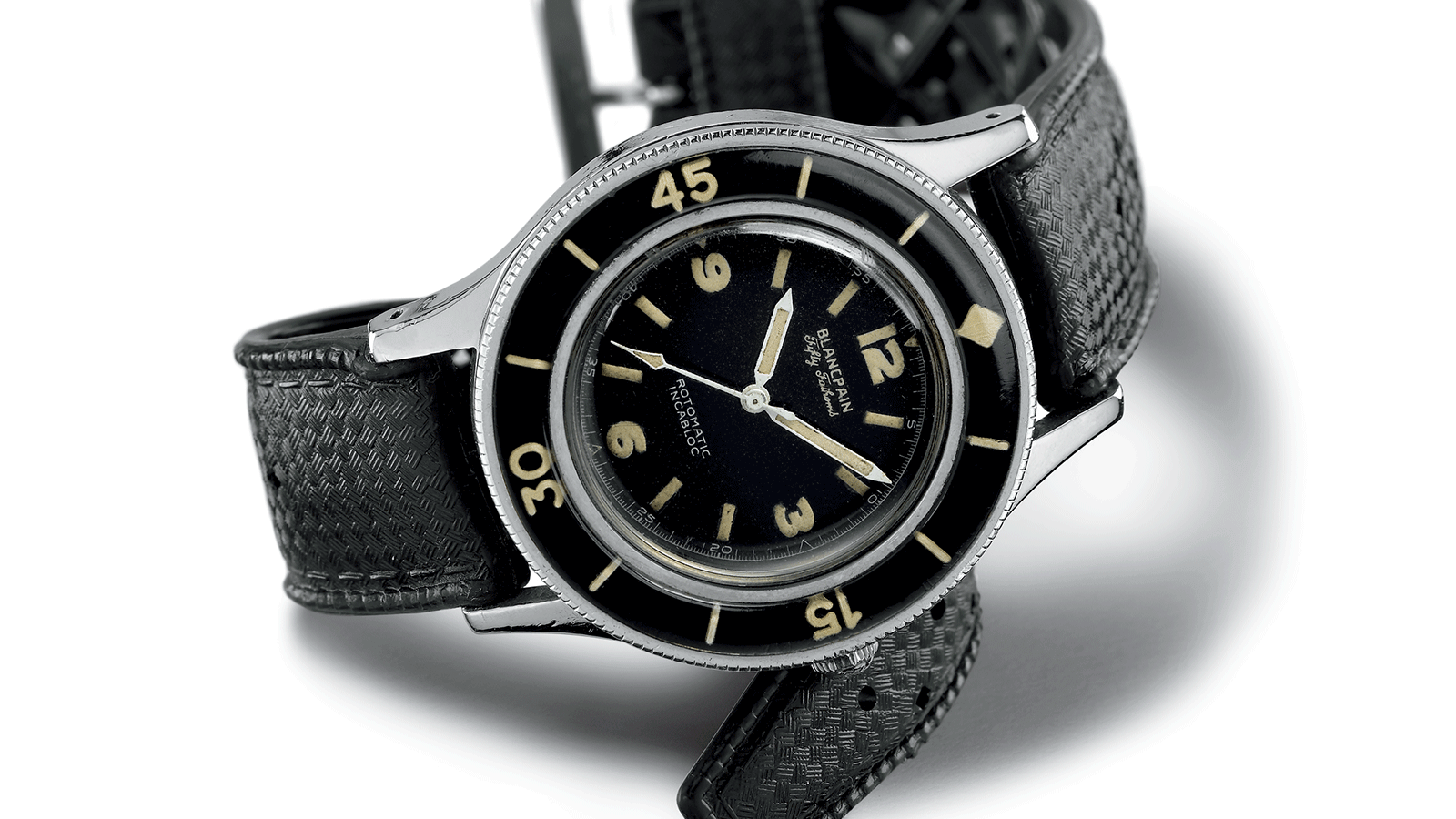 Blancpain's First Fifty Fathoms 1953
The third patent addressed a common flaw in sealing screw-down casebacks at that time. The prevailing technique led the "O" ring seal to become misaligned or twisted. Thus resulting in an imperfect seal between the case and caseback. Not ideal for a watch that needs to go deep underwater. The solution was brilliant in its simplicity. The "O" ring would sit in a channel with a metallic ring on top to hold it in position. This ensured a strong and consistent seal between the case and the caseback.
As an avid diver, Fiechter recognised the need for a watch with a larger case to aid in legibility in murky water. Likewise, the colour scheme should be white against a black background for contrast. Luminous hands and indexes would make it possible to read the time even in low light conditions. First-hand experience told him that magnets were often present in the diving environment. To guard against magnetisation, the movement would sit inside a soft iron inner case. And it would be self-winding to reduce the level of wear on the crown and seals over time.

A Solution At Last
In parallel, Maloubier continued searching for a dive watch that could meet his strict requirements. In a stroke of good luck, a mutual acquaintance put him on to Fiechter. Once the men met, it immediately became clear that they understood one another. Maloubier would later comment:
"Finally, there was this small business, Blancpain, that agreed to supply a watch that we imagined, with a black dial, large numbers, clear indexes in the form of triangles, circles and squares, as well as a rotating exterior bezel with markings matching the dial. We had hoped to be able to commence a dive and position the bezel so as to be able to read the time using the large minute hand. We wanted each of the markers to be as prominent as a pole star for a shepherd."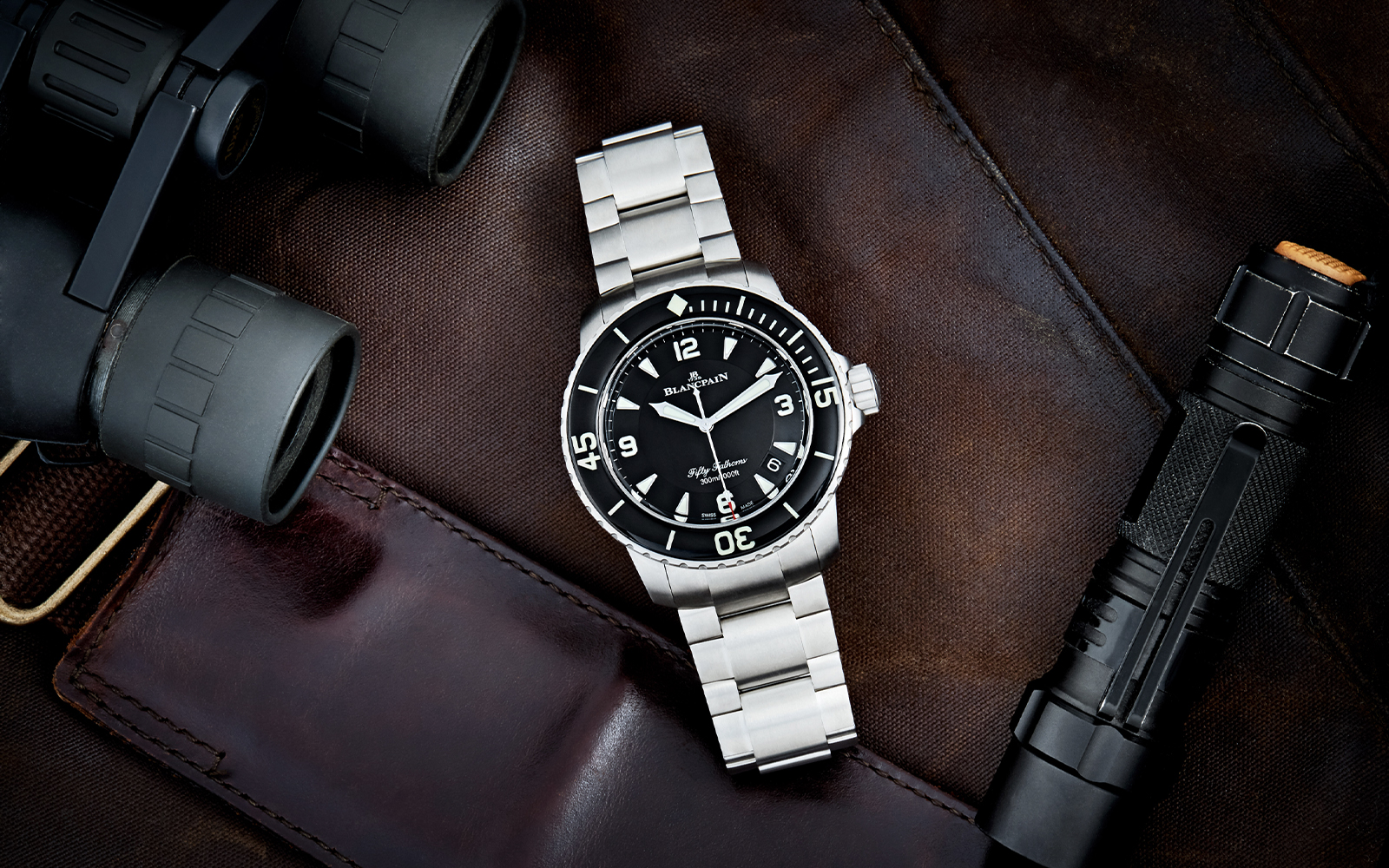 Incorporating the requests from Maloubier into his designs, Fiechter delivered 20 watches for rigorous testing. The watches exceeded expectations. and were soon adopted as the official watch of the French combat diving corps. Other world militaries would soon follow, starting with the Israeli's. Then the Americans, Spanish, Germans, Danish, Norwegians, Swedish and Pakistanis. Thus, the legend of the Blancpain Fifty Fathoms was born.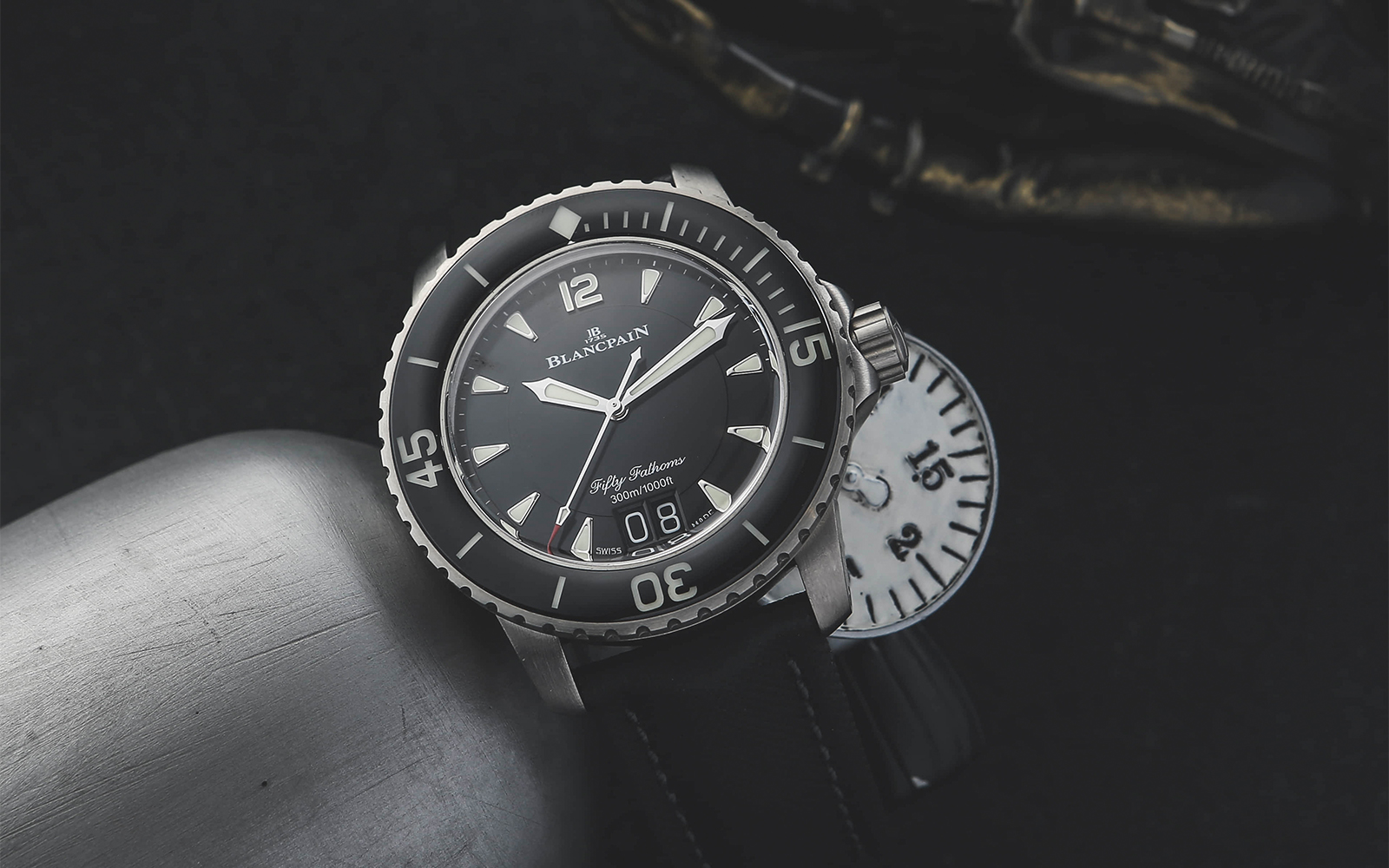 Watches of Switzerland is an official Blancpain retailer in Australia, click here to view the collection or visit our boutiques in Sydney, Perth and Melbourne Airport to experience Blancpain today.