Breguet Unveils The Refreshed Classique Quantième Perpétuel Ref. 7327
This year, Montres Breguet makes a subtle but signification addition to its Classique collection, with the unveiling of the new Breguet Classique Quantième Perpétuel Ref. 7327. The third generation of a beloved model that has been in the collection since the mid-1980s, the Ref 7237 ushers in a more contemporary look and feel for Breguet's quintessential Perpetual Calendar. Don't worry though, the brand hasn't thrown out the baby with the bath water, so to speak. This is still Breguet after all. Like its predecessors, the new Ref 7237 offers a classic case design with a fluted case band, and a solid gold dial expertly decorated with guilloche. Instead, Breguet's designers and engineers have focused their attention on improving legibility and functionality, ensuring this model is well suited to the changing tastes and demands of the 21st-century. Read on for all the details.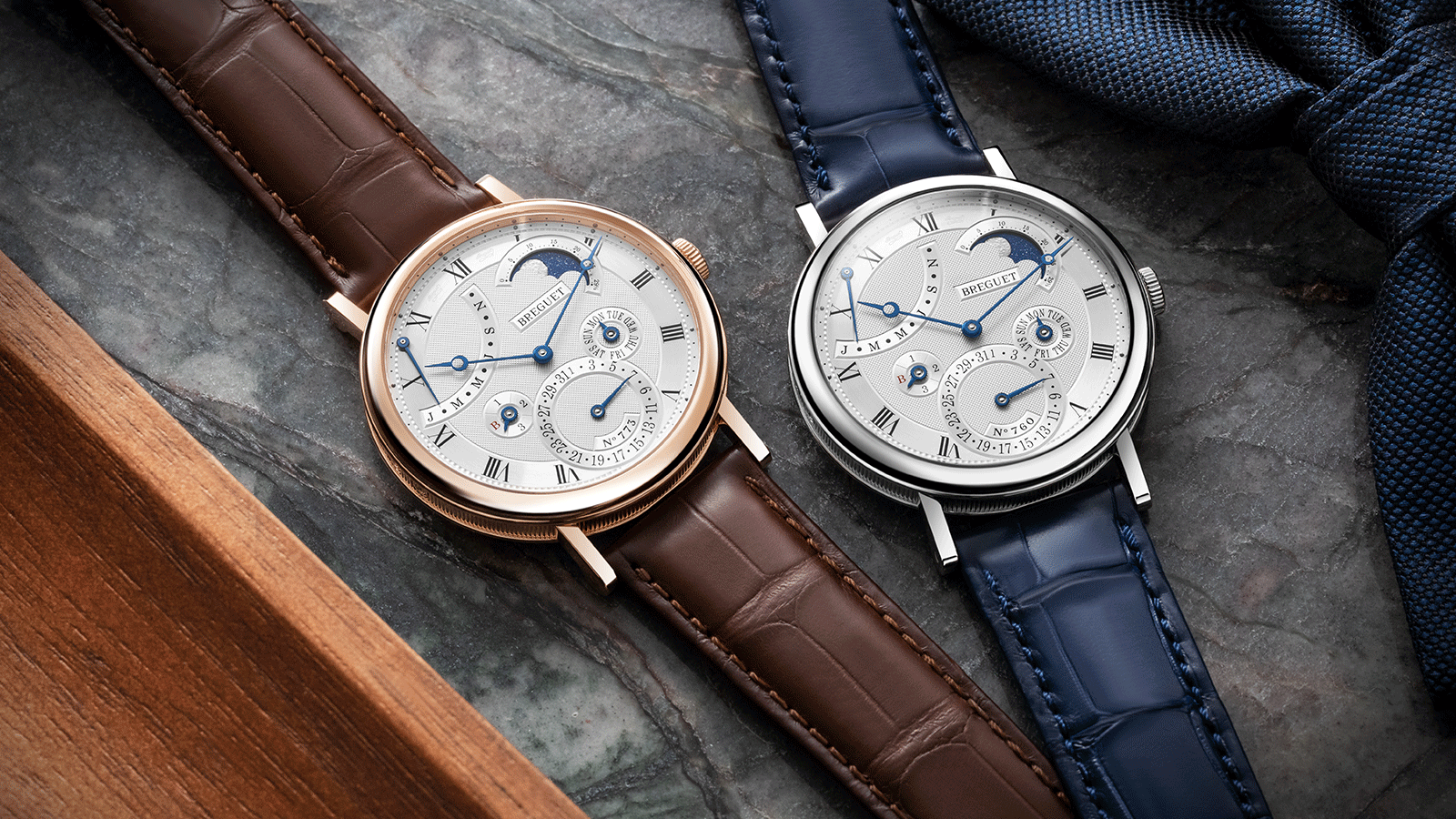 The Classique Quantième Perpétuel Ref 7237
A long-standing and much-loved member of the Breguet family, the Classique Quantième Perpétuel Ref. 3310 made its debut almost forty years ago in 1986. In continuous production for almost two decades, it was succeeded by the Ref. 5327 in 2004. And while both references continue to be cherished by collectors, another twenty years has almost passed, making this the opportune time for Breguet to once again re-visit and ever so slightly 'modernise' this complicated timekeeper.
Let's start with the case. Available in your choice of polished 18k rose gold or 18k white gold, it is ideally proportioned for an elegant yet contemporary dress watch at 39mm in diameter. Impressively, despite the complexity of the mechanical movement housed inside (more on that in a moment), the case height remains a svelte 9.13mm thick. Meaning it effortlessly slides away under a shirt cuff as needed. Both models are paired with leather straps – midnight blue for the white gold version and brown for the rose gold – each closed by a folding clasp in the same metal as the case. On the wrist it is supremely comfortable, sitting nice and flat against the skin thanks to the elongated and slightly curved lugs.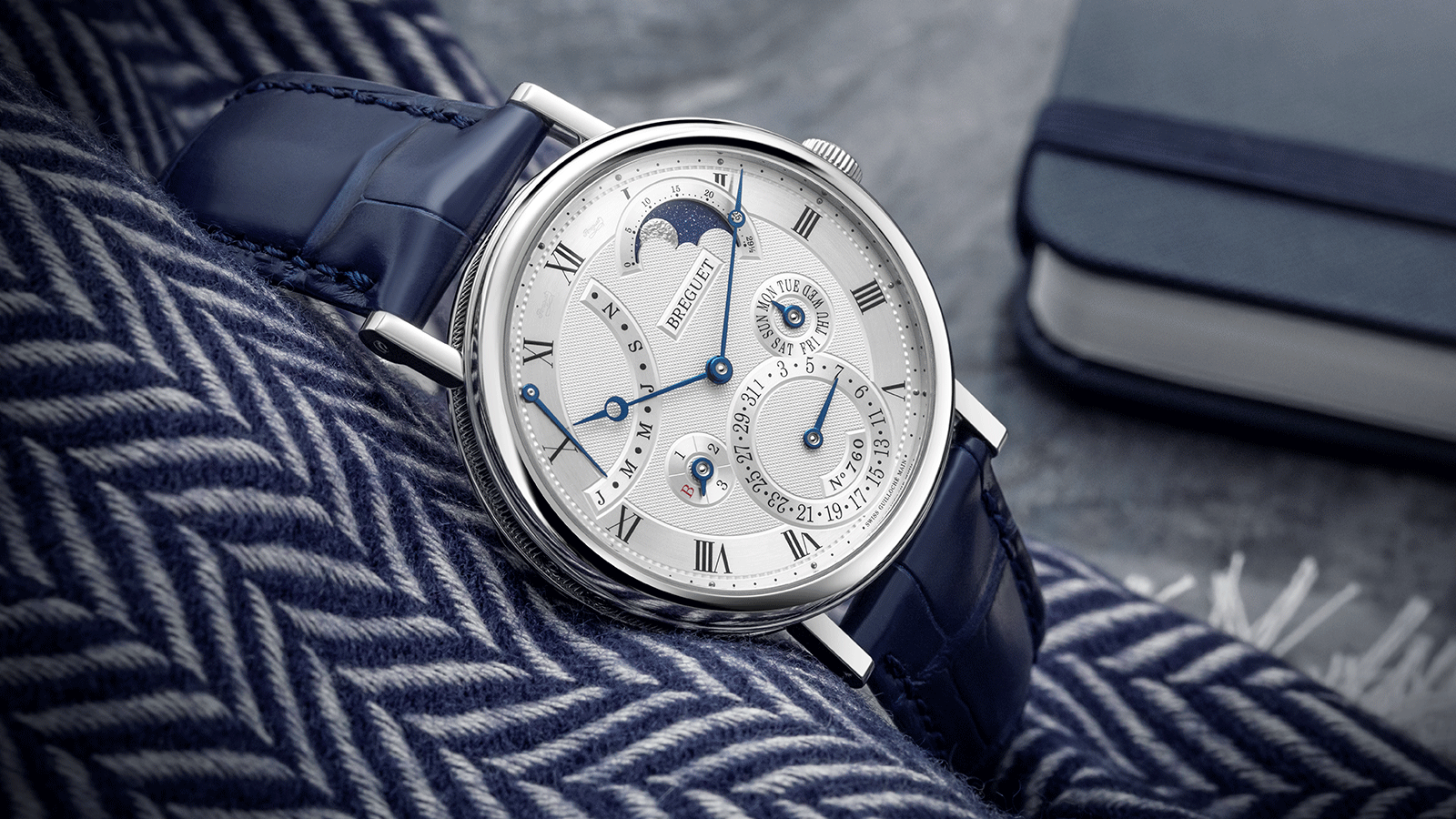 Now, at this point you may be thinking that so far, the Classique Quantième Perpétuel Ref 7237 as we've described it, seems crafted very much in the same vein as its predecessor. And in many ways, it is (which is a good thing – there's a reason it's been in the collection for almost four decades!). But now, as we turn our attention to the dial you will see where Breguet's skilled artisans have devoted much of their energy.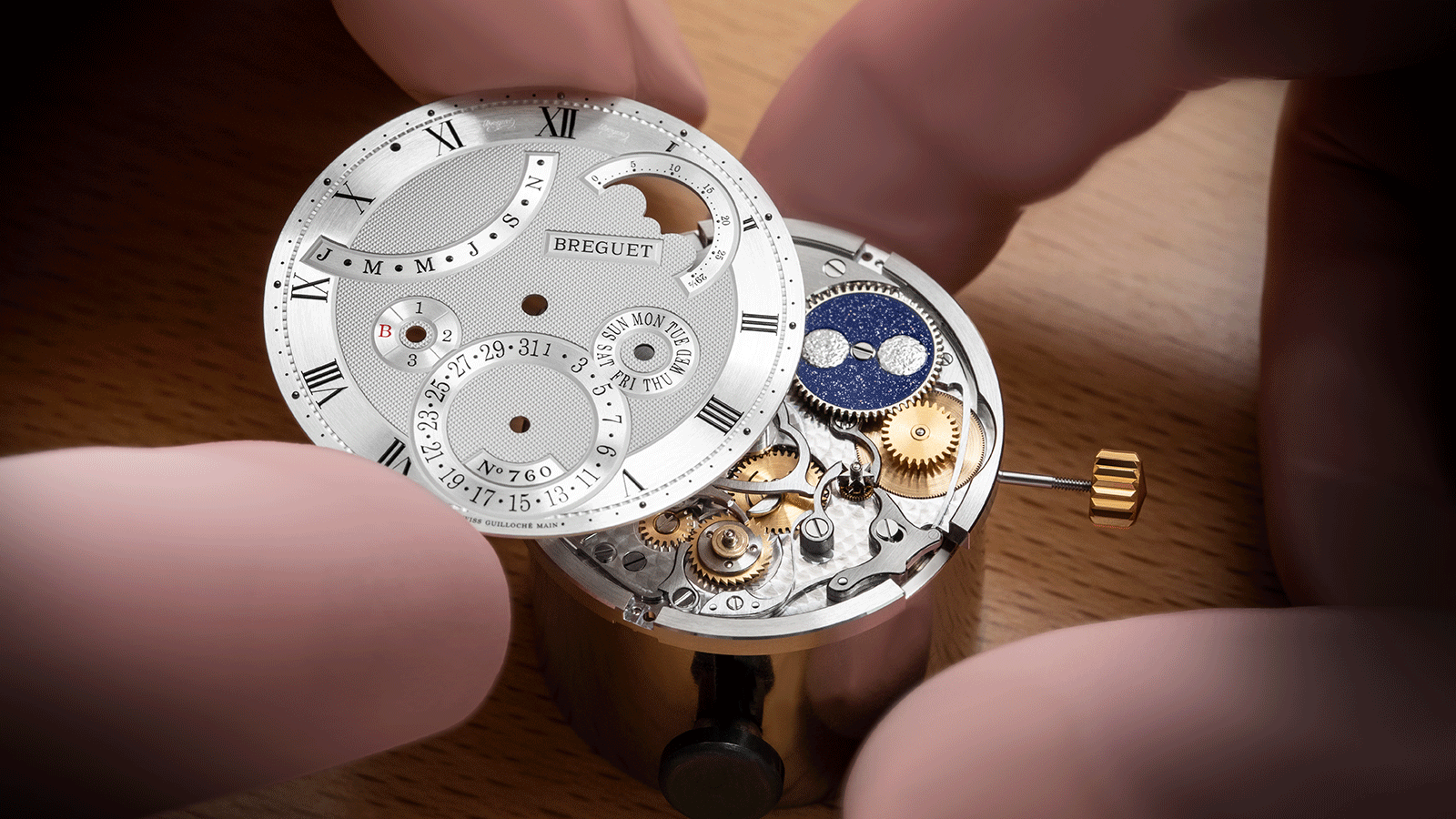 An Updated Dial
The silvered solid gold dial is still decorated with the Clous de Paris guilloché pattern the brand is renowned for, and which is achieved using the traditional rose engine method. Now though, it is concentrated to the centre of the dial and is more subtle than previous generations, in line with the modern design language Montres Breguet has introduced on some of its other complicated models, such as the Tourbillon Extra-Plat Anniversaire 5365. The result is a fresher look that is still very much "Breguet".
Next, in keeping with the less is more approach, the displays for the perpetual calendar have been rethought to allow for the reduction down to five (from six). This doesn't compromise the wearer experience in any way, and in fact enhances it due to the improved legibility. Which, when you consider the quantity and variety of information being displayed simultaneously is actually rather remarkable.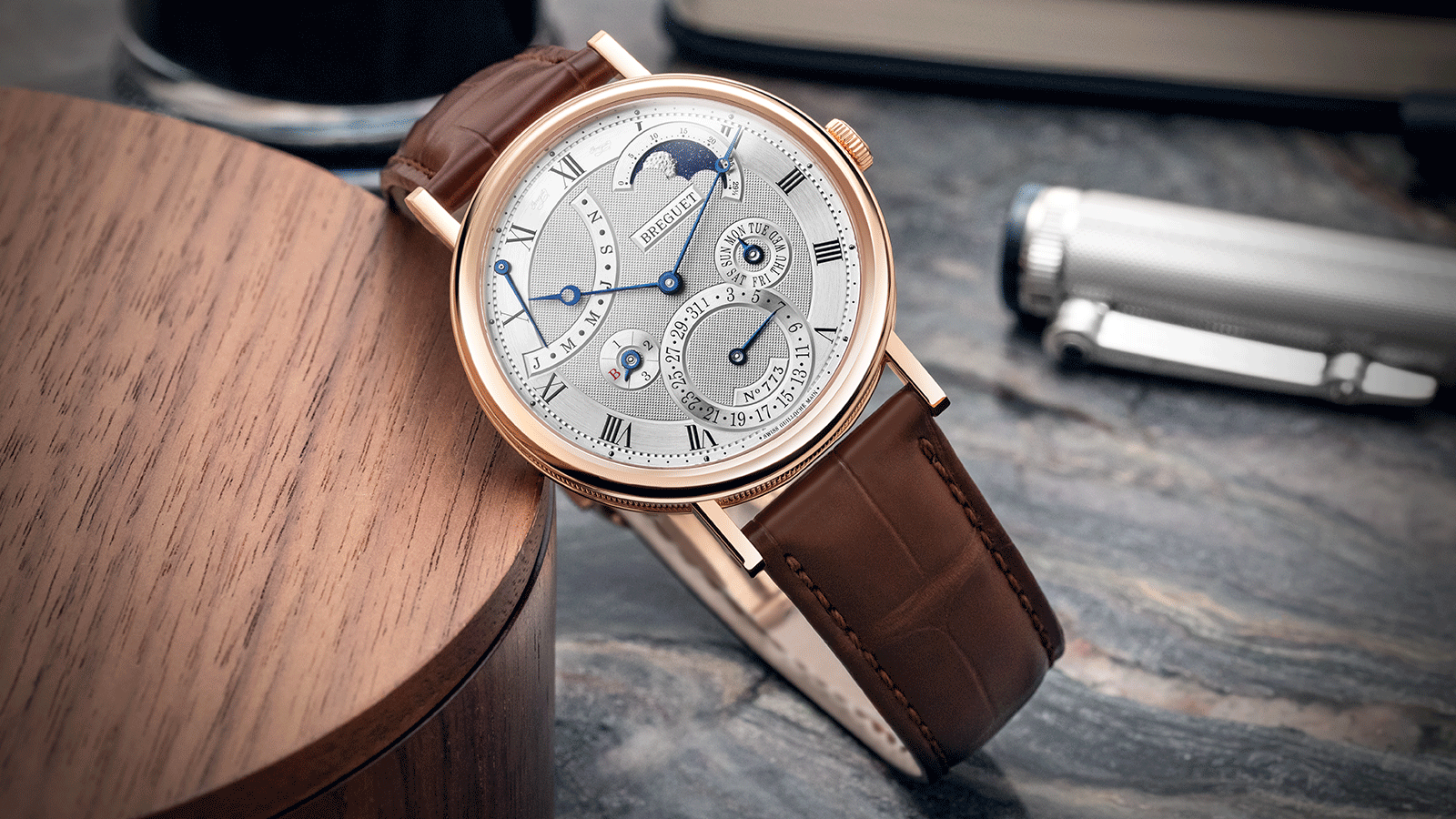 As the name suggests, the Ref 7237 is a Perpetual Calendar, meaning that in addition to its central time-display via traditional eccentric moon tip Breguet hands in blued steel, it shows the date, day, and month, autonomously correcting for the different number of days in each month. Its four-year memory allows it to keep track of leap years, which it displays via a separate counter between 8 and 9 o'clock. Positioned opposite is the day indicator, which rests lightly against the date ring at six o'clock with blued pointer hand. In the top left-hand of the dial, a quarter-circle shows the months via a retrograde hand. Across from this is a beautifully executed moon-phase indicator shown through an arch-shaped aperture. Traversing a blue lacquered sky with spangles for stars, the Moon's silver surface is hand-hammered for a realistic finish. As a final touch, the secret Breguet signature is repeated on either side of the Roman XII.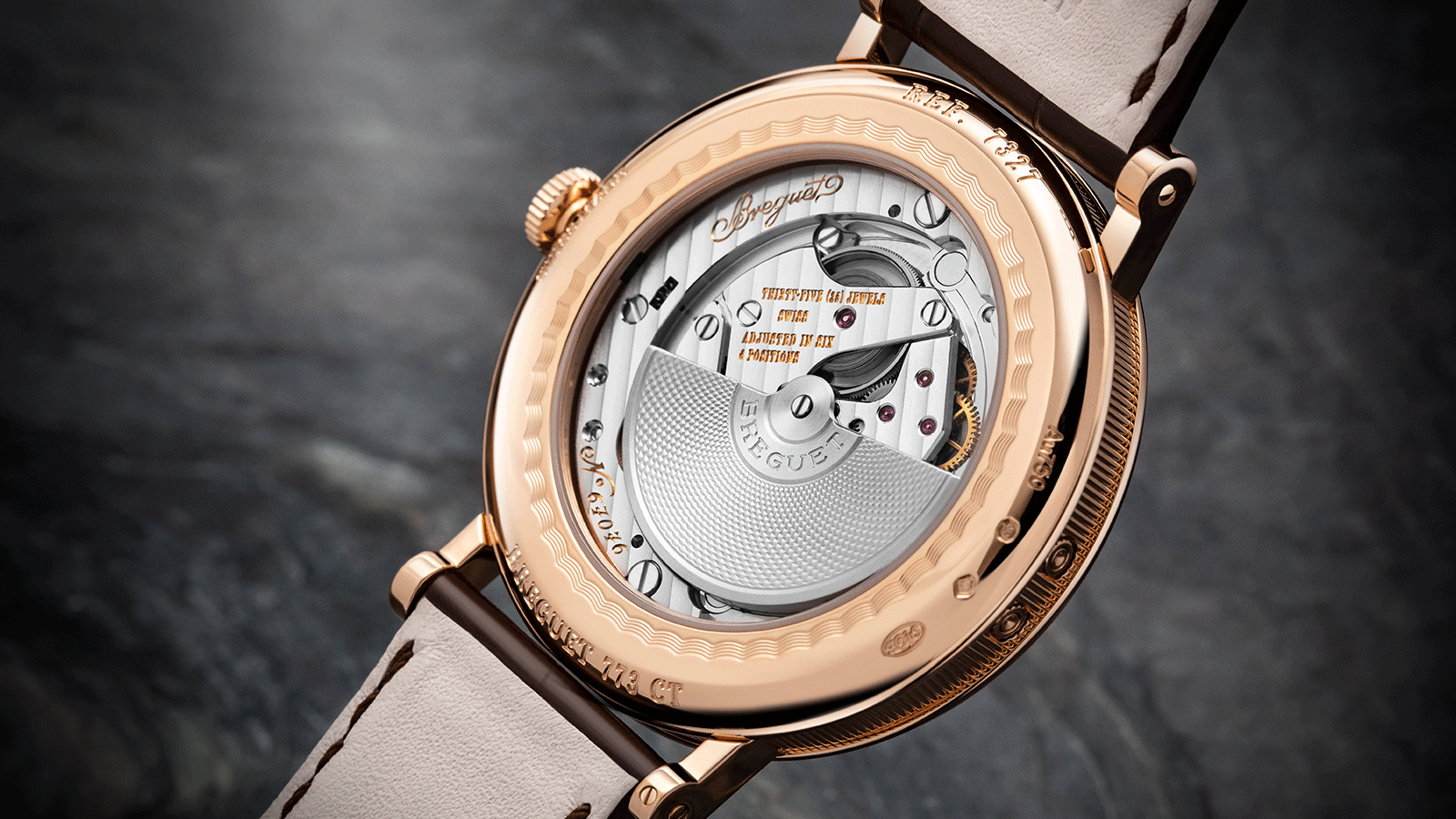 Inside the watch is a self-winding mechanical movement that is finely crafted with over 294 individual components. The Calibre 502.3P is developed and manufactured in-house by Breguet and features a flat silicon balance spring and an inverted straight-line lever with silicon horns. Silicon is known for its resistance to magnetism and temperature changes, ensuring accurate timekeeping even under less than ideal conditions. Fitted with an off-centre gold rotor, this movement beats at a steady 3hz, delivering a 45-hour power reserve when fully wound. Visible through a sapphire case back, the movement is expertly finished with the rotor showing a circular barleycorn pattern hand-engraved on a rose engine. The rhodium-plated bridges meanwhile are adorned with Côtes de Genève.
Available From Watches Of Switzerland
A stellar addition to Breguet's Classique collection, the Quantième Perpétuel Ref 7237 is a testament to the brand's commitment to creating exceptional timepieces that combine both aesthetic and technical excellence. Modern in its design yet still true to Breguet's two-century plus history of tradition, it is sure to follow in the footsteps of its predecessors to become a highly coveted watch among collectors and enthusiasts. To learn more about this exceptional timepiece, including inquiring about the possibility of acquiring one, please contact Watches of Switzerland today.