Breitling's new Premier Heritage Collection
Breitling's new Premier Heritage collection brings the timeless elegance of the original Premiers back to life. Elegant yet functional, three distinct new models comprise this vintage-inspired collection that draws heavily on models from the 1940s. In some ways it's a side of Breitling we've not seen for some time and we have to say, we really like it.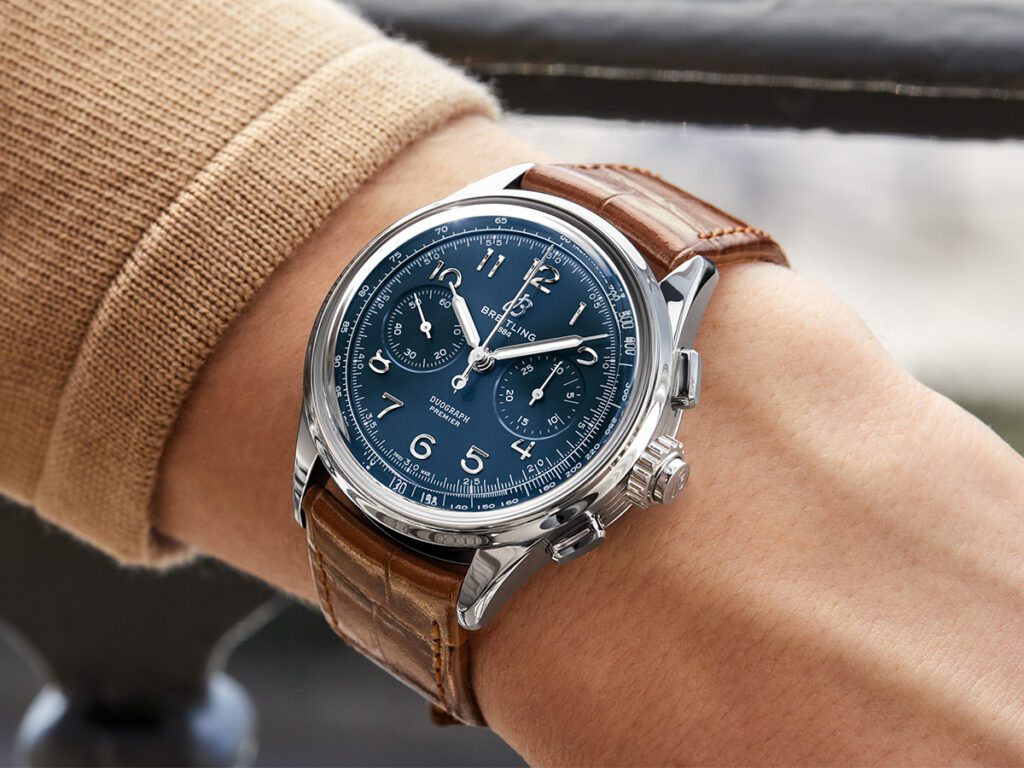 Much of this can be attributed directly to Breitling CEO, Georges Kern, who has been instigating a number of changes since joining the brand a few years back. These have included introducing the concept of "Squads" associated with certain watches. As well as reintroducing the Premier name – of prestigious significance from Breitling's past – in 2018. Now the Premier Heritage collection pays homage to the brand's very own Founders Squad.
Léon, Gaston and Willy Breitling. From patenting a movement with an astonishing eight-day power reserve in 1893. To giving the world one of its first modern chronographs in 1915. To perfecting the invention in 1934 and then expanding the company's dominance. Their combination of pioneer, innovator and visionary built Breitling into a household name. Now six watches – divided into three distinct categories – revive Breitling's legacy of inventing the modern chronograph. And pay tribute to some of its most famous innovations.
"This truly is our heritage revived." – Georges Kern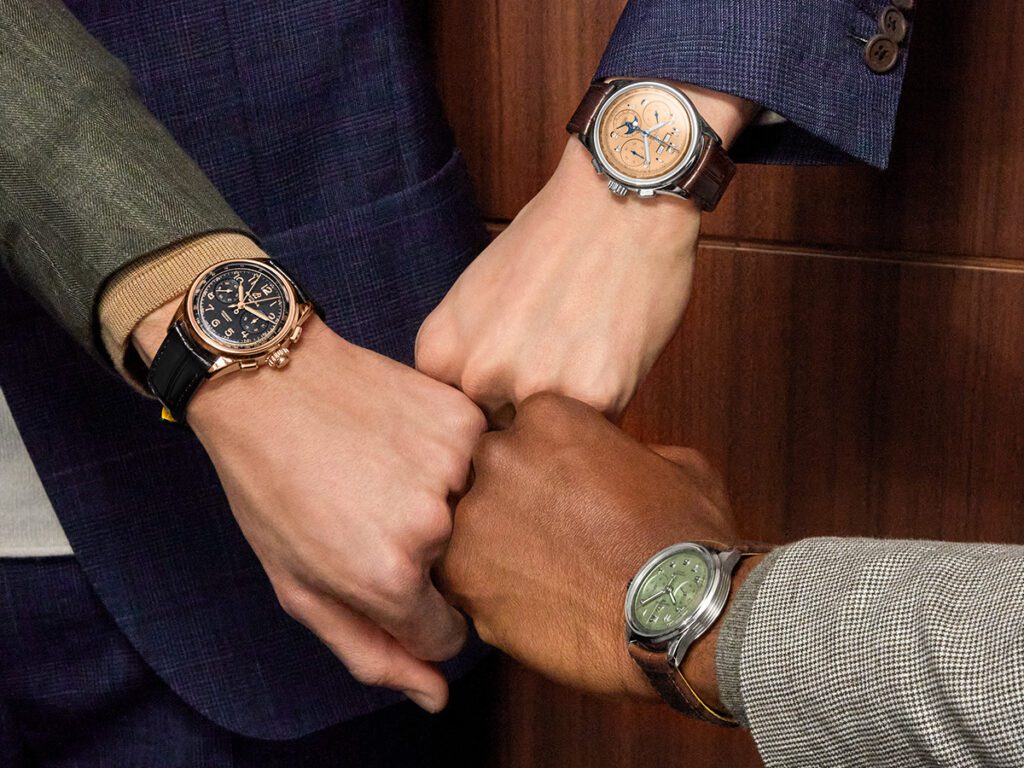 The Founders Squad
Breitling was founded in 1884 by Léon Breitling. He created functional pocket watches that were also reliable and stylish. His focus soon turned to chronographs, which were increasingly being used for scientific, military, industrial and athletic applications. In 1905, as automobiles emerged as the preferred mode of transport, he patented a simple time/tachymeter. Able to measure any speed between 15 and 150 km/h, the invention featured in the 1906 Vitesse pocket watch. It allowed drivers to calculate their speeds but also enabled Swiss police to issue the first speeding tickets. Léon Breitling passed away in 1914, and was succeeded by his son, Gaston.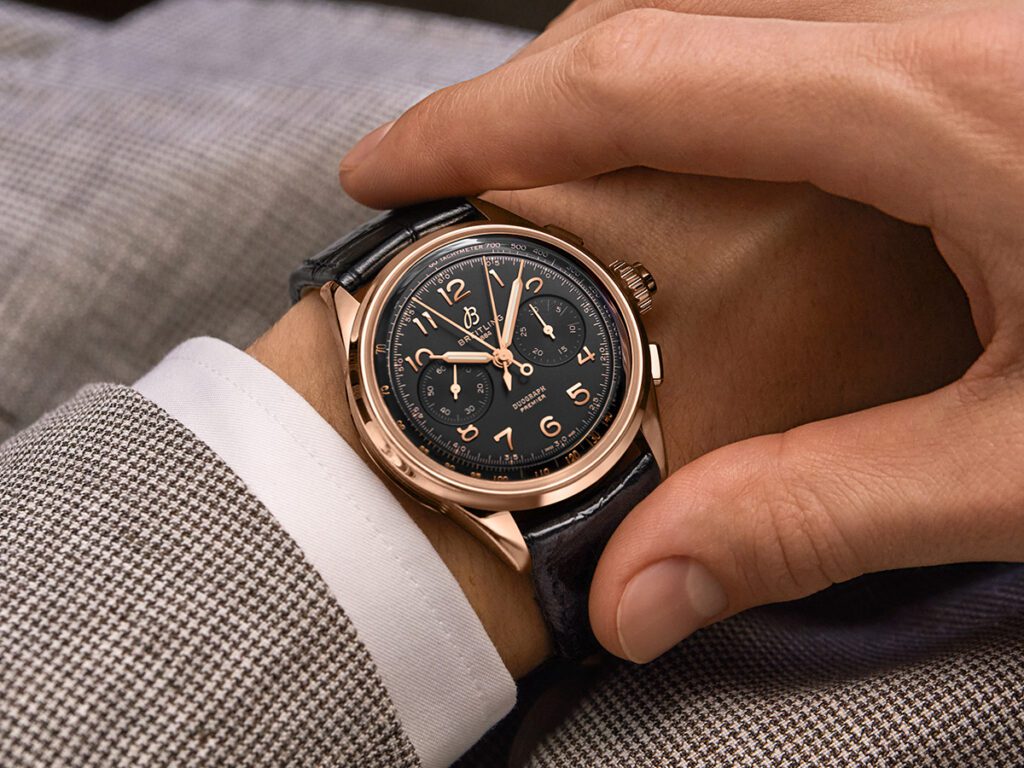 Gaston was equally innovative and passionate about chronographs. The following year, he created one of the first wrist-worn chronographs with an independent push-piece. Separating the start, stop and reset functions from the crown made it infinitely more practical for timing sports events. In 1923, he caused further sensation by launching a patented pocket watch with two chronograph pushers. The independent pusher at 2 o'clock was used for starting and stopping. While the other, integrated into the crown, reset the chronograph. For the first time, stopwatches could measure multiple times in sequence. Gaston's unexpected death in 1927 left son Willy still too young to take over.
Managed by an external team, the company survived the 1929 Wall Street crash and the Great Depression. In 1932, Willy Breitling stepped into the leadership role. Chronographs still formed the heart of the business, with 40 different models for the wrist or cockpit. Though only 19, Willy was quick to prove his aptitude for filling his father's and grandfather's shoes. At that time chronograph wristwatches primarily still only had the one pusher. Meaning after a start and a stop, a reset necessarily followed. Willy saw this as a key deficiency. In 1934, he filed a patent for the world's first wrist-worn chronograph with two pushers.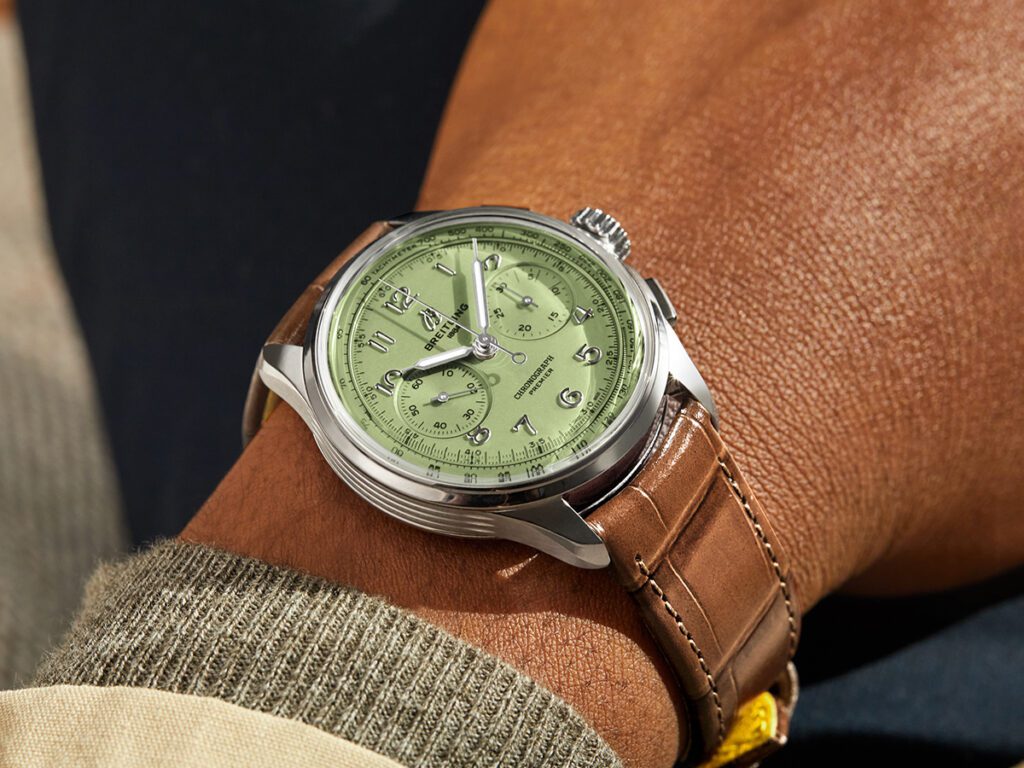 In 1936, he introduced a specially designed aviator chronograph, with luminescent numerals and hands set against a black dial. It incorporated a practical rotating bezel with a pointer marker that also glowed in the dark. In 1938, he established the very successful Huit Aviation Department. Huit being the French word for "eight". Underscoring the eight-day power reserve offered by many of the products it developed for military and civil aviation. These included dashboard clocks, chronometric instruments and wrist chronographs. A large number of which found their way into the cockpits of Royal Air Force bombers and fighter planes during WWII.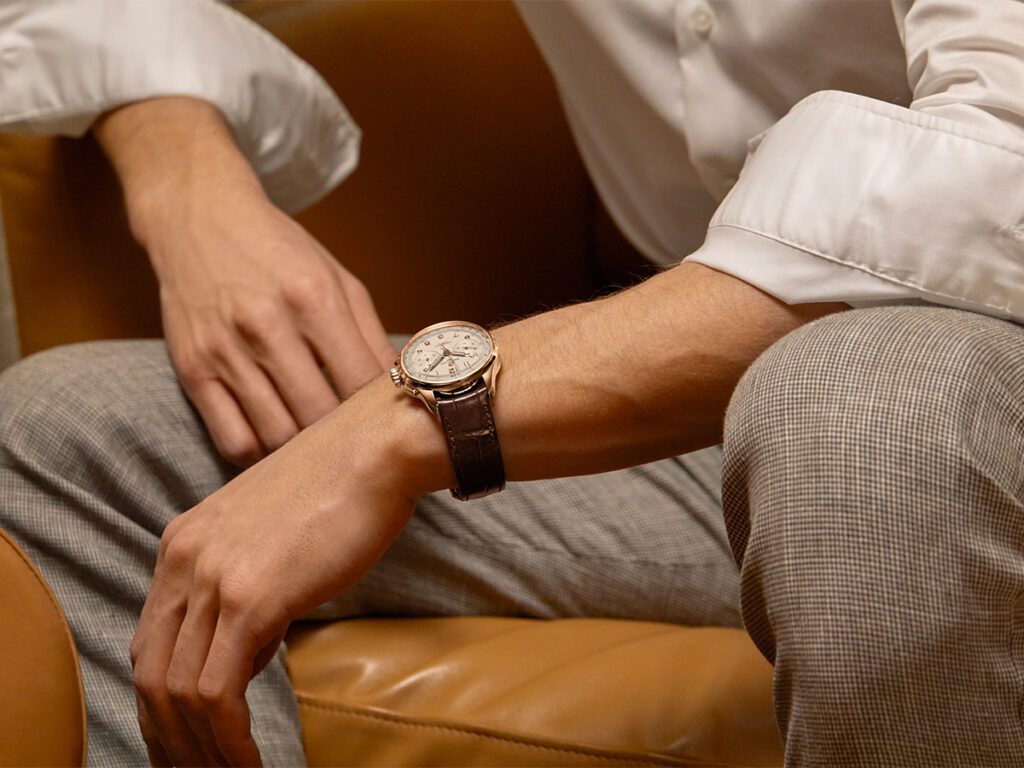 Elegant functionality
Bold and tech savvy, Willy Breitling was also a man of great style. In the early 1940s, he was among the first to recognise the market's desire for products that were as elegant as they were functional. This inspired him to develop a new, distinctive collection intended for a discerning urban clientele. Taking its name from the French word for "first", the Premier collection launched in 1943. Stylish and sophisticated, but still with the versatility and sportiness characteristic of the brand, these new models perfectly suited the needs of the active gentleman. Whether he was at the theatre or the jazz club or taking a sporty ride in the countryside.
The Premier collection offered a great deal of choice to the customer. Cases crafted from solid gold or stainless steel ranged in size from 32 to 38 mm and featured square or round pushers. Some dials offered refined indexes for an elegant look, while others boasted luminescent ones for a sportier touch. They were also available with two or three sub-dial configurations and, importantly, still featured the performance of the chronograph movements Breitling was famous for. First-class quality, elegant yet versatile, the Premier chronographs perfectly embodied Breitling's vision for design. (These would also influence future models, such as the iconic Navitimer and stylish SuperOcean to follow a decade later.)
Within the Premier collection were two standouts. The Duograph, launched in 1944, featured a split-second chronograph, consisting of two superimposed chronograph hands. This meant one hand could be be stopped to measure an intermediate time while the other continued to run. A third pusher (located in the crown), would cause the stopped hand to instantaneously catch up and resume running. In French this is known as a 'Rattrapante' and remains today one of the most challenging complications in watchmaking.
The second stand-out was the Datora, introduced immediately after World War II. This was Breitling's hybrid triple calendar chronograph, which often also featured a moon phase display. Also known as a full calendar, the dial simultaneously displays the date, day and month in an easy to read yet attractive format. It was a popular design at the time and Breitling really nailed it with the Datora.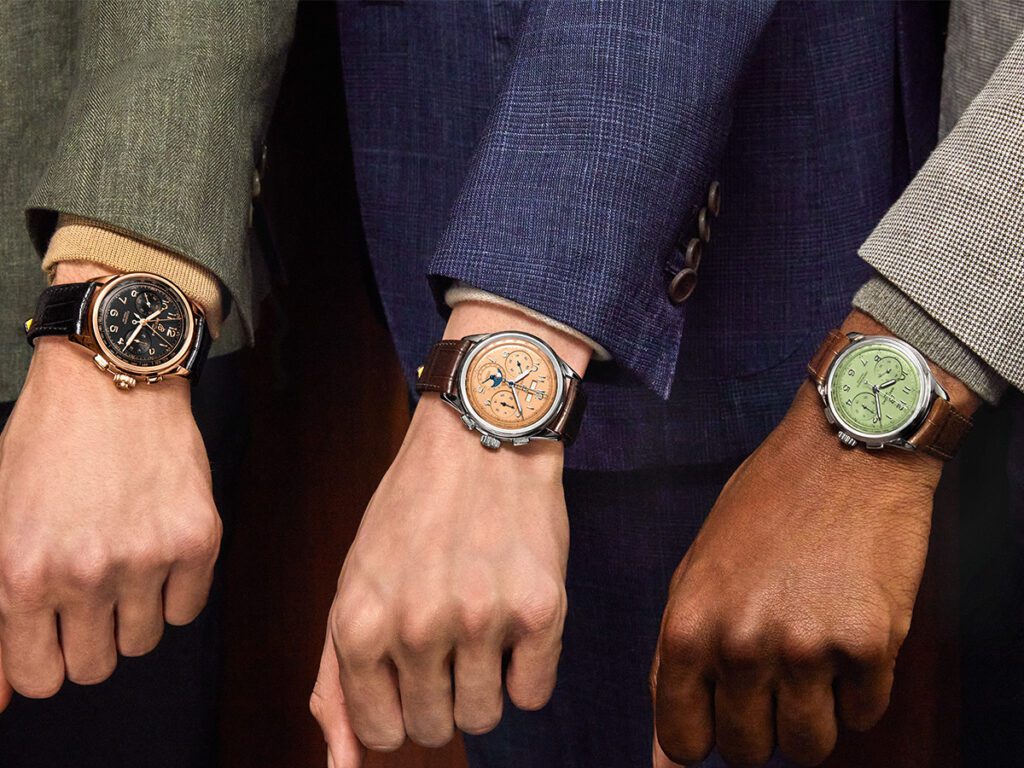 The Premier Heritage Collection
The new Premier Heritage collection draws inspiration from the heyday of its namesake. But with a modern twist. Adhering to the design principles implemented by Kern to unify the current catalogue, all models in the collection feature Arabic numerals, vintage-inspired hands and rectangular chronograph pushers. The cases are offered in solid gold or stainless steel and are paired with semi-shiny alligator straps with tone-on-tone stitching. Other subtle touches include grooves on the case-sides, open sapphire case backs and the brand's new shorter lug design. All watches are COSC-certified chronometers and water-resistant up to 100m.
To begin with, the collection is comprised of three distinct models:
The Chronograph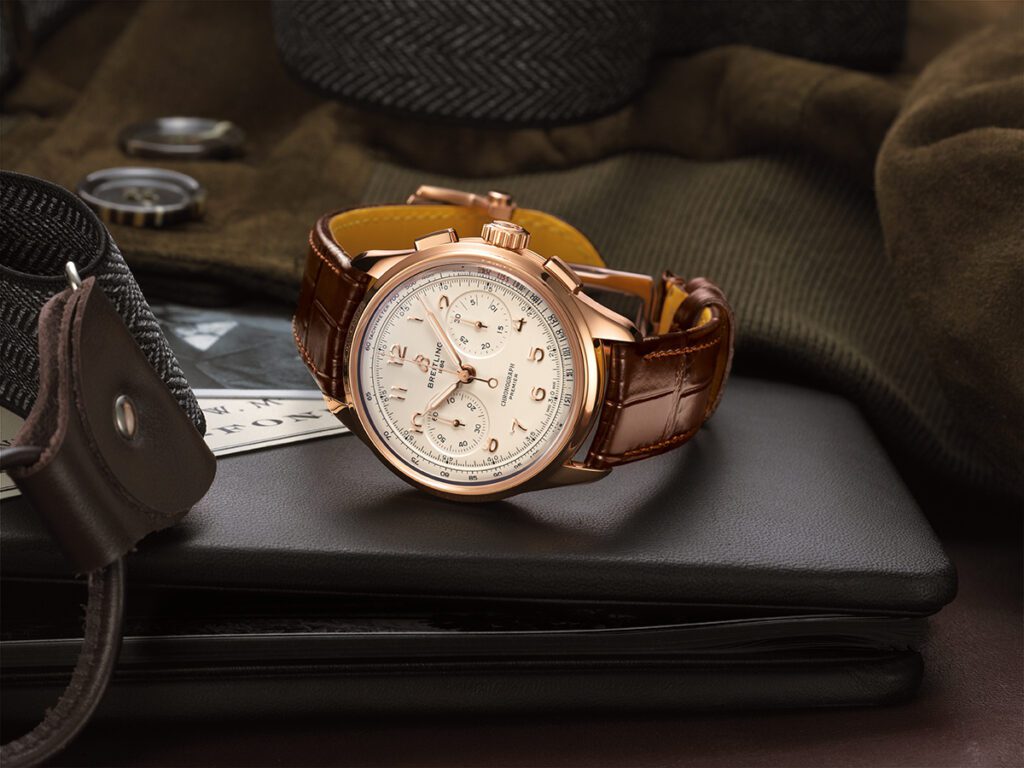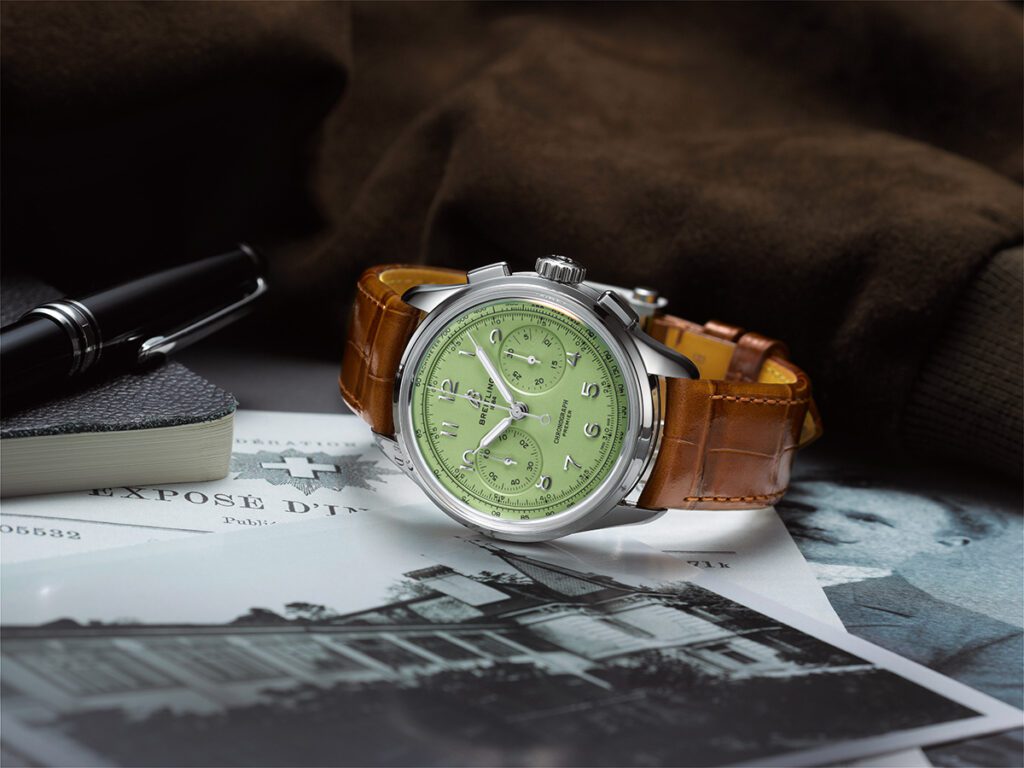 Heading the new collection is the 40mm Premier Heritage Chronograph. It's presented in two distinct variations: an eye-catching pistachio-green dial encased in stainless steel, or a stately silvered dial housed in 18k red gold. Both feature a horizontal, two-register dial layout framed by a tachymeter scale. Inside is the Manufacture Calibre B09 – which is based on the Breitling Manufacture Calibre 01. This is a manually wound movement – just like the historical invention it honours – and delivers a healthy 70-hour power reserve.
The Duograph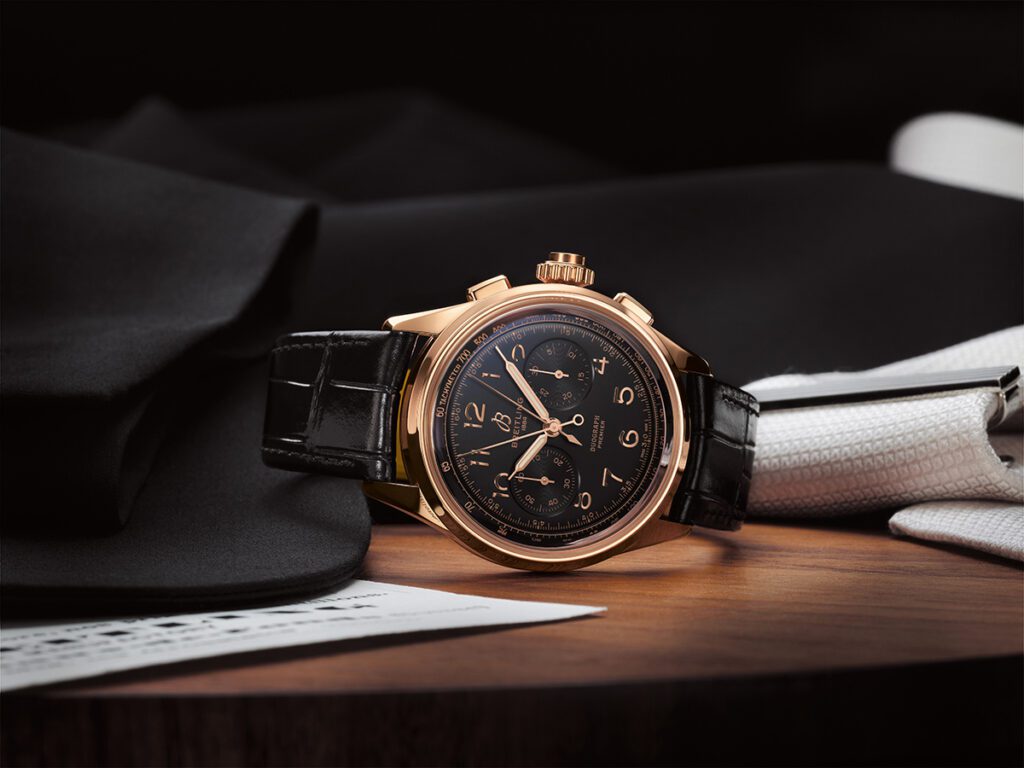 Next is the 42mm Premier Heritage Duograph, offered with blue or black dial, in stainless steel or 18k red gold respectively. The rattrapante function – one of the most elaborate in watchmaking – allows for two elapsed times to be measured simultaneously. As with the Chronograph, it features a horizontal, two-register dial layout framed by a tachymeter scale, however with the notable addition of a second central chronograph seconds hand. Visible through the sapphire case back is the hand-wound Manufacture Calibre B15, which is based on the Manufacture Calibre B03 (launched in 2017). Wonderfully complex, it too delivers a max power reserve of around 70-hours.
The Datora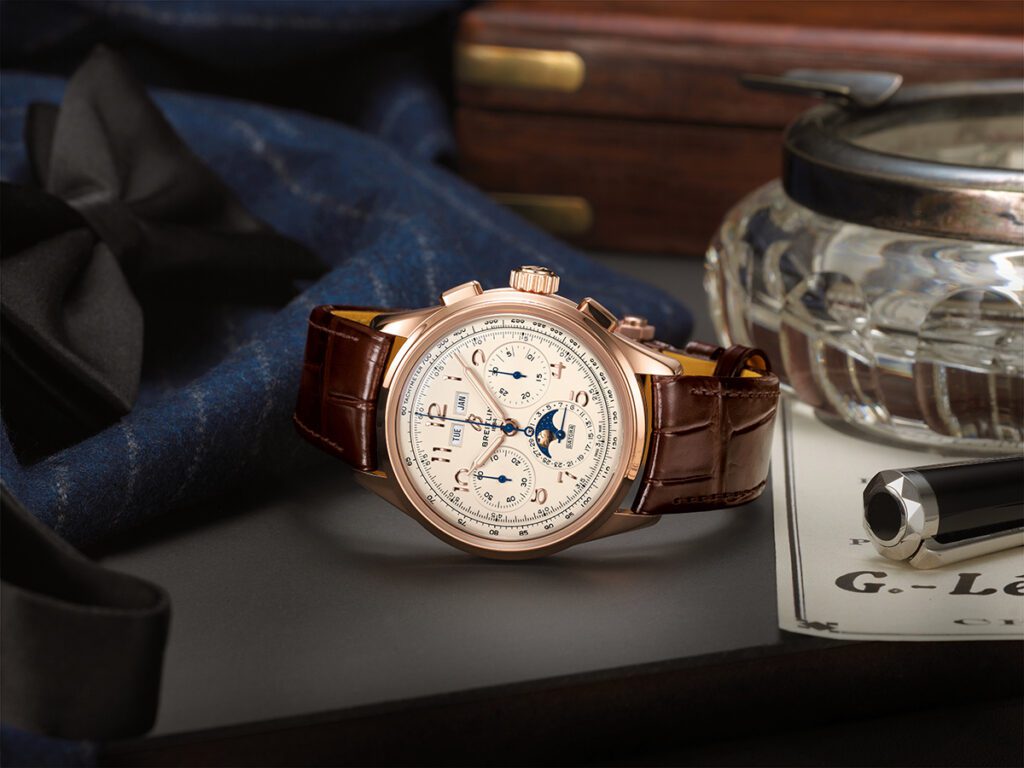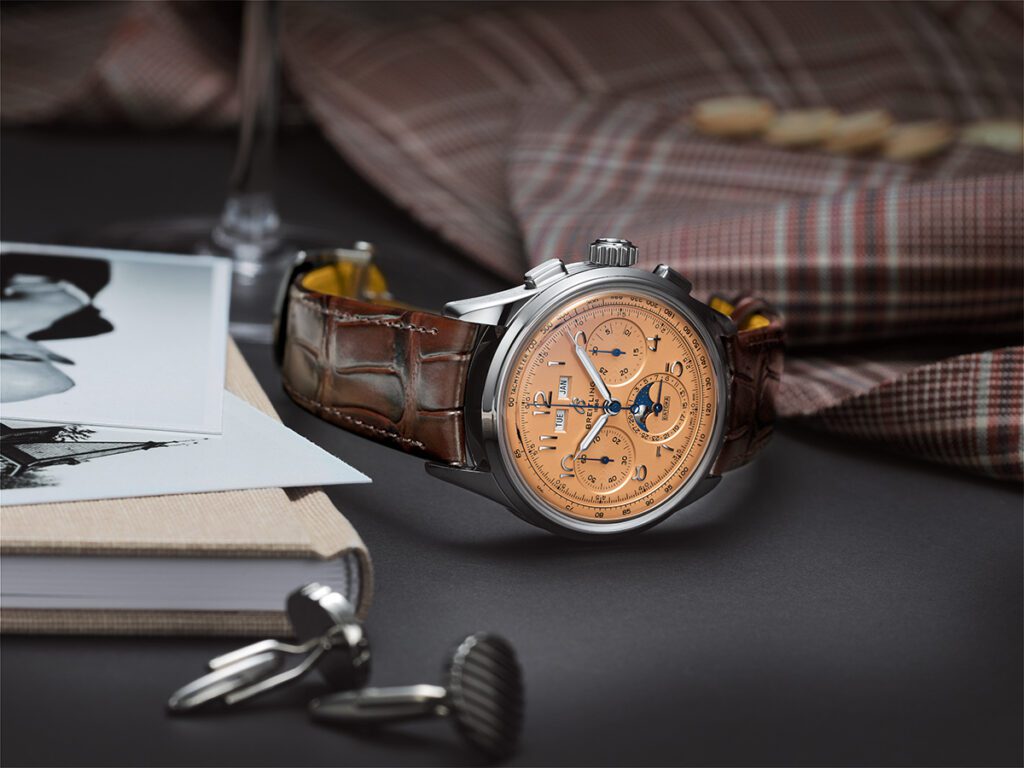 Finally, we have the Premier Heritage Datora, also sized at 42 mm. Effusing a strong vintage aesthetic, this model is offered with a copper-coloured dial cased in stainless steel, or a silver-coloured dial cased in 18k red gold. As with its 1940s predecessor, the elaborate dial arrangement – displaying day, date and moon phases – jumps off the wrist and catches the eye. Yet despite the quantity of information simultaneously on display, it remains eminently legible and attractively understated. It's powered by the self-winding mechanical Manufacture Calibre B25, which offers a 48-hour power reserve.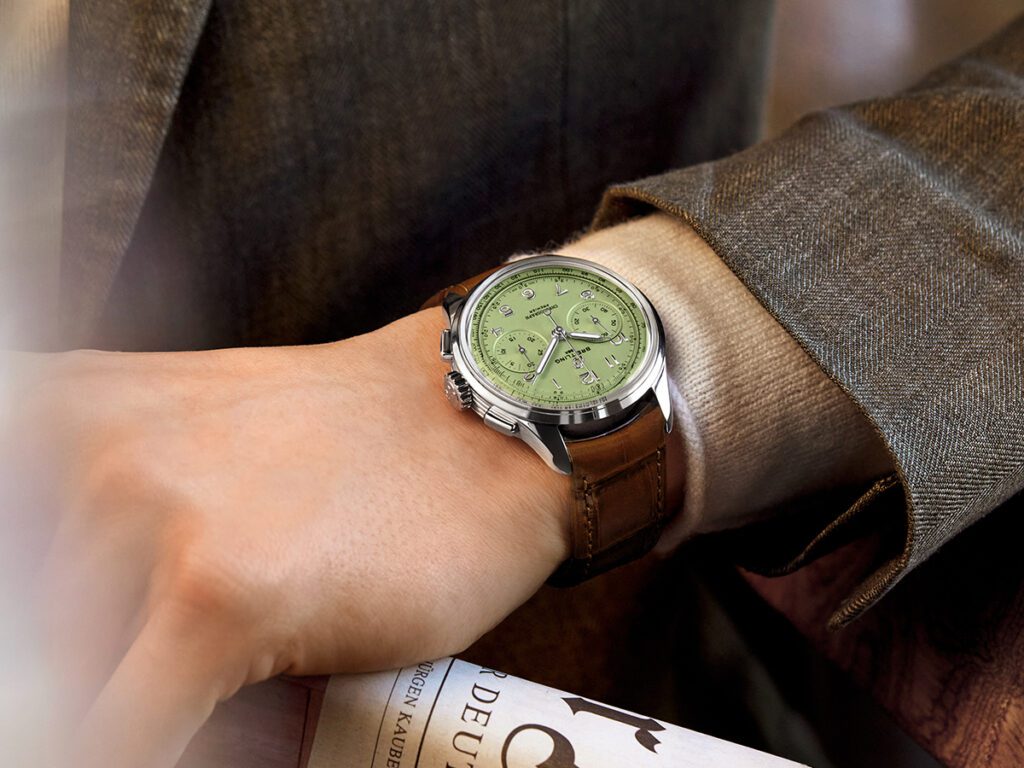 All models in the new Breitling Heritage Collection are available for purchase now from Watches of Switzerland Australia. Initial feedback suggests demand for these models will be strong, and so we encourage you to contact us today to express your interest and book some time to come in and view the new collection in person. Select models will also be available for purchase online through our authorised e-commerce website but again, we encourage you to act quickly to avoid disappointment as allocations will be limited.