Introducing: The Égérie Collection By Vacheron Constantin
This year, Vacheron Constantin unveils the new Égérie collection, featuring an exceptional range of fine timepieces entirely inspired by and dedicated to women. Bringing together the exclusive worlds of Haute Couture and Haute Horlogerie, Égérie truly delivers on its promise of unparalleled craftsmanship and attention to detail combined with stunning beauty and elegance.
As authorised retailer for Vacheron Constantin in Australia, Watches of Switzerland is privileged to have the opportunity to present this new collection to our valued and discerning clientele. By way of preview, our expert team have put together everything you need to know about the new Égérie collection and carefully selected four models to highlight here for you. The perfect gift for yourself or that special someone in your life this holiday season, please read on to discover the Égérie collection from Vacheron Constantin.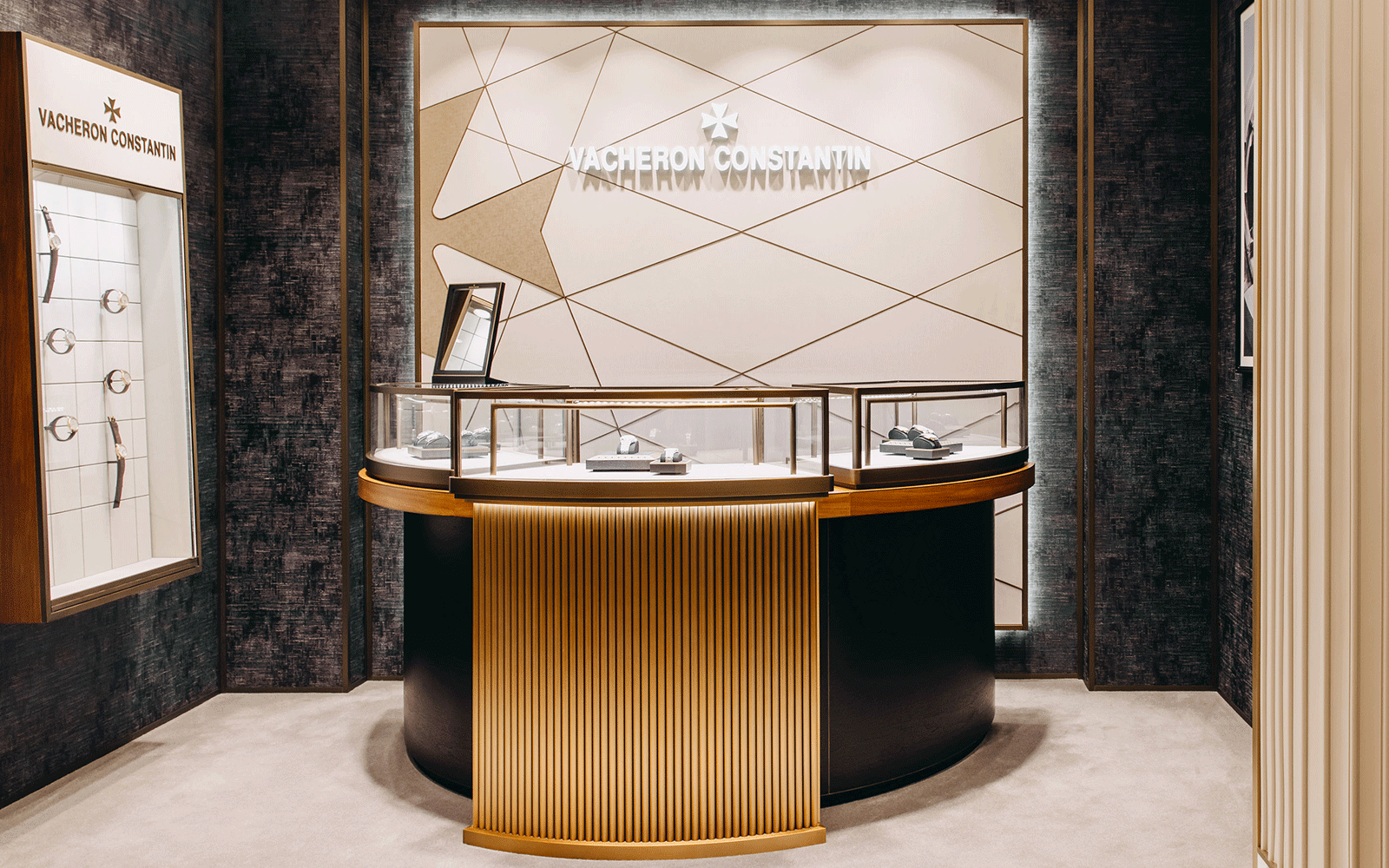 The Égérie collection
Drawing aesthetic inspiration from some of Vacheron Constantin's most iconic models, the new Égérie collection is defined by its distinct design language. The signature touch is a daring off-centered display, designed around two intertwined circles. Depending on the model, the smaller of these two circles houses the date or the moon-phase display, placed in a subtle diagonal line spanning the Vacheron Constantin logo at 8.30 o'clock to the winding crown at 1.30 o'clock. Around the periphery, beautifully sculpted Arabic numerals appear to float over the delicate dial, framed by a shimmering halo of diamonds.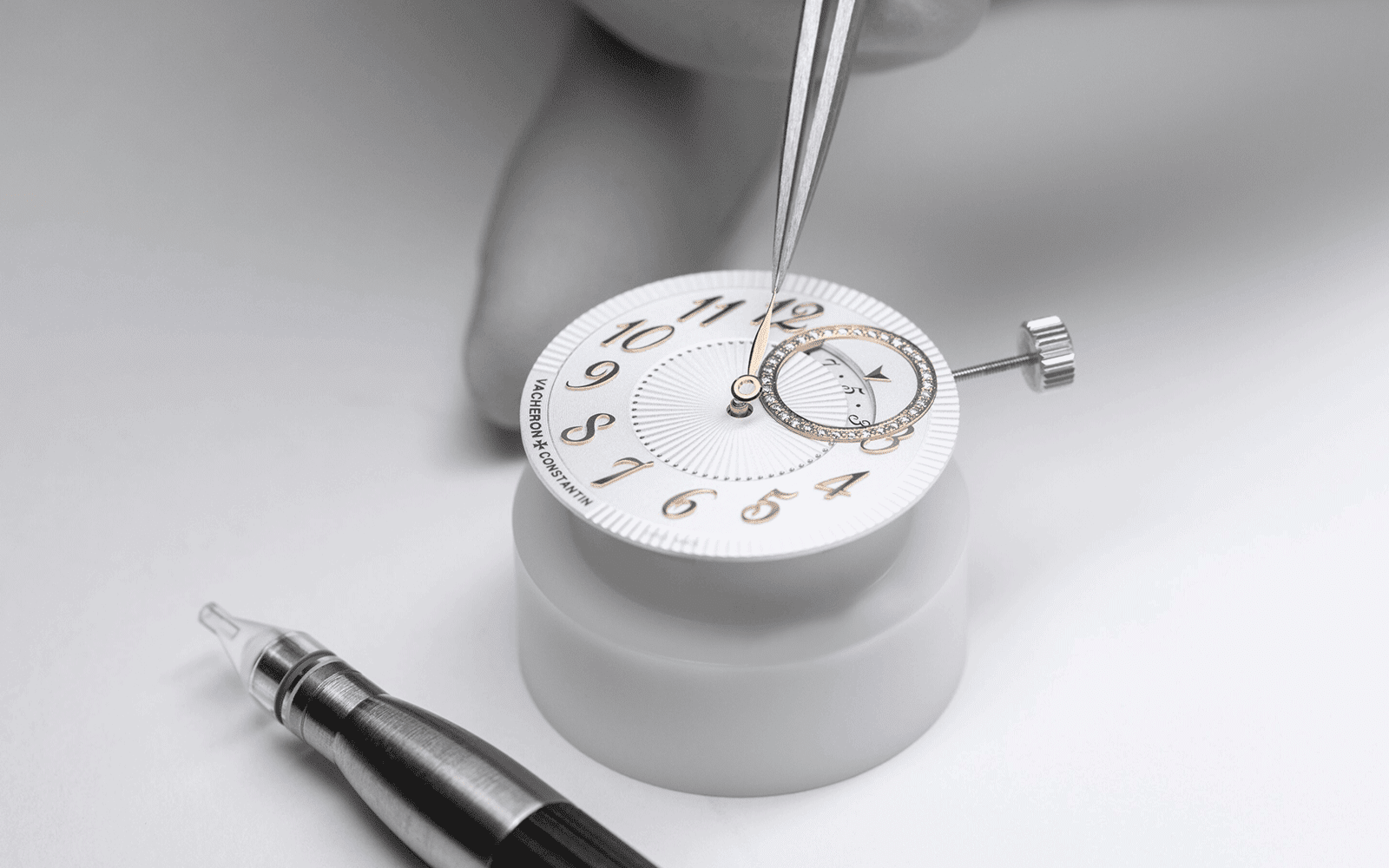 The exquisite background pattern of the dial, inspired by a tapestry technique which calls to mind the delicate pleating of a Haute Couture fabric, is made possible thanks to the mastery of a unique machine dating back to the turn of the 20th-century. A lengthy and extremely subtle operation, the artisan adjusts the gears of a 1904 pantograph-type machine in order to reproduce a large format motif in a miniature version on the dial.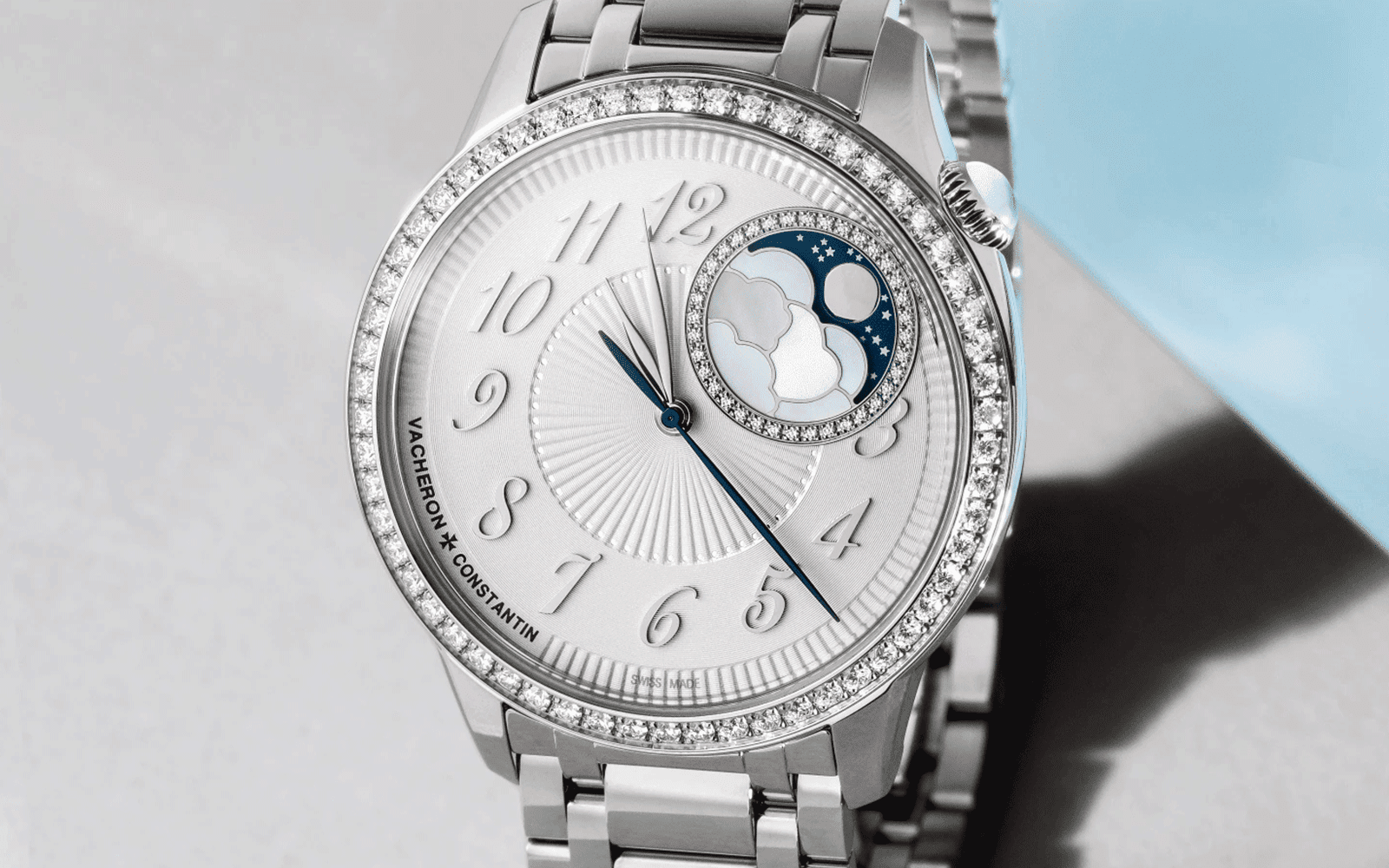 Available in your choice of a 30mm, 35mm or 37mm case diameter, the slim cases with delicately curved lugs are designed to hug the wrist in a luxurious embrace. The steel versions feature a remarkably slim and smooth finely polished steel bracelet, while the pink gold models offer a seamless interchangeable strap system, giving you a choice between three different leather colours, whichever will give the perfect tone to your day. All models feature a sapphire glass display back, unveiling the self-winding manufacture movement within, which delivers 40 hours of autonomy.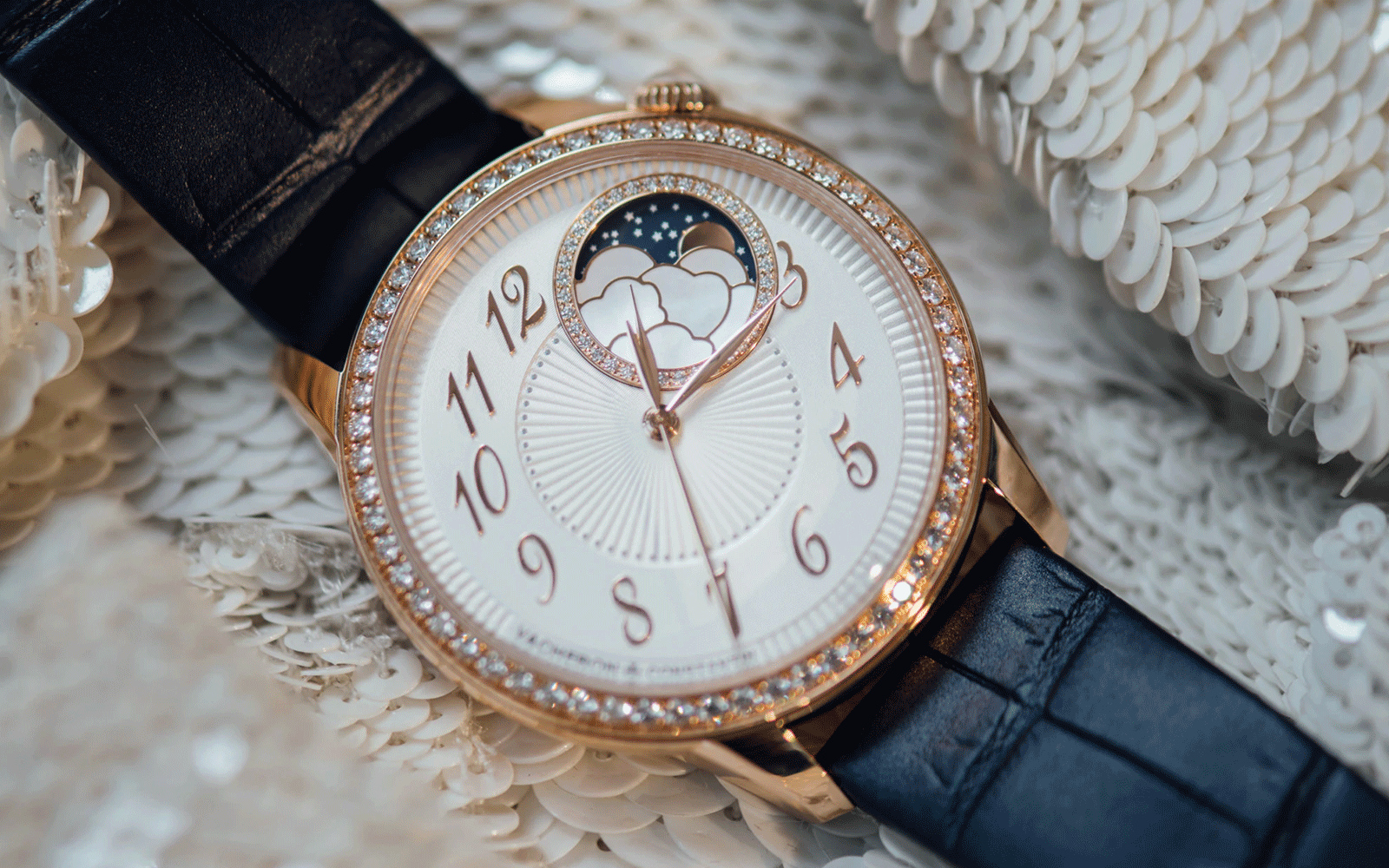 ÉGÉRIE MOON PHASE – 8005F/000R-B498
The 37mm case of this polished 18K 5N pink gold watch is set with 58 round-cut diamonds and a cabochon moonstone between 1 and 2 o'clock. The poetic moonphase complication allows you to trace the lunar cycle over a mother-of-pearl sea of clouds in a star-studded sky, framed by a further 36 round-cut diamonds. Its elegance is matched by three different coloured interchangeable alligator-leather straps to suit a variety of styles and situations as desired.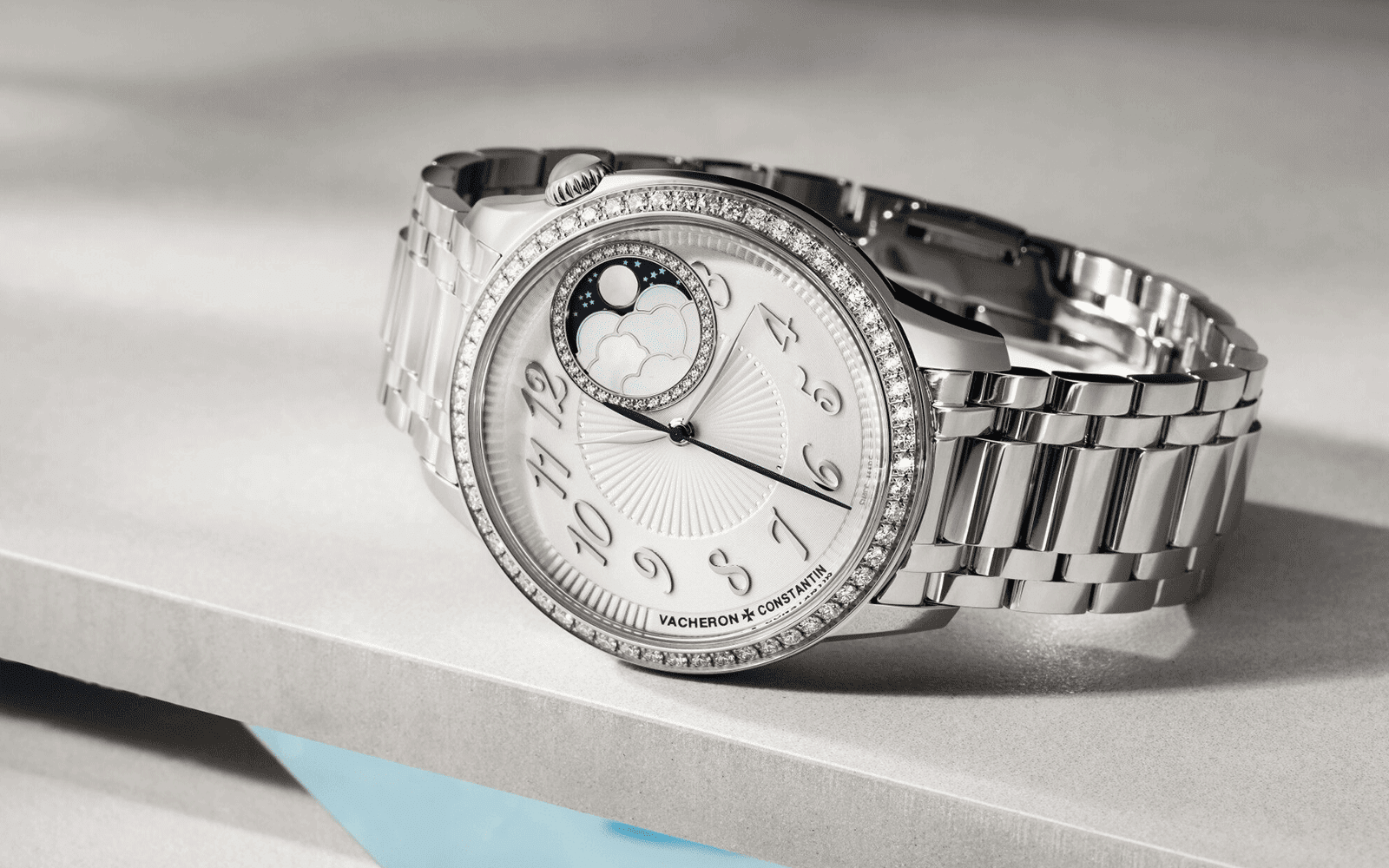 ÉGÉRIE MOON PHASE STEEL – 8005F/120A-B497
Almost identical to its rose gold sibling above, this version of the Égérie Moon Phase offers a polished stainless steel case paired with a supple metal bracelet that curves around the wrist like a second skin. The round, 37mm case, is also set with 58 round-cut diamonds, complete with moonstone cabochon set into the crown. Likewise the intricate moonphase complication surrounded by 36 round cut diamonds occupies the smaller of the two circles on the dial.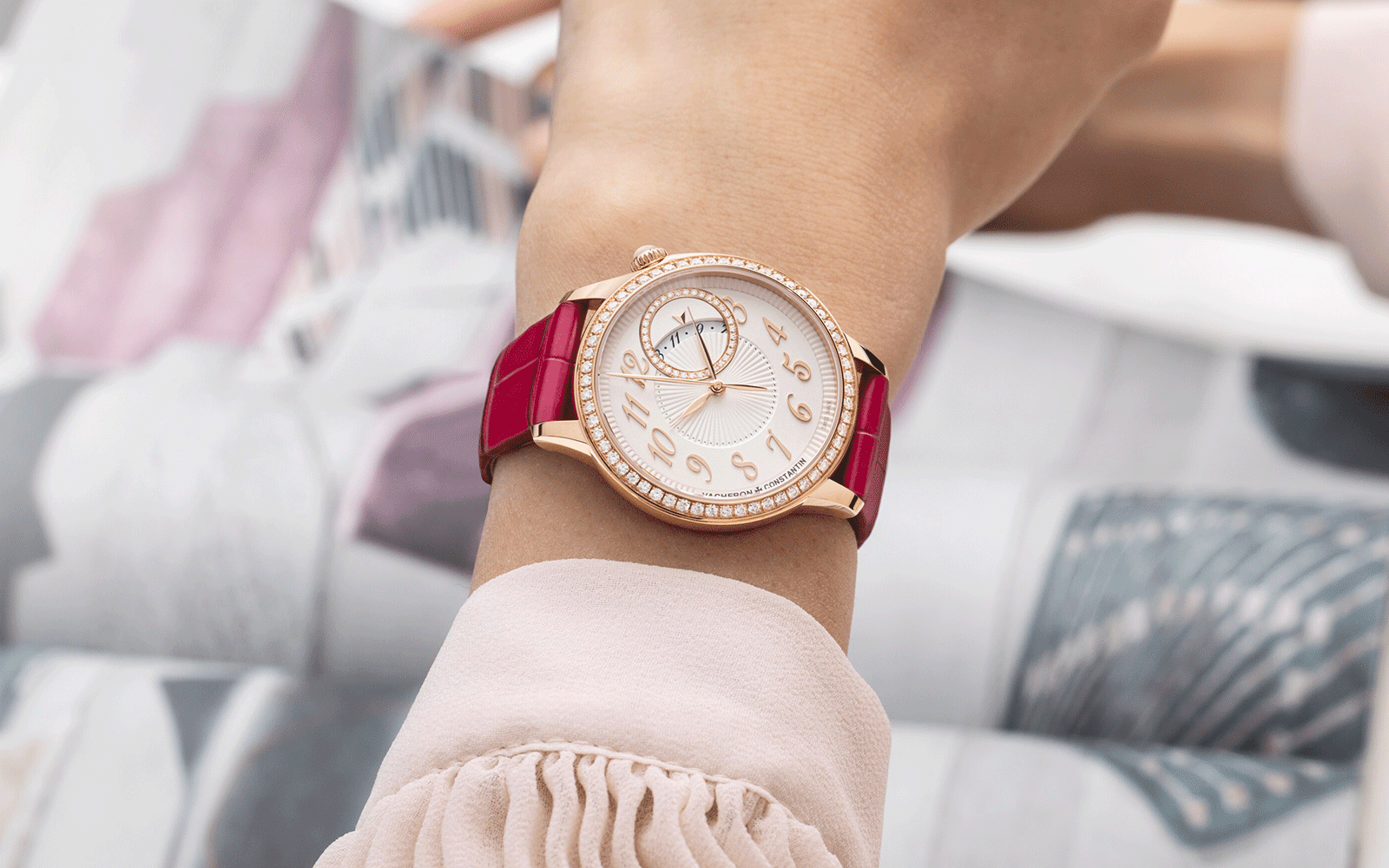 ÉGÉRIE SELF-WINDING – 4605F/000R-B496
Central time display with running seconds, date via window inside the ring between 1 and 2 o'clock adorned with 34 round-cut diamonds, the dial of this 35mm rose gold self-winding Égérie timepiece is the epitome of understated chic. Around the periphery 58 round-cut diamonds draw the eye in dazzling fashion, complemented superbly by three interchangeable alligator leather straps.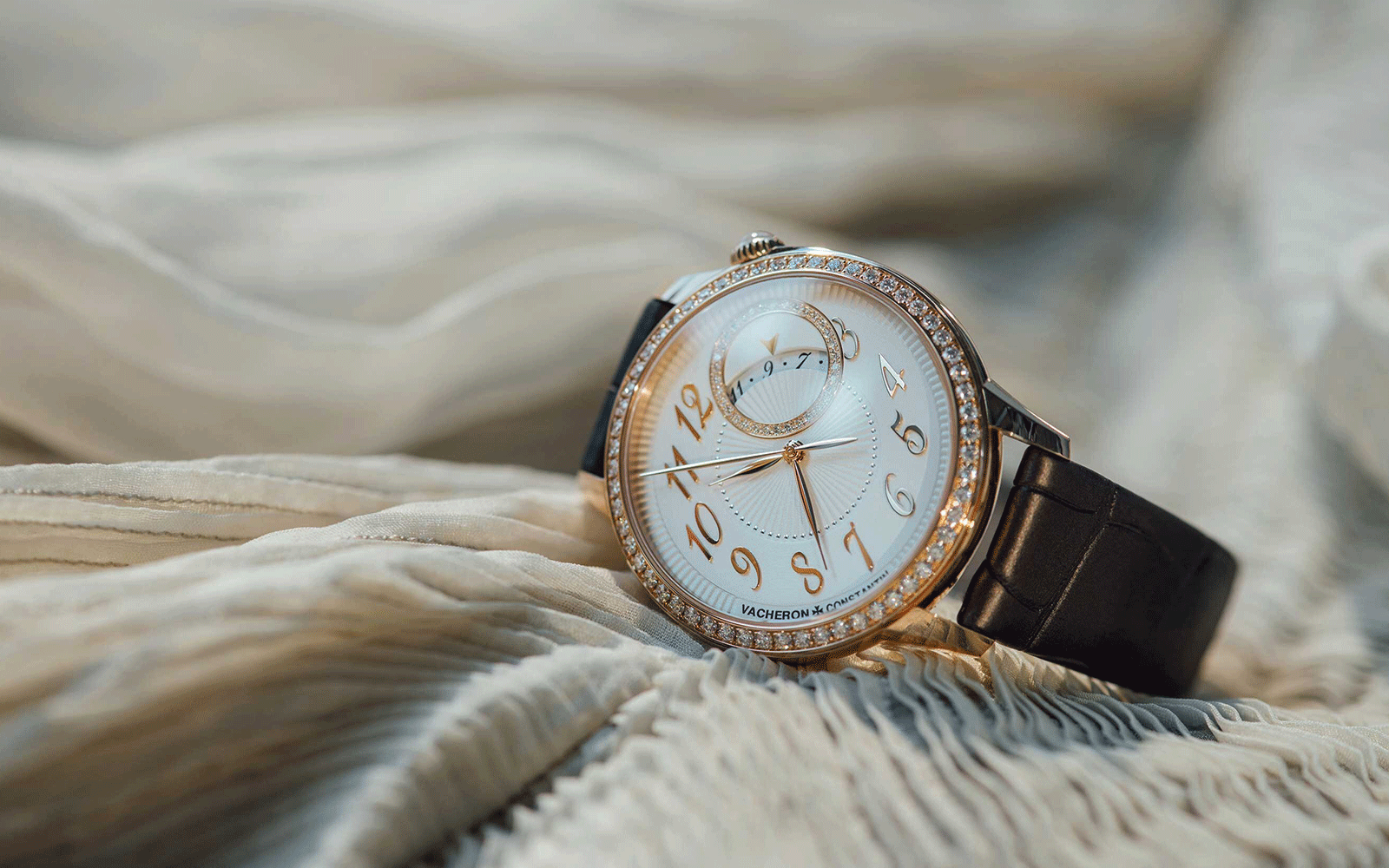 ÉGÉRIE QUARTZ – 1205F/000R-B622
Presented in an elegant 30mm rose gold case, this smaller Égérie timepiece is equipped with the quartz-powered Vacheron Constantin Calibre 1207, allowing for an even slimmer 8.13mm case height. Hours and minutes are displayed centrally, with the date shown through the small, diamond set circle at 1 o'clock. As with the other rose gold models in the ÉGÉRIE collection, this reference also comes with interchangeable alligator leather straps.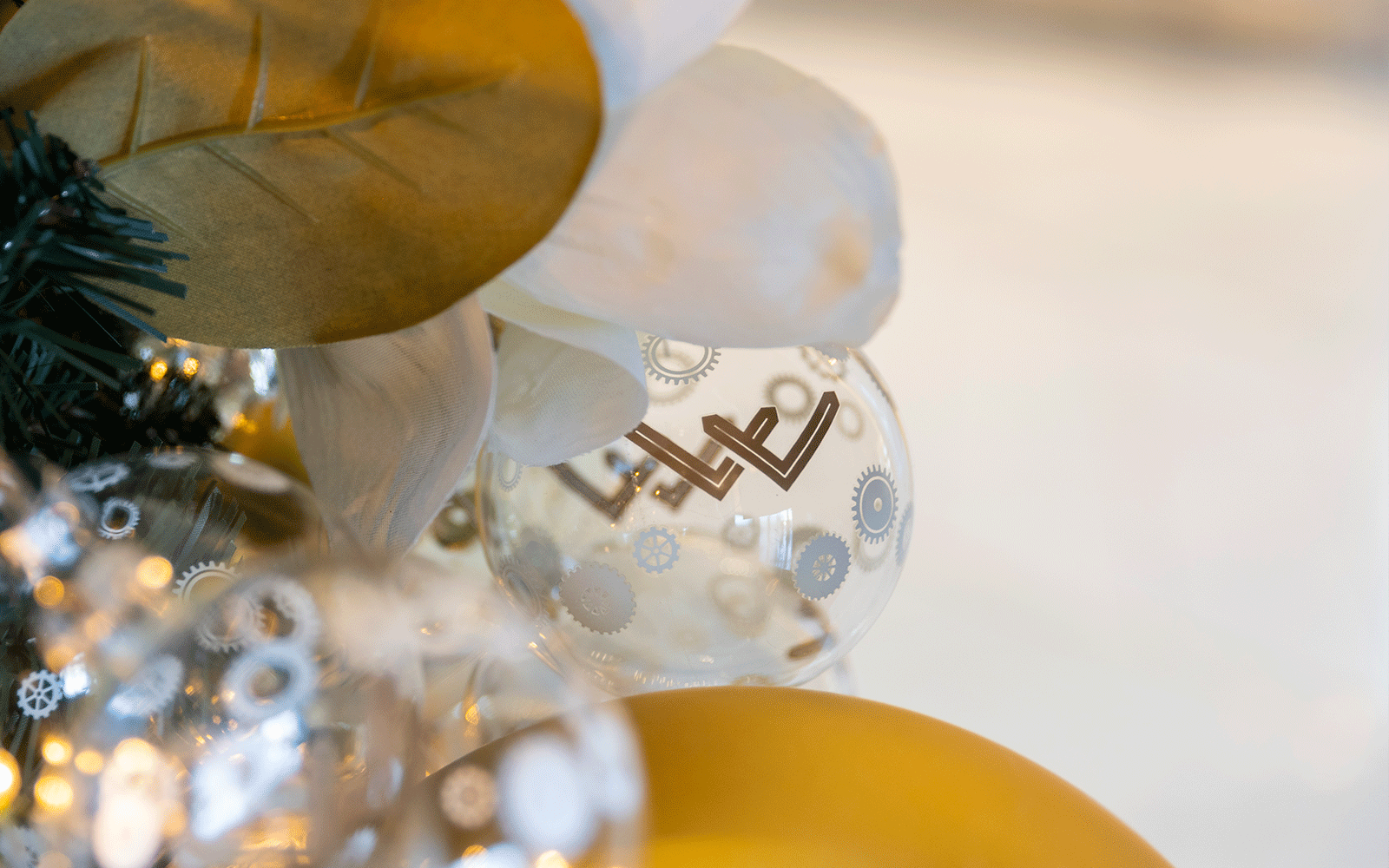 Shop Now For Christmas
The perfect gift for that special someone in your life this holiday season, contact us or visit our Watches of Switzerland Perth boutique today to discover Vacheron Constantin's exquisite new Égérie collection in person.